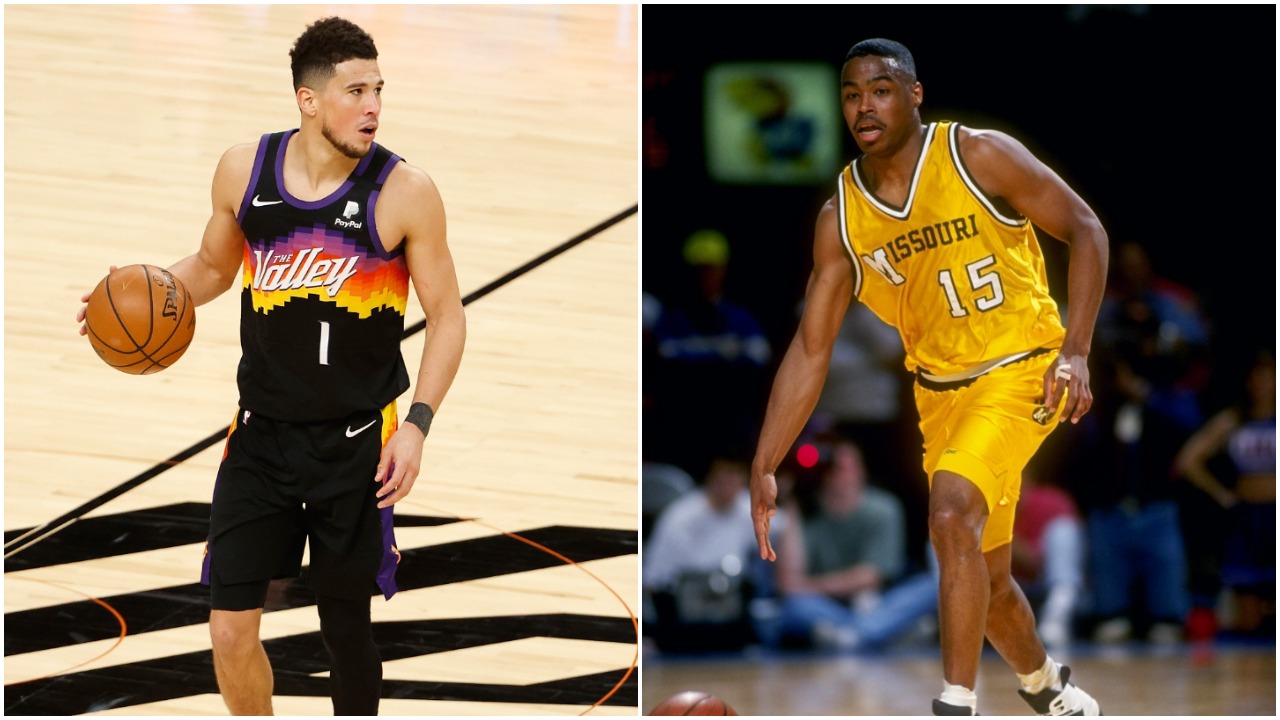 Devin Booker Is Only Alive Because His All-American Father, Melvin Booker, Wasn't Drafted Into the NBA
Phoenix Suns superstar is only alive because his father, Melvin Booker, an All-American at Mizzou, wasn't drafted into the NBA.
There's no denying that Phoenix Suns guard Devin Booker is easily one of the top young players in the NBA today. Now in his sixth year in the desert, the sharpshooting guard has averaged 23 points per game over the course of his career and has helped the Suns become a legitimate NBA title contender.
Booker just recently led Phoenix to their first playoff series victory in more than a decade and did so in convincing fashion. He averaged nearly 30 points per game against the Los Angeles Lakers and dropped 47 (22 in the first quarter alone) on LeBron James & Co. in the series finale, a performance that knocked "The King" out of the postseason in the first round for the first time in his storied career.
And the scary part for the rest of the NBA is that Booker is just getting started. Sure, he's been in the league for six years but he's still just 24 years old and hasn't entered prime years yet. But while you're sitting there thinking how he's only going to get better, also think about this. The only reason Devin Booker is even alive is because his father, former All-American point guard Melvin Booker, saw his own NBA dreams get crushed coming out of the University of Missouri in 1994.
Allow us to explain.
Melvin Booker was an All-American point guard at Mizzou
Despite averaging 28 points per game as a senior at Moss Point (MS) High School and being named player of the year in his class, Melvin Booker, a 6'1″ point guard, wasn't heavily recruited by the major college programs in the state of Mississippi. Or really anywhere in the region for that matter. It wasn't until assistant coaches from the University of Missouri noticed him while recruiting other players that he received a big-time scholarship offer, which he accepted.
Booker didn't play a big role in Norm Stewart's offense as a freshman in 1990-91 as the Tigers had future NBA players Doug Smith and Anthony Peeler on the roster. But he still managed to put up 8.3 points and 3.5 assists per game. The following season, he saw more and more playing time and helped Mizzou to a 21-9 record and a berth in the NCAA Tournament, averaging 11.6 points, 3.9 assists, and 3.8 rebounds per game.
As a junior in 1992-93, Booker started all 33 games for the Tigers and averaged 15.8 points, 4.3 rebounds, 3.7 assists, and 1.4 steals, which earned him First-Team All-Big Eight (now Big 12) honors. In 1993-94, he led the Tigers to a 24-2 regular-season record and a No. 1 seed in the NCAA Tournament, where they knocked off Navy, Wisconsin, and Syracuse on the way to the program's first Elite Eight appearance since 1976.
Mizzou lost to second-seeded Arizona in the regional final but one defeat couldn't overshadow what a great season Booker had. In 32 games, he averaged 18.1 points while shooting 50.4% from the floor, 40.5% from the 3-point line, and 82.3% from the foul line, and added 4.5 assists, 3.8 rebounds, and 1.3 steals per game. Once again, he was a First-Team All-Big Eight selection and was also named Big Eight Player of the Year. In addition, he was named a consensus Second-Team All-American, an honor that essentially said he was the second-best point guard in the nation behind only some guy named Jason Kidd.
Devin Booker is alive because Melvin Booker wasn't drafted into the NBA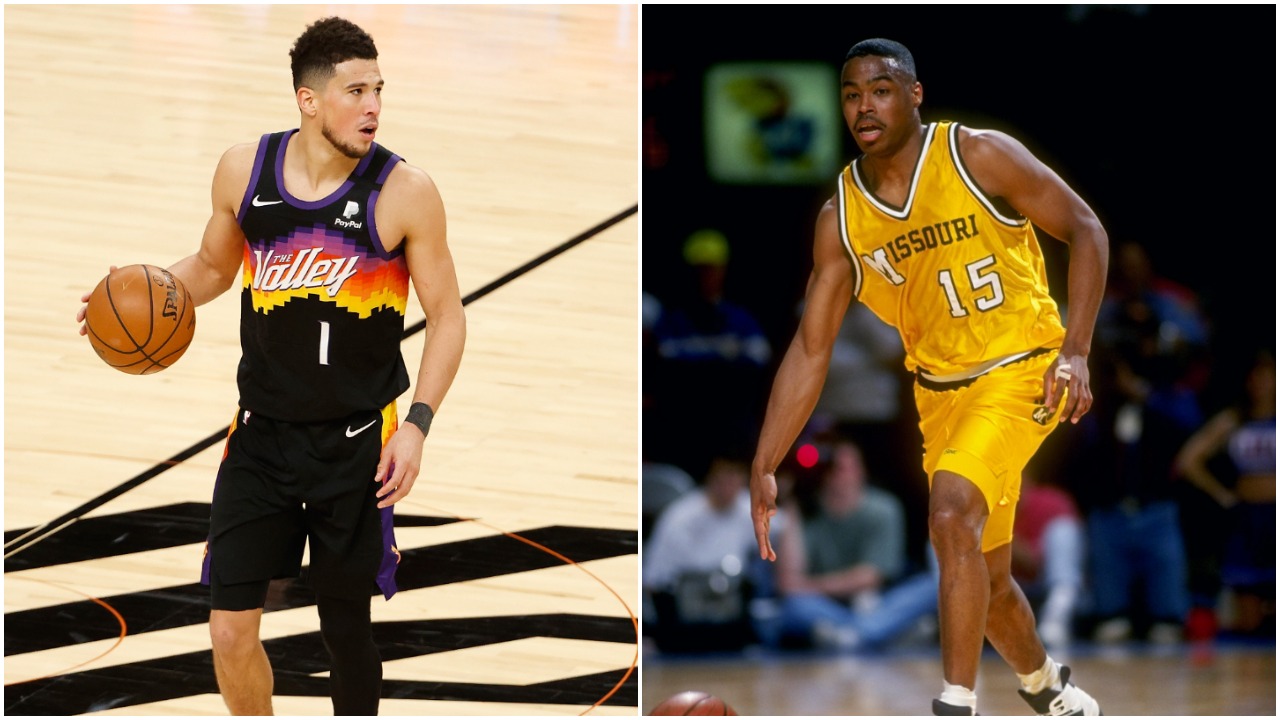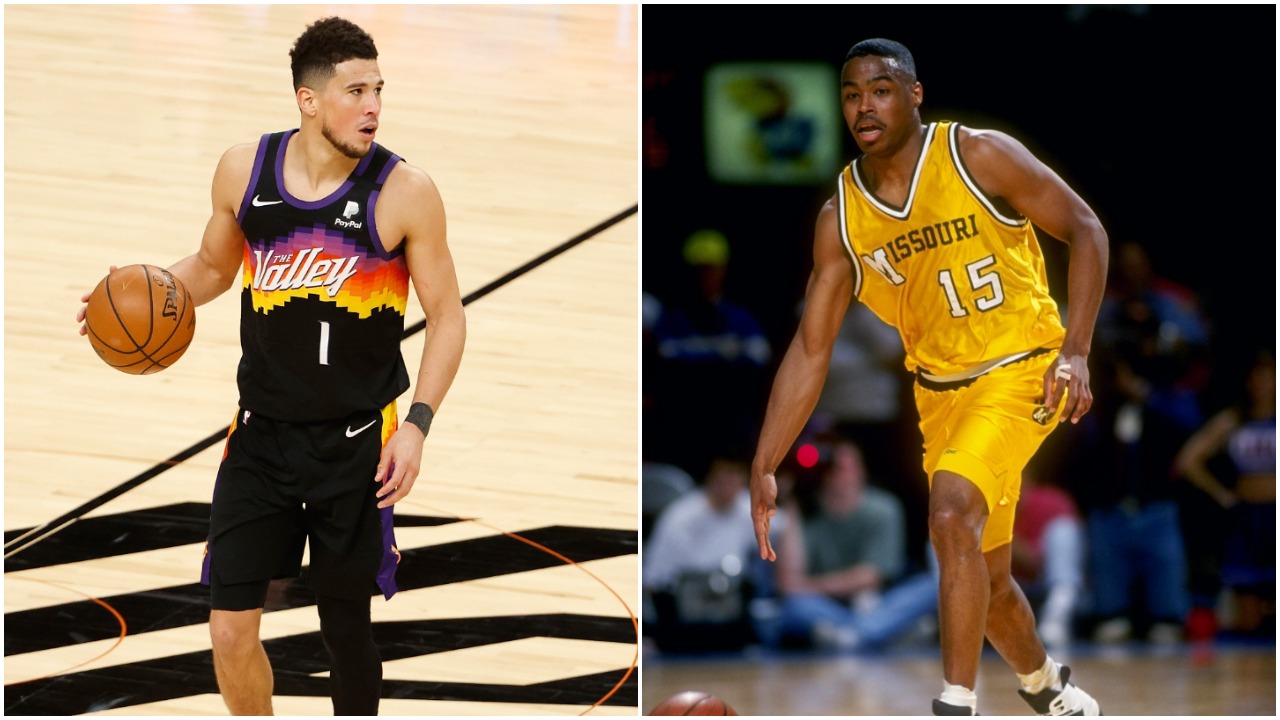 On June 29, 1994, Melvin Booker sat and watched as 54 names that weren't his were called out during the NBA draft, an experience he later said was one of the worst nights of his life. Even now, he still doesn't understand why he wasn't taken that night.
With his NBA dreams dashed, Booker began his professional career in the CBA with the Hartford Hellcats. He then had a brief stint with the Pittsburgh Piranhas and then joined the Grand Rapids Mackers in 1995. And it was during this one season in Grand Rapids when he met Veronica Gutierrez. The two became close and on October 30, 1996, Devin Booker entered the world.
What's funny is that by the time Devin was born, Melvin had actually gotten his chance to play in the NBA as he played 11 games for the Houston Rockets in 1996. In 1996-97, he played five games with the Denver Nuggets and 16 with the Golden State Warriors, including four starts. And that would be Melvin's entire NBA career. In 32 total games, he averaged 5.2 points, 2.3 assists, and 1.2 rebounds in 17.5 minutes per game.
Over the next decade-plus, Melvin spent time with teams in Italy, Turkey, and Russia, while doing his best to maintain a relationship with his young son. He and Veronica had never married and the only time Devin really saw his father was during the summer when he'd leave his mother in Michigan to stay with Melvin in Mississippi. And a few years after Melvin retired, Devin would move to Mississippi permanently.
Devin Booker attended the same high school as his father, who served as one of his coaches
Once Melvin retired as a player in 2008, he returned to his hometown and later became an assistant coach at his alma mater. He'd long tried to get Devin to move to Mississippi on a permanent basis but the younger Booker was reluctant to do so as he didn't want to leave his mother and all of the friends he'd made growing up in Michigan.
As a freshman at Grandville High School, Devin played with the freshman, junior varsity, and varsity squads, and it was already clear that he was a special talent. Melvin was adamant that if his son was truly serious about wanting to become a professional basketball player, he needed to make the move to Mississippi so the two could work together. It took some convincing but Devin, and more importantly, Devin's mother, finally agreed to it ahead of his sophomore season in 2011.
And the rest, as they say, is history.
Devin became a star playing for his father at Moss Point and was named a McDonald's All-American as a senior. He then spent one season with the Kentucky Wildcats (only because he had to play one year somewhere), winning SEC Sixth Man of the Year honors, and was then taken with the 13th overall pick in the 2015 NBA draft by the Phoenix Suns.
So while Melvin may have never heard his own name called at the NBA draft, he was right there to hear his son's name called, a feeling he says he'll never forget. And here's how Melvin described how his father felt about him being drafted (h/t The Undefeated).
"He said, 'God had a plan,' and it was for me to make it to the NBA. He is not living through me. But he said that me being drafted is better than him being drafted."

Devin Booker
So just think about all of that the next time you're watching Devin Booker light it up. If Melvin Booker gets drafted into the NBA, he wouldn't have ended up playing for the Grand Rapids Mackers (at least not at that time), never meets Veronica Gutierrez, and Devin is never born.
It's kind of an odd take on the It's a Wonderful Life premise, isn't it?
Stats courtesy of Sports Reference