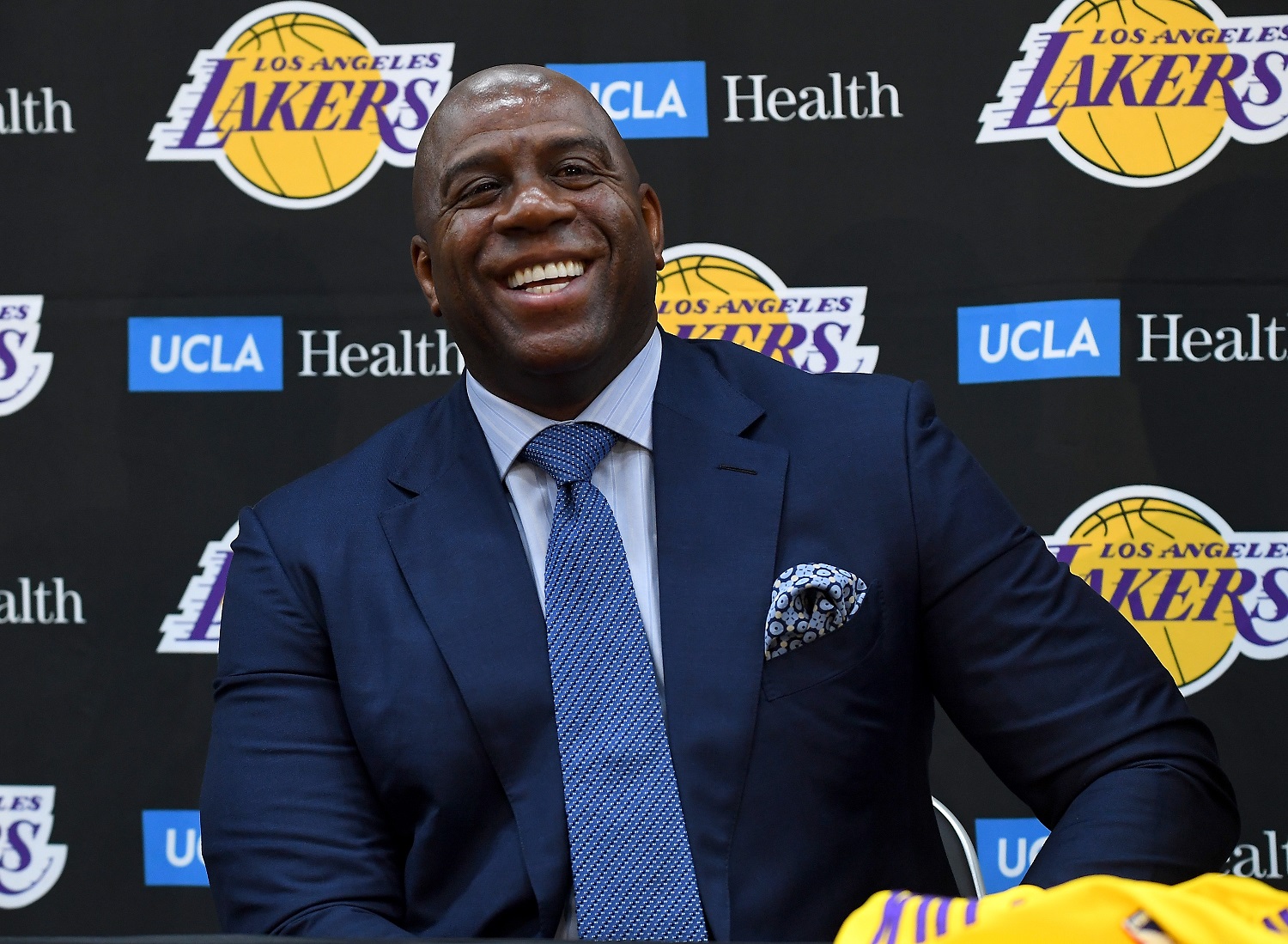 What an All-Time Starting Lineup Using Only No. 1 Overall NBA Draft Picks Would Look Like
What an all-time starting lineup would look like using only No. 1 overall NBA draft picks.
Throughout the years, people have put together countless all-time NBA starting lineups. You know what we're talking about. Talk-show hosts or writers or sometimes even NBA players themselves construct what they think is the best starting five using every player in history. And those are always fun.
But we're going to do something different here today.
We're still going to put together an all-time NBA starting lineup. However, to be included, a player must have been the No. 1 overall pick in the NBA draft. So that means there can be no Michael Jordan, no Wilt Chamberlain, no Bill Russell, no Larry Bird, no Karl Malone, or anyone else that wasn't taken with the first pick.
And the team is still absolutely amazing.
So here it is, the all-time starting lineup (we've included a backup at each position as well) using only No. 1 overall NBA draft picks.
Center: Kareem Abdul-Jabbar
The center position was a pretty easy call with Kareem Abdul-Jabbar. Drafted as Lew Alcindor with the first pick of the 1969 NBA draft by the Milwaukee Bucks, Kareem put together one of the most impressive resumes in NBA history, which could actually be said for every single man in this lineup.
Over the course of 20 NBA seasons, six with the Bucks and 14 with the LA Lakers, Kareem won six NBA titles, six NBA MVP awards, two NBA Finals MVP trophies, and was a 19-time NBA All-Star. Abdul-Jabbar was a 15-time All-NBA selection (10 First Team, 5 Second Team), an 11-time All-Defensive selection (5 First Team, 6 Second Team), and scored the most points in NBA history. So you can see why that wasn't such a tough call to make.
Backup: Hakeem Olajuwon
Power Forward: Tim Duncan
Tim Duncan is considered by many to be the greatest power forward in NBA history so you shouldn't be surprised to see him in this starting lineup. After a phenomenal career at Wake Forest, Duncan was the No. 1 pick in the 1997 NBA draft and easily won 1998 NBA Rookie of the Year, also finishing fifth in the MVP vote that year.
In 19 NBA seasons, all with the San Antonio Spurs, the "Big Fundamental" won five NBA titles, three NBA Finals MVP awards, and was named NBA MVP twice. Duncan was a 15-time All-Star, a 15-time All-NBA selection (10 First Team, 3 Second Team, 2 Third Team), and a 15-time All-Defensive selection (8 First Team, 7 Second Team). He averaged 19 points and 10.8 rebounds per game in his career and had his No. 21 jersey retired by the Spurs in 2016.
Backup: Elvin Hayes
Small Forward: LeBron James
The only active player in this fantasy lineup is LeBron James, who was the No. 1 pick of the 2003 NBA draft. And this was simply another no-brainer. Come on, it's freaking LeBron James.
In 17 NBA seasons, LeBron has won four titles and is one of only four players in history to win championships with three different teams. In those 17 years, James has averaged 27.1 points, 7.4 assists, 7.4 rebounds, and has been an NBA All-Star in every season of his career outside of his rookie season. In addition to his four championships, he's won four NBA Finals MVP trophies and four NBA MVP awards. James is a 16-time All-NBA selection (13 First Team, 2 Second Team, 1 Third Team), a six-time All-Defensive selection (5 First Team, 1 Second Team), and has scored the third-most points in NBA history behind only Kareem and Karl Malone.
Backup: Elgin Baylor
Shooting Guard: David Thompson
At first glance, you might be surprised to see David Thompson as the starting shooting guard in this lineup. But the truth is that shooting guards really aren't taken with the No. 1 pick all that often. But it's not as if Thompson doesn't deserve to be on this team. And he's also the guy that Michael Jordan modeled his game after so there's that.
Thompson was taken with the top pick of the 1975 NBA draft by the Atlanta Hawks but actually began his pro career in the ABA with the Denver Nuggets. Following the NBA-ABA merger in 1976, he continued his career in Denver and was a four-time All-Star and a two-time All-NBA First Team selection before finishing his career with the Seattle Supersonics. In nine pro seasons, David Thompson averaged 22.7 points per game while shooting 50.5% from the floor, also adding 4.1 rebounds and 3.3 assists per night.
Backup: Allen Iverson (yes, he split his time between point guard and shooting guard and deserves to be here)
Point Guard: Magic Johnson
The starter at point guard was actually a very tough call. It was extremely difficult to put Oscar Robertson on the bench but we still think Magic Johnson, who was taken with the No. 1 pick in the 1979 NBA draft by the LA Lakers, was the way to go.
In 13 seasons with the Lakers, which includes the 32 games he played during the '95-'96 season after four seasons away from the NBA after contracting the HIV virus, Magic Johnson averaged 19.5 points, 11.2 assists, and 7.2 rebounds. He appeared in the NBA Finals nine times, won five titles, and was named NBA Finals MVP three times, the same amount of times he won NBA MVP. Magic was a 12-time All-Star, which includes that emotional performance in 1992, a 10-time All-NBA selection (9 First Team, 1 Second Team) and has the fifth-most assists in league history.
Backup: Oscar Robertson
All stats courtesy of Basketball Reference