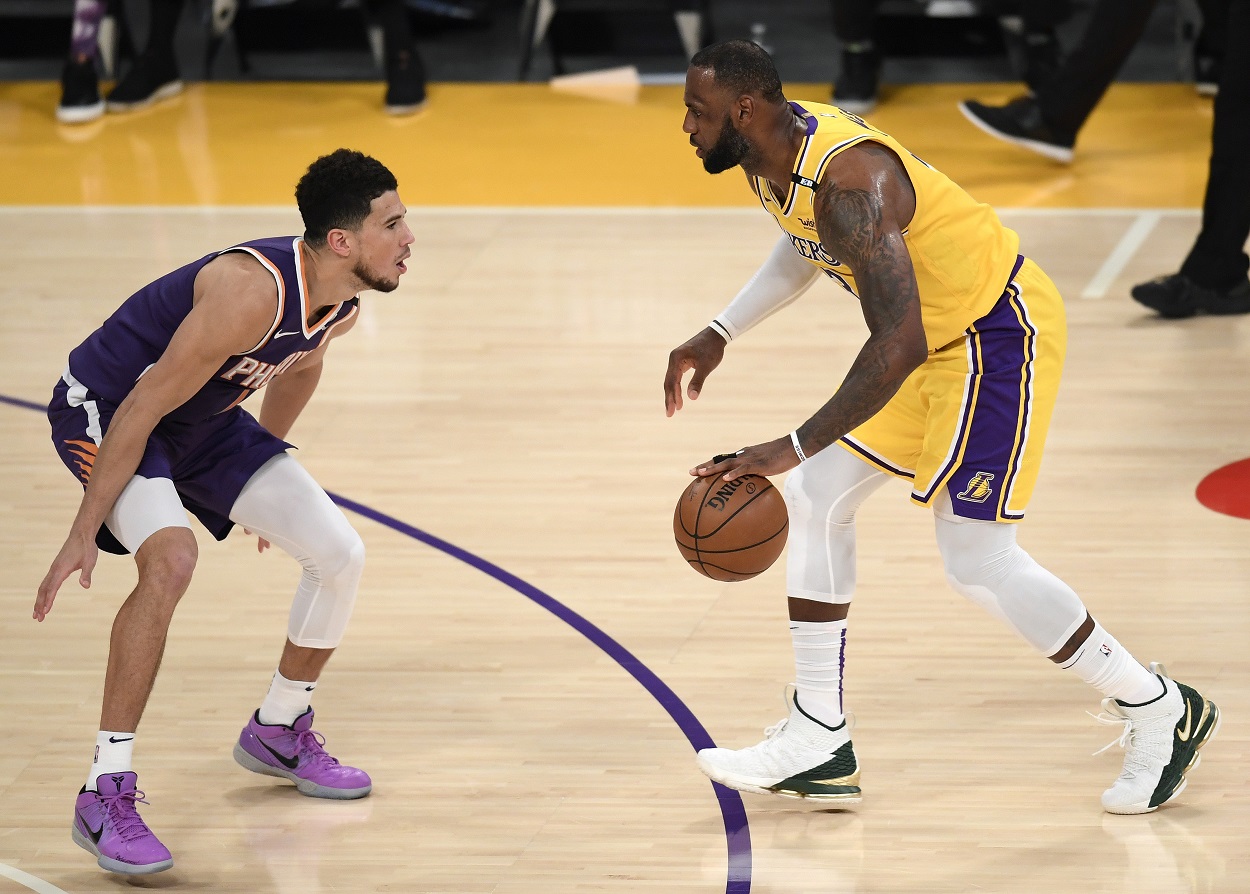 Devin Booker Owned LeBron James and the Lakers in the NBA Playoffs and Now Owns a Unique Piece of LeBron's Legacy
After his Suns eliminated the Lakers in the first round of the NBA playoffs, Devin Booker was given a very special gift by LeBron James.
Coming into the 2021 NBA playoffs, LeBron James had made 14 previous appearances in the postseason and had never been eliminated in the first round. Of course, that all changed last week when Devin Booker and the second-seeded Phoenix Suns ousted LeBron and the Los Angeles Lakers from the Western Conference bracket, fairly easily taking care of the defending champs in six games. But not only did Booker help make a little history in eliminating James in the first round, he also picked up a unique souvenir from "The King" that would be worth a pretty penny if he ever decided to part ways with it.
Devin Booker torched LeBron James and the Lakers to eliminate the defending champs from the postseason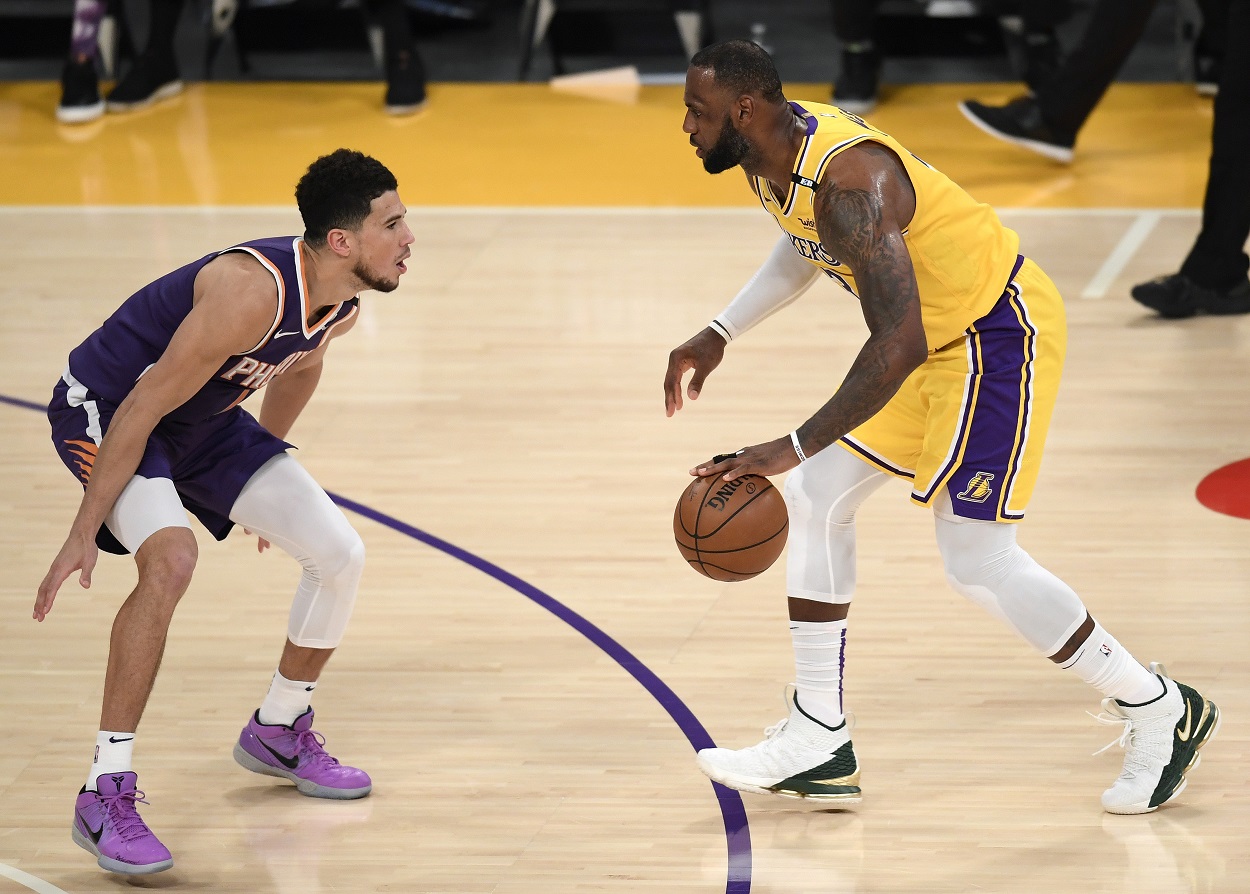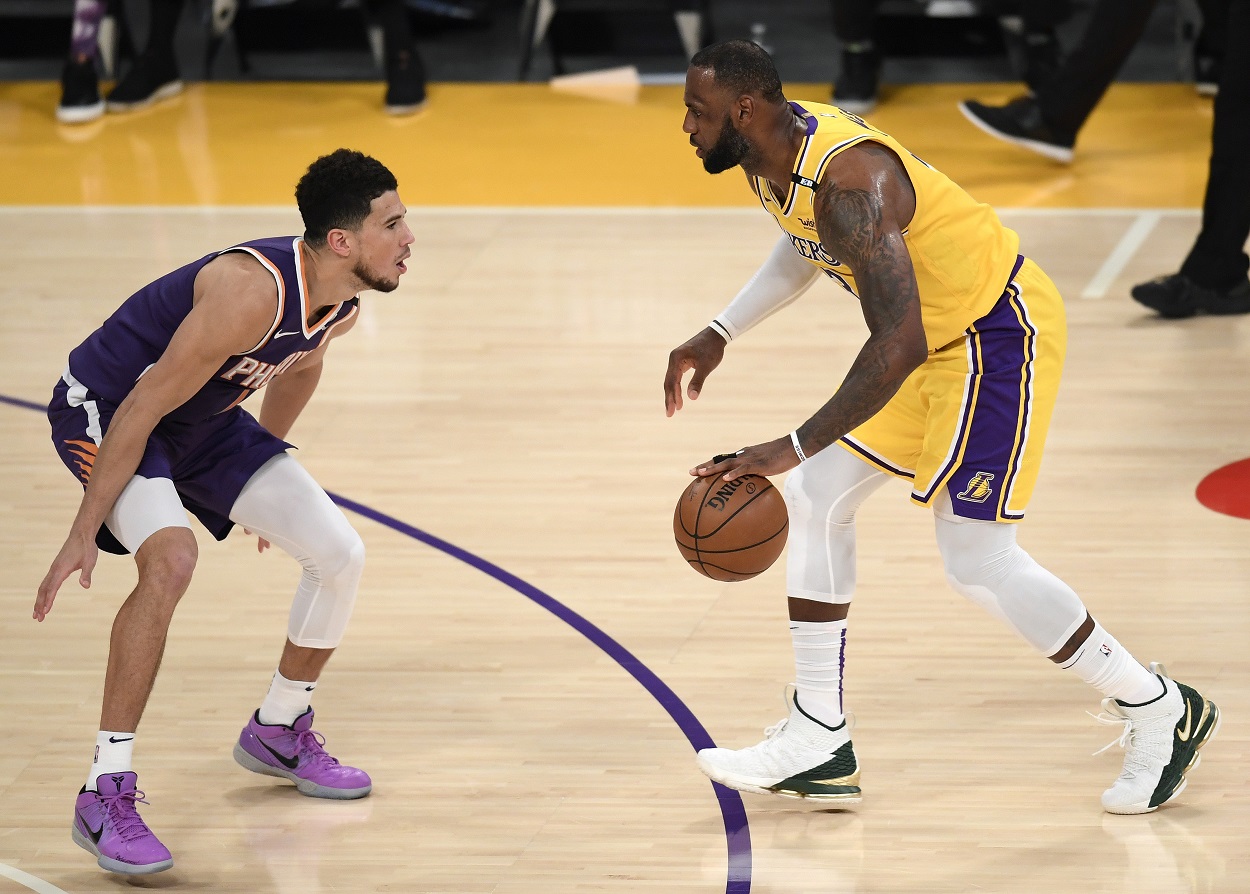 Following a 2020-21 regular season in which he averaged 25.6 points, 4.3 assists, and 4.2 rebounds, Booker, now in his sixth season in Phoenix, managed to be even better against LeBron and the Lakers in the opening round of the playoffs. In leading the Suns to a six-game series victory, the two-time All-Star averaged 29.7 points, shooting 48.8% from the floor, 42.9% from the 3-point line, and 93.8% from the foul line, also adding 6.2 rebounds and five assists per game.
And how about that performance to close out the series?
Booker was absolutely phenomenal in Game 6, scoring 47 points (22 in the first quarter alone) while shooting 15-for-22 from the floor, 8-for-10 from beyond the arc, and a perfect 9-for-9 from the charity stripe in leading the Suns to a 113-100 victory and the team's first postseason series win since 2010. James, who recorded 29 points, nine rebounds, and seven assists in the Game 6 loss, must have been impressed as he gifted the 24-year-old with the jersey off his back from the historic defeat.
James gifted Booker his last-ever No. 23 game-worn jersey
Following Game 6, James had nothing but great things to say about the young man who'd just been responsible for knocking him out of the first round of the playoffs for the first time (h/t ESPN).
"I love everything about D-Book. We've had numerous conversations in the past. When you want to be legendary in this game, you've got to continue to improve not only your game, but also as a man. All the conversations we've had, I can tell he's soaked them up and is using them to his advantage."

LeBron James on Devin Booker
Clearly impressed by Booker's performance in the series finale, LeBron met up with D-Book in the tunnel at Staples Center following the game and presented him with his game-worn jersey, which has become a common practice in the NBA.
This particular jersey, however, is a bit more special as James not only signed it, but signed it to Booker personally. It's hard to make out the majority of the writing in the picture above but you can clearly see "To DBook" written to the right of the NBA logo. What makes this jersey even more special is the fact that it's the last No. 23 game-worn jersey LeBron will ever wear with the Lakers and maybe the last No. 23 jersey he'll ever wear in his career as he's switching back to No. 6 next season (more on that in a moment).
It's highly unlikely Booker would ever part ways with such a special gift, but if he ever gets into any kind of financial trouble, we're betting he could bank a few bucks putting it up for auction. It truly was a great gesture on LeBron's part as he clearly recognizes what a special talent Booker is, and it had to be a nice moment for Booker. Perhaps he'll put it next to the signed shoes he received from his idol, Kobe Bryant, after their one and only meeting in March 2016.
Why is LeBron switching from No. 23 to No. 6?
LeBron switching from No. 23 back to the No. 6 he wore with the Miami Heat has been in the works for quite some time now. He actually wanted to give it to Anthony Davis when AD first arrived in LA two years ago, but the NBA requires players to give at least one year's notice when they intend to change jersey numbers. Nike had a bit of an issue with it as well as they were already producing James apparel using No. 23.
The change was again delayed when COVID-19 hit, at which point the change was moved to coincide with this summer's release of Space Jam: A New Legacy as LeBron will be wearing No. 6 in the film.
Stats courtesy of Basketball Reference