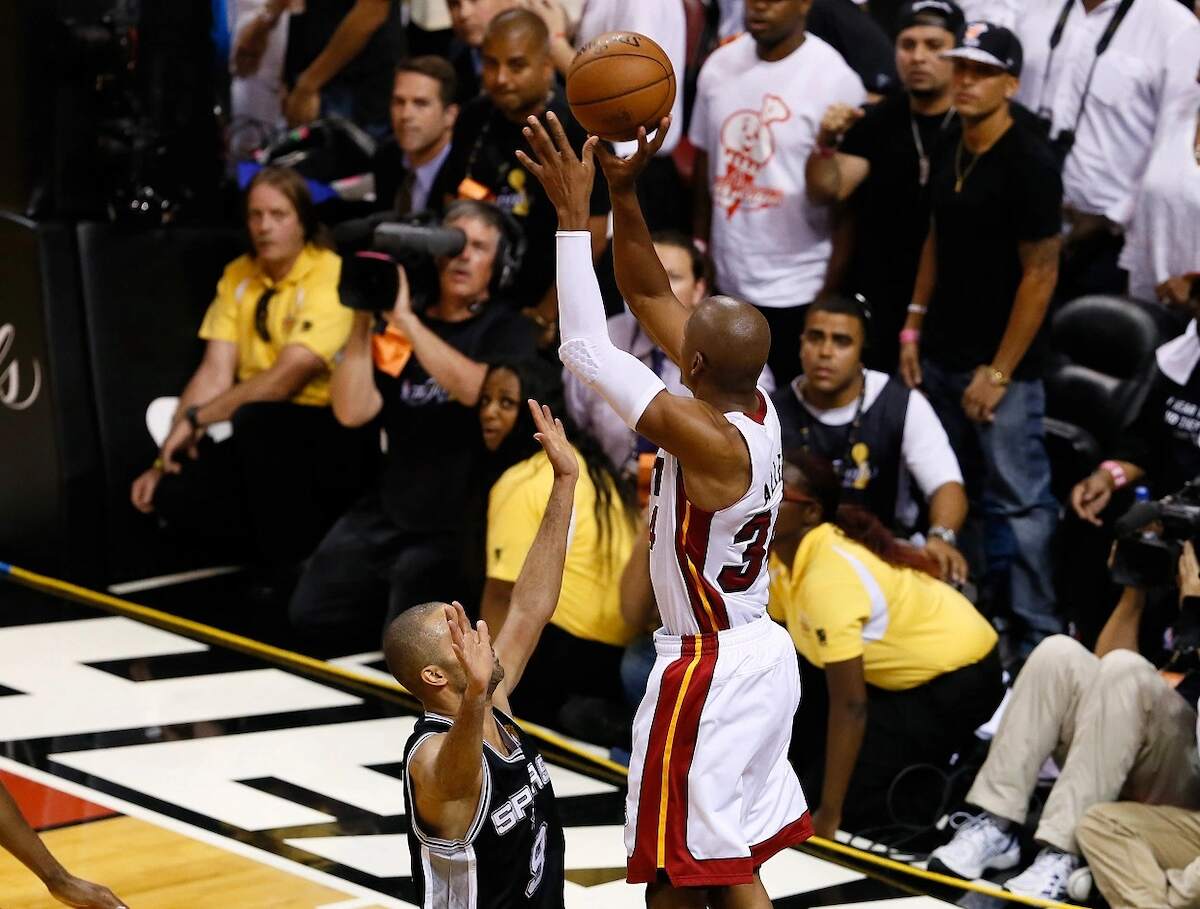 Ray Allen's Clutch Jumper for the Miami Heat in Game 6 of the 2013 NBA Finals Shouldn't Have Counted
Ray Allen's famous three-pointer for the Miami Heat in Game 6 of the 2013 NBA Finals technically should never have counted.
Between the regular season and playoffs, Ray Allen made 3,358 three-pointers. But the one that will be remembered most is that famous game-tying shot for the Miami Heat during Game 6 of the 2013 NBA Finals.
You know the one, right? The shot saved the game and the series against San Antonio for Miami. The Heat ended up winning Game 6 in overtime and went on to win their second consecutive NBA title. Yeah, that one.
It's seen as one of the most clutch shots in NBA Finals history. Allen says he still gets calls from LeBron James thanking him for helping him win his second NBA title.
But here's the thing. Have you ever slowed the replay down and really looked at it? Because if you have, you will notice that the famous shot shouldn't have counted.
Ray Allen hit the shot of his life in Game 6 of the 2013 NBA Finals
Before we get to the replay, let's recap how everything went down at the end of regulation in Game 6 of the 2013 NBA Finals between the Miami Heat and San Antonio Spurs.
With just over 20 seconds remaining in the fourth quarter, LeBron James hit a three to bring the Heat within two of the Spurs, 94-92. Miami then fouled Kawhi Leonard, who hit one of two free throws to give San Antonio a three-point lead with 19.4 seconds left on the clock.
The Heat inbounded the ball and set up LeBron for a game-tying three-point attempt from the left wing with about 11 seconds remaining. James missed the shot. But Chris Bosh pulled down the rebound and passed to a backtracking Ray Allen, who stepped back beyond the three-point line and put up one of his pretty jumpers that hit nothing but the bottom of the net, tying the game at 95 with 5.2 seconds remaining.
The Spurs failed to convert their last-second attempt in regulation as Tony Parker threw up an airball. The Heat won in overtime and went on to win Game 7.
He says LeBron James and Miami Heat head coach Erik Spoelstra still call to thank him
Naturally, Ray Allen was hailed as a hero, not only by the Miami Heat faithful but by his teammates and coaches as well.
His most famous teammate, LeBron James, apparently still calls Allen on occasion to thank him for hitting that shot, as does Heat coach Erik Spoelstra, as Allen recently told CBS Sports.
"Oh yeah, they do. They definitely do. And I owe them a debt of gratitude for accepting me into the fold. They already had a championship environment, and to welcome me in to help them get to the next level, that's what true winners do.

"There hasn't been a year that's gone by where either one of them hasn't mentioned 2013 to me."

Ray Allen
Well, I've got news for you, Mr. Shuttlesworth. You shouldn't be getting those phone calls.
Ray Allen traveled before hitting his famous jumper in the 2013 NBA Finals
So I ask again. Have you ever slowed down the replay of Ray Allen's famous jumper in the 2013 NBA Finals? Because if you have, as I did recently, you'd see that Allen actually traveled before hitting the shot.
Now, you really have to look at things closely, but it's there. When Bosh dishes the ball to him, he first catches it with his right hand, which gives him possession. So he catches the ball. Just a fraction of a second later, his right foot lands in front of the three-point line. So there's one step. Allen then backs up beyond the arc, first with his left foot and then his right, and puts up the shot. So that's step two and step three. That, my friends, is traveling.
Thankfully, at least for Ray Allen and the Miami Heat, this is the NBA, where they really don't call traveling. In all seriousness, it truly was a clutch shot that will forever be remembered as one of the greatest in history. But, technically, it really shouldn't have counted.
Can you imagine if referees actually did call traveling on a consistent basis in the NBA? Games would take about four hours with all of the stoppages, and James Harden would average about seven points per game.