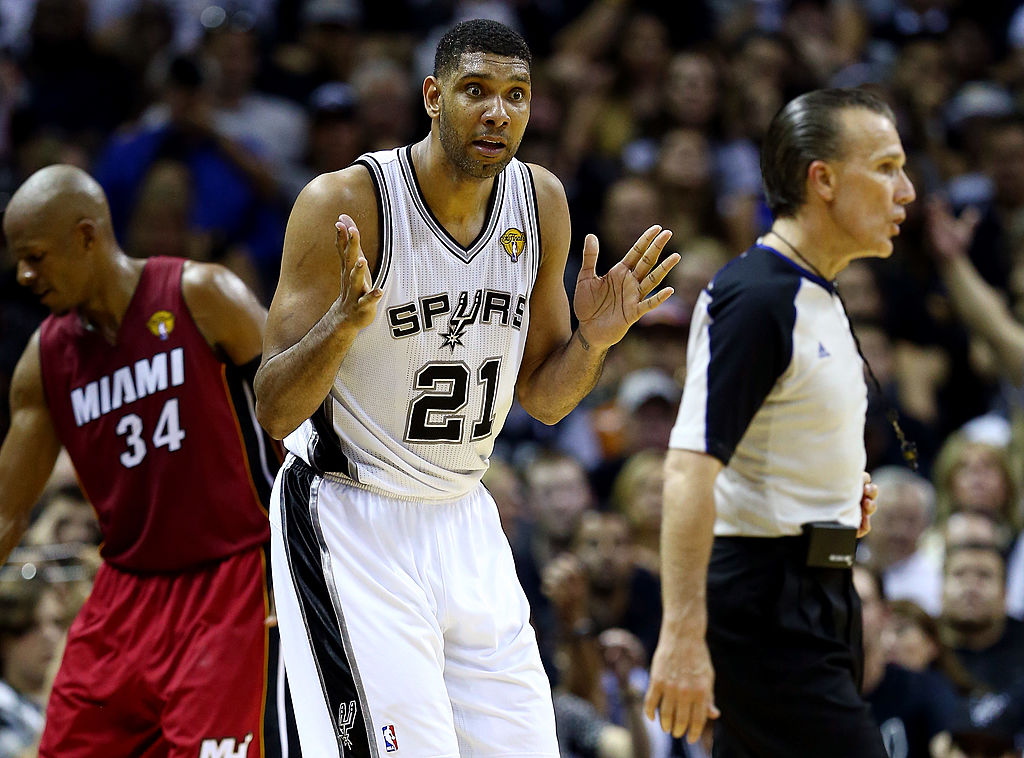 The Most Painful Moment of Tim Duncan's NBA Career
The 2013 NBA Finals gave Tim Duncan one of the most frustrating moments in his career. It also could've changed the legacies of all involved.
NBA fans initially viewed the 2013 NBA Finals as a potentially boring matchup between the San Antonio Spurs led by Tim Duncan and the Miami Heat led by LeBron James and Dwyane Wade. Instead, the series quickly became a back and forth between some of the league's best players.
In particular, one sequence of shots from this finals matchup altered the landscape of the NBA forever. Let's look at this frustrating moment in Duncan's career and how it could have changed the legacy of everyone involved.
Tim Duncan's missed shots
Trailing by two points with 55 seconds to play, Duncan received a pass in the post from Manu Ginobili. With Shane Battier defending him (giving him a three-inch height advantage), Duncan went for a textbook drive to the hoop and put up a hook shot. 
What is normally automatic for Duncan actually hit the back of the hoop. However, he was able to get advantage over Battier and had a shot at tipping the miss in, but he completely missed the hoop on the putback.
The fallout from Duncan's misses
Miami grabbed the rebound and eventually pulled away with a victory on their home court. The Heat and Spurs played a highly entertaining NBA Finals series. Both teams made minor moves in the offseason before meeting again in 2014.
Here's what Duncan had to say after the game, according to Sports Illustrated: "Game 7, missing a lay-up to tie the game, making a bad decision down the stretch," he said. "Just unable to stop Dwyane [Wade] and LeBron [James]. Probably, for me, Game 7 is always going to haunt me. The obvious word is disappointing … tough end to the game. Made some bad decisions. Missed some shots. I don't know what to say."
How did it change Duncan and the Spurs?
For his career, Duncan won five championships. But how high up would he be on the list of all-time great players if he won six? We think the following season would've brought out more confidence in the team as a whole.
Head coach Gregg Popovich always preached about taking things one game at a time. Would San Antonio have taken things easy heading into the 2013-14 season? We don't think so. Although he was on the decline, Duncan was still an important part of the franchise.
Kawhi Leonard was growing into one of the best two-way players in the league and was clearly a frustration for LeBron. The 2014 NBA Finals weren't nearly as competitive as 2013. Miami won Game 2 by two points, and the Spurs won the series 4-1 with an average margin of victory of 18 points.
Would winning have kept  LeBron James in Miami?
If San Antonio stopped Miami from repeating as champs in 2013, would it have made any impact on James returning to Cleveland? We don't think so.
At this point, the writing was on the wall for James to go back to Cleveland. The talent gap between Miami and the Spurs was clearly an issue during the Finals. James knew he needed younger talent in order to regain championship glory.
Do you think making those shots changes Duncan's legacy?
How do you feel about those close-range misses from Duncan in Game 7? We think the fallout from those shots could've been history-changing. Instead of being viewed as one of the top-five power forwards of all-time, you would have to seriously ask if Duncan was a top-five player period.