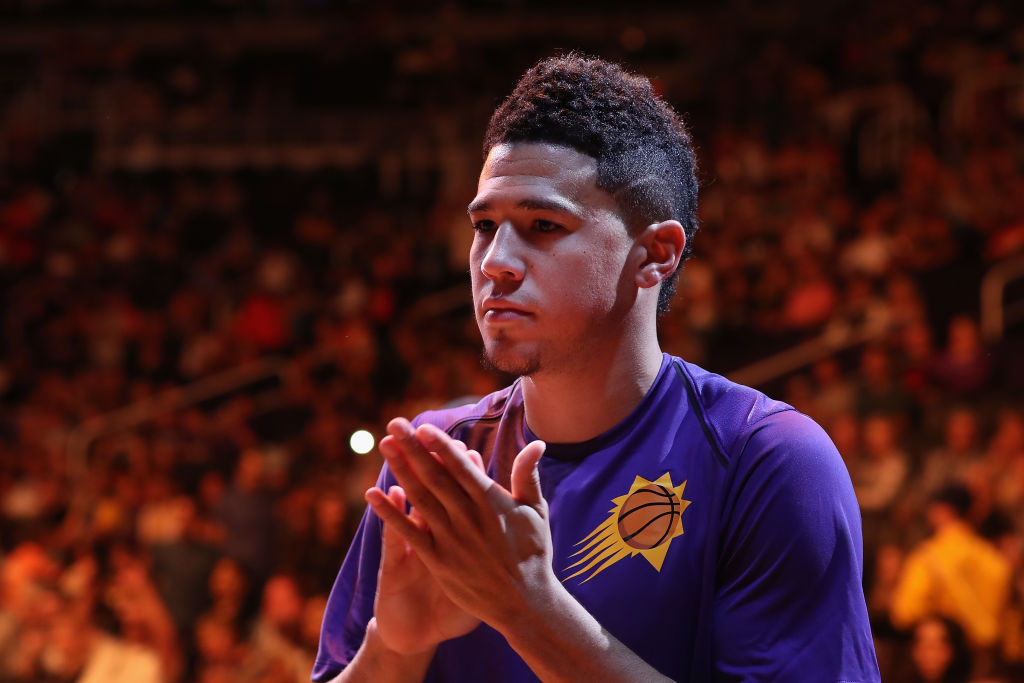 Devin Booker's Tattoo Is a Message From Kobe Bryant
Devin Booker's recent tattoo is a reminder of the day he met his boyhood hero, legendary NBA player Kobe Bryant.
Devin Booker made his way into the NBA just in time. The Phoenix Suns guard was a rookie in 2016, which just so happened to be the final season of his boyhood idol Kobe Bryant. Against the Lakers that night, Booker finished with 28 points and seven assists in a Phoenix victory over Los Angeles.
Kobe Bryant's gift to Devin Booker
After Booker finished with his big performance that night, Booker was able to meet up with Bryant after the game and the Lakers star gave Booker a pair of his sneakers and autographed them, writing 'be legendary' on the front of the shoe.
Booker took that message to heart – and to his forearm this week – as the Suns' guard had a replica of Bryant's message, written in cursive, tattooed on his forearm.
Bryant, fourth on the NBA's all-time scoring list, was killed, along with his daughter Gianna and seven others, when the helicopter he was riding in crashed on the way to one of Gianna's basketball games back in January.
Other NBA stars have also had tattoos in memory of the legendary NBA player since his death, including Laker players LeBron James and Anthony Davis.
Devin Booker's near All-Star Game snub
In his fifth season, Devin Booker is having yet another strong season, averaging 25.9 points and 6.4 assists per game. In those five years, Booker has averaged 22.2 points in his career, and that's after averaging 13.8 points in his rookie season.
Booker has never averaged fewer than 22.1 points in his final four seasons. Booker has been a great player on a not-so-great team. The Phoenix Suns have not clinched a postseason berth since 2010.

Booker has never been voted into an NBA All-Star Game, but finally caught a well-deserved break this season when an injury to Portland Trail Blazers guard Damien Lillard forced Lillard to give up his spot which was eventually filled by Booker.
In that All-Star Game, Booker, playing for Team LeBron, finished with six points, including a mammoth dunk off an offensive rebound that wowed the crowd.
Booker's 70-point game
Back in March of 2017, Devin Booker became legendary by becoming just the sixth player in NBA history to score at least 70 points in an NBA game.
Booker joined none other than Kobe Bryant, who scored 81 in 2006 in a game against the Toronto Raptors. Other NBA players to crack the 70-point mark in a game were David Thompson, Elgin Baylor, David Robinson, and Wilt Chamberlain.
Booker's feat came in a 130-120 loss to the Boston Celtics in Boston. Booker was 21-for-40 shooting from the floor and connected on 24 of 26 shots from the free-throw line.
"This doesn't happen very often," said Booker after that game. "Especially against a really good defensive team like the Boston Celtics. I knew I was going to have to come in, lock in mentally tonight — playing at Boston isn't easy all the time. They made it tough for me in the first half, and I tried to get it going. I was ultra-aggressive. My teammates started finding me, they started setting really good screens for me, and the rest is history."