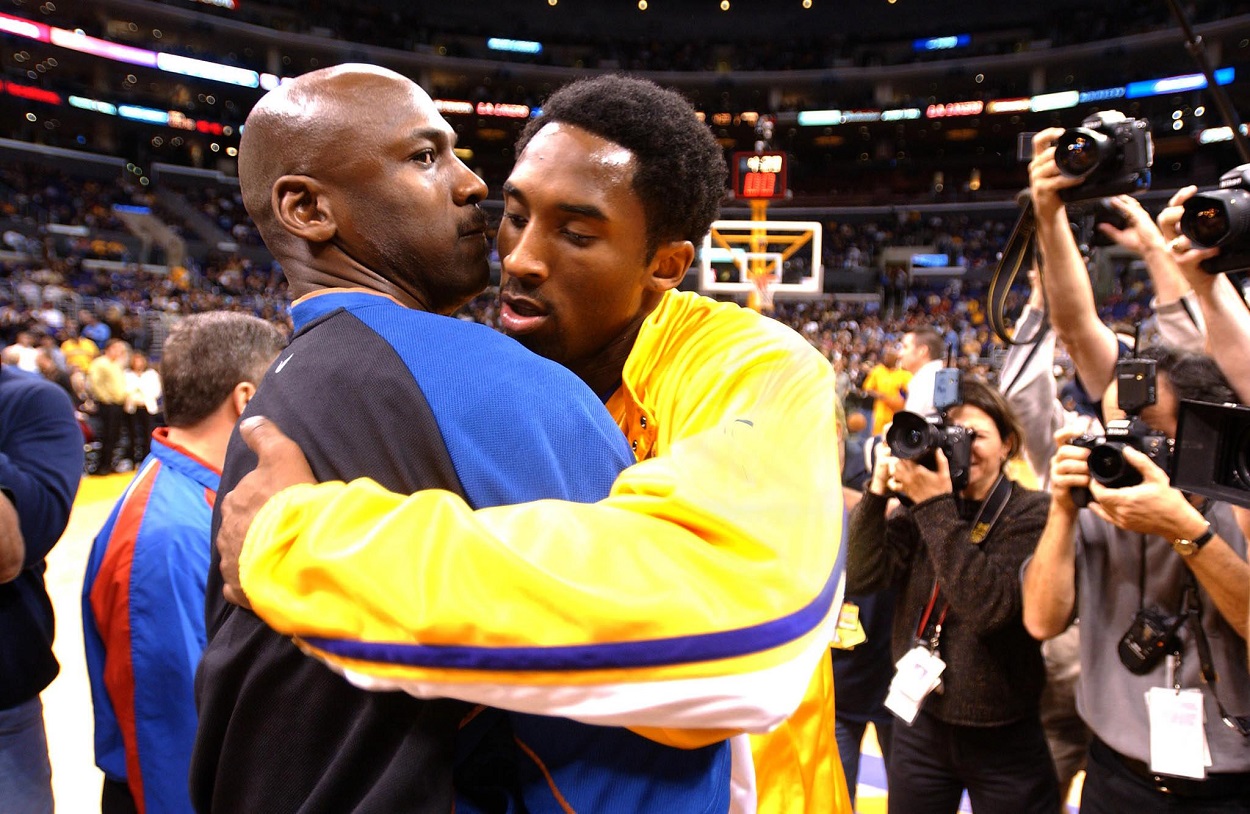 Kobe Bryant Had a Winning Record Against Michael Jordan and Even Used MJ's Own 'Personal' Tactic Against Him in Their Final Battle
Kobe Bryant owned a winning record in head-to-head games with Michael Jordan and dropped 55 on him in their final battle.
While the NBA may never again see another Michael Jordan, there's no denying that Kobe Bryant was about as close as one could get. And we're not just talking about how Bryant emulated his game after Jordan's, right down to the fadeaway, we're talking everything.
Kobe was competitive like Jordan, worked harder than anyone else like Jordan, yelled at his teammates like Jordan, and won titles like Jordan. Sure, Bryant came up one short of MJ's six championships but did hold bragging rights as far as head-to-head matchups were concerned, winning five of eight matchups against His Airness. And Bryant earned that winning record by actually using one of Jordan's famous tactics against him in their final battle.
Kobe Bryant won five of eight head-to-head matchups with Michael Jordan
Jordan and Bryant squared off eight times during the four seasons in which they were in the league together. Bryant was obviously with the LA Lakers for all eight and went 2-2 against Jordan's Chicago Bulls and 3-1 against Jordan's Washington Wizards.
Jordan averaged 24.5 points, 4.3 rebounds, 3.6 assists, 1.1 steals, and 0.5 blocks in the eight games while Bryant averaged 22.8 points, 4.4 rebounds, 3.9 assists, 0.9 steals, and 0.6 blocks.
Bryant was the better shooter in the head-to-head matchups from both the field (46.6% to 43.6) and the foul line (75.9% to 75.0%) and also had the only triple-double in the meetings with 23 points, 11 rebounds, and 15 assists in a 103-94 Lakers win over the Wizards on February 11, 2002.
After their penultimate matchup, MJ reportedly told Bryant he could never fill his shoes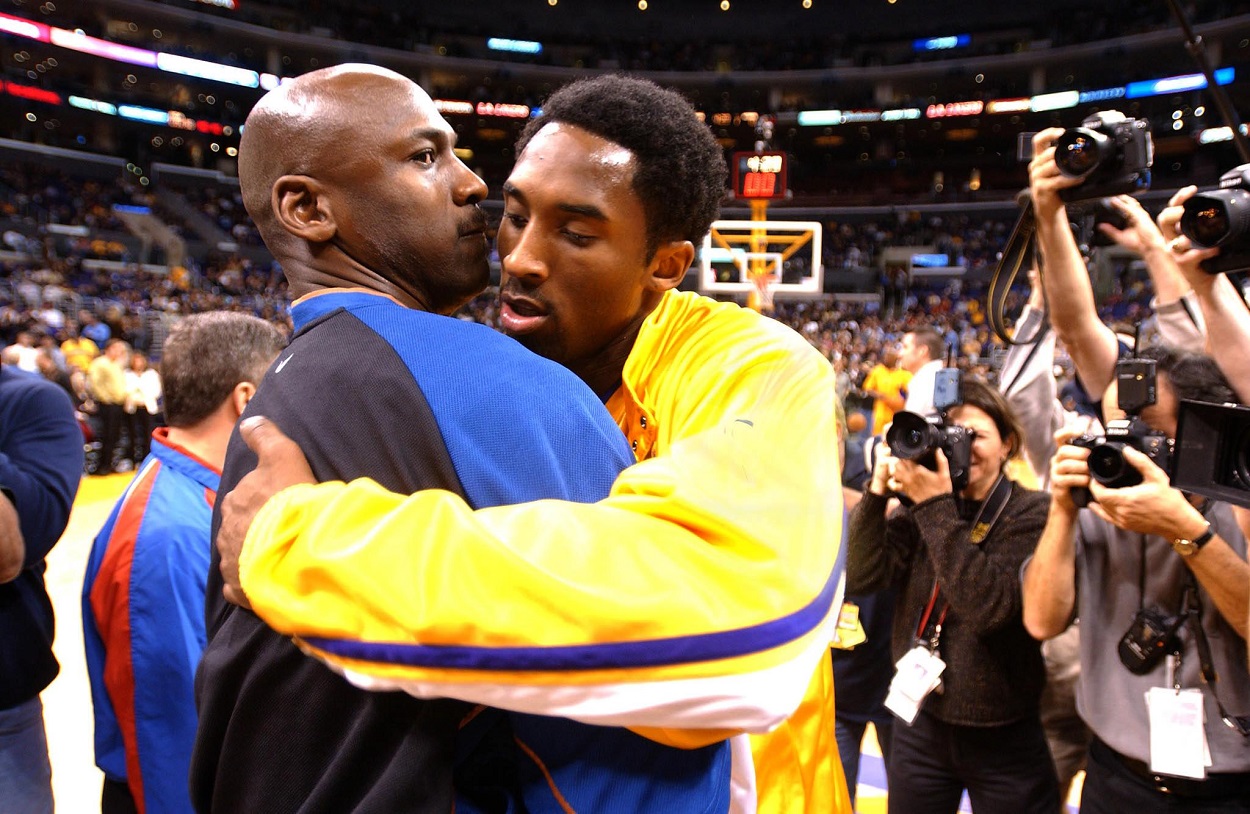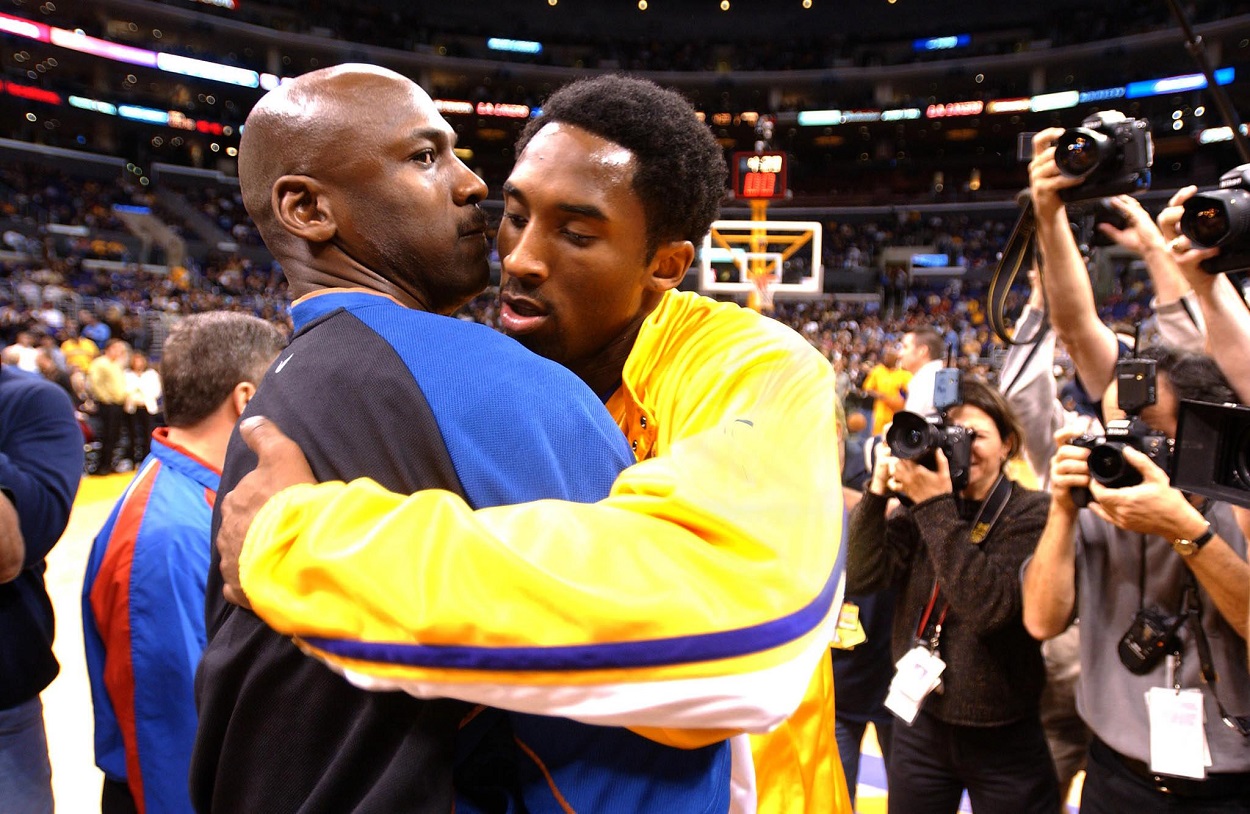 In the early weeks of Jordan's final NBA season in 2002-2003, the Wizards defeated the Lakers, 100-99, with MJ hitting nine of 14 shots for 25 points in just under 30 minutes off the bench. Bryant led the way for the Lakers that night, scoring 27 points in just over 38 minutes, but struggled shooting the basketball, hitting just eight of 21 shots from the floor while wearing a pair of Jordan 8 sneakers.
And just why is that last part important?
Well, legend has it (and by legend we mean Gilbert Arenas telling a story) that after the game, Jordan went up to Bryant and said, "you can put the shoes on, but you ain't never gonna fill 'em," which sounds exactly like something that would come out of MJ's mouth.
Now, as anyone that's watched The Last Dance knows, Jordan had a history of taking comments or actions personally and used them to motivate himself, even sometimes making up things in his own head to get himself going, such as the famous LaBradford Smith story.
Apparently, Bryant would do the exact same thing and turned the tables on Jordan in their final meeting, using MJ's comments as fuel when the Lakers and Wizards met again a few months later.
Kobe used Jordan's comments to motivate himself and dropped 55 points on His Airness in their final meeting
In the two weeks leading up to Bryant's final matchup with Jordan on March 28, 2003, Kobe apparently refused to speak to his teammates as he was gearing up to exact revenge on his idol.
And that's exactly what he did that night at Staples Center.
As mentioned, Bryant had struggled with his shot in their meeting earlier in the season but that wasn't the case this time around as he came out hot, making 14 of 19 shots from the floor, including eight of 11 from the 3-point line, on his way to 42 points. IN THE FIRST HALF! He cooled off a bit in the second half but finished with 55 points as the Lakers cruised to a 108-94 victory. Jordan scored 23 points in just over 40 minutes in the loss.
Jordan likely took that beating a little bit personally but you know he had to respect it.
Stats courtesy of Basketball Reference