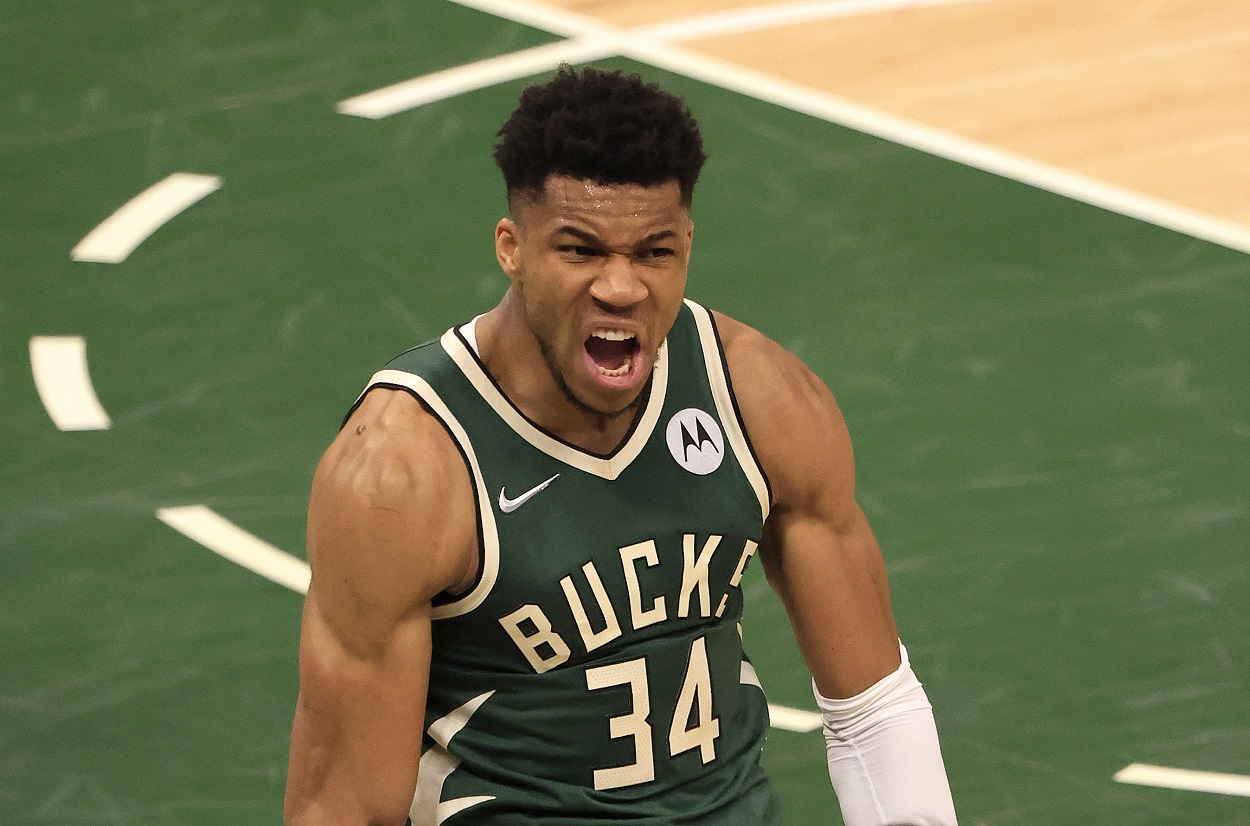 Giannis Antetokounmpo Joined a Number of Highly Exclusive Clubs With His Dominating Performance in Game 3 of the NBA Finals
With a dominating performance in leading the Milwaukee Bucks to victory in Game 3 of the 2021 NBA Finals, Giannis Antetokounmpo joined a number of highly exclusive clubs.
It can't be easy to put an entire team on your back when you've got an injured knee but that's exactly what Giannis Antetokounmpo did on Sunday night in leading the Milwaukee Bucks to a much-needed victory over the Phoenix Suns in Game 3 of the 2021 NBA Finals.
But not only did Antetokounmpo get his team back into the series, the two-time NBA MVP also joined a number of highly exclusive NBA Finals clubs.
Giannis Antetokounmpo scored 41 points and grabbed 13 rebounds to lead the Bucks to a 20-point win in Game 3 of the NBA Finals
When Antetokounmpo went down with a left knee injury in Game 4 of the Eastern Conference Finals, it truly seemed as if his season was done. But after missing the Bucks' final two games against the Hawks, the five-time NBA All-Star sucked it up and was in uniform for Game 1 of these 2021 NBA Finals against the Suns. And he's been nothing short of spectacular.
Sure, he took a bit of a backseat in the series opener but over the last two games, Giannis has clearly taken back his role as the leader of the Bucks and is doing everything in his power to keep Milwaukee in the series. Despite playing limited minutes in Game 1, he recorded 20 points and 17 rebounds in the Bucks' 118-105 loss. In Game 2, with Middleton and Jrue Holiday struggling, he put up 42 points and 12 boards in a 118-108 defeat.
Back on his home floor on Sunday night for Game 3, Antetokounmpo was dominant yet again, hitting 14 of 23 shots from the floor and 13 of 17 shots from the foul line for 41 points, also grabbing 13 rebounds and dishing out six assists in the Bucks' 120-100 victory. Holiday added 21 points and nine assists while Middleton chipped in with 18 points, seven rebounds, and six assists.
Antetokounmpo is just the sixth player in NBA Finals history with back-to-back 40-point games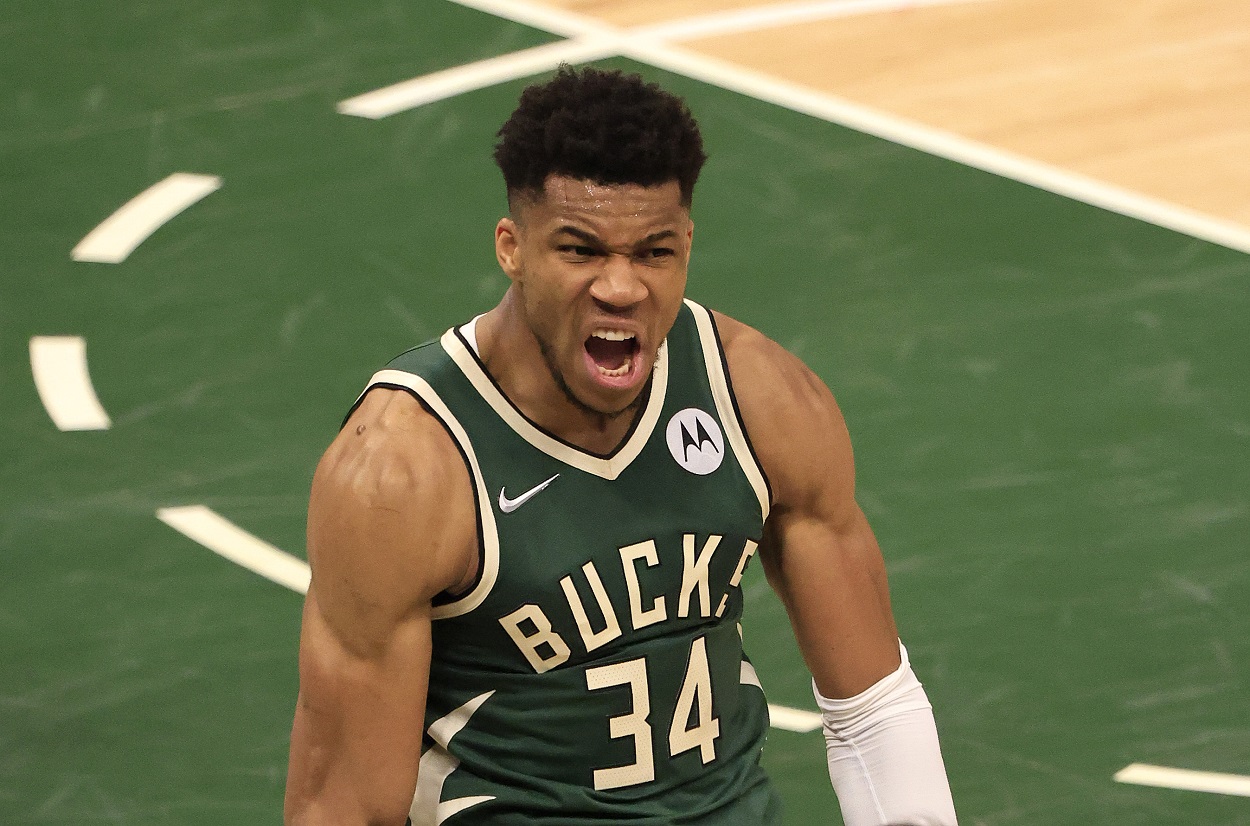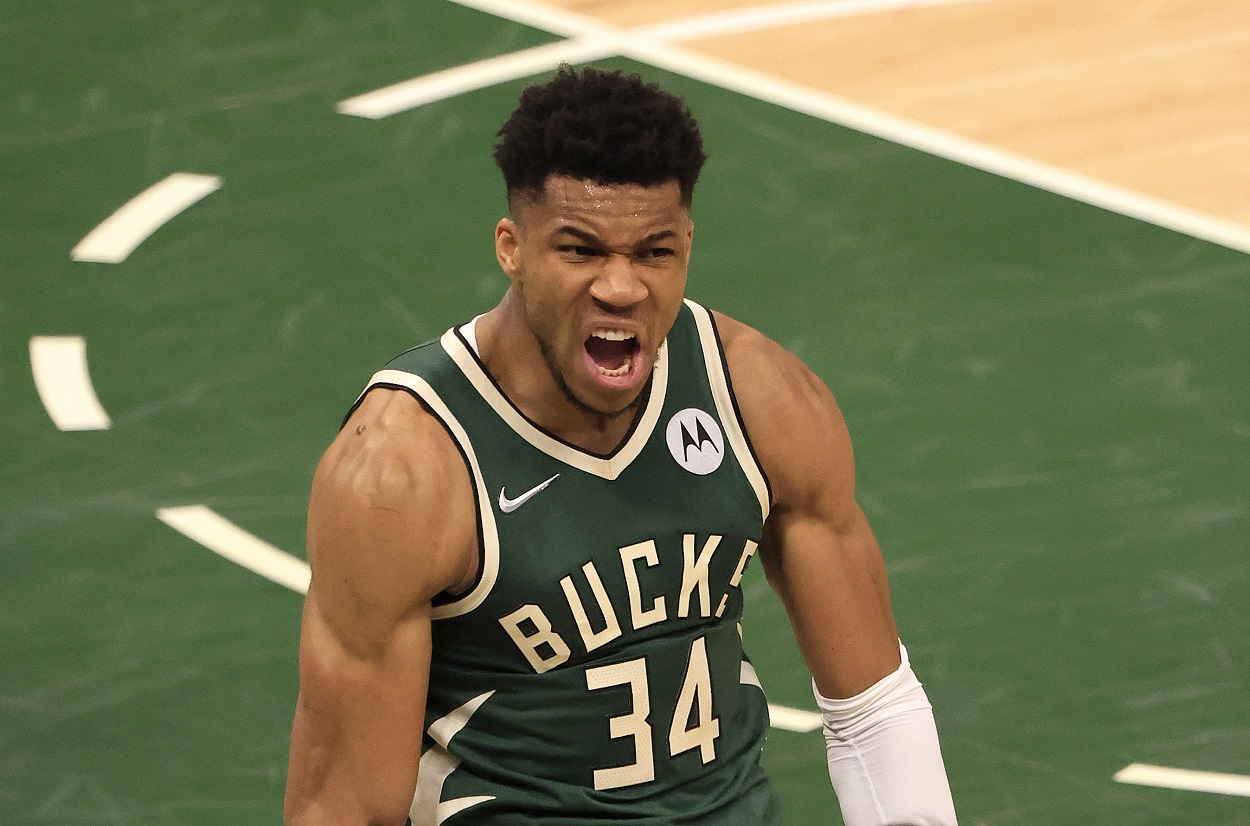 With his performance in Game 3 on Sunday night, Antetokounmpo became just the 12th player in NBA Finals history with multiple 40-point games, joining this impressive list of names:
Jerry West: 10
LeBron James: 8
Shaquille O'Neal: 5
Elgin Baylor: 4
Rick Barry: 3
Kyrie Irving: 2
Dwyane Wade: 2
John Havlicek: 2
Bob Pettit: 2
George Mikan: 2
Giannis Antetokounmpo: 2
Of those 12, Giannis is one of six to score 40 or more in consecutive games, joining West, James, Jordan, Shaq, and Barry. And with 103 points scored in his first three NBA Finals games, Antetokounmpo now sits in fourth place on that particular list behind only Barry (122), Allen Iverson (106), and Willis Reed (104).
Giannis joined Shaq and Willis Reed in another pair of exclusive clubs
Not only did Antetokounmpo join Reed in the top four in total points scored over his first three NBA Finals games, he and the New York Knicks legend are also the only two players in NBA Finals history to record 100 or more points and 40 or more rebounds over their first three games. Giannis has 103 points and 42 rebounds thus far against the Suns, while Reed posted 104 points and 48 rebounds in the first three games of the 1970 Finals against the Lakers.
In addition, Antetokounmpo joined another exclusive club as he and Shaq are the only two players in NBA Finals history with back-to-back games of at least 40 points and 10 rebounds.
Now we just have to wait and see what kind of clubs Giannis can join next. Game 4 of the 2021 NBA Finals between the Bucks and Suns is set for Wednesday night in Milwaukee at 8:00 p.m. Eastern on ABC.
Stats courtesy of Basketball Reference