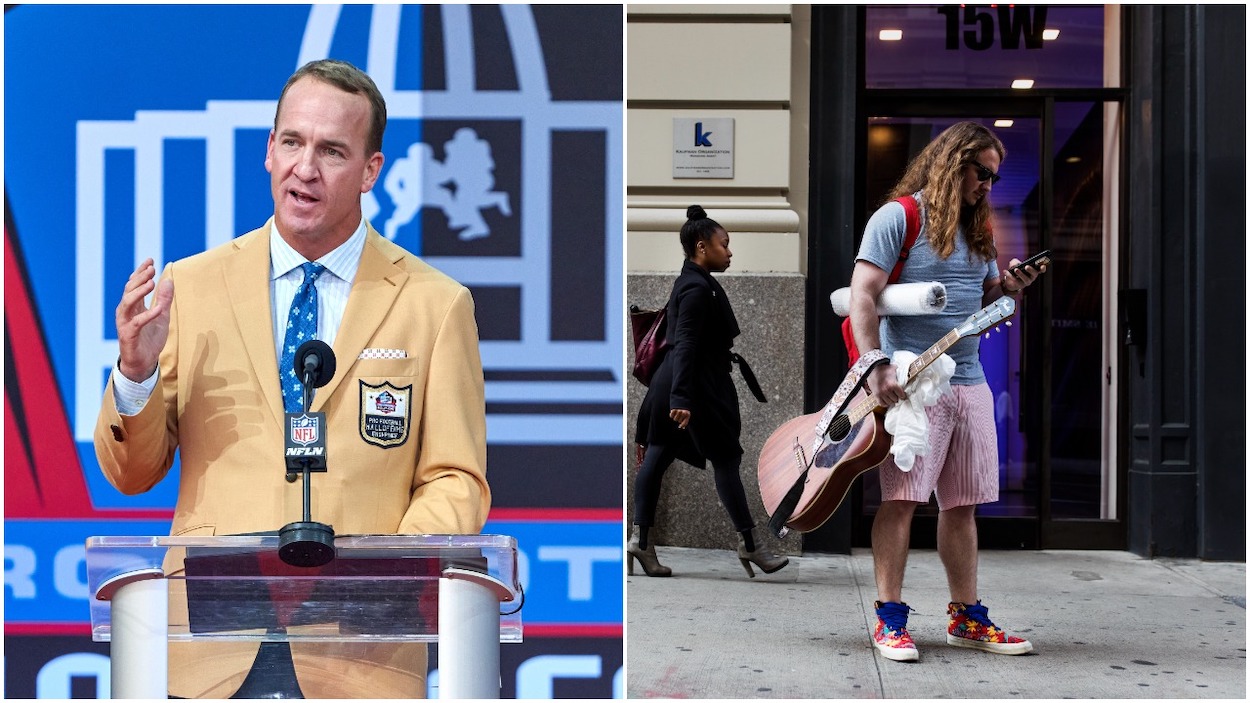 Peyton Manning Attacks Barstool Sports Personality PFT Commenter on 'Monday Night Football' Broadcast: 'Is There a Way to Block This Guy as a Viewer?'
The PFT Commenter vs. Peyton Manning feud has been a highlight of Monday Night Football ManningCast this year, but is it a real beef, or just for show?
The audience has grown in the first three weeks of the Monday Night Football ManningCast thanks to enjoyable guests and the personalities of the two former NFL greats in the hosting seats. The Manning brothers' unique take on the traditional television football broadcast has been a hit for ESPN. "Monday Night Manning" has seen Eli Manning "dance," Peyton Manning don a way-too-small helmet, and Archie Manning critique his sons like the Statler and Waldorf from the Muppets. Possibly the most intriguing interaction so far is the Twitter beef between Peyton and Barstool Sports personality PFT Commenter.
Who is PFT Commenter?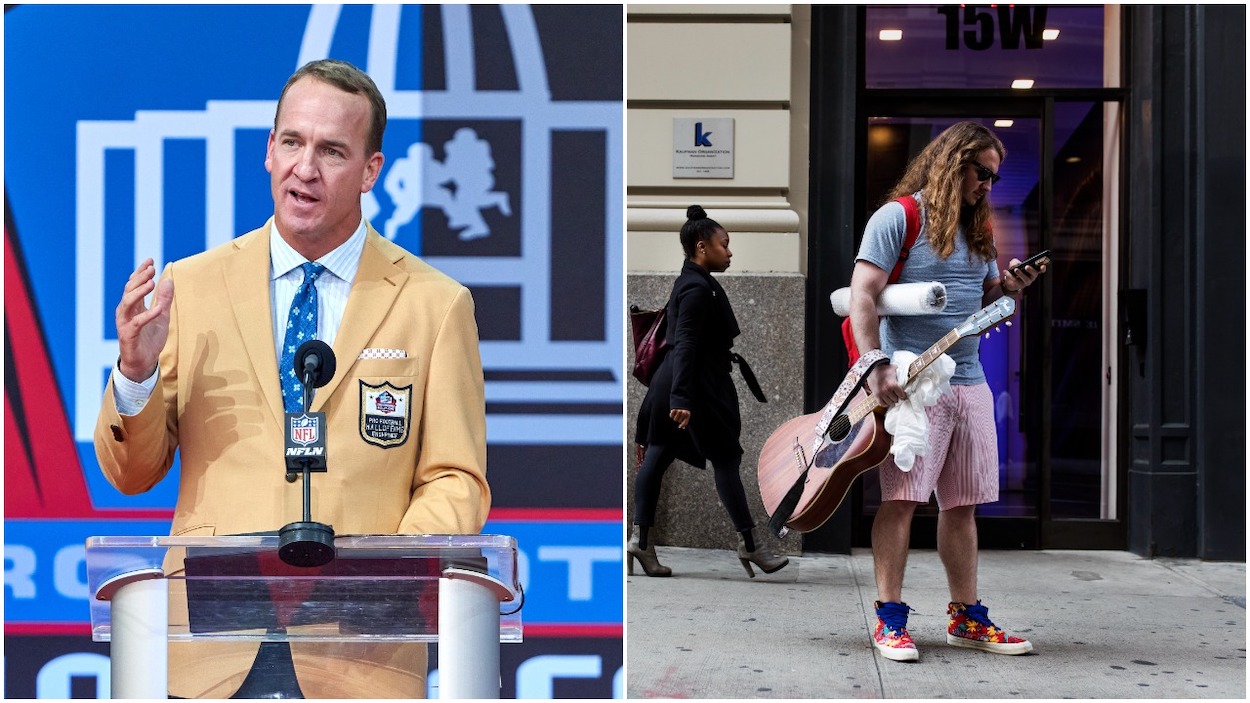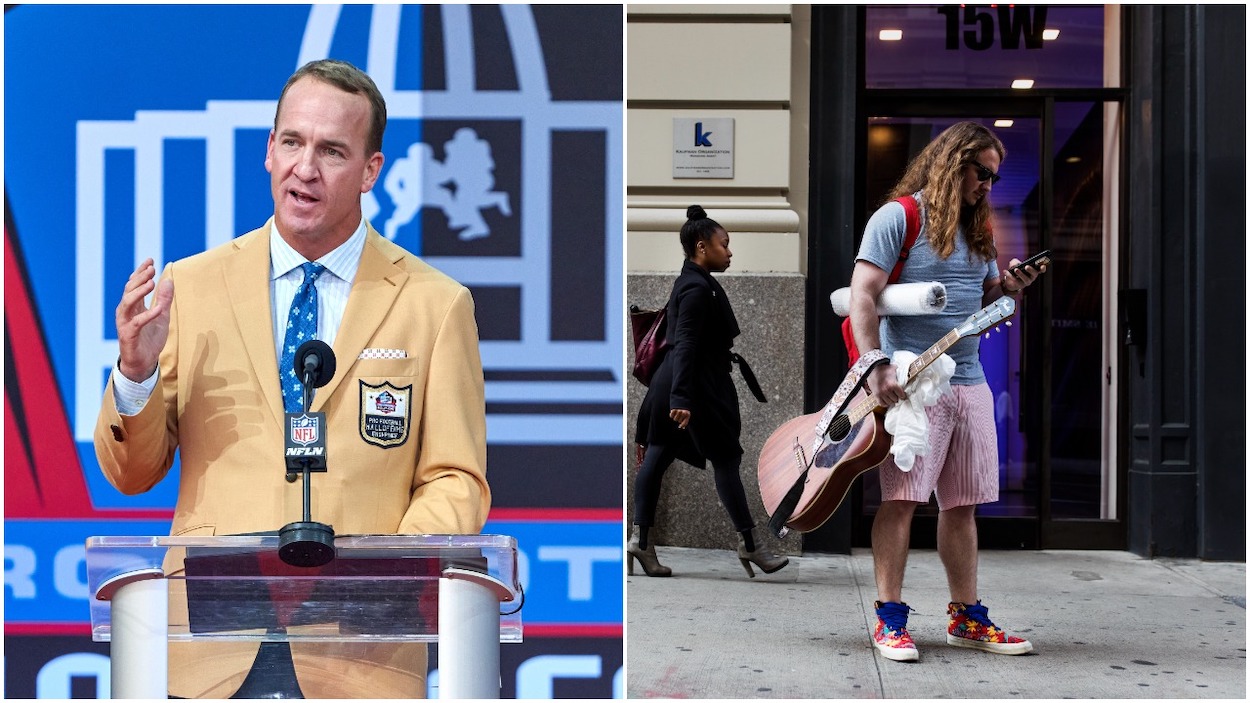 PFT Commentator is the stage name of Barstool Sports personality Eric Sollenberger. The pseudonym refers to his persona, which mimics the troll-like tendencies of some sports fans who inhabit the comments sections of sites such as Mike Florio's Pro Football Talk (PFT).
According to Texas Monthly, "He created the PFT Commenter personality to mimic the tone of the site's worst users, complete with spelling errors, bizarre punctuation, and political takes on football news that have nothing to do with the gridiron."
After writing for outlets such as SBNation and the Austin Chronicle, Sollenberger found success with Barstool Sports, primarily as the host of the site's hit podcast, Pardon My Take.
Along with legions of dedicated fans, the controversial pundit has also made some enemies during his time at Barstool.
PFT Commenter's "performance" on Barstool Sports has rubbed many people the wrong way. This includes Deadspin writer Laura Wagner, who outed Sollenberger as the real person behind PFT when the Washington Post refused to. ESPN President John Skipper is another example. He canceled PFT and his co-host Dan "Big Cat" Katz's show on the network, Van Talk, after just one episode.
The latest sports world figure to have a problem with PFT Commenter is none other than Peyton Manning.
Peyton Manning and PFT Commenter butt heads on 'Monday Night Football'
Eli and Peyton Manning's alternate Monday Night Football broadcast on ESPN2 is a major departure from the traditional football broadcast. The all-time great siblings talk football, joke around, and bring on a range of guests.
Another wrinkle in the broadcast is the producers putting up tweets on the screen for Peyton and Eli to respond to. One of the biggest hits so far is getting Peyton's responses to tweets from PFT Commenter.
In Week 1, PFT tweeted, "Peyton needs a perscription helmet for that dome," referring to the ill-fitting Baltimore Ravens helmet he tried on. While guest Ray Lewis and Eli found the humor, Peyton seemingly did not.
This continued in Week 2 when PFT took to Twitter to say, "Eli is aging in reverse. Guy looks wonderfull. like your grandfather in a pic from when he was 20."
Eli exclaimed, "I love this guy!" But Peyton was again unimpressed and slightly perturbed.
Finally, in Week 3, PFT got off the joke of the night. After welcoming his "best friend" back, Peyton read PFT's tweet that said, "I want to open a Brooks Brothers popup store at a Manning family reunion and put my kids through college. No mispelling this time Payton you freak."
Although he did chuckle while reading it, Peyton went off on PFT after the "freak" comment, responding:
Alright, is there a way to block this guy as a viewer, like you can a phone call? By the way, it's P-E-Y, you — P-E-Y … This guy, my least favorite viewer. I know ESPN wants to increase viewership. Let's get that guy to stop viewing it.  

Peyton Manning on PFT Commenter
After that response, it seems like the former Indianapolis Colt and Denver Bronco QB is done with PFT Commenter… or is he?
Is this a manufactured feud? 
Part of the entertainment value of Peyton Manning getting flustered reading these tweets during Monday Night Football is that he seems not to know who PFT Commenter — or "this guy" as he often calls him — is.
While it is entirely possible that Peyton, one of the most famous NFL players in history, doesn't remember every interview he's ever done, he did appear on Pardon My Take with PFT and Big Cat on August 2, 2021.
This leaves the door open to the possibility that this is all a setup to have PFT Commenter on the ManningCast later in the season.
Peyton might have even slyly promo-ed this at halftime of Week 3.
After Peyton's dad Archie told him to "let it go" with PFT, Peyton still refused. After complaining about being called a "freak," the two-time Super Bowl champ said, "I wanna meet this guy on the show. We're gonna have this guy on the show. Live."
Archie responded by telling Peyton, "make him your third-quarter guest next week."
The Manning brothers are off next few weeks. However, don't be surprised to see PFT Commenter join Peyton and Eli in Week 7. That is when the duo returns to ESPN2 for the Seattle Seahawks vs. New Orleans Saints Monday Night Football matchup.
Like Sportscasting on Facebook. Follow us on Twitter @sportscasting19