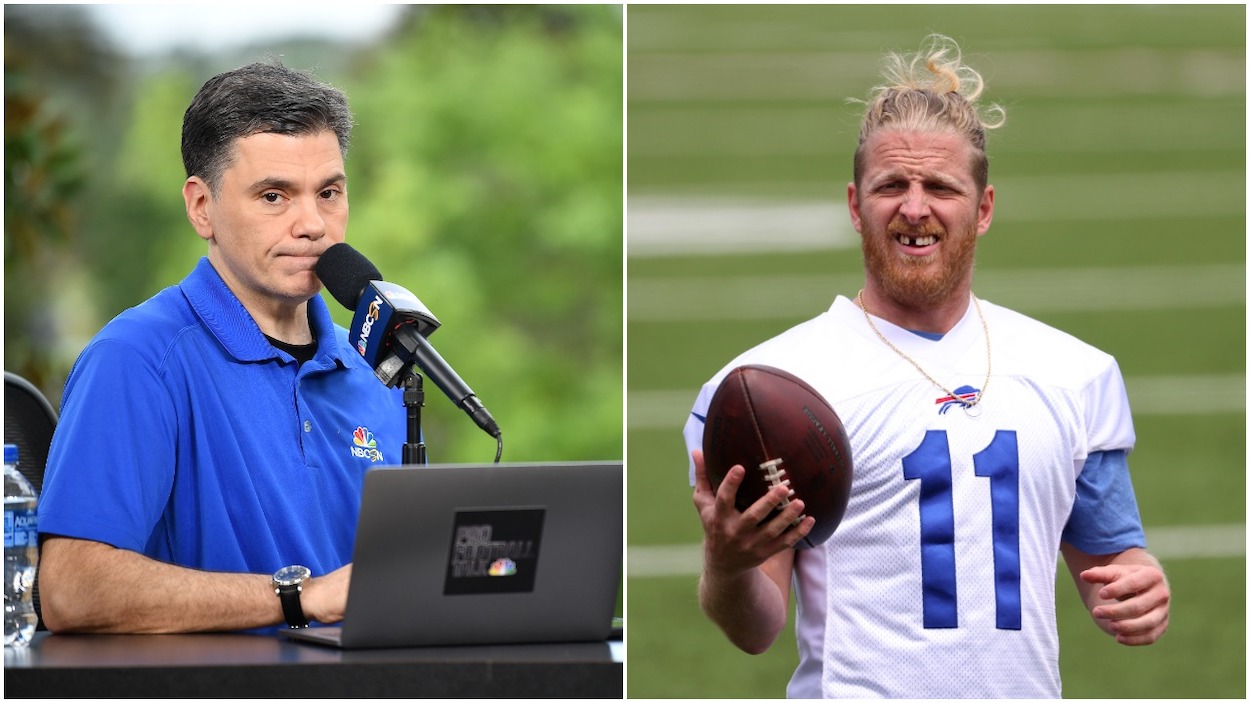 Mike Florio Suspects Cole Beasley is Trying to Become 'the Anti-Vax Version of Colin Kaepernick' and a 'Fox News Superstar'
Cole Beasley is lighting Twitter on fire with his anti-vax stance, and PFT's Mike Florio thinks this might be more calculated than it seems. The NFL analyst suggested that Beasley might be setting himself up for his next job with a conservative media outlet and becoming "the anti-vax version of Colin Kaepernick."
Buffalo Bills wide receiver Cole Beasley has become the face of the NFL anti-vaxxer. His strong stance against getting the COVID-19 vaccine, paired with his willingness to engage in debate about his feelings on social media, has raised the formerly somewhat unknown slot receiver's profile significantly in recent weeks.
At least one prominent NFL insider, Pro Football Talk's Mike Florio, thinks this may be a more thought-out plan than it seems. The lawyer-turned-analyst speculated that Beasley is trying to get cut from the Bills for personal gain.
Several NFL players are sharing their anti-vax stance
A few NFL players have publically spoken out against the COVID-19 vaccine in recent weeks. Montez Sweat told reporters, "I haven't caught COVID yet, so I don't see me treating COVID until I actually get COVID."
Just yesterday, the NFL sent a memo stating that teams may forfeit games, and as a result, players may forfeit game checks if a group of unvaccinated players or staff cause an un-reschedulable game postponement with a COVID-19 outbreak. Arizona Cardinals star DeAndre Hopkins responded with a now-deleted tweet about his aversion to the vaccine and a retirement threat.
Beasley has been the most outspoken, however. Back in May, he tweeted a response to a story about Dr. Anthony Fauci saying vaccinated people don't have to wear masks outdoors. Beasley wrote, "I do that without being vaccinated. Is this illegal now?"
Since then, Beasley has engaged in debate with social media users, big and small. His anti-vax tweets even provoked a tongue-in-cheek offer from Mark Cuban to buy Beasley's wife a share of Pfizer stock.
With NFL training camps and the season rapidly approaching, Beasley's online antics have people thinking it may be too much for the Bills organization to stomach.
Mike Florio thinks Buffalo Bills wide receiver Cole Beasley wants to get cut
Florio took to his PFT and NBC platform to discuss Beasley's most recent comments even though he said, "I don't want to continue to give the guy a platform for a position that I believe, substantively, is incorrect."
Speculation is rampant that Beasley's actions and refusal to get the vaccine may lead to the Bills cutting the nine-year veteran. Florio added to this by hypothesizing that Beasley might actually be trying to achieve that outcome:
I'm starting to wonder if he almost wants to set himself up as a version of Colin Kaepernick? Where, maybe, he senses that the Bills aren't real happy about this, and maybe he's in jeopardy of being cut. And maybe he just wants to be. Maybe he's gonna go all-in with it, 'Fine cut me, and if no one else signs me, then I'm the anti-vax version of Colin Kaepernick,' and he becomes a Fox News superstar.

Mike Florio on Cole Beasley
"I just feel like Beasley has something else going on here," Florio explained. He continued by saying that unless Beasley is "completely reckless" and "careless," then there is likely a "strategy at play" from the former SMU Mustang.
Florio concluded by theorizing that the strategy involves Beasley saying to himself, "I'll become for the Right — and I hate that it's a political issue — but I'll become for the Right, when it comes to vaccines, what Colin Kaepernick became for the Left."
When will the Bills cut Cole Beasley?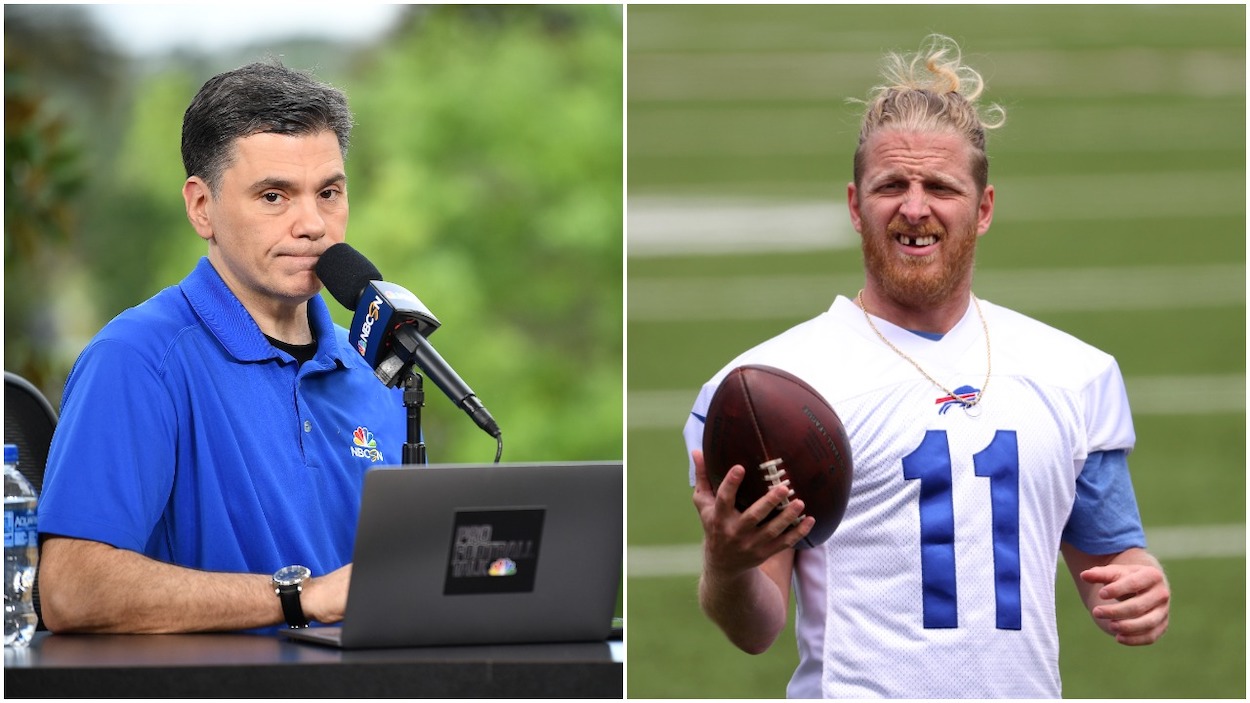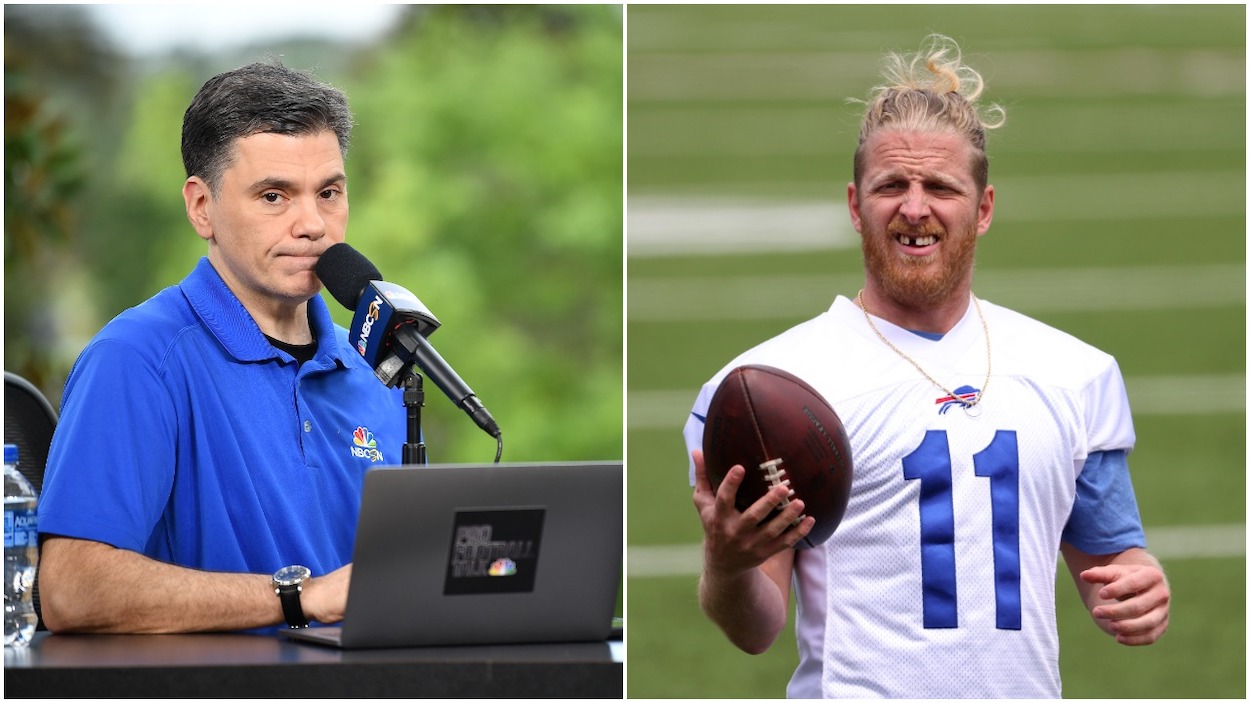 There are three options that could result in the Bills cutting Beasley.
A) Florio could be correct, and Beasley could keep pushing until the Bills cut him, B) Florio could be wrong about Beasley's intentions, but Buffalo could tire of the distractions or need to get to the NFL's prescribed 85% threshold and cut him, or C) Beasley's Twitter feed could truly not influence the matter at all, and the Bills would just let him go because he's a 32-year-old pass-catcher with a $7.3 million cap hit who's part of a young, deep receiver unit.
No matter how this plays out, there are several key dates to watch to see if Beasley gets the boot from Buffalo.
Bills training camp will start with 90 players. After the team's first preseason game (August 13 vs. the Detroit Lions), the roster has to get to 85 by August 17, per USA Today. After that, the squad must be down to 80 by August 24, three days after preseason game No. 2 vs. the Chicago Bears.
After the Bills face the Green Bay Packers on August 28, the organization will make the biggest cut of the preseason, going from 80 down to the traditional 53-man roster.
This means by September 1, at the latest, we'll know where to tune in to watch Beasley on TV. If Florio is wrong, it will likely be the Bills' Week 1 matchup vs. the Pittsburgh Steelers. If Florio is right, it could be Fox & Friends.  
Like Sportscasting on Facebook. Follow us on Twitter @sportscasting19