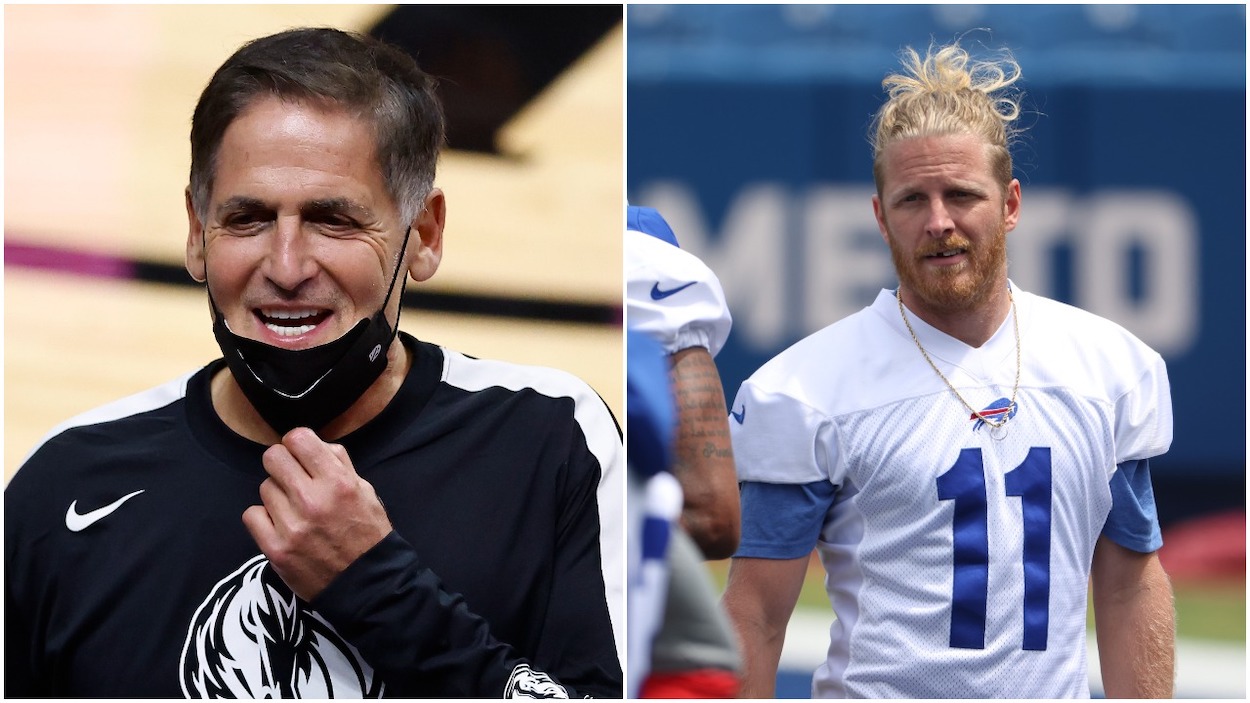 Mark Cuban Calls Cole Beasley's Bluff and Offers to Buy His Wife a Gift
Cole Beasley tried to make point about corporate greed and COVID-19 vaccines on Twitter and Mark Cuban hilariously called his bluff. The Buffalo Bill said he'd get vaccinated if Pfizer shared its profits with his wife. Cuban then offered to buy his wife a share of Pfizer stock if he'd get the shot.
Buffalo Bills wide receiver Cole Beasley is having a tough time on social media lately. The native Texan hasn't been shy about sharing his thoughts about the COVID-19 vaccine and his refusal to get it, despite the fact that doing so could help the Bills gain a competitive advantage if they surpass the 85% vaccination threshold.
In Beasley's latest social media hot take, he offered to take his vaccination shot if a major corporation incentivized him to do so. That's when Mark Cuban stepped in and made him and his wife an offer.
Cole Beasley is one of the most outspoken NFL players on the COVID-19 vaccine
The NFL vaccination rate among players (at least one shot) is around 74%. That percentage is significantly higher than the national average. In the U.S., 68.4% of adults 18 and up have at least one vaccination shot currently, per New York Times. At least 13 teams above the league's targeted 85% threshold and only two organizations with under 50% of players vaccinated.
Most players are playing it pretty close to the vest when it comes to sharing their vaccination status. However, there are some who are outspoken about their vaccine hesitancy. Cole Beasley is one of the most vocal on social media in this group.
Beasley's social media attacks on the vaccines started in May when he responded to a tweet about Dr. Anthony Fauci relaxing outdoor mask restrictions for vaccinated people. The former SMU star tweeted, "I do that without being vaccinated. Is this illegal now?"
The backlash was fast and severe. Beasley also helped stoke the backlash by engaging in discussions with other Twitter users. Since that tweet, @Bease11 has become NFL twitter's ground zero for the debate around players and vaccinations, politics, corporate greed, and individual freedom versus public health.
Cuban made Beasley an offer to get vaccinated
One of Beasley's main arguments for not getting vaccinated is related to corporate greed. He often tweets messages suggesting he believes that the NFL, NFLPA, and the pharmaceutical companies are all pushing vaccinations for financial gain.
In one of his latest tweets in this vein, the receiver wrote, "I'll get vaccinated and be an advocate for it if Pfizer puts a percentage of its earnings from the vaccine in my wife's name."
That's when Mark Cuban stepped in.
The serial entrepreneur, Dallas Mavericks governor, and Shark Tank host retweeted this message from Beasley with an offer:
I'll tell you what Cole. You get vaccinated and promote vaccination on all your social, I'll buy your wife a share of Pfizer stock. It pays a 3.78% dividend. That way she is getting a percentage of Pfizer's earnings. Deal ?
Cuban's tongue-in-cheek offer/troll-job isn't surprising. He's a constant, pugnacious social media presence as well as a staunch vaccine proponent. There's no word yet on whether Beasley took Cuban up on his offer, which would cost the billionaire just over $41.
Josh Allen has a lot of offensive weapons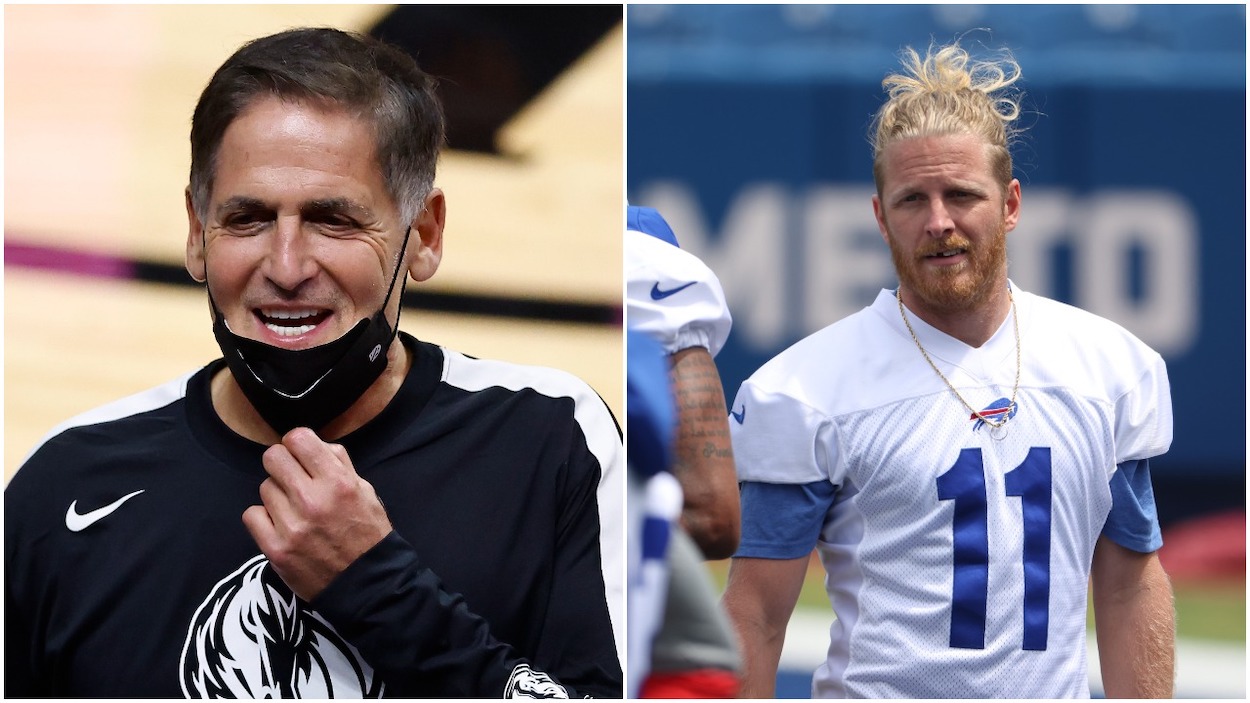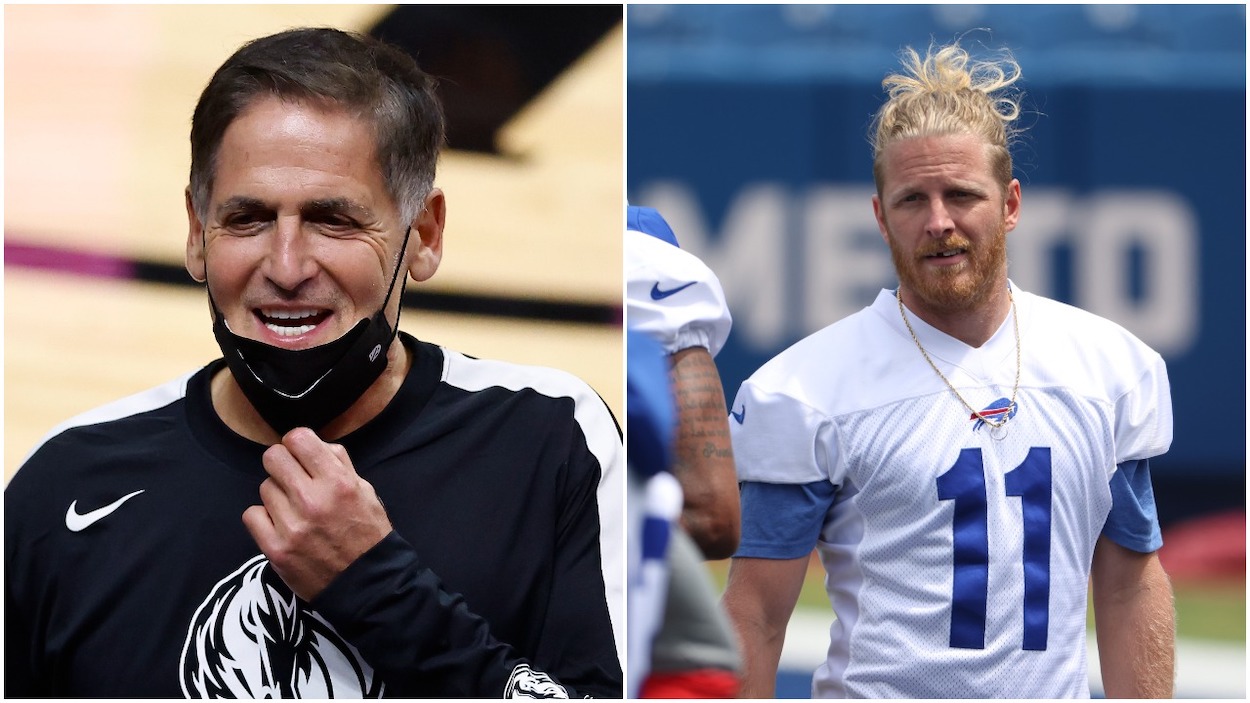 Whether or not you agree with Beasley's takes off the field, there is no denying his talent on the field as a top slot receiver in the league. He joins a very talented group surrounding 2021 MVP candidate Josh Allen.
The Bills receiver group is among the deepest and most talented in the league. Stefon Diggs, a 2020 First-Team All-Pro, leads the unit that includes Beasley, last year's pleasant rookie surprise, Gabriel Davis, free-agent acquisition Emmanuel Sanders, veterans Isaiah McKenzie and Duke Williams, and Allen's former Wyoming teammate Tanner Gentry.
The running back and tight end positions are both strong for the Bills too. The team added Matt Breida to the young, talented (but possibly injury-prone) duo of Zach Moss and Devin Singletary. At tight end, NFL veteran and another former Wyoming Cowboy, Jacob Hollister, joins Dawson Knox, a third-year player who's flashed significant potential.
With all this talent on offense, it will be interesting to see if Beasley's vaccination distractions become too much for Buffalo to bear, and the team decides to cut him loose.
Like Sportscasting on Facebook. Follow us on Twitter @sportscasting19