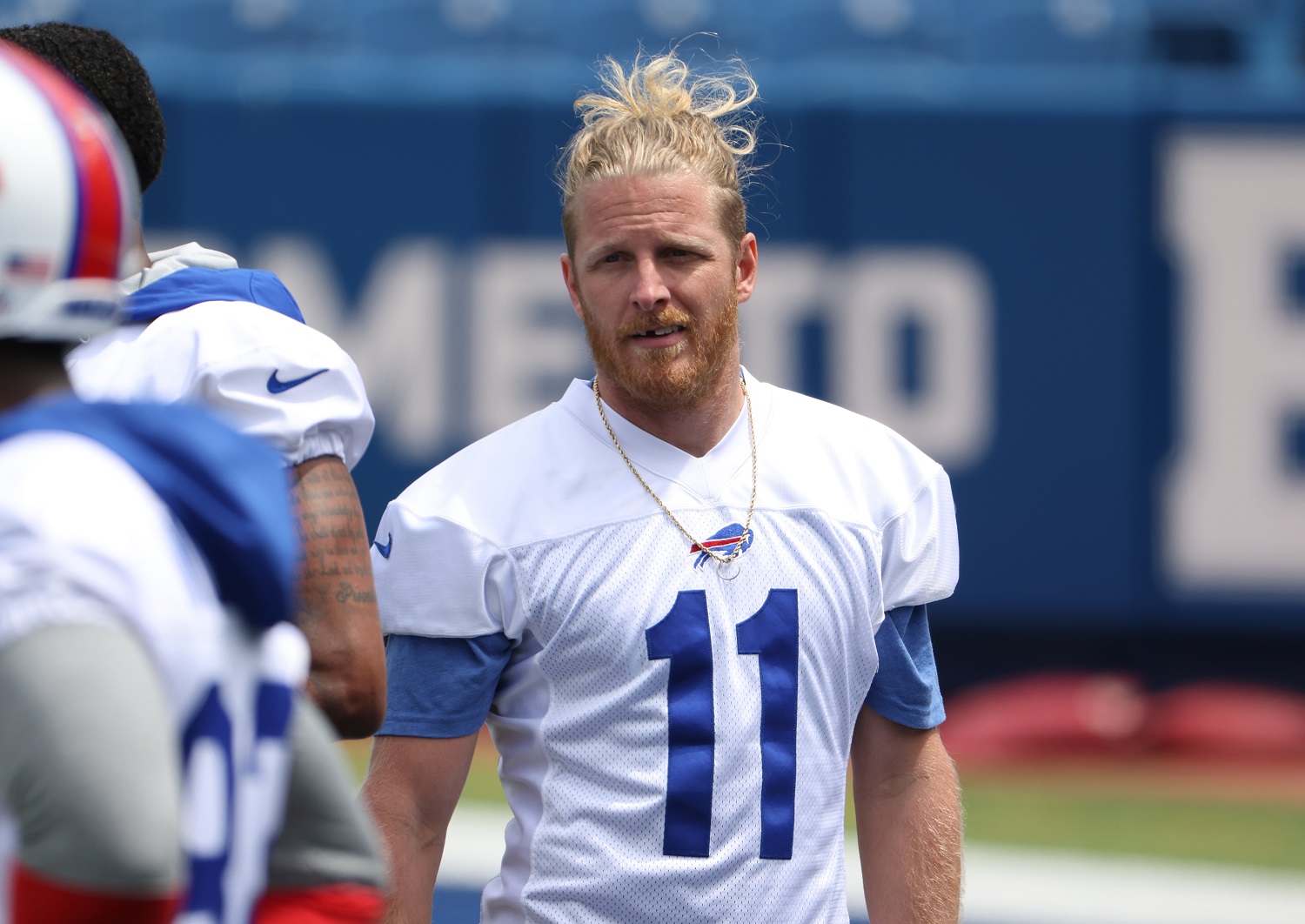 The Buffalo Bills Are Being Pressed to Decide Cole Beasley's Future
Buffalo Bills receiver Cole Beasley remains outspoken in his opposition to COVID-19 vaccinations. The NFL team faces a tough call on his future.
The NFL has drawn a yard line in the sand, and the Buffalo Bills are going to trip all over themselves while trying not to cross it. At the end of the day, however, they may do the expedient thing by discarding a big reason that Josh Allen made such dramatic progress in his third pro season.
The NFL isn't fooling around with its updated COVID-19 policy
The NFL Network's Tom Pelissero reported on Thursday that the league will declare forfeits for games that cannot be rescheduled due to COVID-19 outbreaks among unvaccinated players. The loss will hurt in the standings and on balance sheets, as teams causing the forfeits will cover related expenses.
The NFL juggled schedules last season, when there were no vaccines available, but completed all 256 regular-season games. The 2021 schedule calls for 272 games over 18 weeks. The memo said the NFL will not add a 19th week under any circumstances to make up missed games.
Those aspects of the announcement apply pressure to the teams to do everything right. As for the players' incentive, the NFL is warning that neither team will be paid in the event of a cancellation and forfeit.
Vaccinated players who test positive can return to the team immediately after two negative tests. Unvaccinated players will have to quarantine for 10 days.
Up until now, Bills receiver Cole Beasley has been the face of resistance to vaccines. With a week to go until all 32 teams open training camp, social media will be buzzing. Already, Arizona Cardinals receiver DeAndre Hopkins tweeted, "Never thought I would say this, But being put in a position to hurt my team because I don't want to partake in the vaccine is making me question my future in the @NFL."
He subsequently deleted the tweet.
Cole Beasley has been the ground zero of defiance
Allen threw for 4,544 yards and 37 touchdowns last season to earn his first Pro Bowl recognition. Stefon Diggs (127 catches, 1,535 yards, 8 touchdowns), acquired last offseason from the Minnesota Vikings, and Beasley (82/967/4) were his favorite targets.
Beasley entered the league in 20212 with the Dallas Cowboys as a free agent out of SMU, and his reception and yardage totals last fall were career highs. He signed a four-year, $29 million deal with the Bills in 2019. He will earn $4.7 million this year, and Beasley carries a $7.34 million cap hit if Buffalo releases him. Keep that number in mind right up until the final cutdown day this summer.
Beasley began sounding off on updated NFL policies on COVID-19 protocols in the spring when the league announced that unvaccinated players would have to remain in their hotel rooms on the road and socially distance in team facilities.
"Vaccinated players can go out the hotel and bring covid back in to where I am," Beasley argued on Twitter. "So what does it matter if I stay in the hotel now? 100 percent immune with vaccination? No."
He felt immediate backlash in the media and online, and Beasley vowed to quit roiling the waters. That lasted until this week.
The Buffalo Bills face pressure to decide Cole Beasley's future
The NFL has set an 85% vaccination rate as the threshold for easing COVID-19 restrictions on NFL teams. Only 13 teams have reached that level thus far. The number should climb throughout camp and the preseason, but Thursday's hardline approach by the NFL could prompt holdouts from training camp and from getting vaccinated.
Beasley resurfaced this week. He pushed back on Michael Irvin saying that players unvaccinated players don't want to win. He also said the Bills sent home a vaccinated teammate who tested positive.
Pro Football Talk has floated the idea that Beasley might be trying to goad the Bills into cutting him. That seems like a no-go for no other reason than the size of the cap hit.  USA Today editor Doug Farrar's contention that Beasley isn't the Bills' best slot receiver doesn't even fly with his backup, so the front office would be loathe to let one of Allen's two best targets corner them like that.
The question now, however, is whether the NFL just nudged the Bills closer to cutting Beasley even though forfeits and financial penalties are unlikely because so many players are vaccinated.
If it happens to a team because of an outbreak traced back to a backup linebacker, no one points to the team. If it happens to Buffalo because of Beasley (or even he isn't patient zero), the Bills take a PR hit for not disposing of the perceived malcontent when they had the chance.
Dropping a productive player as a preemptive move seems preposterous, but so did the idea of the NFL declaring forfeits before Thursday afternoon.
All stats courtesy of Pro Football Reference.