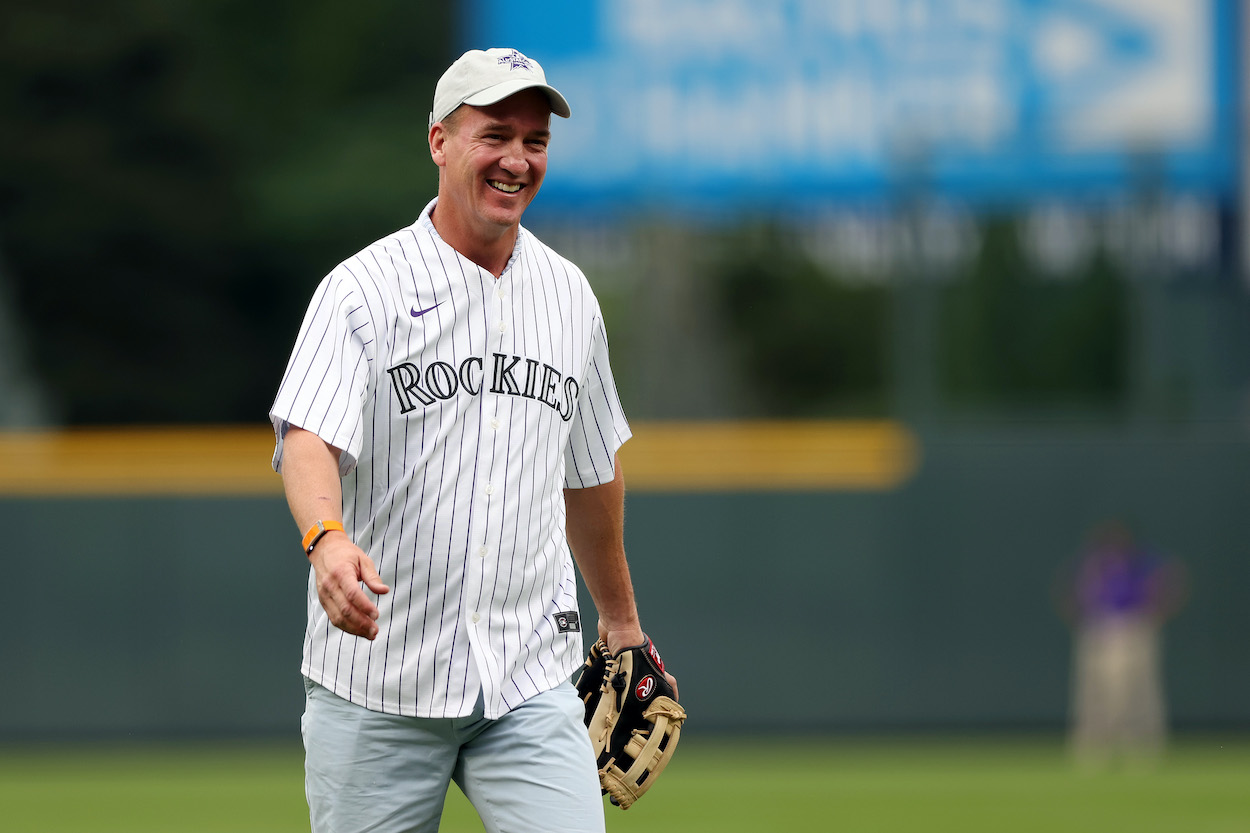 Peyton Manning Wants to Buy a Pro Sports Team but Says 'I Keep Looking for the $3 Billion in My Pocket, I Just Don't Know Where It Is'
Peyton Manning has always had his hands in a lot of projects off the field. Now that he is retired, he'd like to try owning a pro sports team. The only problem is, he's a few billion-dollars short. However, other pro athletes have become owners as part of a larger group in recent years.
The post-football career for Peyton Manning is the subject of much speculation. Ever since he walked off his last NFL field following the Denver Broncos' Super Bowl victory over the Carolina Panthers in February 2016, sports fans have asked, "what's next?"
People have guessed that the all-time great might be a coach, an announcer, or even the NFL Commissioner. However, it sounds like what Manning wants most is to own a sports franchise. There is only one small, billion-dollar problem.
How much did Peyton Manning make in his NFL career?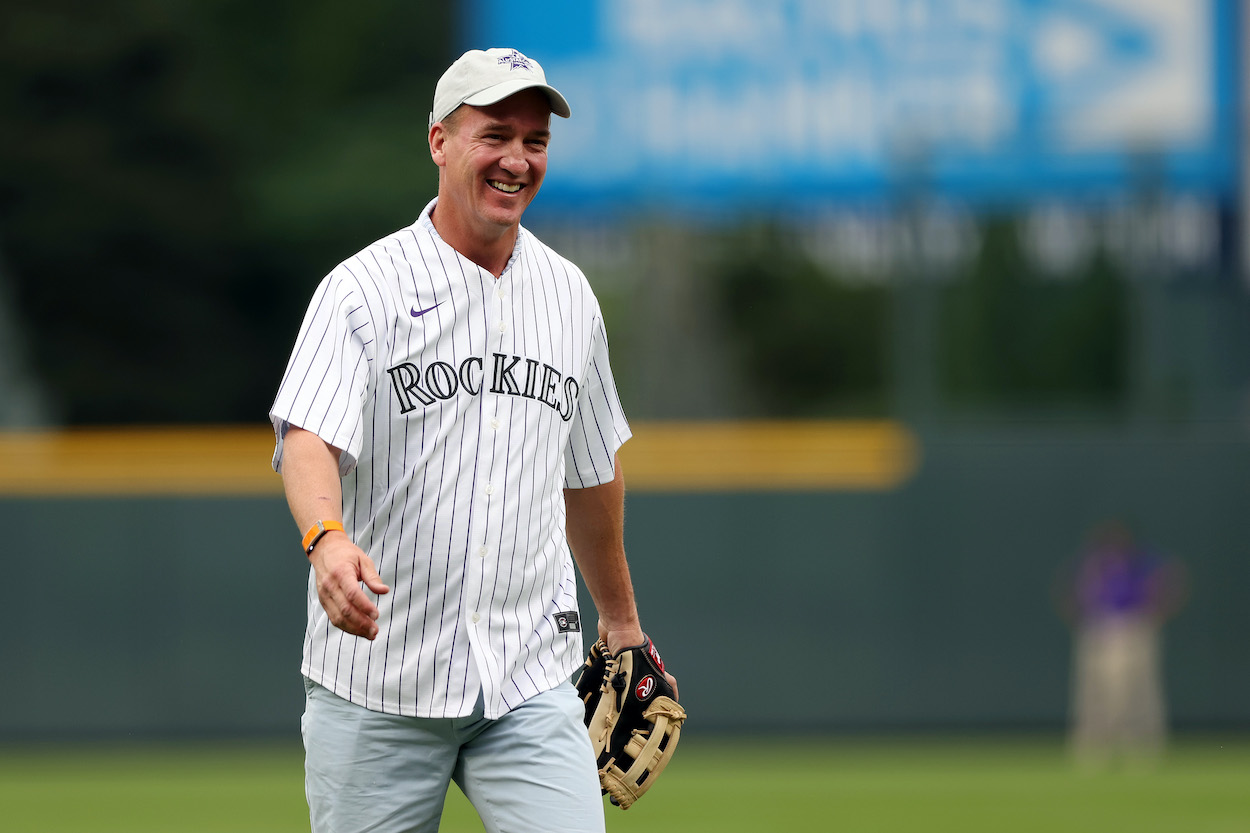 Owning a professional sports franchise, especially in the NFL, costs a lot of money. The last NFL team sold was the Carolina Panthers in 2018. According to CNN, billionaire hedge fund founder and former Pittsburgh Steelers minority owner David Tepper bought the club for $2.2 billion. That figure vastly eclipsed the previous NFL sale: the Buffalo Bills for $1.4 billion in 2014.  
These numbers suggest that to buy an NFL team in 2021 or beyond, potential new owners would have to shell out $3 billion or more.  
Peyton Manning made a lot of money in his NFL career, but he's currently about $2.75 billion short if he wants to be an NFL owner.
Manning came into the league as the No. 1 pick in 1998. This was before the current rookie salary scale was in place. It was a time when top picks were making incredible money before ever playing a single down. The former Tennessee Volunteer's rookie contract was for six years and $48 million.
As he climbed the ladder of greatest NFL passers of all time, Manning racked up lucrative extension after lucrative extension. With the Indianapolis Colts, he signed deals worth $98 million and $90 million. In Denver, his contracts included $95 million and $34 million deals.
All told in his Hall of Fame career, Manning earned $248,732,000. This number is right around the total at which media outlets, such as Celebrity Net Worth, estimate his current fortune of $250 million. 
Manning says he wants to be an NFL owner, but there's one small problem 
Manning recently joined iconic sports host Bob Costas on his HBO show, Back on the Record with Bob Costas. The two legends touched on a wide range of subjects from the QB's career-threatening injury to his post-playing plans. 
Costas asked Manning if he'd like to travel the path that follows the current trend of ex-athletes entering the ownership ranks. "Being part of [an ownership] group," Costas asked. "Would that interest you? Manning responded: 
Sure, to be a part of a team on the competitive side would be exciting. It would be fun. People ask me all the time like, 'Hey, are you gonna buy a team?' I keep looking for the $3 billion in my pocket. I just don't know where it is. But, I haven't had any serious conversations with anyone that's been close to buying a team, but if the situation arose — to be a part of it — yeah, that would certainly be interesting. 

Peyton Manning on becoming an NFL owner
The signal-caller from the famous family went on to discuss all the things keeping him busy in retirement but noted nothing can match the rush of running out on an NFL field. It does sound like ownership would come close to this thrill for him, though. 
If Manning does make the leap to the owner's box, he'll join some prestigious names in the ranks of athletes-turned-owners. 
Ex-pro athletes becoming owners is more common than ever
Several all-time great athletes have become owners of pro sports franchises in the last few years — the most famous of which is Michael Jordan. The NBA GOAT bought the Charlotte Hornets in 2010 for $275 million. In 2019, he sold a "large piece" of the team to two outside investors, per the Charlotte Observer (h/t Bleacher Report). However, he still maintains control of the organization. 
Former New York Yankees teammates and frenemies Derek Jeter and Alex Rodriguez are two of the most recent superstars to purchase and run pro sports teams. 
In 2017, Jeter put up a reported $25 million to lead a group that included New York businessman Bruce Sherman to buy MLB's Miami Marlins for $1.2 billion, per NBC Sports. In 2021, after a failed attempt to buy the New York Mets, A.Rod and his business partner Marc Lore are in the process of purchasing the NBA's Minnesota Timberwolves and the WNBA's Minnesota Lynx for $1.5 billion, per CBS Sports. 
Other athletes who've jumped on this trend recently by chipping in for minority stakes in club ownership include LeBron James (Liverpool FC), Dwyane Wade (Utah Jazz), Patrick Mahomes (Kansas City Royals), Venus and Serena Williams (Miami Dolphins), Magic Johnson (Los Angeles Dodgers), and Kevin Durant (Philadelphia Union), per ESPN. 
All contract figures courtesy of Spotrac