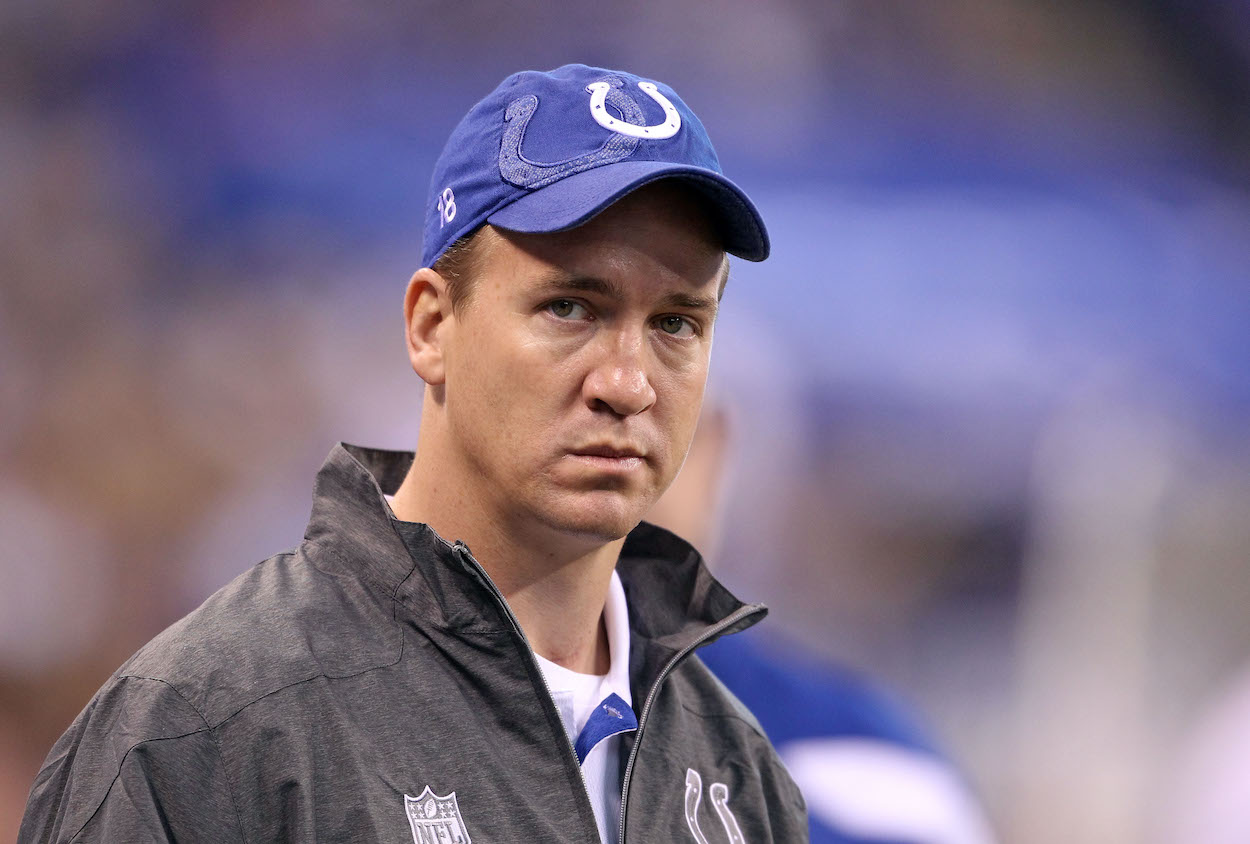 Peyton Manning Admits His Neck Injury Was More Serious Than He Let On: 'I Didn't Want to Let Anyone Else to See Me'
Peyton Manning missed an entire season with a neck injury but became an All-Pro and Super Bowl winner after while few knew how serious it was. The injury completely sapped his arm strength and, while he recovered, he only let a select few people his diminished throwing ability.
After 13 (mostly) spectacular seasons with the Indianapolis Colts, all-time great Peyton Manning missed the entire 2011 season with a neck injury. The recent Hall of Fame inductee left the franchise the next year and played four more seasons with the Denver Broncos, winning a second Super Bowl in 2015.
The neck injury is now a small speed bump in Manning's stellar career. At the time, however, the quarterback now admits that it was worse than most knew. That is especially scary when you realize it was a neck issue that cost his older brother Cooper Manning his football career.
Peyton Manning's neck injury led to his move from the Indianapolis Colts to the Denver Broncos
Peyton Manning was the No. 1 overall pick out of Tennessee in the 1998 NFL Draft. After a 3-13 rookie season with the Colts, Manning won at least 10 games in 11 of the next 12 seasons. In those 13 years, the former Volunteer started every single game for the franchise.
That all changed in 2011. In May of that year, Peyton had surgery to repair a herniated disc in his neck, per the Washington Post. The surgery initially made his neck feel better, but it cost him the strength in his right arm. He quickly re-herniated the disc and had a second surgery. His arm strength after that second surgery still didn't allow him to throw like an NFL quarterback.
The result of the surgery was that Manning unexpectedly missed the entire 2011 season. Without much time to prepare, the Colts turned to Curtis Painter, Dan Orlovsky, and even a 39-year-old Kerry Collins to fill the void. Without Peyton, though, the Colts finished the season 2-14.
The shock last-place finish did get the organization the first pick in the 2012 NFL Draft. That class featured Stanford's Andrew Luck, the best quarterback prospect to come into the NFL since Peyton himself.
With Luck in place, the Colts no longer needed an injured and aging Manning. The franchise let him go and the signal-caller signed with the Broncos.  
Manning's neck injury was more severe than most realize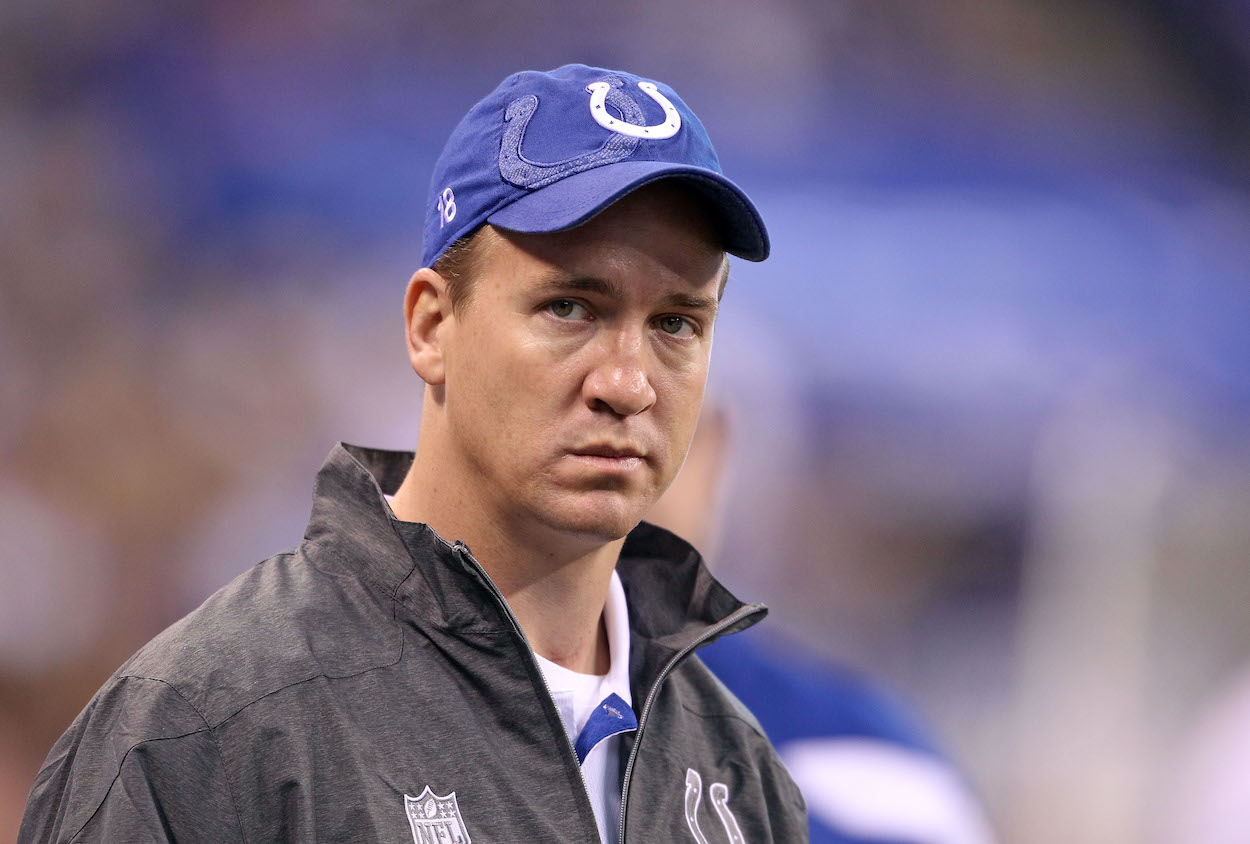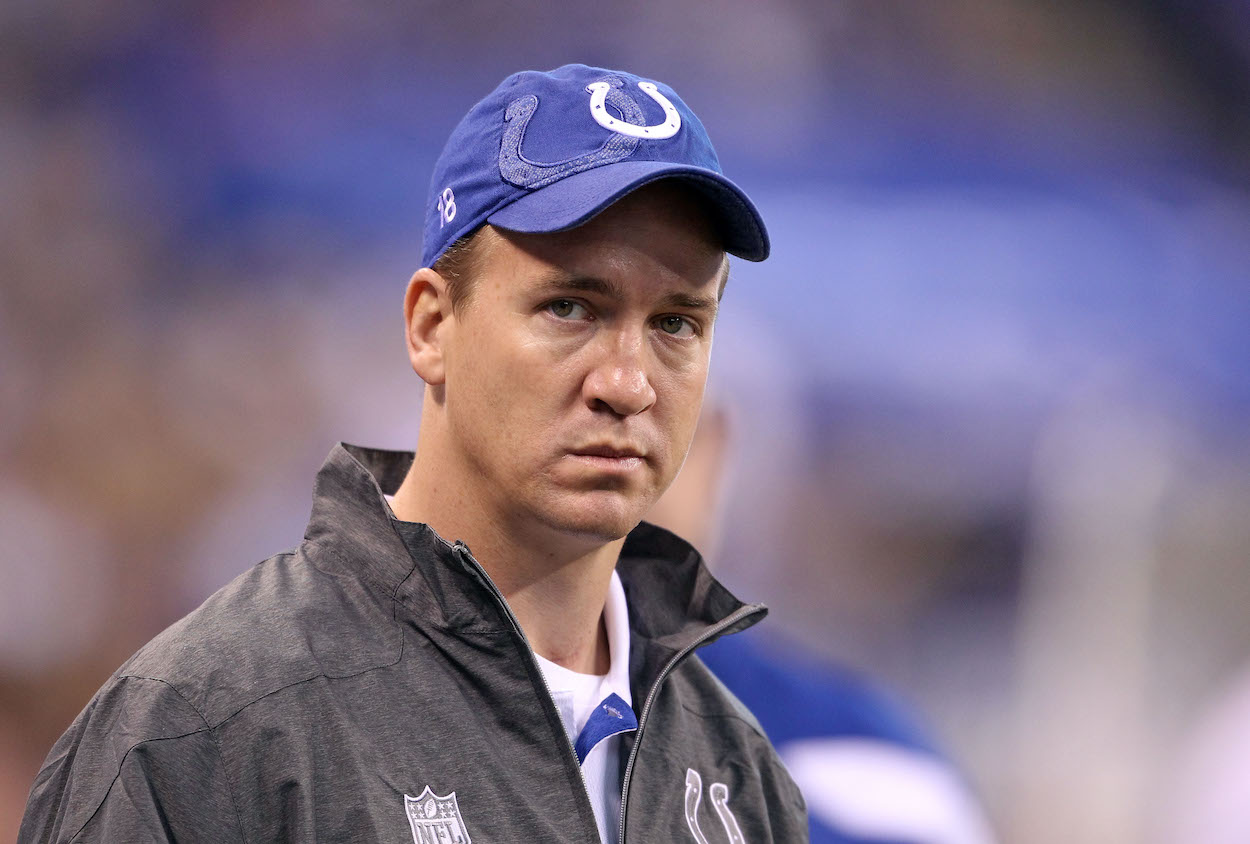 Surgery and missing an entire season are indications that an injury is serious. Peyton Manning's neck injury was even more serious than most believed, though.
Peyton joined iconic broadcaster Bob Costas on his HBO Show Back on the Record with Bob Costas. "People may not realize just how serious your neck injury was and all the nerve damage,' Costas prefaced his question. "And what it took, A, surgically to put you back together and B, all the rehab. Was it more serious than people realized?"
Peyton answered in the affirmative then shared just how secretive he was about what he was going through and how bad his arm strength was at that time:
Yeah. I mean, it's one of those things that you don't want to give live updates as to 'this is how weak my arm is. These are the weight that I'm lifting now.' I was very sensitive to who could see me. I really only threw the football during that time, Bob, with about three people. With my wife — I let her see me throw — Eli and my dad. And that was it because I didn't want anyone else to see me and to see the reaction on their faces.

Peyton Manning on his neck injury
Despite the severity of the injury and the total lack of arm strength, Peyton eventually built his arm back up to where he could play quarterback at a high level again. Although he does admit, he did have to change his style a bit, no longer able to throw certain deep balls.
Even a weakened Peyton Manning was still good enough to make two All-Pro teams, three Pro Bowls, and to help Denver win a Super Bowl.
A neck injury cost Peyton's brother Cooper his football career
The other aspect of Peyton Manning's neck injury that most fans likely didn't know is that it was a neck issue that cost Peyton's older brother Cooper his football career.
The oldest son of Archie and Olivia Manning, Cooper was an All-State wide receiver in high school. He signed up to play football at Archie's (and later Eli's) school, Ole Miss, per Bleacher Report.
Prior to playing his first game for the school, the 6-foot-4 pass-catcher "began suffering from numbness in his hands and fingers, and had some 'atrophy' in his right bicep." After "extensive testing" at the esteemed Mayo Clinic, doctors diagnosed Cooper with spinal stenosis, the narrowing of the spinal canal.
At 18, Cooper ended his football career to protect himself from a devastating injury, such as paralysis, that could come as a result of his condition.
Despite not becoming an NFL player like Eli or Peyton, Cooper still had an impressive career as a businessman and investor. He is also set to again become relevant in the football world as his son, Arch Manning, is the top high school quarterback prospect in the Class of 2023.
If history provides any example, Arch should thrive like all the Manning's, no matter what challenges life throws at him.
All stats courtesy of Pro Football Reference