Lane Kiffin Calls Out Nick Saban for 'Accidentally' Publicizing That His 'Backup Quarterback' Made $1 Million to Help Recruiting
College football is changing fast. Players are getting paid with the new NIL rules, transferring is easier than ever, and big-name schools are scrambling to align to create new super conferences. One thing that has not changed (and probably never will) is that Ole Miss head coach Lane Kiffin will always love throwing subtle jabs at his old boss, Alabama's Nick Saban.
Kiffin joined Dan Patrick and talked about why Saban hired him in 2014. Kiffin praised Saban for realizing he needed an offensive update but couldn't help but throw a little shade regarding Saban's recruiting practices and a recent comment he made.
Lane Kiffin and Nick Saban have a complicated history
The Kiffin/Saban pairing is one of the most interesting relationships in college football. During the three seasons Kiffin was Alabama's offensive coordinator, the Crimson Tide went 40-4, won three SEC championships, and a National Championship. Kiffin also helped running back Derrick Henry take home the 2016 Heisman Trophy.   
The two coaches have polar opposite personalities, though. Saban is stoic and plays things close to the vest. Kiffin is brash and outspoken. There were also notable dustups on the sideline and possible bad feelings around the timing of Kiffin's Alabama exit.
Since Kiffin left for Florida Atlantic and subsequently Ole Miss, the younger coach has seemingly enjoyed taking shots at his former mentor. He told Patrick on a separate occasion, "I'm really worried about Coach, he's elderly now."
Now that the coaches are going head-to-head in the SEC, their relationship will continue to be the subject of much discussion, especially if Kiffin keeps taking little potshots at Saban whenever he gets the chance.
Kiffin says it feels somewhat 'hopeless' recruiting against Alabama
During Kiffin's most recent appearance on The Dan Patrick Show, the coach talked about how Saban was smart to bring him in to modernize the Bama offense in '14. He praised Saban's foresight and said Alabama is even harder to play against now that they get the best talent on both sides of the ball.
Patrick asked Kiffin if it felt "hopeless at times" to play and recruit against the mighty Crimson Tide. That's when Kiffin shot his shot:
A little bit, at times. In recruiting, especially when he announces that his quarterback — his backup quarterback from last year — is getting millions of dollars. That's going to be a little hard to recruit against. I mean, he just 'accidentally' threw that out there.

Lane Kiffin on Nick Saban
Kiffin's reference is to a comment by Saban at the Texas High School Coaches Association. He said that his new starting QB, Bryce Young (who backed up Mac Jones last season), is approaching "almost seven figures" in NIL deals.
While this may have felt like an innocent comment at the time, Kiffin is suggesting that Saban is using it as a recruiting tool to say, come to Alabama, and you'll get paid.
The Ole Miss head coach doesn't seem to like the transfer portal rules either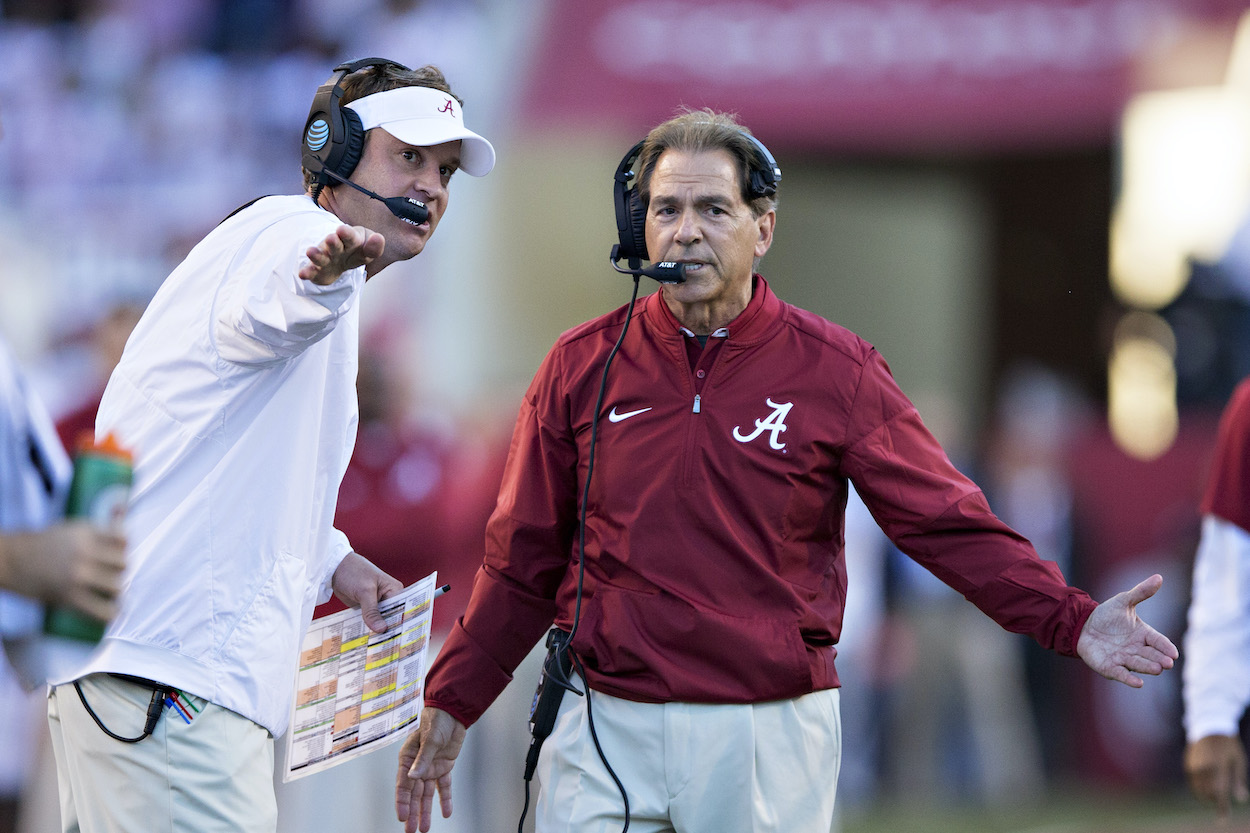 In addition to being uneasy about the NIL rules and rivals using them to recruit, Kiffin is also wary of the new transfer portal rules that give players the freedom to switch schools with no penalties.
"We really are professional sports now," Kiffin told Patrick. "Players get paid now, and we have free agency, except our free agency is almost year-round."
Patrick then asked how the transfer portal works and how much "heads up" coaches get that a player is coming or going:
Yeah you don't [get a heads up] really. It's, like I said, free agency without the rules. A kid just goes in, and all the sudden, he's out there, and you can go take him. Or, your kid comes and goes in and, it's not like you can Franchise him or something like that to keep 'em. And they can go in and come back so, allowing it now where everyone can just go and play immediately is awesome for the kids, but I don't think it's gonna be as great as everyone thinks.

Lane Kiffin on college football's transfer portal
The fact that a college football coach – especially this college football coach – who makes almost $4 million a year and has left jobs abruptly in the past is upset with players getting paid and getting more freedom to move is the height of irony.
However, that's not all that surprising when talking about one of the most interesting and flummoxing personalities in the sport, Lane Kiffin.
Like Sportscasting on Facebook. Follow us on Twitter @sportscasting19