Peyton Manning Didn't Talk to Dan Patrick for 4 Years After the Host Questioned His $98 Million Contract
Radio host and former Sportscenter anchor Dan Patrick doesn't pull punches in interviews. The iconic sports media figure has asked Tonya Harding about her role in the Nancy Kerrigan attack and quizzed an incredibly unwilling Kyler Murray about his baseball vs. football decision. His questions for Peyton Manning crossed the line in the quarterback's opinion, and he didn't talk to Patrick for four years.
Manning made an incredible amount of money in his 18-year NFL career. He signed multiple multimillion-dollar deals, as he was entitled to do as one of the best QBs in NFL history. However, when Patrick questioned whether his contracts were hindering his ability to win, Manning cut the host off for a long time.
Peyton Manning career earnings are over $200 million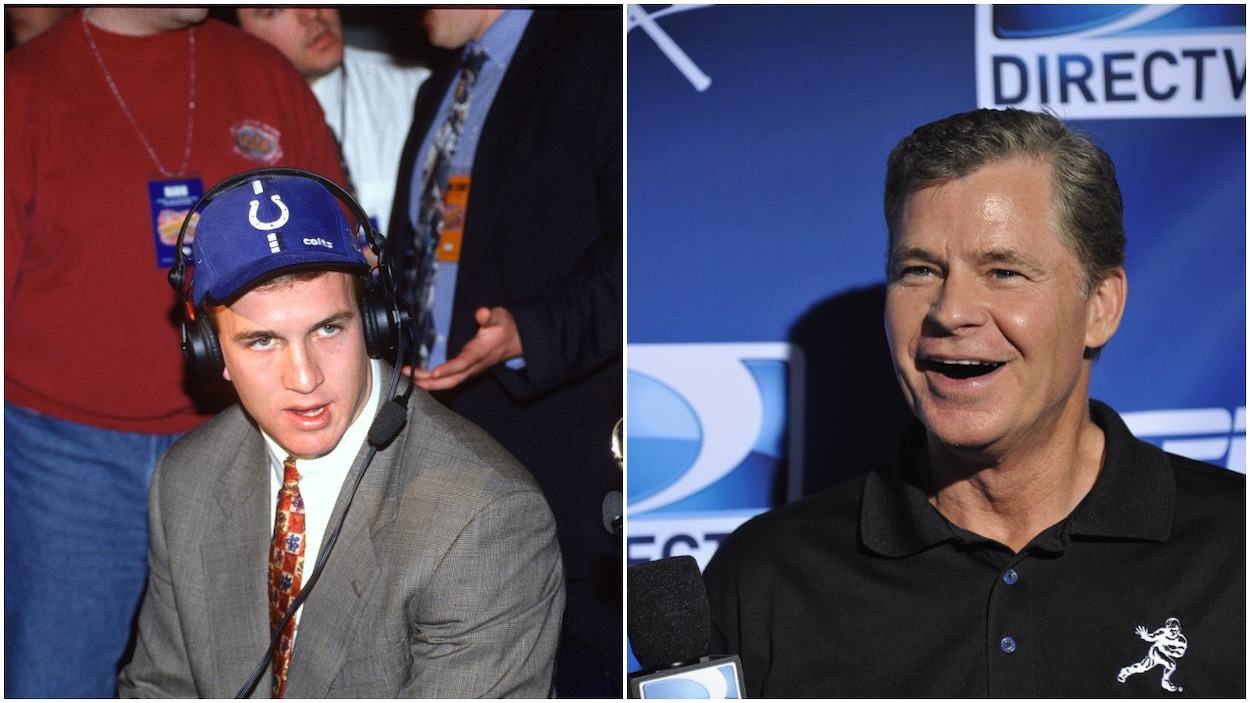 The Indianapolis Colts drafted Manning out of Tennessee in 1998. It was a time before the rookie salary scale when first-round picks, and especially top picks, made a massive amount of money in their first contract. Manning's first deal was no exception. His rookie deal was for six years and $46.3 million.
For comparison, 2021 No. 1 overall pick, Trevor Lawrence, just signed a 4-year, $36.7 deal 23-years after Manning.
By Manning's sixth season, when he became eligible for an extension, he made the All-Pro First Team for the first time in his career. The Colts rewarded him with a seven-year, $98 million deal. That contract took him to 2010, and he signed one more time with the Colts at a price tag of $90 million over five years.
In 2012, at the age of 36, the Colts replaced Manning with Andrew Luck, and the former Volunteer signed as a free agent for five years and $96 million. In 2015, he renegotiated for Denver and came away with a new, two-year, $34 million pact.
All told, Manning's career earnings add up to $248,732,000.
Manning didn't take kindly to Patrick questioning his big deal
Patrick recently joined The Ryen Russillo Podcast to chat with the titular host about his career. He shared several stories about tense encounters he's had throughout his time interviewing athletes.
Questioning Peyton Manning's contract and how it affected the Colts is one that had long-term consequences:
Peyton Manning didn't talk to me for four years, maybe. He had signed a contract, and I asked him, I said, 'Did you think about maybe leaving a little more on the table so the Colts could re-sign Edgerrin James and, I think Reggie Wayne. And he did not like that at all. Didn't talk to me for four years.  

Dan Patrick on Peyton Manning
Patrick doesn't mention the year, but James left Indianapolis for the Arizona Cardinals in 2005, the season after Manning signed his $98 million deal. Wayne was a free agent after '05 as well. The Colts did extend him, however. He got a six-year $39.5 million contract in 2006 and played the remainder of his career (eight more years) for Indy.
The Colts won the 2006 Super Bowl despite the QBs massive contract
Peyton Manning's huge contract did cost the Colts James and left little money for the defensive side of the ball. However, they did manage to win the 2006 Super Bowl over the Chicago Bears.
The team lucked out contractually in 2006. Star defensive end Dwight Freeney was on the last year of his rookie deal ($5.3M) and his pass-rushing partner, Robert Mathis, took a team-friendly one-year contract ($8.1M signing bonus with 500K base).
On offense, the Colts did spend and put together a fantastic pass-catching squad that included receivers Wayne, Marvin Harrison, and Brandon Stokley, and tight end Dallas Clark. They also got fortunate with rookie Joseph Addai (840K) providing an adequate Edgerrin James impersonation.
These cap machinations added up to Manning winning his first and only Super Bowl in Indianapolis. In February 2007, the Colts boat-raced the Rex Grossman-led Bears in the final game, 29-17.
All stats courtesy of Pro Football Reference and contract figures courtesy of spotrac