Jacksonville Jaguars Fans Wanted to Buy Trevor Lawrence a $300 Toaster and Ended up Raising $50k for Charity
Jacksonville fans are so excited that they finally have a franchise quarterback that they wanted to buy their new QB a wedding gift. What started as a joke ended up with fans, and Trevor Lawrence himself, donating a lot of money that will now go to charity.
When a team picks a potential franchise quarterback in the NFL draft, it is not uncommon for the team's fan base to roll out the welcome mat for the new signal-caller. In a place like Jacksonville, which hasn't had a top-notch QB in quite a while, the fans are more eager than most to make their new passer, Trevor Lawrence, feel at home.
To that end, a Jaguars fan on social media started a campaign to buy Lawrence a swanky wedding gift. What happened next is very cool.
The Jacksonville Jaguars haven't had a true franchise QB since 2003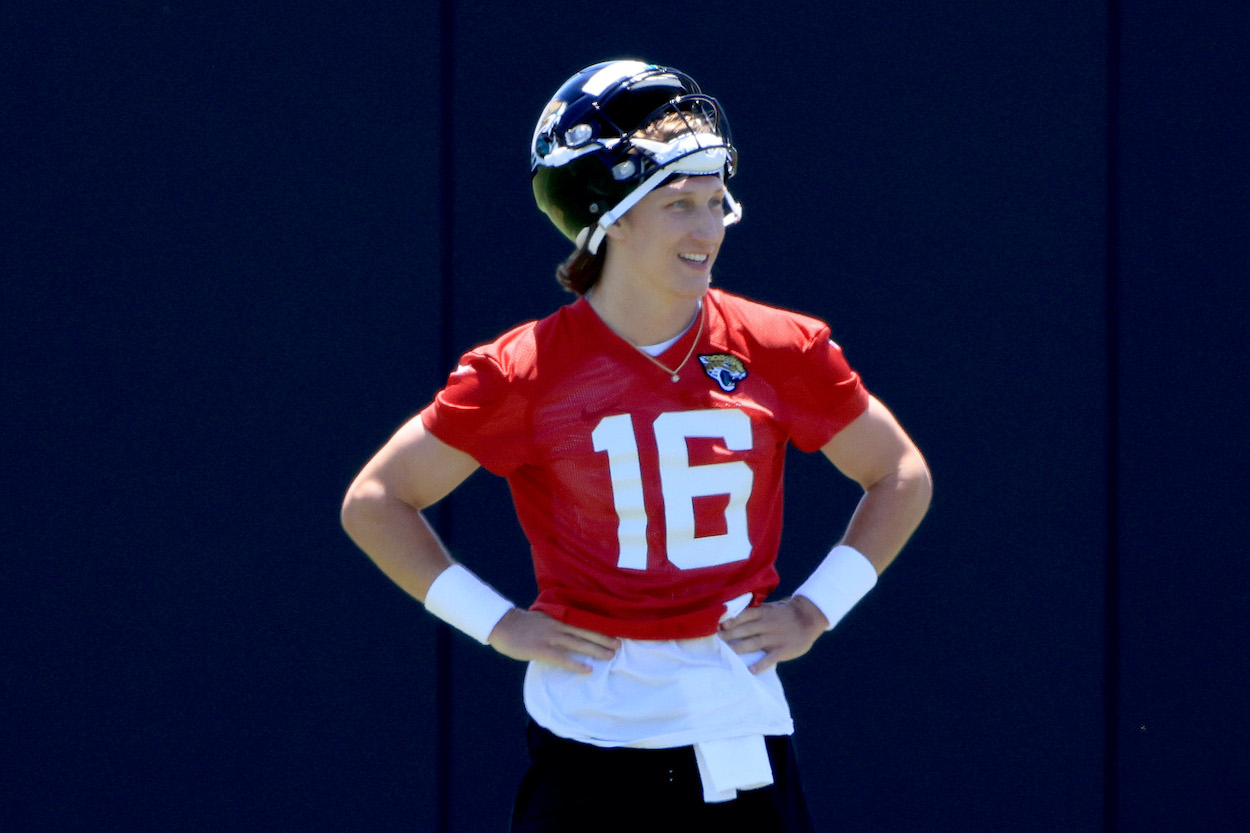 The Jaguars' first trade in franchise history was with the Green Bay Packers. The expansion team's front office traded two mid-round picks in the 1995 NFL draft for a second-year QB from Washington named Mark Brunell.
Brunell made three Pro Bowl appearances and led the Jaguars to the playoffs in four consecutive seasons from 1996 to 1999. Since Jacksonville traded Brunell away in 2003, the Jaguars have started 14 QBs.
Several good signal-callers, like Byron Leftwich and David Garrard, have started for in Duval, but none have been at the franchise quarterback level of Brunell. The team has also rolled out some all-time busts at the position, such as Blaine Gabbert and Blake Bortles.
By picking Lawrence out of Clemson No. 1 overall in 2021, Jaguars fans hope they have finally found their first great QB in almost two decades.
A Jaguars superfan started a campaign to buy Trevor Lawrence a lovely wedding gift
Just over two weeks before the Jaguars officially drafted Lawrence, the Cartersville, Georgia native married his high school sweetheart, Marissa Mowry, on April 10, 2021.
Although he wasn't yet a Jag, as the presumptive No. 1 pick, fans in Jacksonville already thought of him as their own. Because of these feelings, Jags superfan Eric Dillard started a campaign on Twitter to buy the soon-to-be Lawrence's a toaster from their wedding registry, according to Sports Illustrated.
The initial idea was for Jaguar fans to chip in enough to buy the happy couple a Revolution InstaGLO R180 Toaster that retails for $299.95 (plus tax). Dillard raised that in the first 14 minutes of the campaign. Within the first 30 minutes, he had over $600. 
Dillard eventually announced that the surplus funds would go to charity, and the donations picked up from there. The pot was over $6,000 by the wedding day. When Lawrence heard what was happening, he tweeted that he and his new wife would chip in $20,000 as well. 
As of July 1, the total number collected for charity (and the toaster) was around $50,000.
Lawrence isn't the only new face in Jacksonville  
The Jaguars will look very different than they did in 2020. In addition to Trevor Lawrence, the Jags drafted another Clemson Tiger in the first round as well, running back Travis Etienne.
Jacksonville also splashed quite a bit of cash in free agency in the 2021 offseason. The team spent money on both sides of the ball. Defensive acquisitions include defensive backs Shaquill Griffin, Rayshawn Jenkins, and Rudy Ford and defensive linemen Jihad Ward and Roy Robertson-Harris.
On Lawrence's side of the ball, the team added wide receivers Marvin Jones Jr. and Phillip Dorsett and running back Carlos Hyde.
Outside of Lawrence, the most interesting additions are two people who had a great deal of success togehter just an hour down the road in Gainesville, Florida.
New head coach Urban Meyer is taking his first swing in the NFL and will have big expectations with Lawrence under center. Meyer brought another QB with him from his college days. Although, former Heisman Trophy winner Tim Tebow is now vying for a roster spot as a tight end.
With its first franchise QB in almost 20 years and a lot of new faces around Duval county, the Jags will be looking to toast the competition in 2021.
All stats courtesy of Pro Football Reference