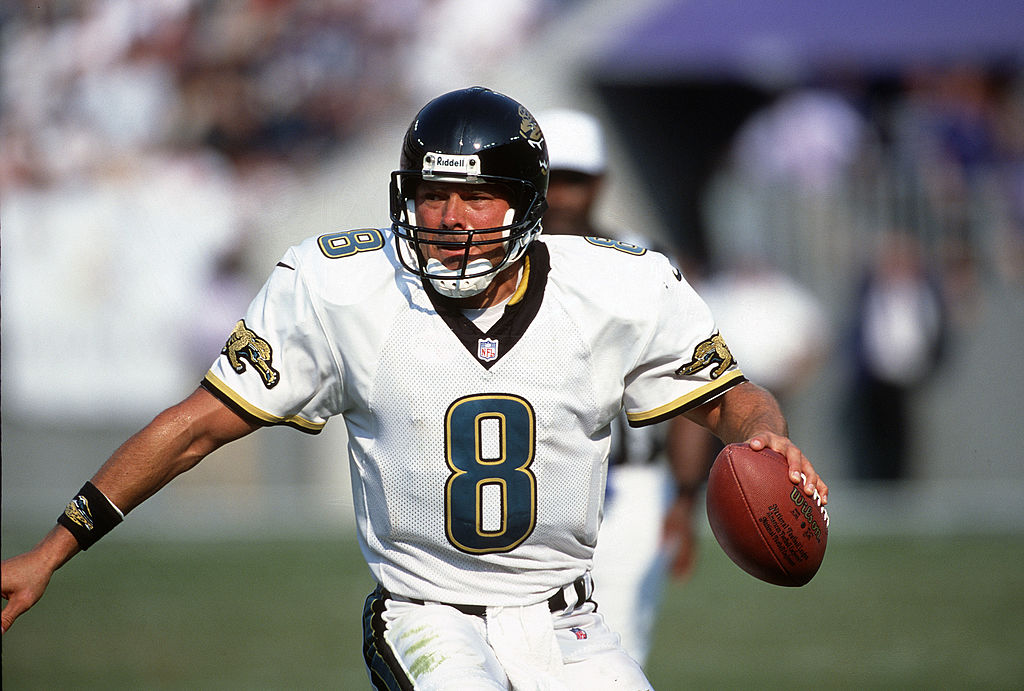 Mark Brunell Went Broke Because of Whataburger
Mark Brunell made more than $50 million in his NFL career. He went broke thanks to some bad burger-chain investments.
Mark Brunell gave Jacksonville Jaguars fans something to cheer about in the '90s. The southpaw signal-caller still owns a number of franchise records despite last suiting up for the team in 2003. That probably speaks more to Jacksonville's ineptitude, but there's no doubt that Brunell will be remembered as one of the top players in team history.
A three-time Pro Bowler, Brunell played for five NFL teams across 18 seasons. During that time, he managed to cash in quite well for someone who spent nearly half that time as a backup. He invested millions of his NFL fortune in a number of businesses, including numerous Whataburger chains. But as is the case with too many ex-NFL stars, Mark Brunell watched his NFL fortune disappear.
Mark Brunell became a Jaguars legend
Though most NFL fans remember Brunell for his time in Jacksonville, he actually entered the league as a fifth-round pick of the Green Bay Packers. He spent just two seasons as Brett Favre's backup before ultimately landing with the Jaguars via trade. Jacksonville acquired the left-handed quarterback for third- and fifth-round picks in the first trade in franchise history.
Their investment proved to be fruitful. In his second season, he led the NFL with 4,367 passing yards and earned his first Pro Bowl selection. Over the next seven seasons, he teamed up with Jimmy Smith and Keenan McCardell to form a potent passing attack. Brunell also showed impressive mobility and helped the Jaguars become a perennial playoff contender under Tom Coughlin.
However, after posting a losing record in three consecutive seasons, the Jaguars turned the starting job over to Byron Leftwich. Brunell got shipped to Washington, where started 33 games from 2004-2006. He tossed 23 touchdowns at age 35 and helped the Redskins advance all the way to the NFC Divisional Round. He then served as Drew Brees' backup for two seasons before finishing his career with the New York Jets as a tutor for Mark Sanchez.
Three-time Pro Bowler made $70 million in NFL career
Though he never earned an All-Pro nod, Mark Brunell made quite a bit of money in his 18-year NFL career. His rookie contract totaled just $313,625, but he received a significant pay bump when he joined the Jaguars. Brunell cashed in on his ascending status in 1997 by signing a four-year, $30.5 million deal with $10 million guaranteed.
After nearly leaving the Jags in free agency, the team kept the QB around on another lucrative four-year deal before trading him to the Redskins. When Washington acquired Brunell, they signed their newly-minted starter to a massive seven-year, $43 million contract that included an $8.6 million signing bonus.
Brunell's final NFL deals paled in comparison to his previous paydays. Yet, he still managed to earn more than $6 million from the Saints and Jets. Considering he threw just 46 passes for those franchises, he made out just fine.
Brunell lost millions on Whataburger and went bankrupt
Like many athletes, Mark Brunell invested his NFL millions in a number of businesses. Along with two former teammates, he started a company called Champion LLC in order to get into the real estate game. However, when the housing market crashed, he lost all $11 million that he invested and defaulted on a number of loans.
But the investment Brunell bombed on the most was Whataburger. He invested a whopping $9 million in the popular fast-food burger chain. Yet, he ended up losing all of that money.
In 2010, Brunell sadly filed Chapter 11 bankruptcy despite still being an active NFL player. His paperwork revealed just $5.5 million in assets compared to a startling $24.8 million in debts. Because of his loan issues, he also faced six lawsuits totaling $24.7 million. Today, Celebrity Net Worth estimates Mark Brunell is worth $400,000—a far fall for someone who made $70 million from playing football.