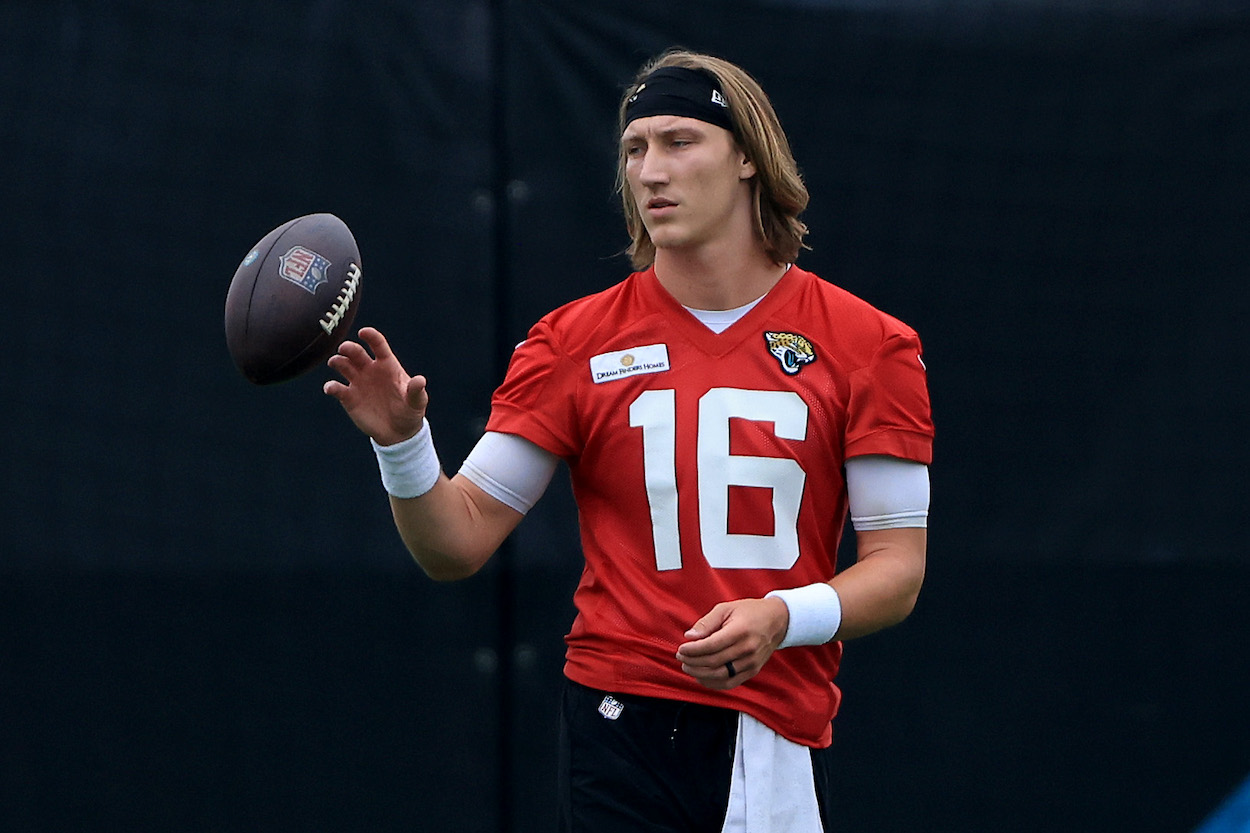 Trevor Lawrence Injury Update: The Jacksonville Jaguars are 'Being Cautious'
The Jacksonville Jaguars' No. 1 overall pick in the 2021 NFL draft had shoulder surgery but that is not what a recent Trevor Lawrence injury update was about. The first-year passer tweaked his hamstring in practice and, while it's not serious, the team is "being cautious" with it.
Jacksonville Jaguars coach Urban Meyer recently gave the media and fans a Trevor Lawrence injury update. It wasn't about the No. 1 overall pick's surgically repaired shoulder, though. Instead, it pertained to a hamstring injury he suffered during the team's voluntary OTAs.
Meyer also recently talked about how Lawrence looked in pre-training camp activities for the team, sharing some good and some not-so-good feedback on the quarterback's first practices wearing a Jaguars helmet.
Trevor Lawrence is coming off surgery in the offseason
Reports differ as to exactly how and when Lawrence injured his non-throwing (left) at Clemson, but it likely happened sometime in 2019. Even with the injury, Lawrence continued playing at a high level, leading the Tigers to a combined 24-2 record in 2019 and 2020 and to the College Football Playoff each season.
During this time, Lawrence only missed two games, per Sporting News, and those were due to a positive test for COVID-19. He even participated in his NFL Pro Day with the bum shoulder. However, after that event that he did have surgery to repair a torn labrum.
Medical staff cleared Lawrence to throw on a limited in late May, according to New4JAX. During these early practices, players at rookie minicamp were "under strict orders not to touch his surgically repaired left shoulder." The Jaguars lifted the restrictions later that month, but the hamstring injury came shortly thereafter.
The Jacksonville Jaguars share a Trevor Lawrence injury update and say they are being 'conservative' with the QB's hamstring
Unsurprisingly, the Jags are being exceedingly careful with their new franchise QB. It's wise that the team is exercising a considerable level of caution when dealing with Lawrence's injuries. He's the new face of the franchise and the most hyped quarterback prospect to come out of college since at least Andrew Luck in 2012 and possibly even Peyton Manning in 1998.
At Jaguars' mandatory minicamp, coaches limited Lawrence to seven-on-seven drills with no lineman or pass rush. Coach Meyer explained, "You yank a hamstring now, you're going to miss the early part of training camp, so we're just being cautious."
He also admitted, "We're being somewhat conservative on it. But he could actually play a game if he had to."
Lawrence agrees that the injury is relatively minor but wants to get back on the field. "It's feeling good," Lawrence told reporters. "It's been about a week, and trying to work it back to full capacity. Yeah, it's a little frustrating just not being able to go full speed, but I'm feeling good."
Lawrence had an "up and down" preseason leading into his first NFL training camp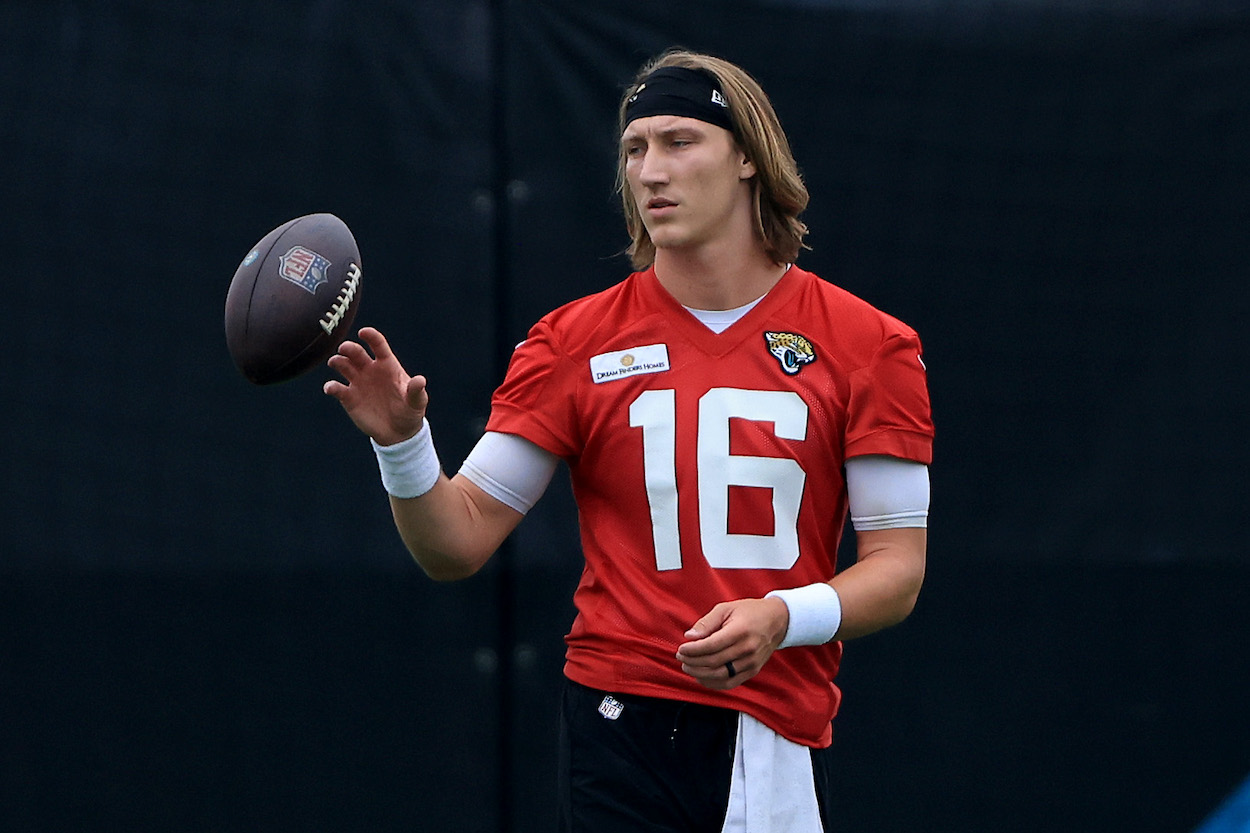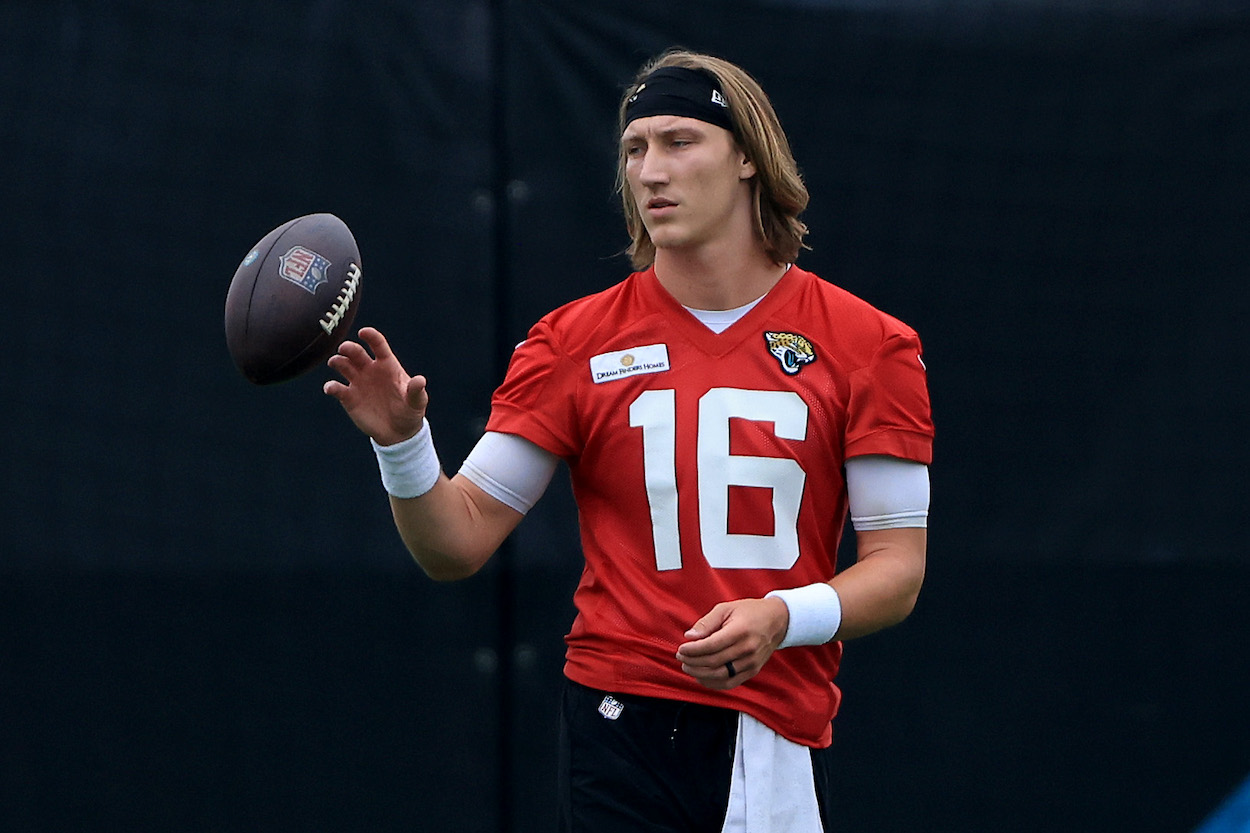 In addition to the obligatory Trevor Lawrence injury update, the first-time NFL head coach gave an update on his rookie QBs progress in preseason training. Meyer reported on Lawrence's first few practices with the team:
His retention and carryover have been very good. Execution at times, like you would imagine, has been up and down, especially when they start changing the looks up on defense, which obviously can happen a ton. But we're very pleased with where he is. The summer's got to be great and the training camp's got to be great.
This type of inconsistency is par for the course for rookie NFL QBs. The fact that Lawrence's performance dips with more complicated NFL defensive schemes is the type of feedback you often hear about first-year signal-callers.
The injuries should be more concerning for Jaguars fans than Mayer's report card. Lawrence was an Iron Man at Clemson, but the fact he's coming off surgery and already has an injury that may be due to lack of training is something to watch.
When training camp starts in late July, there will be a few essential things to keep an eye on with Lawrence to get a feel for how his rookie year may go. Fans should look at how he progresses on the field, if he can stay out of the training room, and of course, how he meshes with new tight end target, Tim Tebow.
All stats courtesy of Sports Reference