How Many No. 1 Picks in the NFL Draft Are in the Hall of Fame?
Well, there's nothing like putting expectations on a guy right out of the gate. The Jacksonville Jaguars made Trevor Lawrence the No. 1 pick of the 2021 NFL draft, and there's already a betting line suggesting that he'll fit in with elite veteran quarterbacks almost immediately.
If the former Clemson star somehow meets or exceeds the expectation in his rookie season, it would be a positive first step toward the sport's highest honor – a place in the Pro Football Hall of Fame.
Hitting the big yardage figure that a sportsbook projects is child's play compared to the odds of Lawrence making the Hall of Fame.
Big expectations for Trevor Lawrence this fall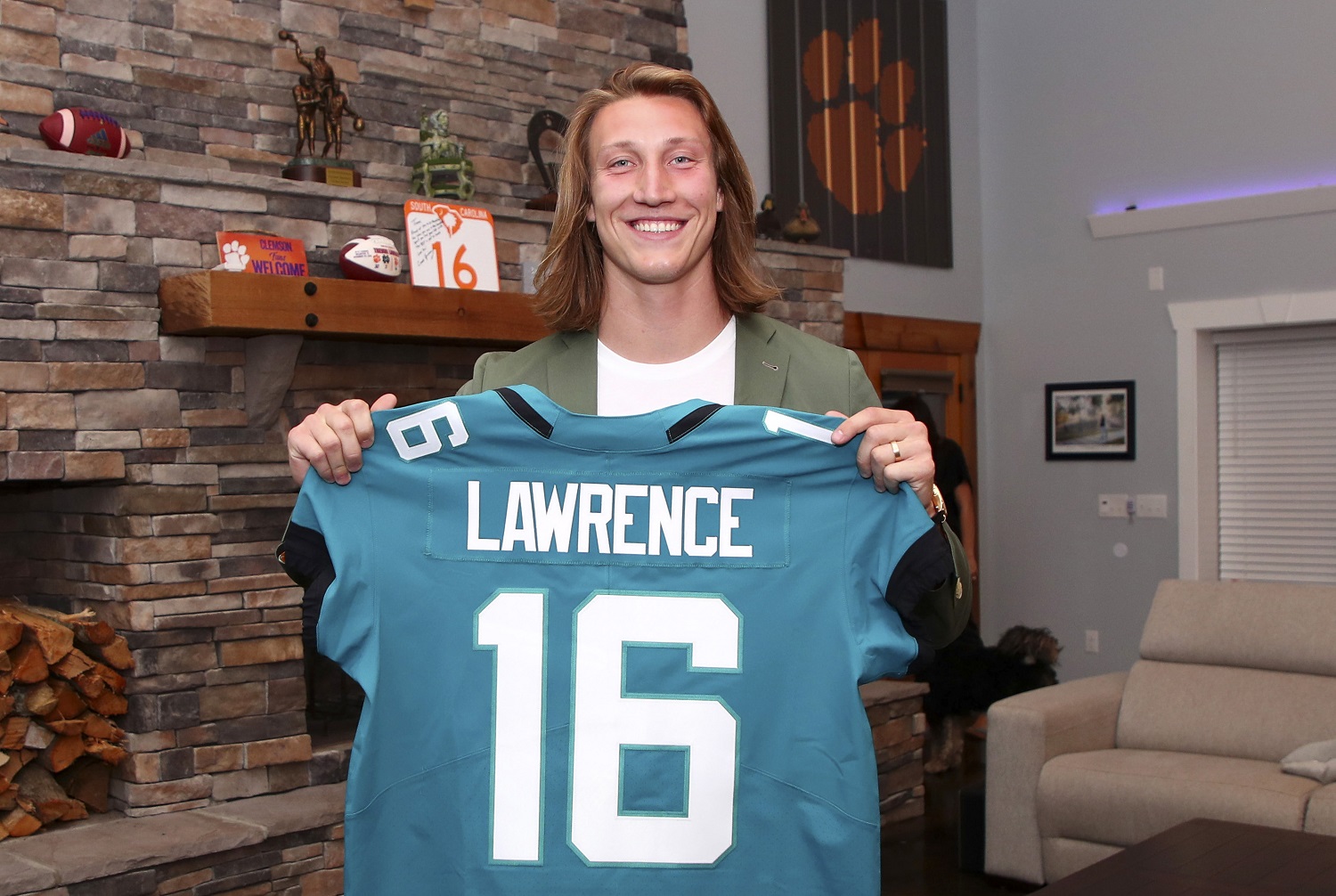 It's possible these days to bet on just about anything. Naturally, there is already a line for projected passing yardage by Jaguars No. 1 pick Trevor Lawrence this fall.
The fact that Sportsline.com anticipates Lawrence and the New York Jets' Zach Wilson to be Week 1 starters in the 2021 season is a bit presumptuous. As good as Lawrence was at Clemson, there's still the matter of beating out incumbent Gardner Minshew or the Jaguars making it moot by pulling off a summer trade.
The sportsbook has set the over/under on Lawrence's passing yardage for the season at 4,150.5. Wilson's figure is a slightly more modest 3825.5.
While it's true that the NFL has added a 17th game to the schedule, only 10 quarterbacks threw for more than 4,150 yards last season. Justin Herbert (4,336) was the only rookie in the bunch. In 2019, only five NFL QBs went over 4,150.
In short, 4,150 yards looks like a big ask of Lawrence, regardless of his credentials.
How many No. 1 picks in the NFL draft are in the Hall of Fame?
Selection at the start of the annual NFL draft creates expectations, but it does not improve a player's ability one bit. If anything, going No. 1 overall is generally a hindrance on the way to individual accomplishments.
That's because the first pick always goes to the team with the worst record the previous season unless there is a trade for that pick. Unless there were multiple key injuries the previous season or impressive free-agent signings for the following season, playing for a last-place team means being surrounded by inferior talent for at least a season or two.
Cincinnati Bengals quarterback Joe Burrow's deficient offensive line had him running for his life at times last season before a season-ending injury. For every Peyton Manning that the Indianapolis Colts have picked at No. 1, there was a Jeff George. For every Baker Mayfield that the Cleveland Browns drafted, there was a Tim Couch.
It helps explain why only 14 of the 85 No. 1 picks in NFL drafts before this year have made the Hall of Fame in Canton, Ohio. Of the 85, 10 players are still active. While it's too soon to size up the prospects for Burrow and other relative youngsters, Mario Williams is probably the only recent retiree with even a slim chance of enshrinement.
The complete list of Hall of Fame No. 1's
No one selected at No. 1 overall in the NFL draft this century has been voted into the Hall of Fame. That's not unexpected since half are still active. The first interesting case will probably be that of Eli Manning. Although he was only .500 as a regular-season starter, the first pick in 2004 was durable during his New York Giants career and has those two Super Bowl rings.
For the record, here's the list of the 14 No. 1's that Lawrence hopes to follow into the Hall of Fame someday:
1942: "Bullet" Bill Dudley, Pittsburgh.
1945: Charley Trippi, Chicago Cardinals.
1949: Chuck Bednarik, Philadelphia.
1957: Paul Hornung, Green Bay.
1968: Ron Yary, Minnesota.
1969: O.J. Simpson, Buffalo.
1970: Terry Bradshaw, Pittsburgh.
1976: Lee Roy Selmon, Tampa Bay.
1978: Earl Campbell, Houston Oilers.
1983: John Elway, Baltimore Colts.
1985: Bruce Smith, Buffalo.
1989: Troy Aikman, Dallas.
1997: Orlando Pace, St. Louis Rams.
1998: Peyton Manning, Indianapolis.
Strictly speaking, there is a 15th top pick in the Hall of Fame. The Kansas City Chiefs were in the AFL in 1963 when they made Buck Buchanan the No. 1 selection.
Like Sportscasting on Facebook. Follow us on Twitter @sportscasting19.