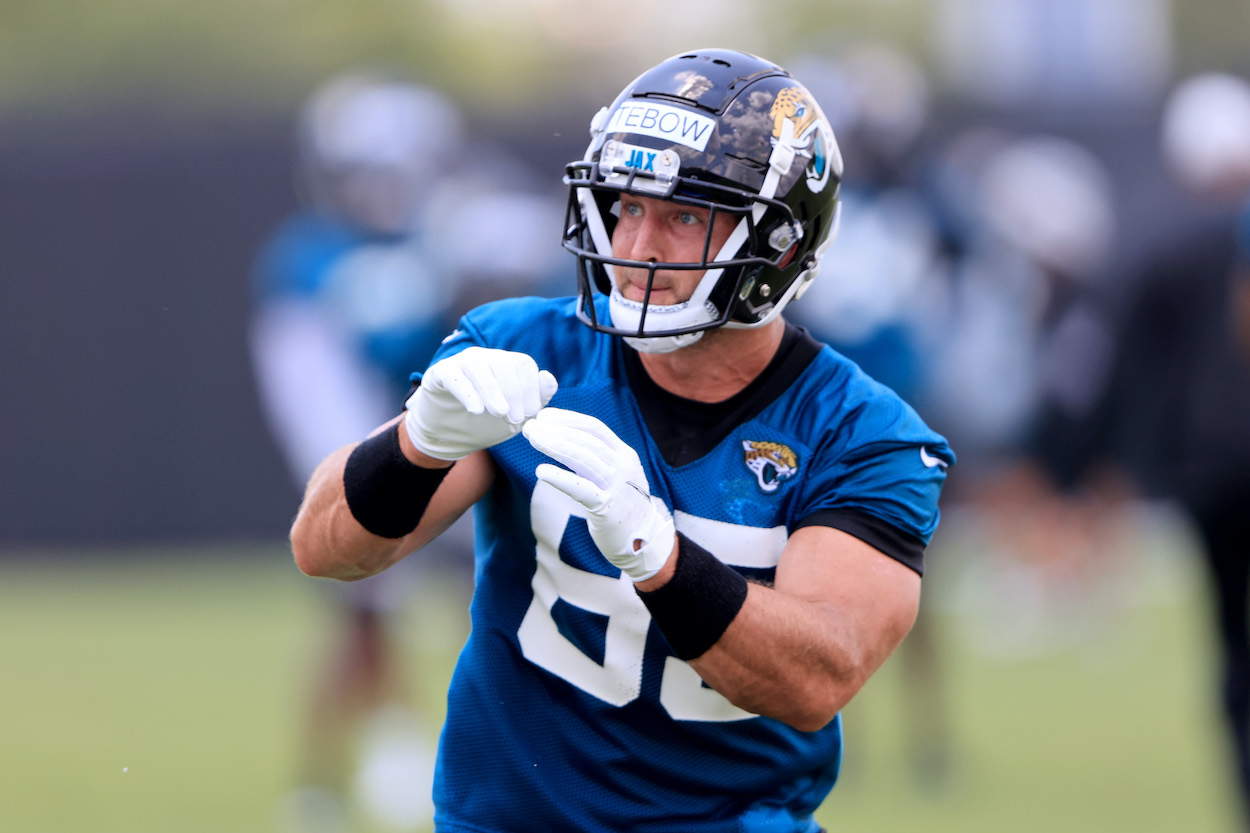 What is the Over/Under for Tim Tebow Touchdown Catches in 2021?
Las Vegas doesn't have much faith in Tim Tebow as a tight end. Sportsbooks have set the new pass catcher's season over/under for TD catches at just 2.5. Bettors seem to have even less faith in Tebow, though, as bets are coming in heavily on the under.
When Las Vegas oddsmakers set a line, they try to make it as accurate as possible to ensure equal betting amounts on both sides. This concept makes the 2021 touchdown reception over/under for new Jacksonville Jaguars tight end Tim Tebow so interesting.
The former NFL quarterback-turned-baseball-player-turned-tight-end won't have to do a lot to hit the over for bettors in 2021, but he will have to do something which is more than many observers believe he will do.
However, if Tebow plays the role that his former college coach Urban Meyer likely envisions for him, he could go way over his Vegas projection.
Tim Tebow is taking one last shot at an NFL career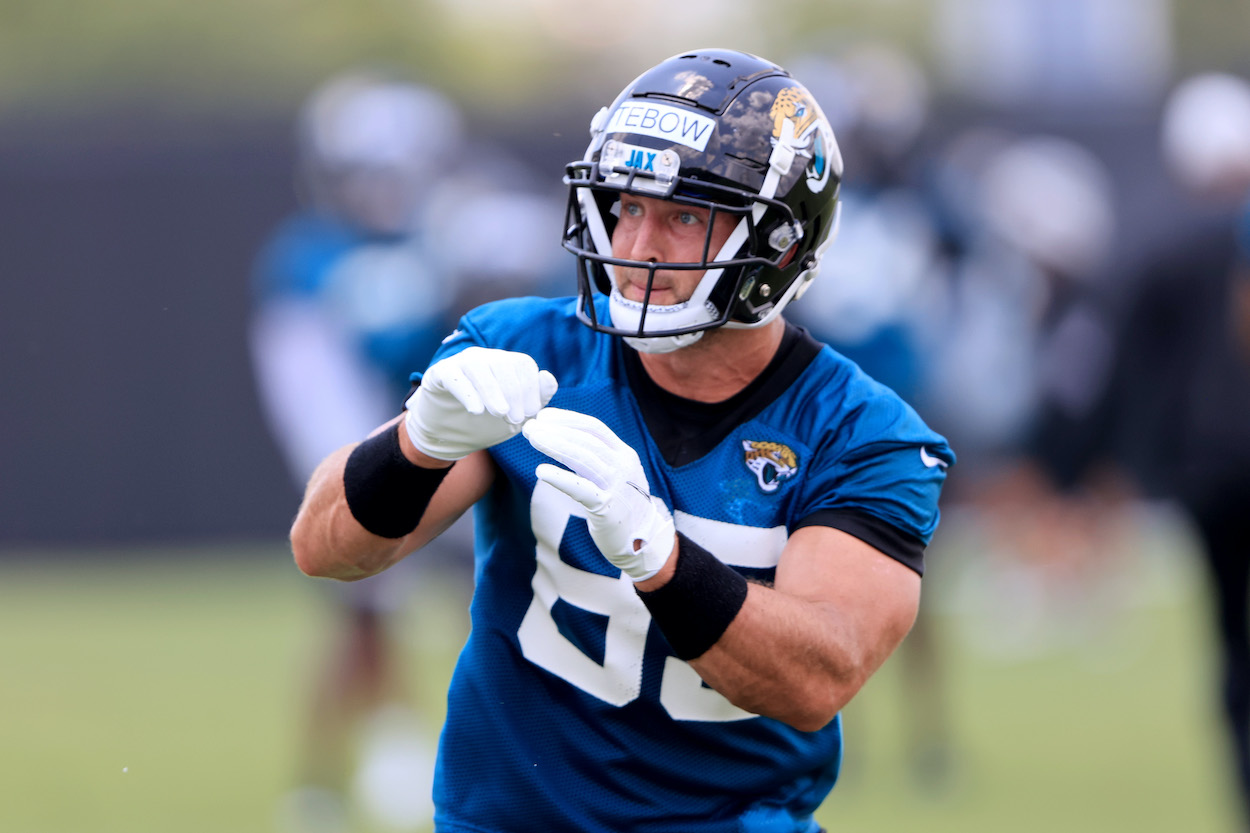 Tebow was a phenomenon at the University of Florida. He won the 2007 Heisman Trophy, two National Championships, and won SEC Player of the Year and the Maxwell Award twice. In his college career, the Jacksonville-area high school product threw for 9,285 yards and 88 touchdowns and added 57 touchdowns on the ground.
His NFL quarterbacking career was not as successful. The Denver Broncos selected Tebow No. 25 overall in the 2010 draft and the signal-caller played two years in the Mile High City and one year for the New York Jets. He finished his pro QB career with 2,422 yards, 17 passing TDs, 12 rushing scores, nine interceptions, and a 47.9% completion rate.
After a five-year sabbatical to play baseball in the New York Mets minor league organization, Tebow is trying his hand at football one more time. He bulked up and converted to tight end, reconnecting with Meyer in Jacksonville.
The Las Vegas over/under doesn't show much faith in Tebow's prospects as a tight end
According to the Las Vegas Journal-Review, sportsbooks have set the over/under for Tebow receiving touchdowns during the 2021 NFL season at 2.5. This means he must catch three touchdowns this season to hit the over.  
Three touchdowns in a season for a tight end is not an overly high mark. For comparison, the TE touchdown leader in 2020 was the Kansas City Chief's Travis Kelce with 11. Tight ends who caught three scores last season include the Buffalo Bills Dawson Knox, Jack Doyle from the Indianapolis Colts, and the Cleveland Browns' Harrison Bryant.
The pre-season prop bet is drawing a tremendous amount of action for sportsbooks. Sunset Station sportsbook director Chuck Esposito told the Journal-Review:
In the first 48 hours of us putting the [Tebow] prop on the board, it generated more handle and tickets than the Matt Stafford prop [o/u 28.5 passing TDs] has done since we put it up in February. It really has drawn a lot more interest than we thought it would.
If nothing else, all this betting action illustrates the strong feeling NFL fans have about Tebow one way or the other.
Tebow's role might look a lot like it did at the University of Florida
There is a lot of speculation that Tebow will have a Taysom Hill-type role with the Jaguars. This makes sense, especially when you consider that before it was the "Taysom Hill role," it was just how Tim Tebow operated at Florida.
In his four years in Gainesville, Tebow was a master of misdirection in the red zone. He and Meyer were early adopters of the run/pass option (RPO) play, where a QB reads the defense post-snap and decides whether to run or pass based on how the play unfolds.
If Tebow makes the team, the Jaguars will be able to line up with two mobile passers in the backfield in Tebow and No. 1 overall pick, Trevor Lawrence. These formations will give Meyer a lot of creative play-calling options, which he will take advantage of.
According to Pro Football Talk, bettors are already pounding the under of the 2.5 touchdowns prop. But, if Tebow is on the roster, he will be a red zone wrinkle above all else, so three touchdowns or more (plus several passing and rushing TDs) doesn't seem unrealistic.
All stats courtesy of Pro Football Reference and Sports Reference