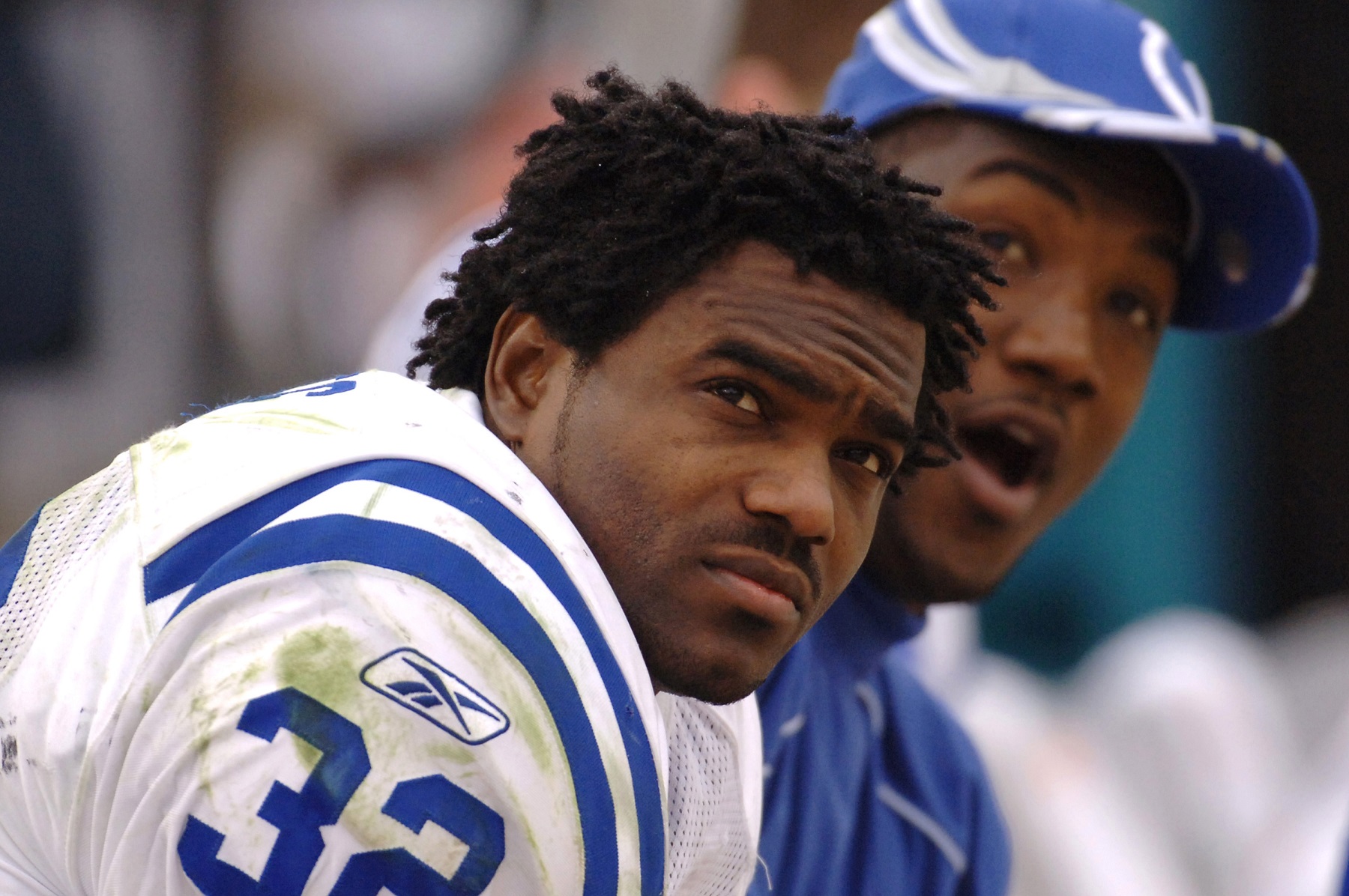 Edgerrin James Never Won a Super Bowl, but Jim Irsay Made Sure He Got a Ring
Edgerrin James had left a year before the Indianapolis Colts won Super Bowl 41, but owner Jim Irsay presented the running back with a championship ring.
Edgerrin James showed on the field that the Indianapolis Colts made the right call by selecting the running back fourth overall in the 1999 NFL draft. However, it was the extra effort he put in while no one was looking that earned the former University of Miami star a spot in the Pro Football Hall of Fame.
His willingness to go the extra mile was acknowledged in another fashion as well. Though he never played for an NFL champion, James possesses a Super Bowl ring presented by a grateful owner.
The Indianapolis Colts picked a winner in Edgerrin James
The Indianapolis Colts were subjected to some second-guessing when they selected running back Edgerrin James one spot ahead of University of Texas star Ricky Williams early in the 1999 draft. As it turned out, the Colts had nothing to apologize for.
James ran for 1,553 yards as a rookie and then 1,709 in 2000, winning the NFL rushing title both times. He would never lead the league again, but there would be five more 1,000-yard seasons in his 11-year pro career. He earned selection to the Pro Bowl four teams and was first-team All-Pro in the big rookie season.
Together with quarterback Peyton Manning and receiver Marvin Harrison, he created a formidable combination from 1999-2005 that went to the playoffs six times. Unfortunately, a Super Bowl title eluded them, and James broke up the "triplets" by signing with the Arizona Cardinals as a free agent in 2006.
Edgerrin James earned his place in the Hall of Fame
After leaving the Indianapolis Colts, Edgerrin James recorded 2,895 rushing yards and 74 catches – he was always a reliable set of hands out of the backfield – for the Arizona Cardinals before tragedy struck. James' longtime girlfriend, with whom he had four children, died. It prompted him to ask for his release in order to focus on his family.
James did make a brief return with the Seattle Seahawks that fall before retiring for good. He finished with 12,246 rushing yards, 433 receptions, and 91 touchdowns.
In a mild surprise, but certainly not out of line in light of his accomplishments, James was selected for enshrinement in the Pro Football Hall of Fame in Canton, Ohio, as part of the 2020 induction class.
Colts owner Jim Irsay didn't forget what Edgerrin James meant
Edgerrin James recently pulled together brief recollections about his life for The Players Tribune. Though he mentioned demanding workouts that made him a better athlete, the best part is that he didn't write to brag. He poked fun at himself a few times, including a story about how, after being raised in Florida, James wasn't sure where Indianapolis was when the Colts drafted him.
"I'm looking at that map like … Mannnn, I don't know. What are these people gonna think about me? Because I'm not cutting my hair. I'm not changing how I talk for anybody. Then I'll never forget I go in to meet Jim Irsay and he's got this little Colts outfit for my baby daughter, and he's talking to me about hip-hop. I mean, like, really though. He knew what's up. I remember leaving the meeting like, Man … Irsay legit. I didn't realize how close me and him would get."

Edgerrin James
The affection was mutual. One year after James left as a free agent, the Colts defeated the Chicago Bears in Super Bowl 41. He was under no obligation to do anything special for James, but Jim Irsay made sure his former star running back shared in the celebration. The Colts owner gave him a Super Bowl ring.
"After they won it in 2007 when I was with the Cardinals, Reggie Wayne pulled up one day and he's holding a box," James recalled. "He said, 'Mr. Irsay wanted you to have this, for everything you did to get us here.' I mean, a lotta guys won Super Bowls over the years. But how many guys can say that?" 
All stats courtesy of Pro Football Reference.