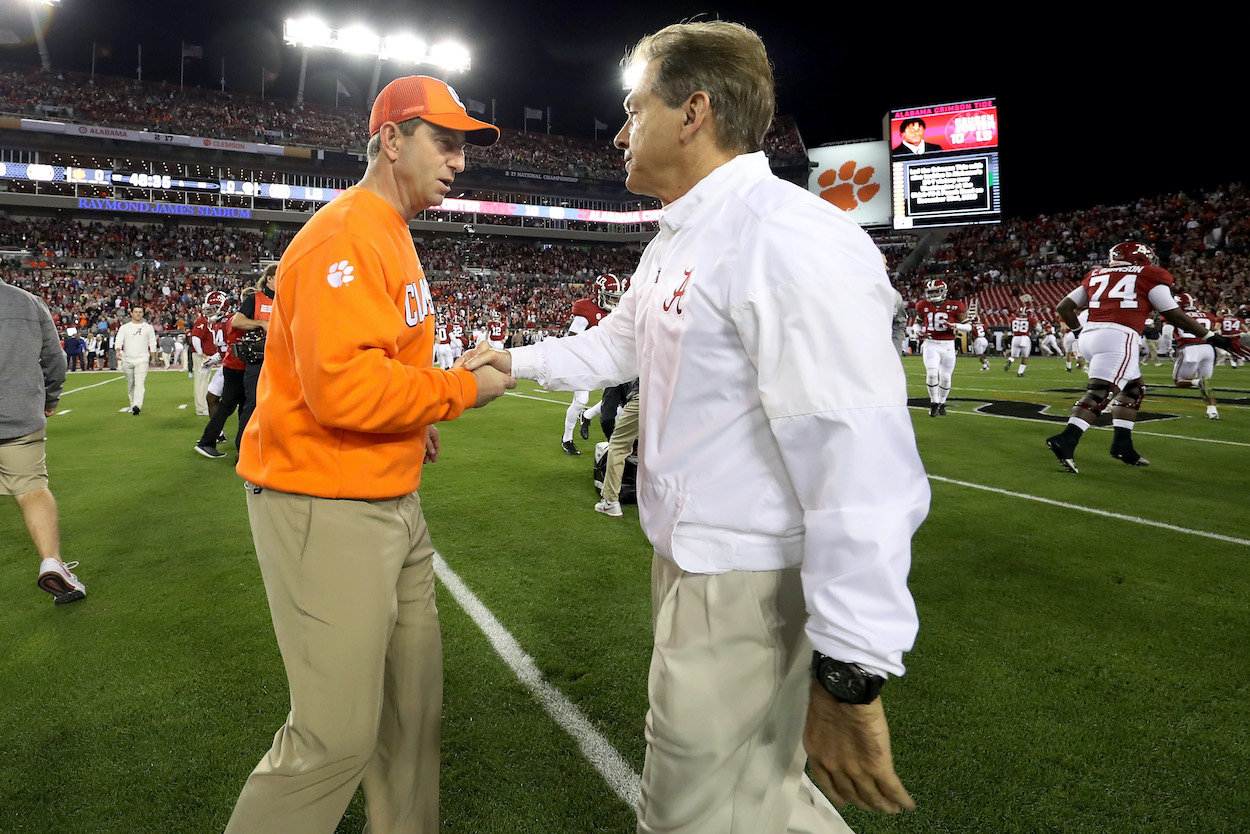 Arch Manning Drops Revealing Hints About His Highly Anticipated College Decision
Arch Manning is heading into his junior year of high school, and he's starting to narrow down his impending college decision.
Archie, Peyton, and Eli Manning blazed a trail for the greatest football family to ever play in the NFL. Now, it's time for the next generation to shine.
Arch Manning, Cooper Manning's son and Archie's grandson, is a coveted high school football recruit. He's just starting to explore his college options, and it appears as if he has his pick of the litter. As Manning continues to narrow in on his highly-anticipated decision, he offered a few revealing hints as to the schools currently on his list and which programs have stood out thus far. 
Arch Manning is the No. 1 ranked QB recruit in 2023
The three legendary Mannings who came before Arch racked up a combined 20 Pro Bowls, four Super Bowls, and more than 126,000 yards and 1,000 touchdowns. That's a near-impossible level of excellence to live up to and a tremendous amount of pressure placed on his shoulders, but Arch is somehow exceeding expectations as a teenage gun-slinger.
The 6-foot-3, 200-pound Manning is the No. 1 high school quarterback recruit in the class of 2023. Over his first two years as the starter at Isidore Newman School in New Orleans, La., he completed 67.8% of his passes for 4,081 yards and 53 touchdowns. He also rushed for 312 yards and 12 scores.
Manning is on pace to pass both Peyton and Eli in passing yards and touchdowns in the Isidore Newman record books. Entering his junior year of high school, Manning is starting to get serious about his impending college decision.
Manning on his college recruitment: "I'm wide, wide open"
Manning is starting to attract heavy interest from most of the best college football teams in the country. Alabama, Clemson, LSU, Texas, USC, and Notre Dame are only a few of the premier programs that have reached out to Manning recently. The football protégé can basically pick any school he wishes, so the process has naturally been a little overwhelming.
Manning recently spoke to Jeff Duncan of The Athletic about his upcoming college decision, and he admitted his recruitment is "wide, wide open."
"I enjoy the fact that I can talk to these great coaches all around the country and get to build a relationship with them," Manning said. "That's awesome. I hear new stuff every day, and I'm just soaking in all the information I can."
There isn't one aspect of a college Manning is looking for specifically, but he said he would prioritize likable coaches, friendly offensive systems, and a campus life that fits his personality.
"I'm excited about going to these schools and seeing what they're like because I've never been anywhere yet," he said. "I want to go somewhere I'm going to like living, I guess."
Alabama, Clemson, and LSU have stood out so far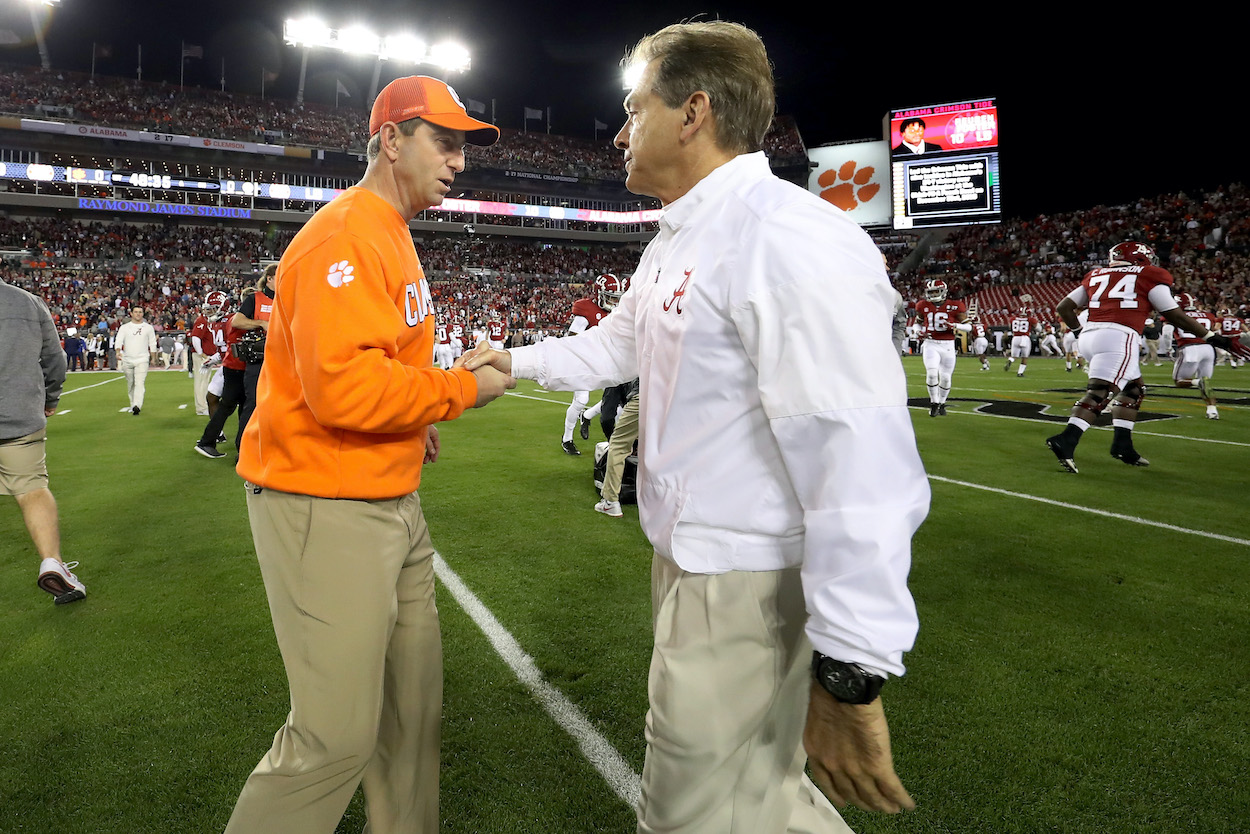 Duncan proceeded to ask Manning about specific schools he has already considered, and it sounds as if he's already taken a liking to some perennial title contenders. In addition to being nervous to speak to Alabama head coach Nick Saban for the first time, he admitted there are a few coaches who have stood out so far.
"Dabo was good," Manning said about Clemson head coach Dabo Swinney. "He's just a personal guy, fun-loving, everyone loves him. He's a great guy. And I got to talk to him the other night, and I loved him."
"I love Coach O, and I'm a big fan of the new coordinator, Coach Peetz," he said about LSU. "They're all great guys. They have a good staff. I think they're going to be pretty good this year. And LSU is just an hour away. So, that might be kind of nice."
He even threw some surprise schools into the mix.
"I'd definitely consider somewhere like Virginia or SMU," he said. "Obviously, it's not as big, but great people, still great coaches, and something a little bit more my speed, I'd say, kind of in terms of off-the-field stuff."
Manning says he expects to complete his search process and decide on a destination by next spring. But whatever Manning decides, it will ultimately be his decision. Not his father's, not his grandfather's, and definitely not his nosey uncles'.
"I'm the one going to college, not my parents and not my coaches," Manning said. "No one's pressuring me to do anything. I mean, I don't even have to play football in college if I don't want to. But I want to go play at a good school, and I think every college has something great to offer.