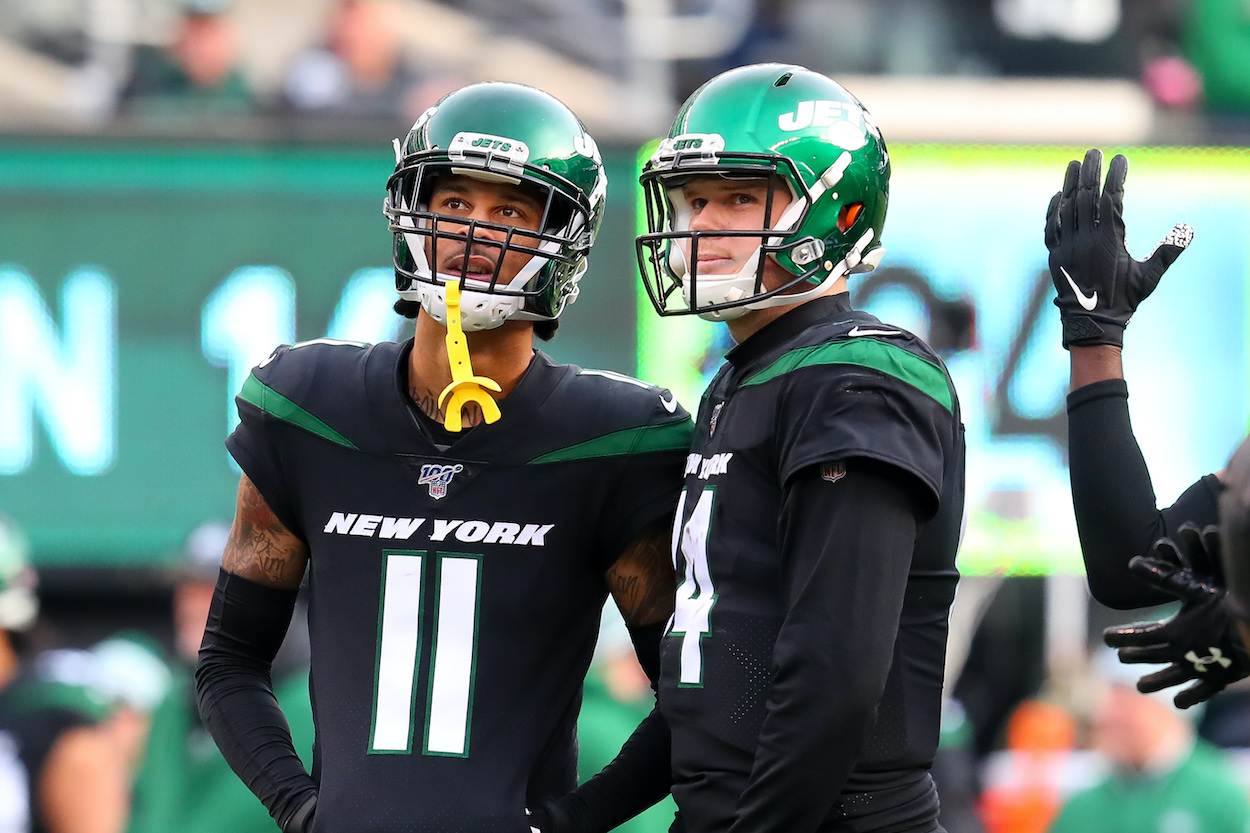 Carolina Panthers Just Invested $28.9 Million in Sam Darnold's Former Teammate in a Desperate Bid to Give the QB 1 Last Chance
Sam Darnold's Class of 2018 draftmate Josh Allen just got a six-year, $258 million extension. Baker Mayfield and Lamar Jackson are on track for big new contracts as well, having led their teams to playoff appearances like Allen. Darnold is now on his second team and looks like he's a lot closer to being Josh Rosen — now on …
Sam Darnold's Class of 2018 draftmate Josh Allen just got a six-year, $258 million extension. Baker Mayfield and Lamar Jackson are on track for big new contracts as well, having led their teams to playoff appearances like Allen. Darnold is now on his second team and looks like he's a lot closer to being Josh Rosen — now on his fifth NFL team — than Allen, Mayfield, and Jackson.
The good news for Darnold is that he will get a real chance to salvage his career with the Carolina Panthers. He'll be the Week 1 starter, and the team showed a real commitment to him by not taking a quarterback in the most recent draft. Carolina also invested in an offensive weapon Darnold is very familiar with to help him succeed.
Sam Darnold went from No. 3 overall pick to out in New York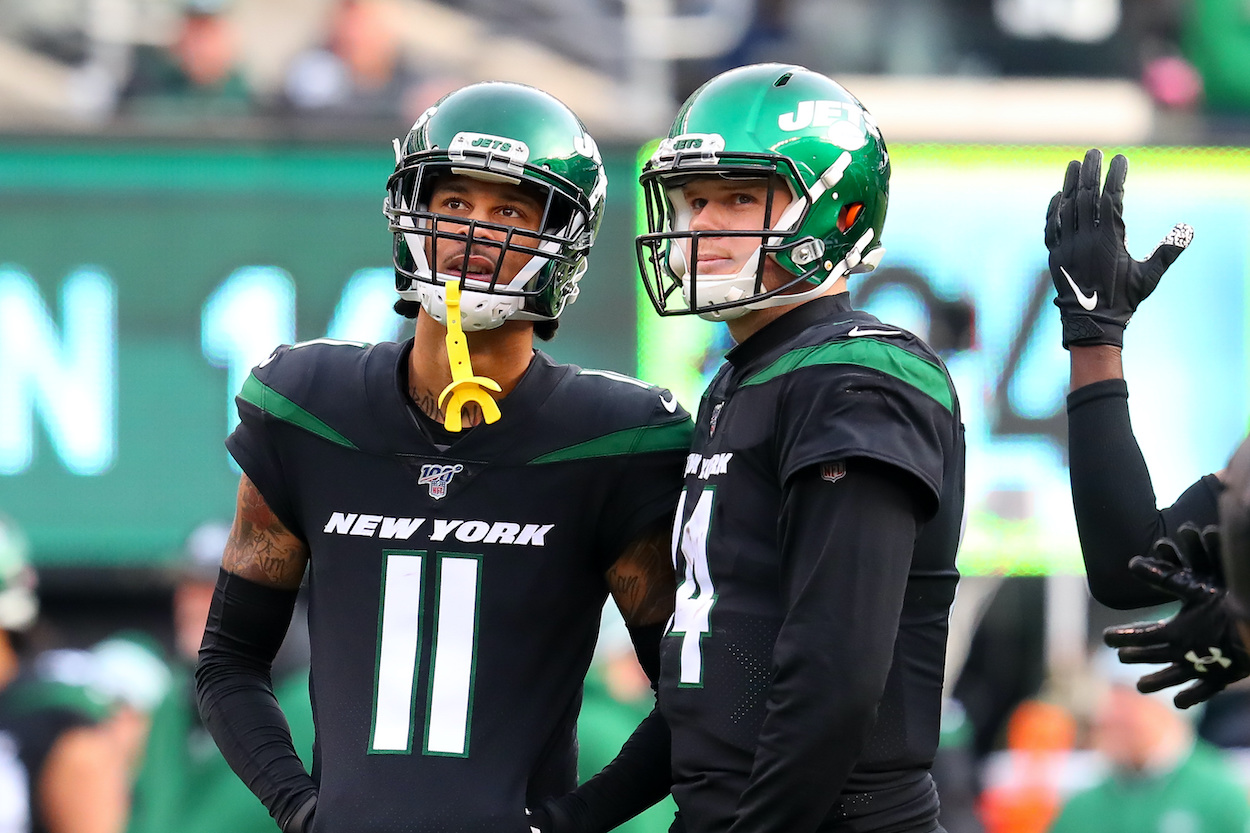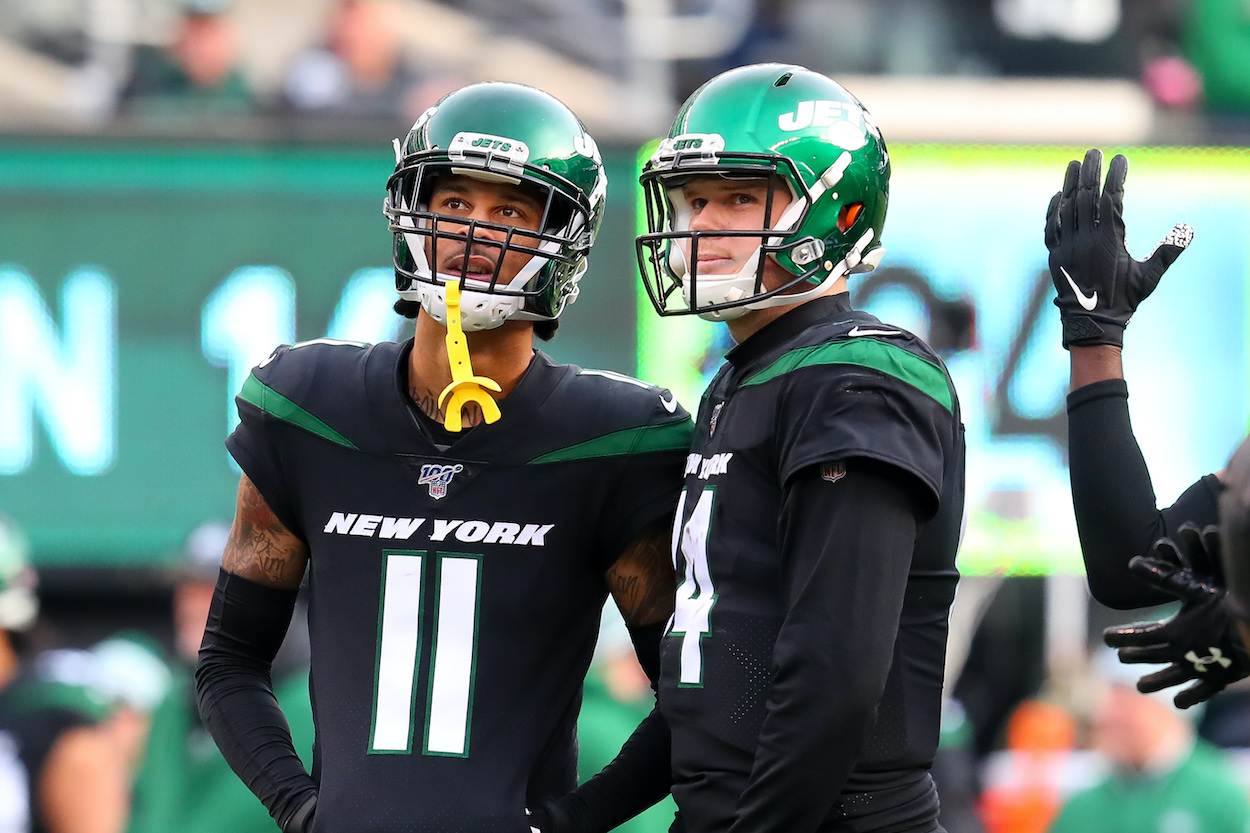 The New York Jets took Sam Darnold out of USC with the No. 3 pick in the 2018 NFL Draft, and he started his NFL career as the Jets' unquestioned starter.
The California native threw an interception with his first NFL pass, and, despite a victory in that first game, his career went downhill from there. Although he started 13 games in his inaugural season, Darnold threw for just 2,865 yards that year. He also threw 15 picks, just one behind the NFL leader, Ben Roethlisberger. The Jets finished 4-9 in 2018.
Darnold's second season went even worse. After losing a heartbreaker to Allen and the Jets' division rival Buffalo Bills in Week 1, Darnold contracted mononucleosis and missed the next three games. Despite the health issues, 2019 would be Darnold's best statistical season with 3,024 yards, 19 touchdowns, and a 61.9% completion rate. He also went 7-6 as the starter.
Although the numbers looked ok, Darnold had an embarrassing moment during 2019. It happened on Monday Night Football during a Week 6 dismantling at the hands of the New England Patriots. In the midst of a 33-0 beatdown, Darnold got caught on camera telling coaches, "I'm seeing ghosts," as the Pats D picked him off four times.
The former Trojan's 2019 numbers did provide some optimism for 2020. However, Darnold and the Jets completely collapsed. The QB went 2-10 last year while throwing for just 2,280 and nine touchdowns.
After the season, the Jets decided to part ways with their highly drafted passer and picked BYU's Zach Wilson at No. 2. The New Jersey-based franchise traded Darnold to the Carolina Panthers for a 2021 sixth-round pick and 2022 second- and fourth-round picks.
The Carolina Panthers gave former Jets WR Robby Anderson a $28.9 million extension
As Darnold tries to salvage his NFL career in Charlotte, he's getting help from a wide receiver he knows well.
Robby Anderson came into the league as an undrafted free agent out of Temple in 2016. He announced himself as an NFL player right away, catching 42 balls for 587 yards and two touchdowns in his rookie season. He truly broke out the year after that with 63 for 941 and seven TDs.
During his next two years with Darnold under center, Anderson saw 190 targets and put up 102 catches for 1,531 yards and 11 touchdowns.
In 2020, the WR signed a two-year, $20 million contract with the Panthers and rewarded the organization with his most productive season yet, making 95 catches for 1,096 yards. This production got him a bigger extension in 2021: another two-year deal worth $28.9 million.
Anderson said that part of the reason he signed the extension is because of Darnold. He told ESPN about the reasons he re-signed:
Being back with a quarterback that I'm confident in, that I know is going to be here as well. Just everything across the board was pretty much all checkmarks. Not just the money part of it.

Robby Anderson on Sam Darnold and his contract extension
Now it's up to Anderson to not only justify his own contract but also get his QB back on track in what could be the signal-caller's last NFL chance.
Darnold's revenge tour starts with a bang in Week 1
If Darnold is going to become the QB many draft experts thought he would be coming out of college, his season will likely start in the best way possible. The Panthers take on the Jets in Charlotte to begin their 2021 campaign.
New York will start its new bonus baby, Wilson, and is dealing with the injury bug, which hit the team in a major way this preseason.
On the other hand, Carolina has Anderson with a nice new deal and All-Pro running back Christian McCaffery ready to run after an injury-shortened 2020 season. The team also boasts former LSU passing guru Joe Brady, in his second year as OC, and second-round pick Terrace Marshall Jr. (also out of Baton Rouge) is getting rave reviews in training camp.
As long as he does not still see ghosts, Darnold should be able to get revenge on his former team to kick off the NFL season. After that, he has better skill players around him than he ever had in New Jersey, which could lead to the passer finally fulfilling his promise. If this happens, it will be great for the Panthers and yet another QB mistake for the Jets.
All stats courtesy of Pro Football Reference