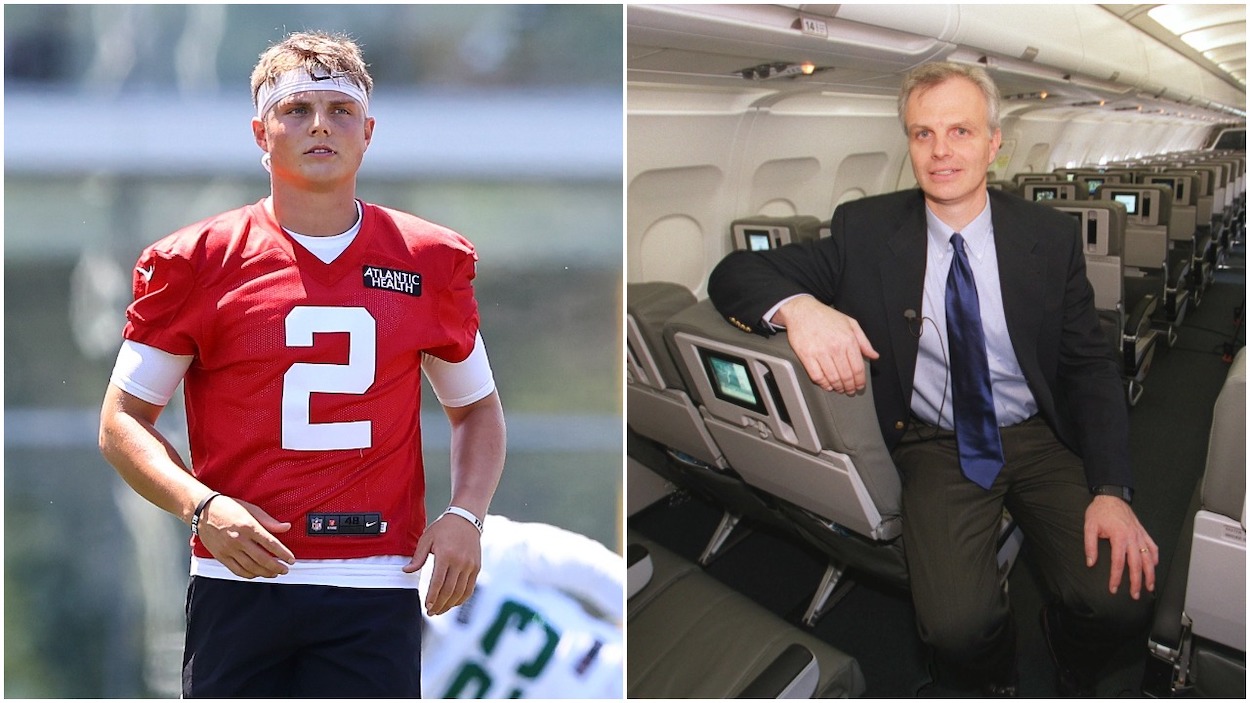 Zach Wilson's Uncle is Spending Some of His $400 Million Fortune to Fly 200 People to the Jets Opener
New York Jets rookie QB Zach Wilson will have a huge cheering section Week 1 as his millionaire uncle is flying 200 fans from Salt Lake City. David Neeleman is the founder of several airlines, including JetBlue. The fans will see the Jets new QB take on their old QB, the Carolina Panthers' Sam Darnold.
The first game an NFL quarterback plays is a huge moment in their lives. Most would probably want as many friends, family, and hometown fans as possible to attend this monumental moment. Especially if the game is on the road. New York Jets QB Zach Wilson is going to get that type of support.
That's because Wilson's uncle (his mom's brother) is a multimillionaire airline entrepreneur who is chartering a massive jet to see the Jets open the 2021 NFL season against the Carolina Panthers.  
Who is Zach Wilson's uncle David Neeleman? 
Lisa Wilson (née Neeleman) is Zach Wilson's mom. She is one of Gary and Rose Neeleman's seven children. The Neeleman kids grew up in Brazil, where Gary worked as bureau chief for United Press International and Salt Lake City, Utah, per Desert News.
The Neeleman children have an impressive list of career successes. This includes being a partner in a law firm, a trauma surgeon, and several becoming entrepreneurs in different fields. The second oldest, David, stands out even in this successful bunch.
David founded or co-founded five separate airlines, including Morris Air, WestJet, Azul Brazilian Airlines, and Breeze Airways. His biggest hit to date, though, was founding JetBlue Airlines in 1998.
During his career in the airline industry, David also created several game-changing innovations such as the electronic ticket, in-flight entertainment, and at-home reservationists. His net worth is an estimated $400 million.
Neeleman chartered a plane to fly 200 people from Salt Lake City, Utah to Charlotte, North Carolina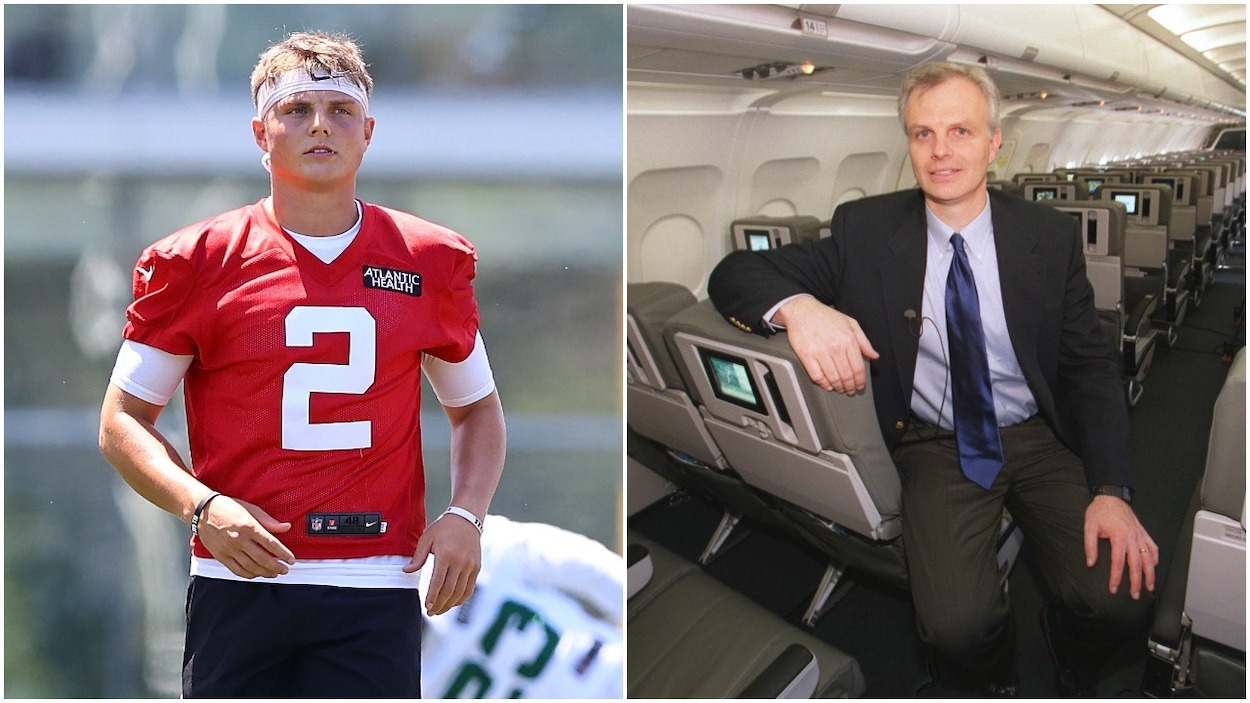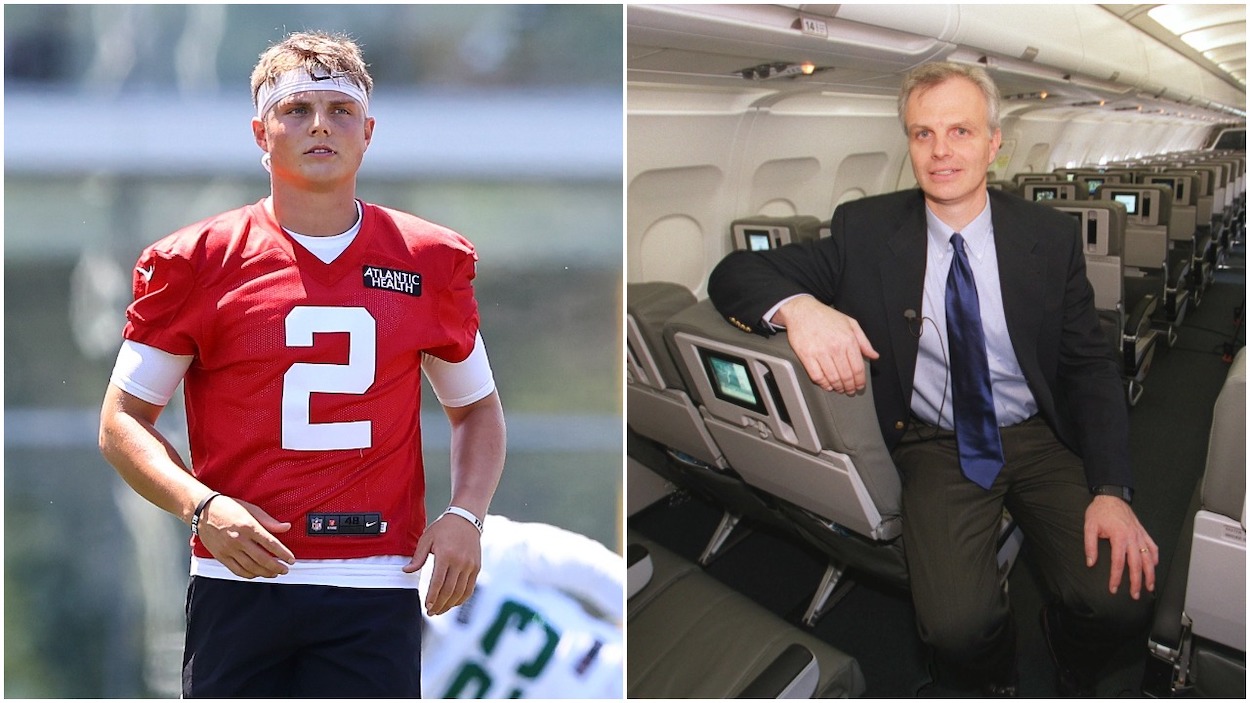 As a local prep star and QB of his hometown BYU Cougars, Wilson has many fans in the Salt Lake City area.
To help kick Wilson's NFL career off in style, David Neeleman is organizing a trip for 200 Wilson fans to invade the Carolina Panthers' Bank of America Stadium for the QB's debut. The event is dubbed "Wilson Weekend."
To be a part of "Wilson Weekend," fans can purchase tickets for between $599 and $799. This gets them a seat on the JetBlue A320 chartered by David Neeleman. According to TheWilsonWeekend.com, it also gets you a round trip flight to Charlotte, transportation to and from the airport, and a hotel to "rest 4-5 hours at before check out".
The packages do not include tickets to the Jets/Panther game. Nor do they include tickets to the BYU/Utah game that happens just before the plane leaves at 1:30 A.M. Salt Lake City local time. It does, however, include "A once in a lifetime opportunity."
Zach Wilson vs. Sam Darnold Week 1
The newly minted Jets fans from Utah are coming to Carolina to have a good time and cheer on their favorite son. Diehard Jets fans will be on pins and needles as their old highly-drafted QB takes on their new highly-drafted QB.
In a gift (or maybe a curse) from NFL schedule-makers, Zach Wilson starts his career playing the QB he replaced in New York, former No. 3 overall pick Sam Darnold. It will be Darnold's first game with a new team and Wilson's first NFL game, period, so no long-term projections will be set in stone when the final whistle blows.
However, that won't stop Jets fans and the New York media from either declaring the Jets geniuses for jettisoning Darnold and drafting Wilson or incompetent for doing so based on the Week 1 game's final score.
With training camp still a few weeks away, it's too early to pick a winner of the game. What we can predict is the real winners will be anyone who picks up a New York Post or Daily News the day after and gets to read the hilariously reactionary headlines.
Like Sportscasting on Facebook. Follow us on Twitter @sportscasting19