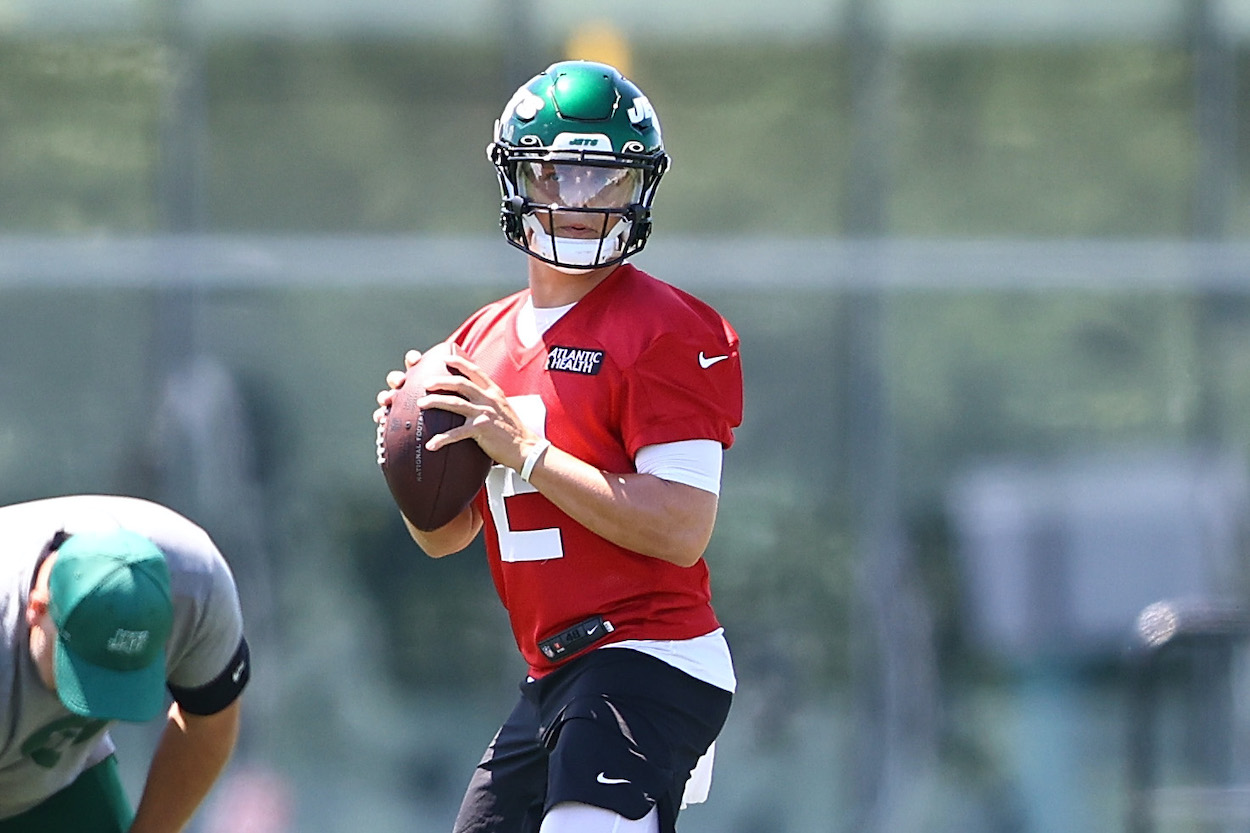 Zach Wilson Will Be an 'Unreal' Jets Quarterback if Chris Simms' Hot Streak Continues
NFL analyst Chris Simms predicts New York Jets rookie QB Zach Wilson will be the best passer in the 2021 NFL draft. He will play right away and, if Simms is right like he has been a lot recently, Wilson has a chance to be the best Jets QB since Joe Namath.
Chris Simms has a history of hot quarterback takes. The former NFL signal-caller-turned-analyst famously said Tom Brady wasn't a top-five QB back in 2014, and this year, he says third-round pick Kellen Mond is better than Justin Fields and Trey Lance. However, one take about this year's QB class may not be as hot as it seems, and that's good news for the New York Jets and Zach Wilson.  
Simms' first-round QB rankings from the last few years are stunningly accurate. If this year's ranking play out like 2018 and 2020 has for the analyst, Jets fans will be smiling come September.
Chris Simms' QB draft rankings have been surprisingly accurate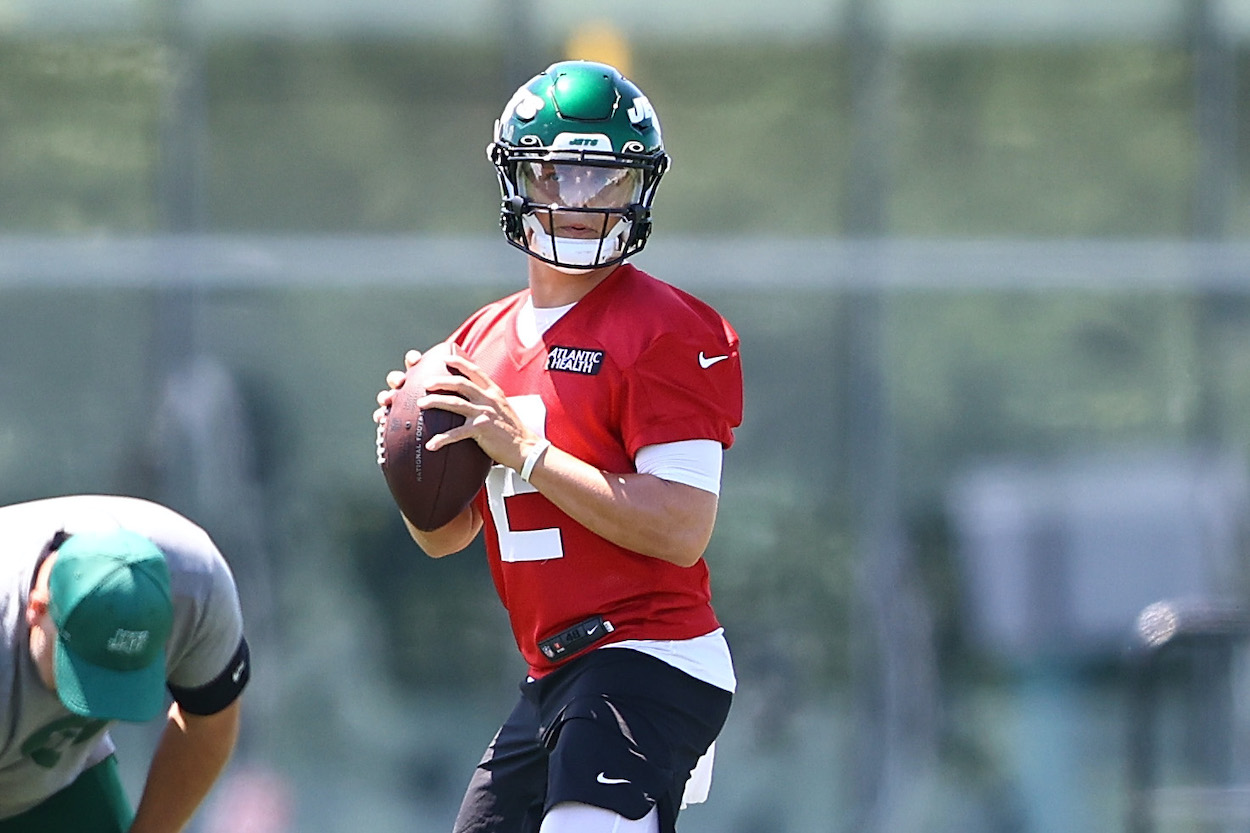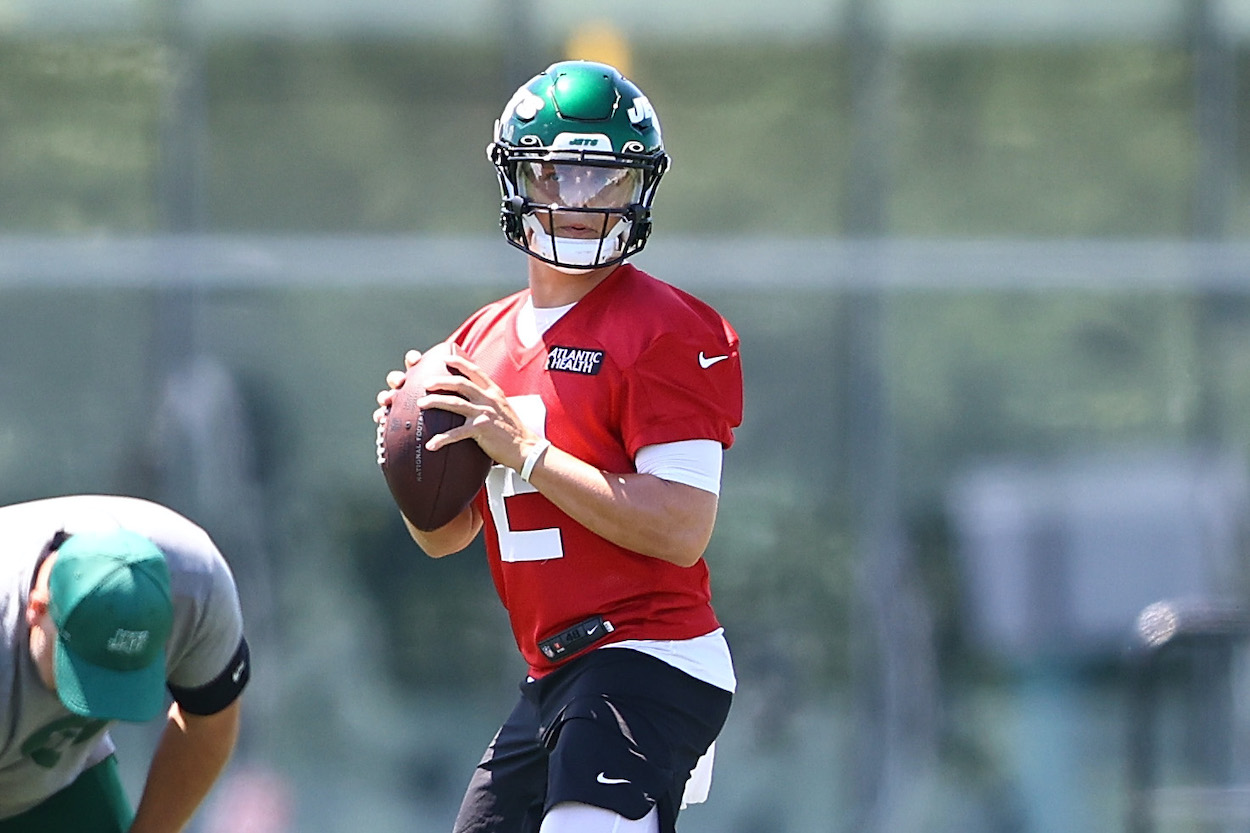 Simms definitely knows quarterbacks. His dad was a successful signal-caller for years with the New York Giants, and he played in the league as well for the Tampa Bay Buccaneers and Denver Broncos.
His top 40 NFL QB rankings are controversial, but when it comes to ranking passing prospects in the NFL draft, Simms has been spot-on in the last two big quarterback drafts.
In 2018, Simms went against the grain and ranked the first-round QBs in a much different order than most experts had them. Lamar Jackson was his No. 1 prospect, followed by Josh Allen, Baker Mayfield, Sam Darnold, and Josh Rosen.
That ranking is almost exactly how the QBs performed in the NFL. Jackson won the 2019 NFL MVP Award, Allen is a favorite for the award this year, and Mayfield is not far behind. Darnold has struggled, and Rosen is on the verge of being out of the league.
In 2020, Simms seemingly got it right again, ranking Justin Herbert second in the class to Joe Burrow with Jordan Love and Tua Tagovailoa at Nos. 3 and 4, respectively. It's hard to fully judge Burrow because of his knee injury and impossible to judge Love because he is sitting (for now) behind Aaron Rodgers.
However, after last season, this does seem like it may be the correct order, especially as Herbert shocked the league with a dynamite season following his surprise start in Week 2.
Simms ranked the New York Jets' Zach Wilson as the best QB in the class of 2021
Heading into the 2021 NFL draft, Clemson's Trevor Lawrence was the clear consensus No. 1 pick and best overall prospect. After that, opinions differed over whether Wilson, Lance, Fields, or Mac Jones was second best.  
Both Chris Simms and the New York Jets fell in love with Wilson, and he became the No. 2 overall pick. The prospect out of BYU so thoroughly impressed Simms that he made him his top overall QB prospect in the draft. Simms told PFF's Mike Florio:
My baseline comment with Zach Wilson is, it's Aaron Rodgers and Patrick Mahomes, ok? That's where it starts right there. It is an unbelievably quick release. It's the ability to throw the ball any which way he wants: sidearm, over the top, jumping in the air two feet off the ground, throwing between a guard and a tackle 25-yards down the middle. … I was blown away by Zach Wilson when I watched him. 
That is high praise coming from anyone, but when it originates from someone with the recent track record of Simms, it is even more worth taking note of for Jets fans.
For other interested fan bases, Simms complete 2021 draft rankings went Wilson, Lawrence, Jones, Mond, Fields, and Lance, per NBC Sports.
Wilson will have a chance to play right away
While Mond (Kirk Cousins), Jones (Vam Newton), Fields (Andy Dalton), and Lance (Jimmy Garoppolo) all have experienced veteran QBs with them in training camp, Wilson does not. In fact, his two backups, James Morgan and Mike White have combined to throw exactly 0 regular season NFL passes.
When you look at Simms' success from 2018 and 2020, you'll see that one thing his top QBs have in common is that they all got to start relatively early in their rookie seasons. Wilson will be the starter from day one.
These teams that found franchise QBs in accordance with Simms' ranking also did a good job building offenses around each draft pick. The Jets are doing that as well, bringing in free agent WRs Corey Davis and Keelan Cole and drafting speedster Elijah Moore in the second round. Later in the first round, they also drafted guard Alijah Vera-Tucker to beef up their revamped offensive line.
If Simms got this one right, Jets fans would finally have the franchise QB they've coveted since Joe Namath left in 1976. It will also give the AFC East three QBs Simms loves (Allen, Wilson, and Jones) and one he likes (Tagovailoa), which could turn the division into the class of the NFL for years to come.
Like Sportscasting on Facebook. Follow us on Twitter @sportscasting19