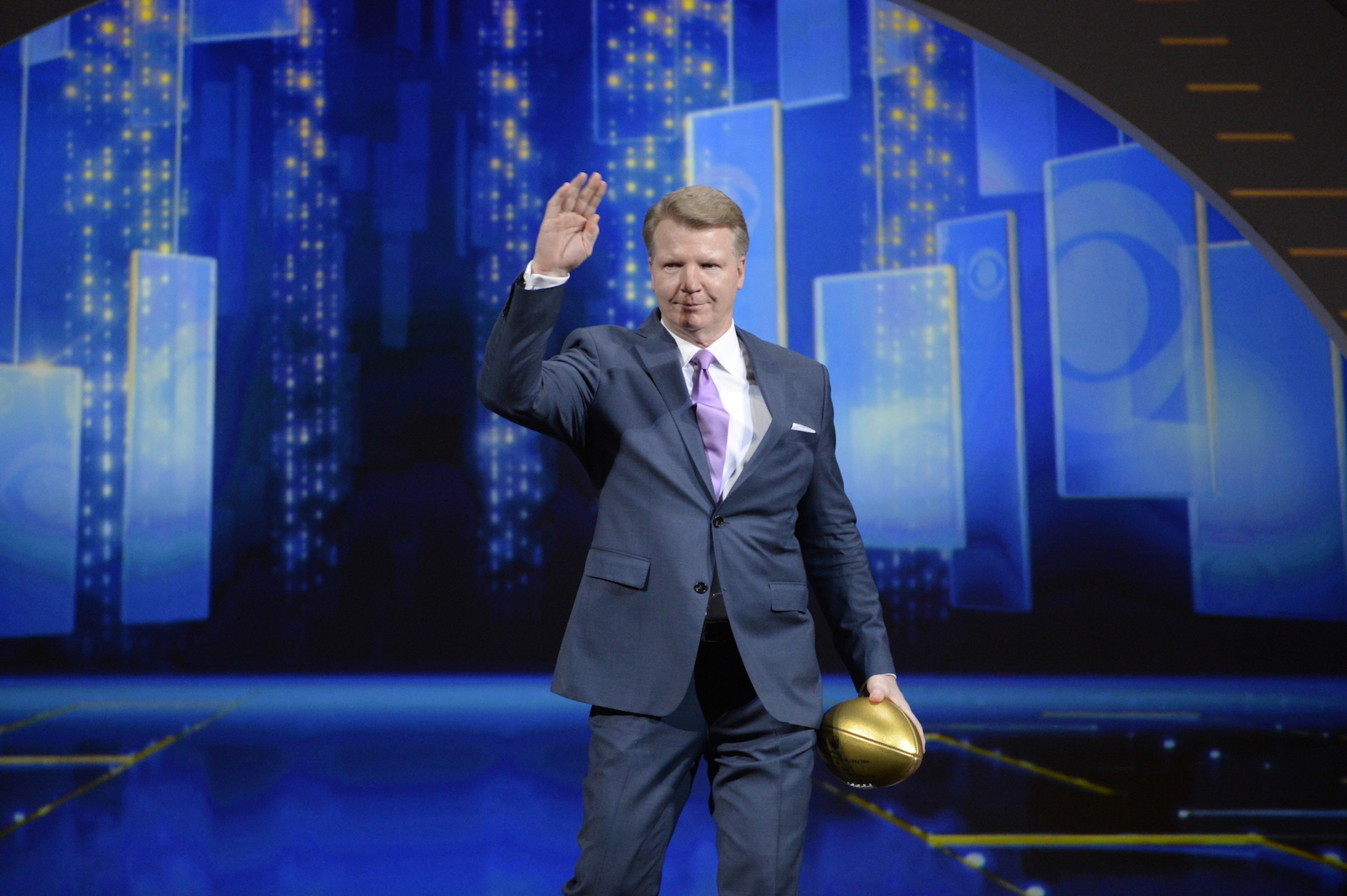 What is New York Giants Legend and CBS Analyst Phil Simms' Net Worth?
During his career, Phil Simms has found success as both a New York Giants quarterback and an NFL analyst. What is the CBS man's net worth?
Given its wealth of sports teams, New York has no shortage of legends. While the New York Giants may be going through a lean time, they're no exception to that rule. Although he might not have received the same amount of ink as some of his teammates, quarterback Phil Simms still stands tall in Big Blue's history books.
Phil Simms hasn't hit the gridiron since 1993 but hasn't completely faded from the football scene; he's found a home in the media and is currently a part of CBS' NFL coverage. As you might expect, those two careers have also helped the former quarterback build up an impressive net worth.
Phil Simms made a name for himself as the New York Giants quarterback
These days, Phill Simms' name is forever linked with the New York Giants. At first, though, the quarterback wasn't exactly a fan favorite.
Simms played his college ball at Morehead State, and, when the 1979 NFL draft rolled around, the New York Giants selected him with the seventh-overall pick. That choice wasn't immediately popular, though; according to a New York Times report, the selection was booed by Giants fans in attendance.
At first, it seemed like that skepticism was well-grounded. While Simms posted solid numbers as a rookie, he didn't exactly develop into a star quarterback; he missed an entire season due to injury, was generally inconsistent, and even lost the starting job at one point.
Simms, however, eventually found his stride. He spent a total of 15 seasons in the NFL, passing for more than 33,000 yards and 199 touchdowns; the quarterback also won two Super Bowl titles, earning Super Bowl MVP honors in January 1987.
Heading into the media and making his way to CBS
Phil Simms' football career didn't end when he left the New York Giants, though. Like plenty of former players, he found a home in the media.
As laid out on his CBS talent profile, Simms got his start with ESPN before making the switch to NBC. In addition to calling football games with Dick Enberg and Paul Maguire, he also dabbled in other arenas; he announced weight lifting during the 1996 Olympics and served as a sideline reporter for NBA coverage.
Simms moved to CBS in January 1998 and never looked back. He called games alongside Jim Nantz and Greg Gumble but has transitioned into more of a studio-centric role on The NFL Today.
How much is Phill Simms worth?
Given his 40 years on the NFL landscape as both a player and broadcaster, it's safe to assume that Phil Simms earned a pretty penny. What is the former quarterback's net worth today?
While some of Simms' contractual details from his Giants career have been lost to time, we do know some information about his old salaries. According to a 1985 New York Times story, the quarterback accepted a five-year, $3.8 million contract that summer; he apparently earned $275,000 in the previous season. We also know that Simms' salary had climbed to $2.5 million per season when the Giants cut him in June 1994, thanks to Bill Plaschke of the LA Times.
According to CelebrityNetWorth, Simms now takes home $3 million per season as a CBS analyst; that, combined with his NFL earnings, has helped him build a $16 million net worth.