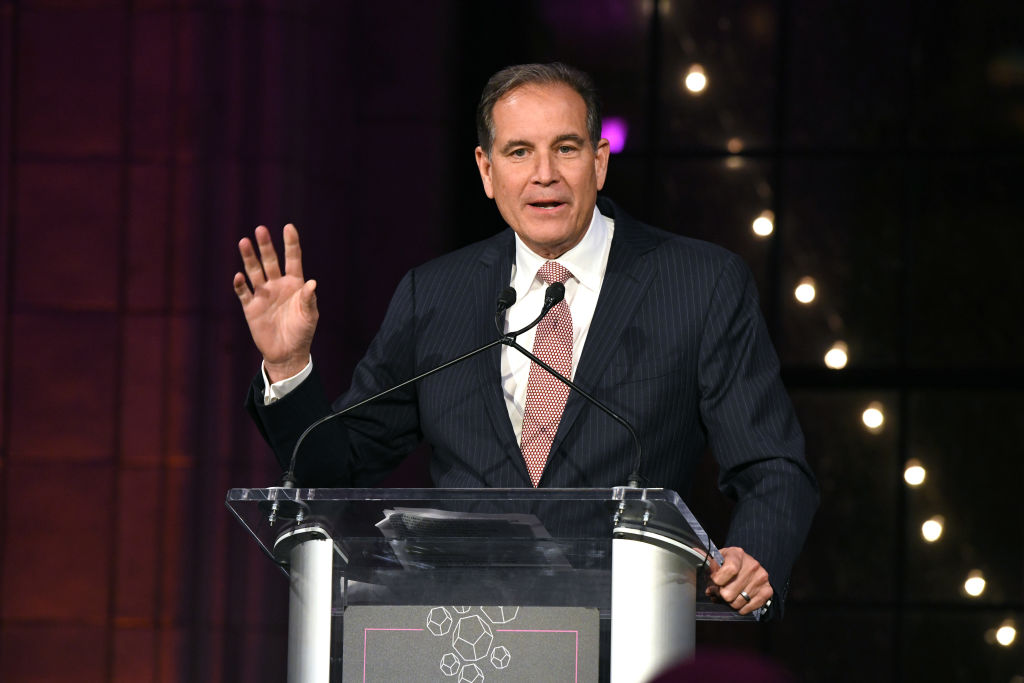 Why Does Jim Nantz Begin His Broadcasts With 'Hello Friends'?
Whether he's calling golf or NFL action, Jim Nantz begins every broadcast the same way. But why does he always say "hello, friends"?
Over time, certain things just become part of the NFL landscape. Tom Brady and Bill Belichick will always find ways to win. The Kansas City Chiefs will find new ways to struggle in the playoffs. And Jim Nantz, whenever he enters the broadcast booth, always starts the program with "hello, friends."
As with most traditions, there's a story behind the practice. Why does Jim Nantz always start the show in that specific way?
Jim Nantz's broadcasting career
Growing up, Jim Nantz played basketball and golf. When he enrolled at the University of Houston, he continued to excel on the links while majoring in broadcast journalism.
After graduation, Nantz got a job working for a local TV station; after a couple of years in Houston, he moved to Salt Lake City, where he served as a weekend sports anchor, in addition to calling college football and NBA games. In 1985, he joined up with CBS Sports, beginning as a studio host for college football and basketball, while calling NFL games and providing on-course coverage for the PGA Tour.
In 2004, Nantz became CBS' top play-by-play announcer and never looked back. He's also synonymous with the Masters and has covered everything from the Macys' Thanksgiving Day Parade to the Olympics. No matter where he is, though, he begins the broadcast in the same way.
Why does Jim Nantz say 'Hello, friends'?
For most football fans, Sunday is a day of routine. Just as there's something comforting about wearing a favorite jersey or sitting in a lucky chair, it's almost soothing to hear Jim Nantz say "hello, friends" each afternoon.
While it's hard to imagine a CBS broadcast beginning without the familiar phrase, the tradition only began in 2002. At the time, Nantz's father had Alzheimer's disease; Jim wanted to do something subtle to send him a special message during the PGA Championship.
"I said it on Saturday's third round," Nantz explained on "The Dan Patrick Show." "My father was deep in the throes of his battle that he would lose in '08 to Alzheimer's, and he had faint recognition of his son. The last thing I said to him earlier in the week in Houston was, 'I'm going to say a little cryptic message to you on the air this weekend, and it's 'Hello, friends." Because my dad had nothing but friends in his life."
While it began as a one-time thing, one of Nantz's friends suggested that he repeat the phrase during Sunday's final round. The broadcaster complied and has continued the tradition since.
"I love it because for that little moment I connect with my dad and I feel like I'm talking to him," Nantz said. "It's a calming effect every time I come on the air."
Jim Nantz and Tony Romo are friends to all NFL fans
While commentators like Cris Collinsworth and Booger McFarland often find themselves in the spotlight for the wrong reasons, Jim Nantz and Tony Romo rarely receive the same level of criticism from NFL fans.
With his decades of experience, Nantz is adept at setting his broadcast partner up for success. Romo, however, hasn't needed much help. The former quarterback stepped naturally into the broadcast booth; his experience running the Dallas Cowboys offense makes him well equipped to explain what happened—or should have happened—on a given play.
Jim Nantz started saying "hello, friends" as a way to acknowledge his father. Through his decades on the air, however, Nantz has become a friend to countless sports fans, too.