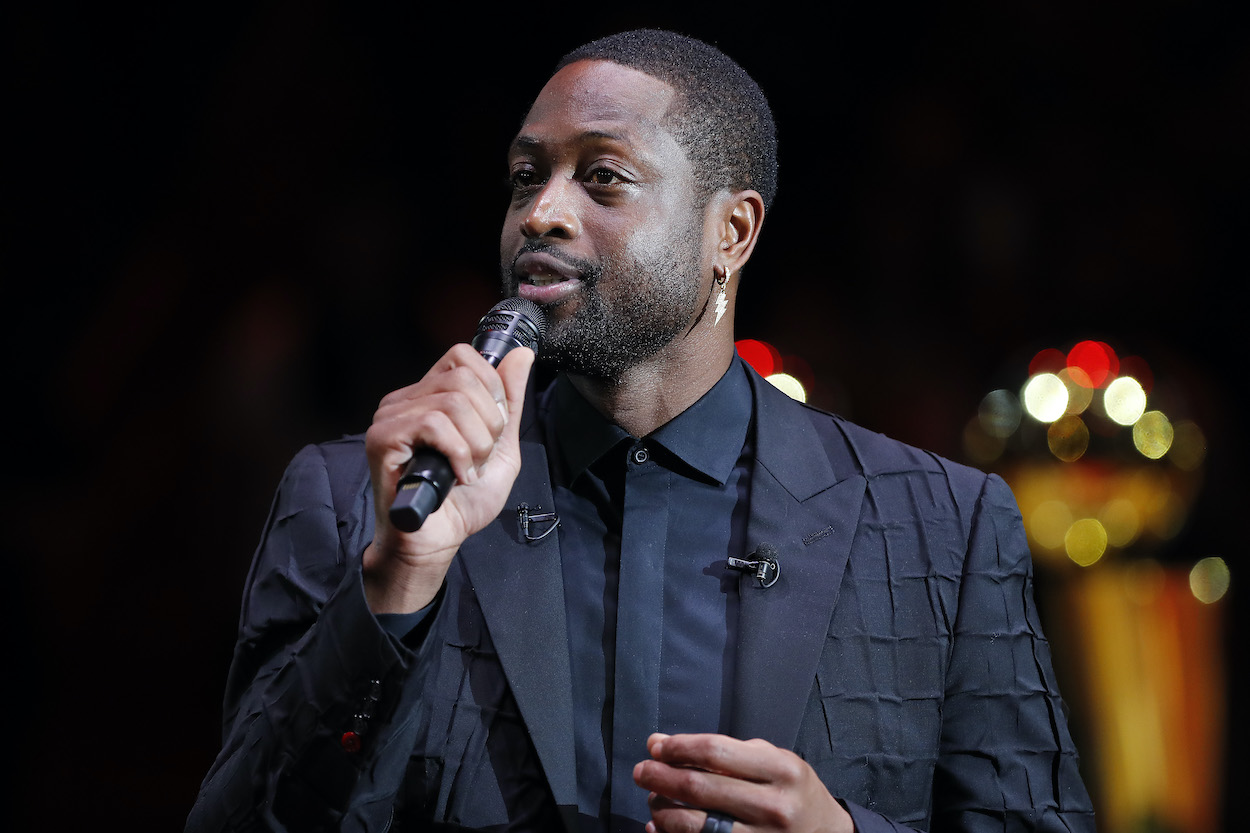 Dwyane Wade Ripped Off a British Game Show and Made Himself the Host
Former NBA superstar and three-time NBA champion, Dwyane Wade is plotting his post-basketball career. His first move is hosting a game how host. The Miami Heat legend is host and executive producer of the new TBS game show, 'The Cube', a remake of a popular and long-running British game show.
If you have watched live TV lately, especially the NBA playoffs, you have undoubtedly seen ads for The Cube, a new game show on TBS hosted by former NBA star Dwyane Wade.
The commercials don't tell you that The Cube is actually a knockoff of a long-running British game show. They also don't mention that one of the powers-that-be behind the show who tapped Wade to host is, in fact, the star himself.
Dwyane Wade is a former NBA superstar with Hollywood connections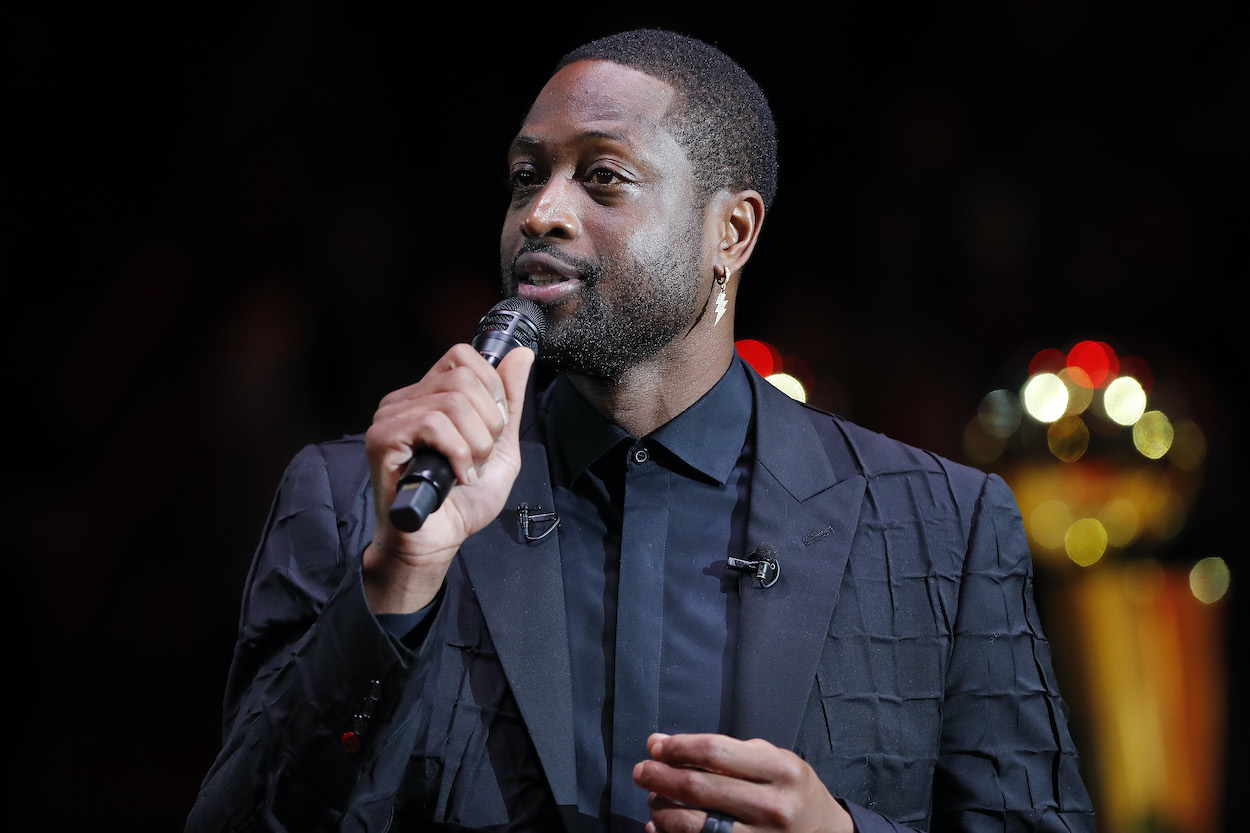 Wade made the NBA out of Chicago, IL, after a two-year stop at Marquette University. In 2005, the Miami Heat made Wade the No. 5 pick in the NBA draft in a move neither the player nor club would regret.
The 6'4" guard would go on to have a Hall of Fame career for the Heat. In 15 seasons with the club, separated by brief stints with the Chicago Bulls and Cleveland Cavaliers, Wade averaged 22.7 points, 5.6 assists, and 4.7 rebounds. He made the All-Star team 13 times and All-NBA eight times.
Wade won an NBA Championship in 2006 when he teamed up with iconic big man Shaquille O'Neal. In 2010, the star recruited LeBron James and Chris Bosh, which led to two more titles in 2012 and 2013.
In addition to Chicago and South Beach, Wade also has ties in Hollywood. According to Women's Health, Wade started dating actor Gabriele Union in 2010. The power couple tied the knot in 2014 and welcomed their first child together in 2018.
Wade is the host and executive producer of the American version of 'The Cube', a hit British game show
Following his NBA career, Wade is making his way into the entertainment world. He is currently a studio host for the NBA on TNT and, most recently, is trying his hand at game show hosting.
Wade is also an executive producer of the game show, The Cube. It is a remake of a hugely popular British game show. Deadline describes the show as such:
In The Cube, pairs of contestants are forced to compete in a series of challenges while inside a small Perspex cube. It highlights how even straightforward tasks like catching, throwing, estimating, memorizing and balancing were more difficult when confined and under pressure in a small area surrounded by a large, live studio audience. Working against the clock, each pair has nine lives to complete seven games, each worth an increasing amount of money, as they move closer to the jackpot.
In the American version of the game, contestants will have opportunities to call the NBA legend/host into the cube to help them with their tasks.
Wade is just the latest athlete to try his hand at game show hosting
Wade isn't the first current or former athlete to take a shot at hosting a game show. Former Major Leaguer Joe Garagiola hosted game shows in the 60s and 70s, and NFL kicker Rolf Benirschke hosted Wheel of Fortune for six months in the 80s while Pat Sajak hosted his short-lived talk show.  
More recently, several athletes have picked up a mic and tried their hand. Retired NFL defensive end Michael Strahan hosted The $100,000 Pyramid remake, and the entire football-playing Watt family hosted a physical competition-based game show called Ultimate Tag.
The most famous recent example of an athlete throwing his hat (helmet?) into the gameshow ring is Green Bay Packers QB Aaron Rodgers guest-hosting Jeopardy in a bid to replace the late Alex Trebek.
Wade was never as gregarious or extroverted as some of his teammates, such as Shaq and LeBron. We'll see if he can come out of his shell as a game show host. His first episode premiers on TBS on June 10, at 9 pm ET.
All stats courtesy of Basketball Reference