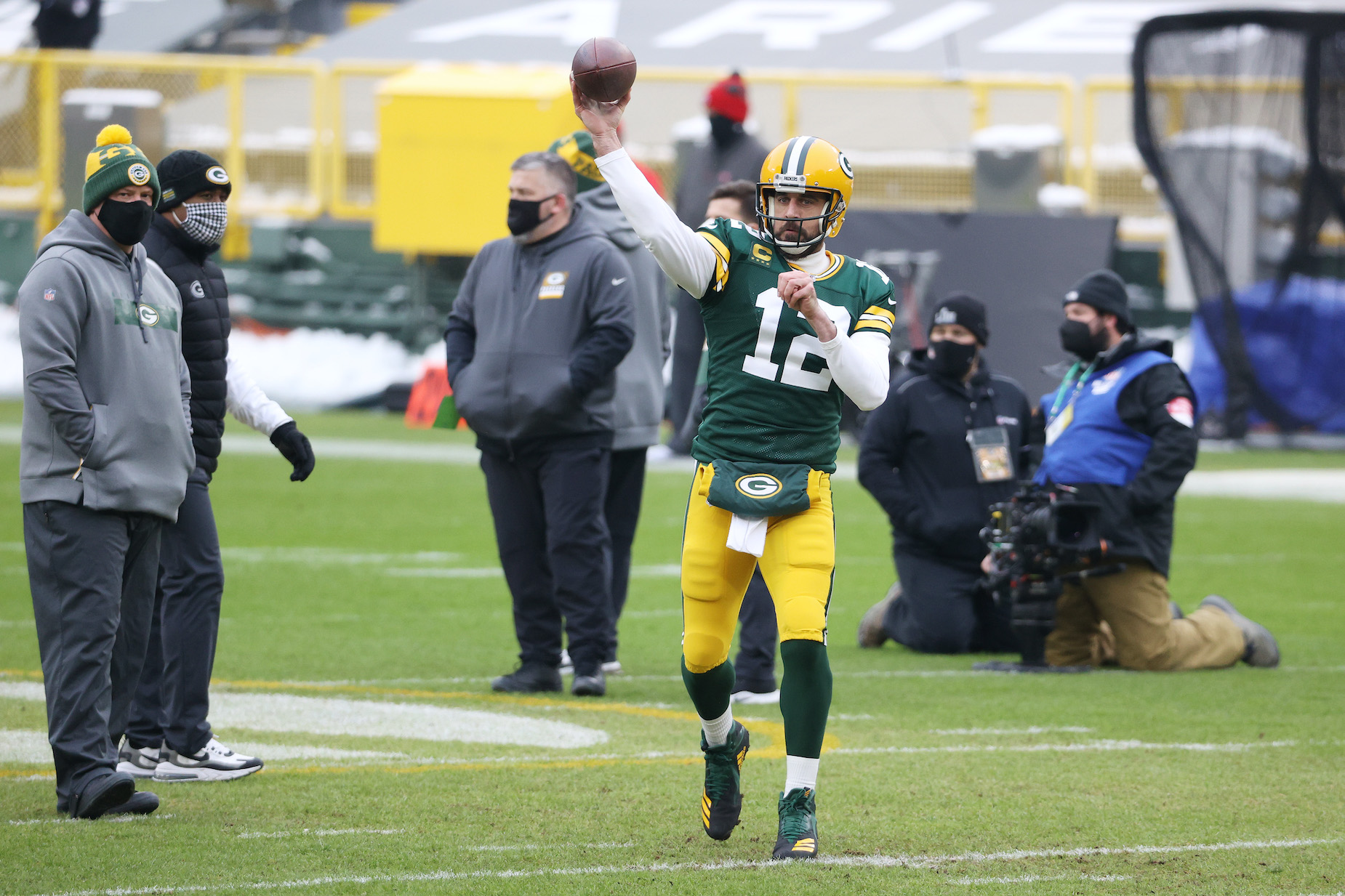 Aaron Rodgers Prepared to Host 'Jeopardy' Like He Was Getting Ready for a Must-Win Green Bay Packers Game
Ahead of his time guest-hosting 'Jeopardy' Aaron Rodgers channeled his NFL skillset into some intense preparation.
During his time in the NFL, Aaron Rodgers has proven to be a talented player capable of stepping up in the big moments. During the 2021 NFL offseason, however, the Green Bay Packers quarterback will be facing a new challenge: hosting Jeopardy.
While Aaron Rodgers has appeared on the iconic game show before, stepping on stage as the host, rather than a contestant, will be an entirely new challenge. With that in mind, the Packers star prepped for the gig in classic football style: with plenty of film study.
Aaron Rodgers is no stranger to big-time performances with the Green Bay Packers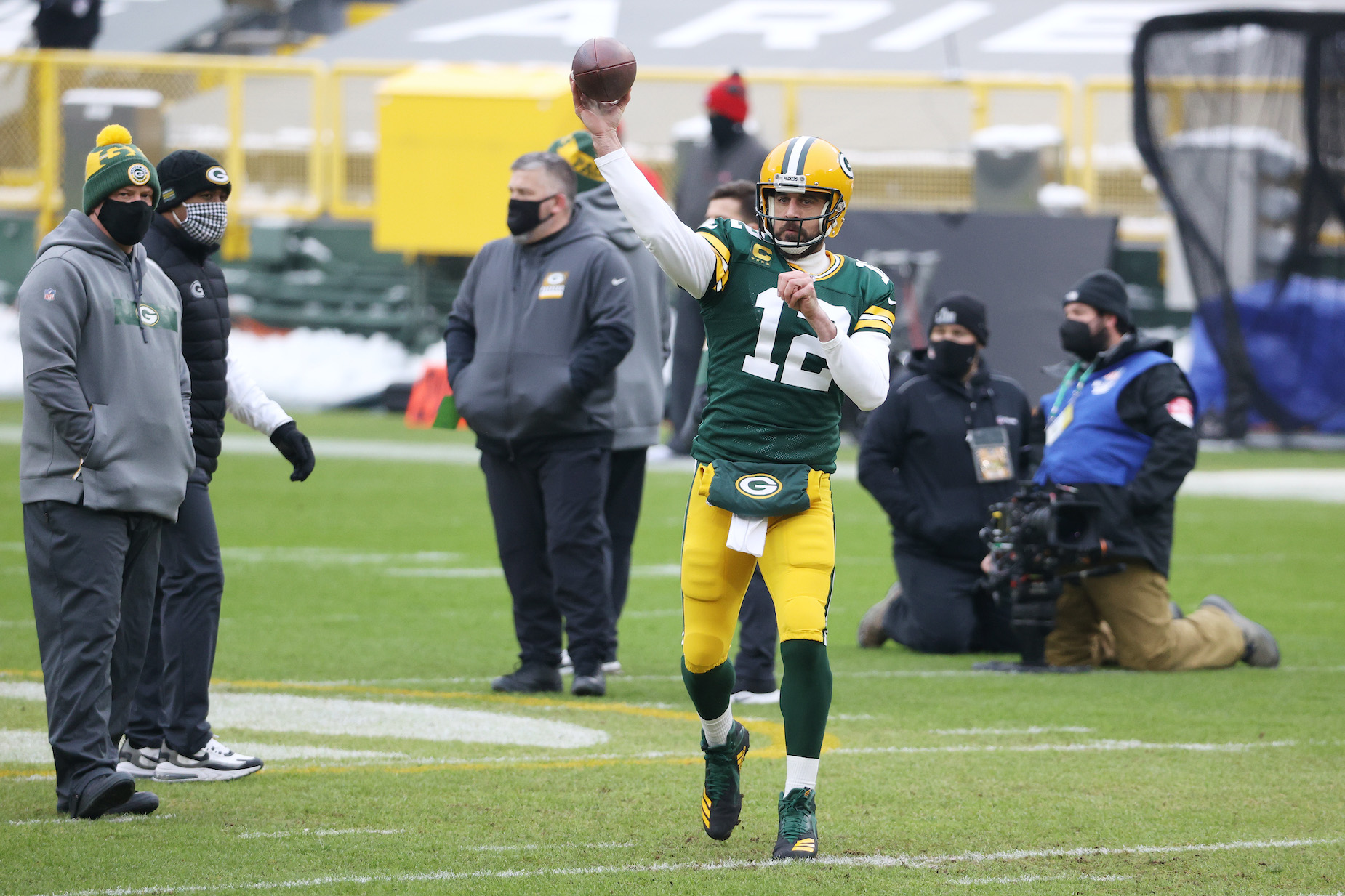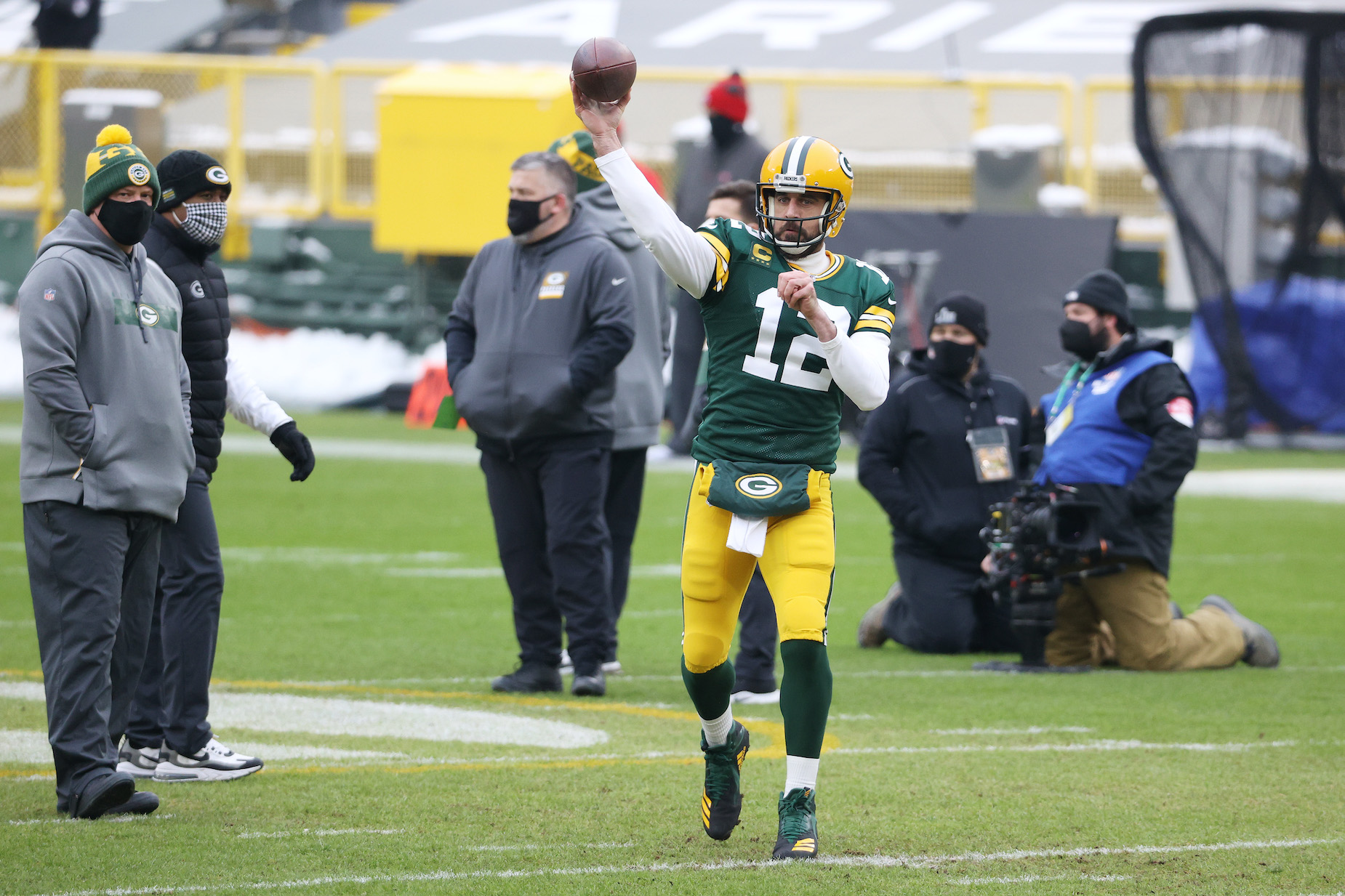 Ever since the Green Bay Packers drafted Jordan Love last year, rumors have been swirling about Aaron Rodgers and his NFL future. No matter what happens after the 2021 campaign, though, he's already proven himself to be one of the top quarterbacks in recent history.
Despite that eventual success, though, Rodgers took an unconventional road to the top. While he posted impressive numbers in high school, the quarterback was deemed too small by most big-time NCAA programs; that left the quarterback playing for Butte Community College. Although he played well and earned a transfer to Cal, that wasn't the end of his odyssey.
When the 2005 NFL draft rolled around, Rodgers found himself sitting in the green room for what seemed like an eternity. He then joined the Green Bay Packers and started backing-up Brett Favre.
Once he got his chance under center, though, Rodgers proved that he was more than capable of cutting it at the NFL level. During his 16 seasons in the pros, the quarterback has thrown for 51,245 yards and 412 touchdowns. He's also won a Super Bowl title and three NFL MVP crowns.
Preparing to host 'Jeopardy' with some intensive film study
While Aaron Rodgers has appeared on Jeopardy before, following in Alex Trebek's footsteps, however, is a different challenge. Thankfully the Green Bay Packers quarterback has learned a thing or two about preparation during his NFL career.
Ahead of each weekend's game, it's standard practice for football players to devote some time to film study, hoping they can gain some insight into their opponent's strengths, weaknesses, and tendencies. Ahead of his guest-spot hosting Jeopardy, Rodgers took that idea to the next level.
"I watched hours and hours and hours of episodes," Rodgers explained, according to ESPN's Rob Demovsky. "Luckily, Netflix has a few seasons, and I went back to DVR. But I had to watch from a different perspective—from Alex's perspective. I couldn't watch it as a fan anymore."
What does it mean to watch Jeopardy as a host rather than a fan? If nothing else, taking plenty of notes.
"I took pages and pages and pages of notes," Rodgers continued. "I wrote down every affirmative that he said to any type of clue. I wrote down how he would respond if they didn't get it right. I wrote down beat points of the show. I wrote down all the different ways he would take it to break. I wrote down the stuff that he said coming out of break. Literally, I studied for this like no other. I wanted to absolutely just crush it."
Aaron Rodgers has reaped the rewards of film study in the past
As mentioned above, film study is simply a part of the sports world; it's unlikely you'll find any quarterback, even at the college level, who doesn't spend time watching tape. Aaron Rodgers, however, has specifically reaped the rewards from those efforts in the past.
Ahead of the 2020 NFL season, Rodgers looked notably sharp during training; when asked about it, the quarterback said he had been watching film of himself from 2010 and noticed something. While he never specified what he saw, it seems like it was a pretty important observation.
During the 2020 campaign, Rodgers posted impressive numbers. Although the Packers' season ultimately ended in disappointment, he thrived on an individual level, throwing for 4,299 yards and 48 touchdowns en route to an NFL MVP title.
It goes without saying that hosting Jeopardy is quite a bit different than playing football. If his film-study skills transfer across the divide, though, it's safe to assume that Aaron Rodgers will turn in quite the performance as at the podium.