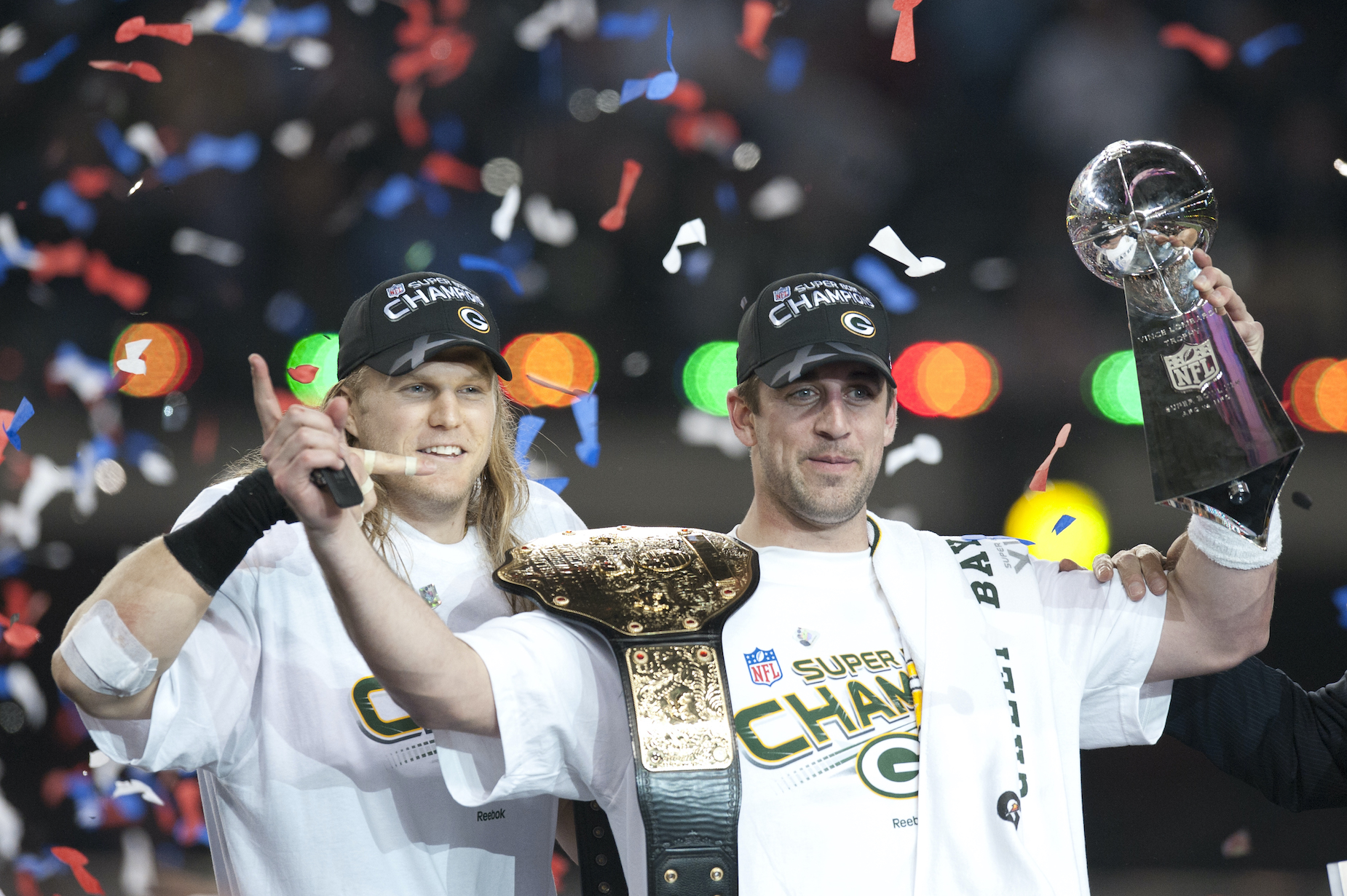 How Many Super Bowls Has Green Bay Packers Quarterback Aaron Rodgers Won?
Aaron Rodgers has had quite the NFL career with the Green Bay Packers, but how many Super Bowl titles has the quarterback won?
Over the years, the Green Bay Packers have had plenty of star players. In recent years, though, Aaron Rodgers has undeniably been running the show. While the signal-caller might not have had the easiest road to stardom, he's grown into one of the NFL's top signal-callers.
When you're playing for a franchise like the Green Bay Packers, though, it's not enough to simply be a good player; to stand alongside the likes of Vince Lombardi and Ray Nitschke, you have to do something truly special. With that reality in mind, how many Super Bowls has Aaron Rodgers won during his NFL career?
Aaron Rodgers took the long road to NFL stardom
When you see a star player dominating the NFL for more than a decade, it's easy to assume that he was always a highly-touted talent. Aaron Rodgers, however, had a different experience.
Rodgers showed his stuff as a high school quarterback but, after graduation, big-time NCAA programs weren't interested in his services. Facing concerns about his height, the quarterback headed to Butte Community College; there, he caught the attention of Cal's football staff and earned himself a transfer.
After two strong seasons with the Golden Bears, Rodgers decided that he was ready for the pros. He entered into the 2005 NFL draft, hoping to become the first-overall pick. That, of course, didn't happen; the San Francisco 49ers took Alex Smith instead, and Rodgers awkwardly sat in the green room until joining the Packers as the 24th pick.
Even in the pros, Rodgers' had to bide his time. Brett Favre was still the starting quarterback in Green Bay, and, by his own admission, he didn't have much of an interest in teaching the rookie the ropes.
Taking over the starting job and becoming a star
When he first arrived in Green Bay, Aaron Rodgers had to spend three seasons sitting on the bench. Once he took over the starting job, though, he was ready.
Rodgers first took charge of the Packers' offense in 2008. While the team finished below .500, he still did pretty well for himself; the quarterback threw for 4,038 yards and 28 touchdowns, proving he had the chops to make it in the NFL. That campaign, however, was only the start.
Thirteen seasons later, Rodgers is still going strong. Even though the Packers may have drafted his successor, the quarterback is still putting up impressive numbers. Through the end of the 2020 regular season, he's thrown for 51,245 yards and 412 touchdowns; he's also won two NFL MVP awards and, barring some unusual voting, should add a third before long.
How many Super Bowls has Aaron Rodgers won?
While regular-season success is all well and good, every NFL player dreams of winning a Super Bowl. Aaron Rodgers, as everyone in Green Bay can confirm, has been able to lift the Lombardi Trophy once during his career.
While Rodgers has only appeared in one Super Bowl, he and the Packers did come out on top. Green Bay claimed victory in Super Bowl 45, which took place in February 2011, and topped the Pittsburgh Steelers 31-25. The quarterback threw for 304 yards and three touchdowns on the night, earning himself Super Bowl MVP honors along with the championship.
Although Aaron Rodgers won't be able to play forever, he's had quite the career with the Green Bay Packers. With all of that being said, though, he'll surely be hoping that he gets to win at least one more Super Bowl before leaving Wisconsin for good.
Stats courtesy of Pro-Football-Reference