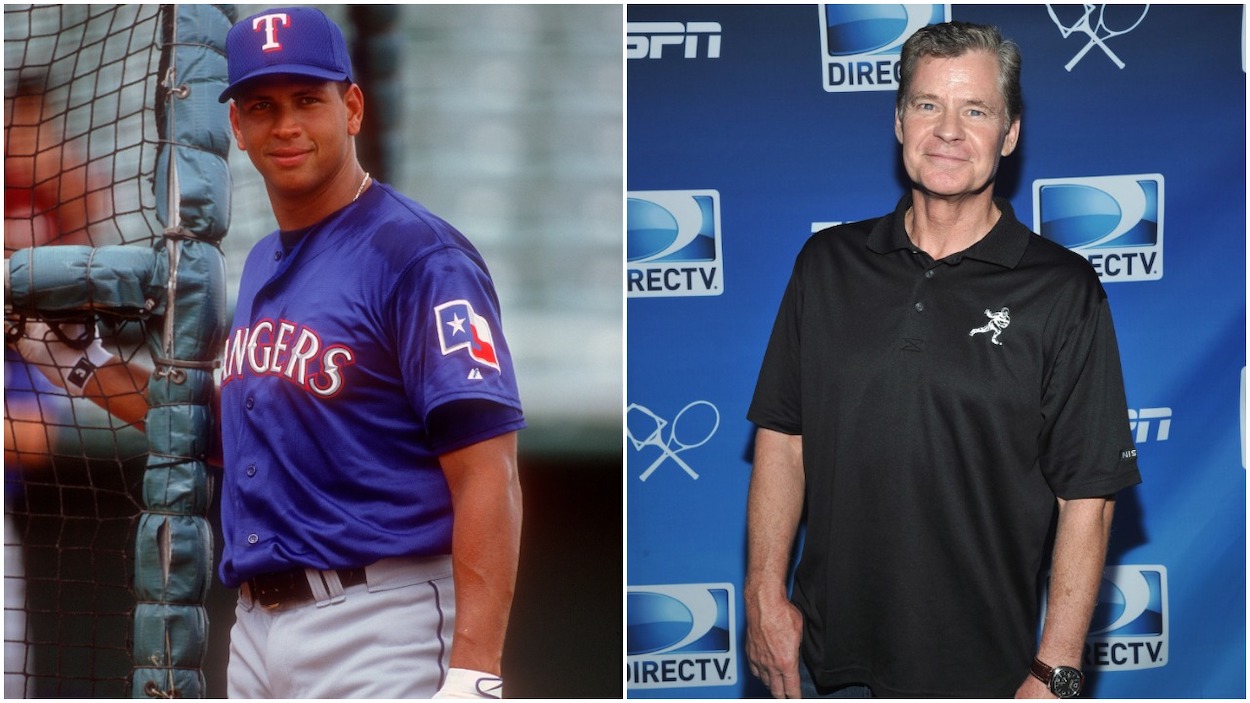 Alex Rodriguez and Dan Patrick Almost Brawled in the Rangers Locker Room as Jose Canseco Sat on a Couch and Watched
Alex Rodriguez and Dan Patrick don't get along to this day and it goes back to an interview where A.Rod claims he didn't know they were recording when he made a derogatory comment about Derek Jeter on Patrick's radio show in the early 2000s. The situation that almost ended in locker room fisticuffs.
The job of sports media personalities can be tricky at times. They sometimes must criticize athletes or get them to say something controversial, and then they have to see these often-amped-up physical specimens after the fact. This is what happened with host Dan Patrick and star baseball player Alex Rodriguez in the early 2000s.
Patrick told Ryen Russillo a gripping story about why, to this day, Rodriguez doesn't like him. It involves a dig at Derek Jeter, a visit to the locker room with a de facto bodyguard, the possibility of a physical confrontation, and three '90s MLB All-Stars sitting on a couch, waiting to see what happened next.
Alex Rodriguez got mad at Dan Patrick in the early 2000s
After seven years with the Seattle Mariners, Alex Rodriguez became a free agent in 2000. The Miami native spurned his first club and signed with the Texas Rangers for a then-record 10 years and $252 million.   
It was at a time when Rodriguez, Derek Jeter in New York, and Nomar Garciaparra in Boston were fighting it out to see who was the best shortstop of the generation. 
Dan Patrick shared a story of an interview he did with Rodriguez on The Ryen Russillo Podcast and how it almost led to a serious physical fight between the broadcaster and the major leaguer.
Rodriguez joined Patrick during this era on his then-ESPN radio show and, as Patrick explained, "I start talking to you right away." The host's interview style involved questions off the bat with no small talk, so as soon as he connected with Rodriguez, Patrick asked, "So what'd you think of Jeter's contract?"
"There's not one thing he does better than me," Rodriguez answered. A brief time later, he asked Patrick, "Are we recording?"
Patrick answered in the affirmative, and the interview continued without incident. The shortstop's answer was massive news, especially in Jeter's home city, according to DP.
Sometime later, Patrick requested an interview with Rodriguez. A Rangers PR person initially said it wouldn't be an issue. He called the broadcaster back, though, and said, "Ummm, Alex's got a problem."
Patrick decided the best way to remedy the situation was to meet Rodriguez in the locker room to address the problem. He decided to bring his then-co-host, former Cincinnati Reds "Nasty Boy" Rob Dibble with him … just in case.
Patrick walked into a surreal scene in the Rangers locker room
Patrick explained the surreal scene he encountered to Russillo:
I go in, and it's just like Animal House, 'Otis, my man.' Where everything stops and I've got [Rafael] Palmeiro, [Ivan] "Pudge" Rodriguez, [Jose] Canseco, and I got A.Rod over here by his locker, and he's talking to, I think, somebody named Mike Lamb. You would have thought Mike Lamb was Deep Throat at Watergate, that he was listening to every word, and it was so intense, and he was making me wait.

Dan Patrick on Alex Rodriguez
With the contingent of Rangers All-Stars "on the back of a couch" who "knew something's going down" and A.Rod making Patrick sweat, the former SportsCenter host turned to the 6-foot-4, 230-pound Dibble. "Look, if he hits me…" Patrick started before Dibble interrupted and said, "I got your back."
When A.Rod finally made his way over, Patrick asked if Rodriguez had a problem with him. A.Rod explained he was mad about "the Jeter stuff." Patrick said he defended his journalistic integrity around the interview. He then described the tense moments that followed:
He got so close to me, and I was like, 'Oh, you gotta be kidding me. This guy's gonna deck me in front of his teammates in his locker room? And then I got Dibble that's gonna come in and pound A.Rod?'

Dan Patrick on Alex Rodriguez
Patrick then started going through the possible next-day headlines in his head such as, "TV Talking Hairdo Gets Decked in Rangers Locker Room" and "A.Rod on DL after Rob Dibble — "Nasty Boy" — Breaks His Jaw."
The funniest part of the whole event was the big-name Rangers stars watching in anticipation. "I can see the Rangers over here — these cowards over here — and they're looking, and they're waiting," Patrick shared. "And I went, 'I'll be damned. If this is how it ends, let's go.'"
Patrick and A.Rod still aren't on good terms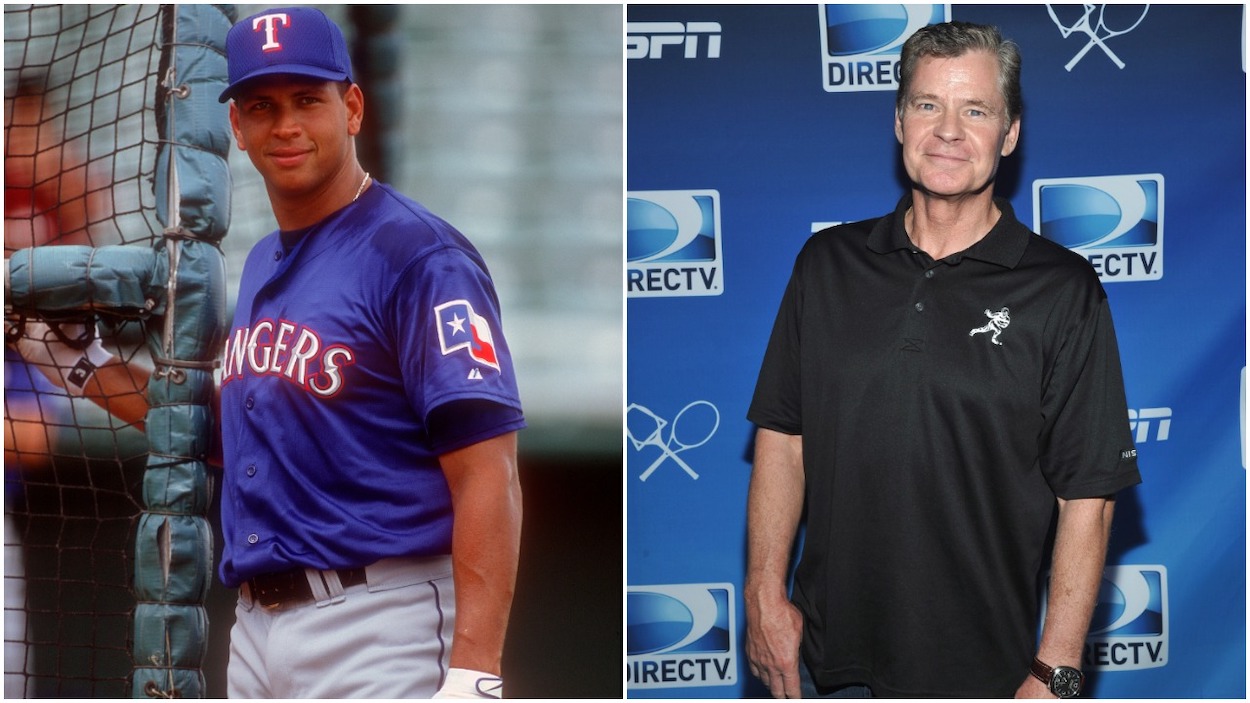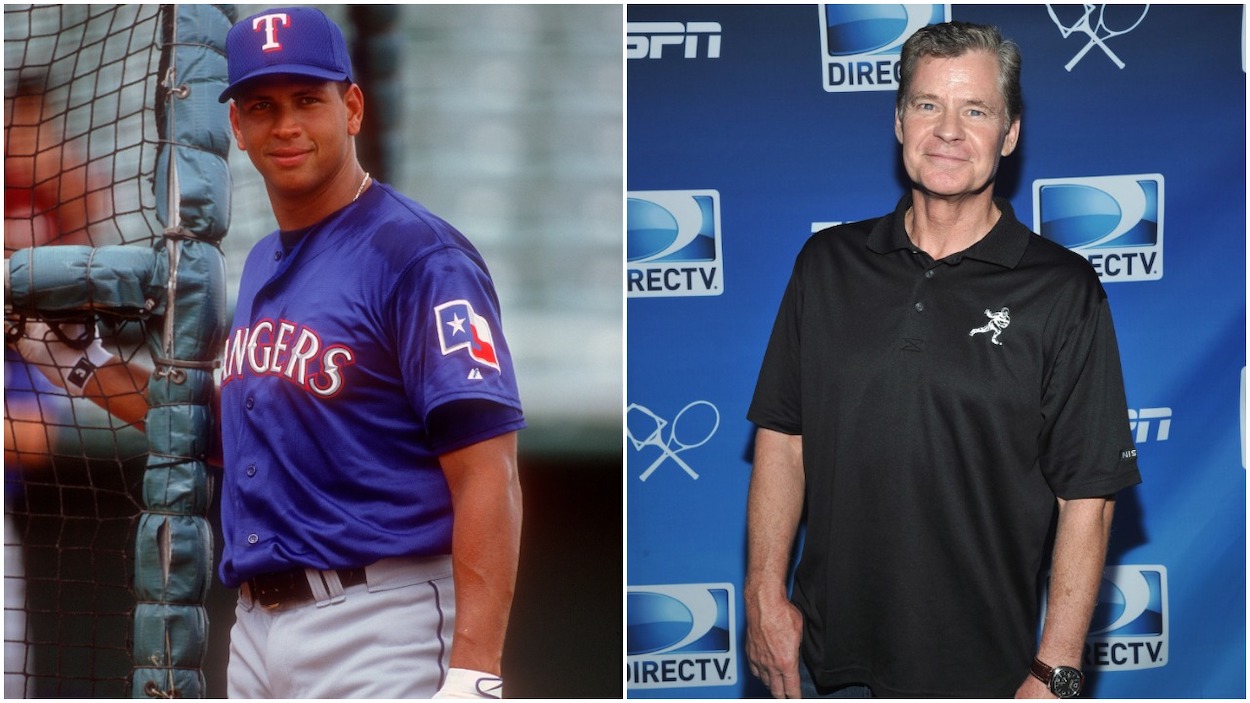 As the encounter continued, Patrick ratcheted up the tension a notch:
I was mad at A.Rod. He was threatening me, I thought, and I had some choice words back. Basically, it was like, 'hey, f— you, man. You said these things. I didn't feel this way.' And I almost reached back to see if I could feel Dibble because I thought, "God, if he left, I'm in trouble!'

Dan Patrick on Alex Rodriguez
The host never needed Dibble's muscle, and cooler heads ultimately prevailed. However, Patrick and Rodriguez still aren't on good terms around two decades later.
"We don't have a good relationship now," Patrick admitted. "I've seen him, and I'm like, 'Hey. Hi, Alex. How are you?' And that's it."
Patrick explained his going to see A.Rod was a vestige from his early reporting days. He said he was always taught, "If you say something, show up in the locker room. That's all."
That is a noble sentiment that any young journalist can learn from. That said, Patrick is lucky he didn't become another type of cautionary tale by starting a brawl with the highest-paid player in the game while Canseco and crew watched with their popcorn ready.
Contract figures courtesy of Spotrac.