Ken Griffey Jr. and Sr. Hitting Back-to-Back Home Runs is Still the Coolest Father-Son Moment in Sports History
No matter how you look at it, what Ken Griffey Sr. and Ken Griffey Jr. did in 1990 for the Seattle Mariners is still the coolest moment in the history of sports.
Throughout the years, there have been some great father-son moments in sports. Michael Jordan crying with his father while holding his first NBA championship trophy is iconic. Tiger Woods hugging his dad after winning The Masters in 1997 is an image that will last forever. But the Griffeys hitting back-to-back homers on September 14, 1990, takes the cake.
Here's a look back on how the amazing moment came to be.
Ken Griffey Sr. had to retire and then unretire to join Ken Griffey Jr. on the Seattle Mariners
RELATED: 10 MLB Records That Will Never Be Broken
In August 1990, the Cincinnati Reds were smack dab in the middle of a pennant race and 40-year-old Ken Griffey Sr. simply wasn't cutting it anymore. Griffey Sr. had once been a three-time All-Star for the Reds, first playing in Cincy from 1973-1981. But he had obviously gotten older and his second stint with the club certainly wasn't going as well. Griffey Sr. had appeared in just 46 games for Cincinnati through August 18, 1990, and was hitting just .206. So the Reds gave him a choice. Retire on your own terms or be released.
Ken Griffey Sr. wanted to join his son, 20-year-old phenom Ken Griffey Jr., on the Seattle Mariners so he opted to retire. But he then found out that he would have to wait 60 days before signing with a new team. So he then unretired and was released. He then had to clear waivers but finally got through the process and joined Junior and the Mariners on August 29.
The father-son duo hit back-to-back singles in their first game together
Two days after signing in Seattle, Ken Griffey Sr. and Ken Griffey Jr. became the first father-son duo in MLB history to ever appear in the same lineup. The elder Griffey got the start in left field with his son just to his left in center. Not only were they next to one another in the field, but they were also next to one another in the batting order, Griffey Sr. hitting second and Griffey Jr. hitting third.
In the August 31 matchup against the Kansas City Royals, facing Storm Davis, Ken Griffey Sr. laced a single up the middle in his first-ever at-bat with the Mariners. Immediately after, Ken Griffey Jr. smacked a single to right, obviously making the duo the first father-son combo to ever share the basepaths. Both would come around to score in a three-run first inning and the Mariners cruised to a 5-2 victory. As it turns out, father and son had made a bet on who would get the first hit between them, a bet the elder Griffey obviously won. While certainly an amazing day and an amazing experience, the best was yet to come.
Ken Griffey Sr. and Ken Griffey Jr. hit back-to-back homers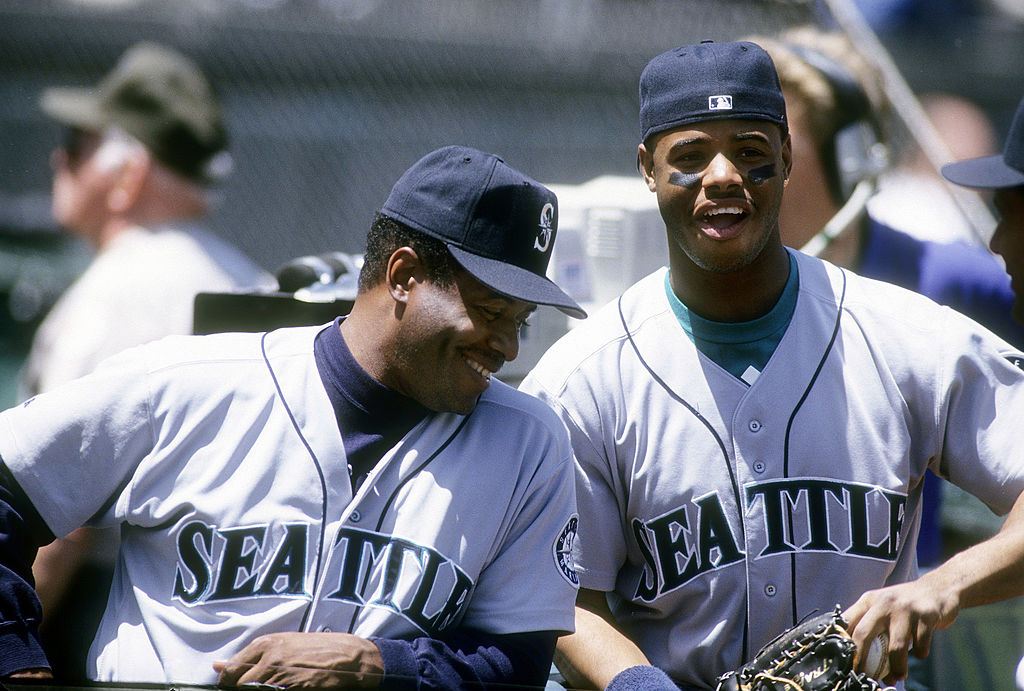 On September 14, 1990, Ken Griffey Sr. and Ken Griffey Jr. were once again in the Mariners lineup in a matchup with the California Angels. And once again, they were hitting back-to-back in the lineup with the elder Griffey in the two spot with Junior right behind him.
Right-hander Kirk McCaskill was on the mound for the Halos that night, obviously not knowing he was about to become the answer to a trivia question. And it didn't take long for the coolest father-son moment in sports history to unfold. In the very first inning, McCaskill walked Mariners leadoff man Harold Reynolds, yes, the same Harold Reynolds that would go on to work for ESPN and the MLB Network. With Reynolds on first, Ken Griffey Sr. stepped to the plate. And then it happened.
Back-to-back jacks. Wow. The Mariners lost the game, 7-5, but the Griffeys had given baseball fans, and themselves, a memory that will last forever.
Ken Griffey Sr. retired the following season while Junior went on to have one of the best careers in the history of Major League Baseball. When Junior was traded to the Cincinnati Reds in 2000, he wore No. 30, the same number his dad had worn for the franchise for years.
Since 1990, only one other father-son combo has played together, Tim Raines Sr. and Jr. for the Baltimore Orioles in 2001.
*All game info courtesy of Baseball-Reference