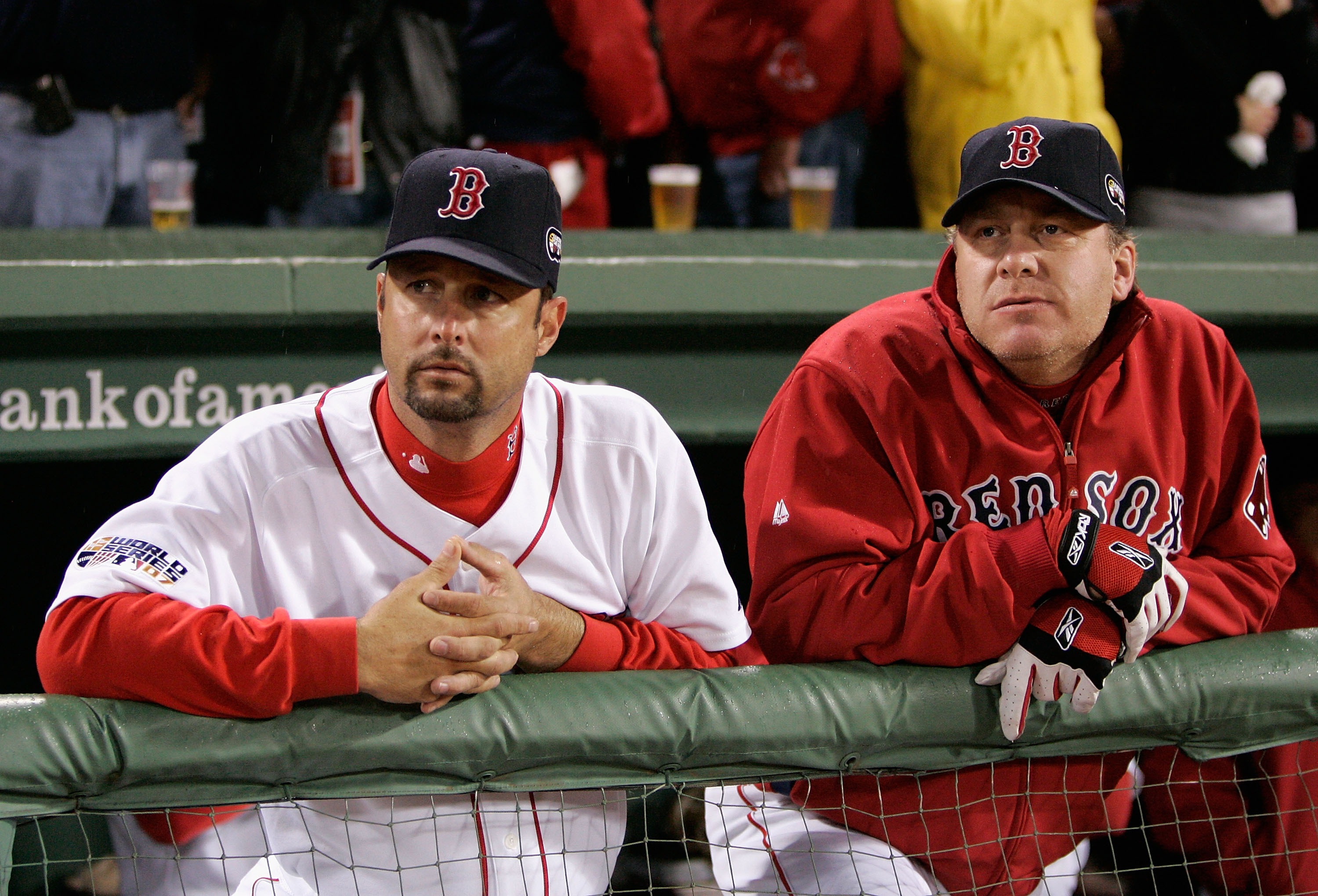 Curt Schilling Blasted After Publicly Disclosing Former Teammate Tim Wakefield's Cancer Diagnosis
Curt Schilling opened his mouth once again and is taking plenty of heat for it.
Former pitcher Curt Schilling threw heat during his 20 years in Major League Baseball. Now, he's taking plenty of it.
On his podcast this week, Schilling got personal when he shouldn't have by announcing that former Boston Red Sox teammate Tim Wakefield underwent surgery to address an aggressive form of brain cancer. Schilling's report drew the ire of many and forced the Sox to issue a more tasteful statement on the health of the two-time World Series champion.
Curt Schilling takes it upon himself to disclose Tim Wakefield's heath condition
It's safe to say Curt Schilling is outspoken. He was fired by ESPN in 2016 for insensitive remarks on social media regarding transgender bathroom laws. He's been known to rile up many with his political views. This time, he went too far.
Schilling dropped the news about Wakefield's condition during his podcast this week. He admitted he didn't know if Wakefield wanted it to be shared publicly. Schilling did so anyway.
"Tim Wakefield is sick," Schilling said. "This is not a message Tim has asked anyone to share, and I don't know if he even wants it shared. As a Christian and a man of faith, I've seen prayer work, so I'm gonna talk about it.
"Recently, Tim was diagnosed with a very serious, very aggressive form of brain cancer. … The situation in Tim's case is incredibly serious and he went in and had surgery." Schilling also announced that Wakefield's wife, Stacy, is "very sick with pancreatic cancer.
"I want Tim and Stacy to know obviously we're praying for them, we're thinking of them. Their children obviously going through some very tough times. I don't want to cliche this, but nobody deserves this."
Jason Varitek's wife didn't hold back in ripping Curt Schilling
Schilling's unwanted announcement forced the Red Sox to put out their own statement on the matter, saying the Wakefields' conditions had been shared "without their permission."
"We are aware of the statements and inquiries about the health of Tim and Stacy Wakefield," the statement read. "Unfortunately, this information has been shared publicly without their permission. Their health is a deeply personal matter they intended to keep private as they navigate treatment and work to tackle this disease. Tim and Stacy are appreciative of the support and love that has always been extended to them and respectfully ask for privacy at this time."  
Catherine Varitek, the wide of former Red Sox catcher Jason Varitek didn't hold back when expressing her thoughts about Schilling sharing private information.
"F*** you Curt Schilling, that wasn't your place!" she wrote on X, formerly Twitter.
Peter Abraham, a Sox reporter with The Boston Globe, wrote that several people associated with the Red Sox and the Wakefield family are "furious" over what Schilling said.
"Curt Schilling said on his podcast the Wakefields are fighting cancer," Abraham posted while reposting the team statement. "Hard to imagine why he would do that, but he did. To say that people with the Sox and others around Tim and Stacy are furious is an understatement."
Schilling clearly doesn't know his place, but there are certainly many people putting him in it after this debacle.