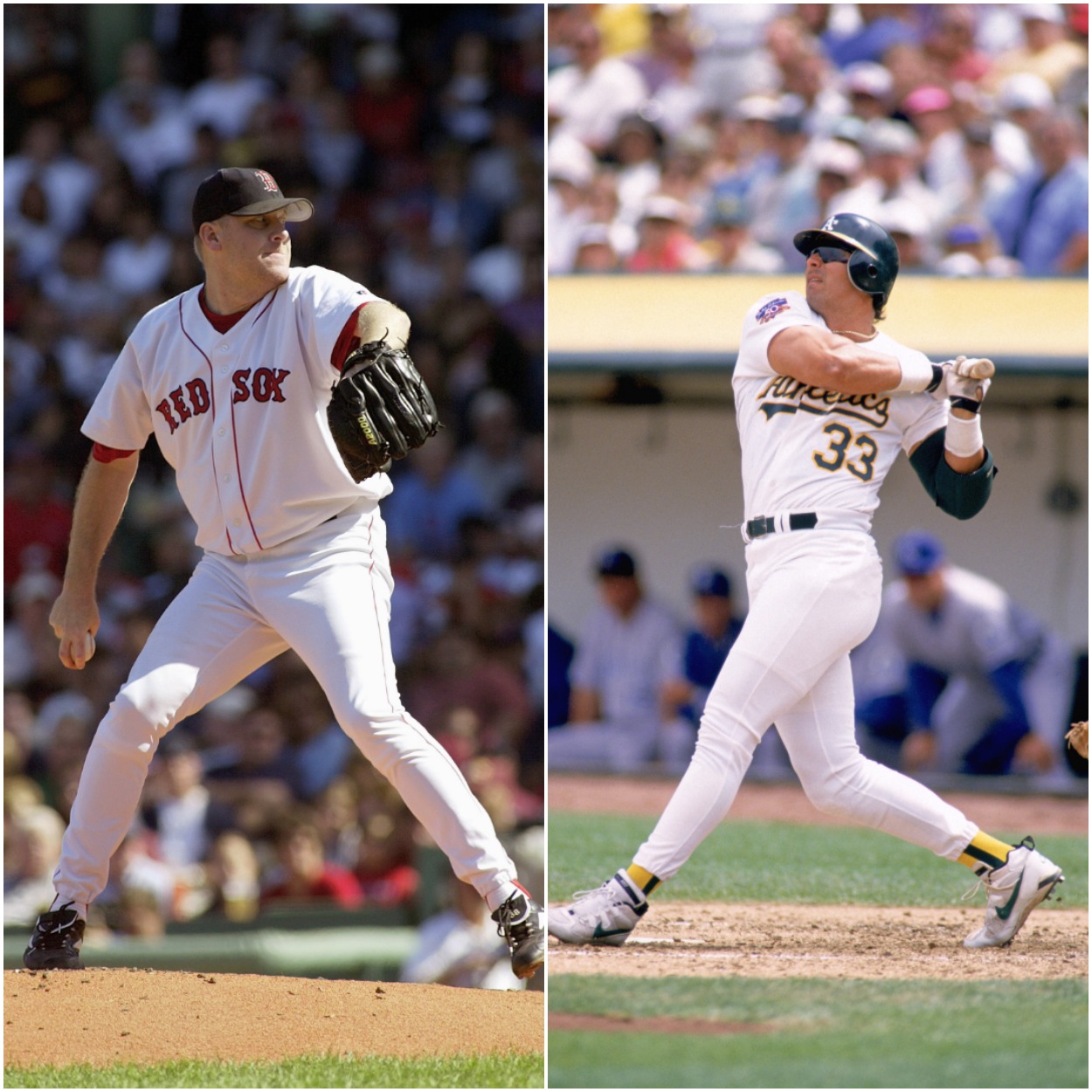 Curt Schilling and Jose Canseco Take Swings at Each Other on Twitter in Latest Chapter of Feud That's Lasted for Years
Curt Schilling and Jose Canseco faced each other a few times on the diamond but have insulted each other for years in the media. Schilling's Hall of Fame vote is the latest nasty chapter.
Curt Schilling and Jose Canseco faced each other three times during their playing days. Despite that small sample size, the two former MLB All-Stars have acted like they were hated division rivals and repeatedly attacked each other for various reasons through the years. The pair added a nasty new chapter of attacks this week with Schilling's possible nomination to the Baseball Hall of Fame the focal point of the discussion. 
Curt Schilling up for Hall of Fame nomination
In 20 seasons as a MLB pitcher, Curt Schilling recorded some impressive numbers. Among them, the six-time All-Star led all of baseball four different seasons in complete games pitched, as well as a number of strikeouts during the 1997 and 1998 seasons.
Schilling finished his career with a 216-146 record and a very respectable 3.46 ERA. Surprisingly, he never won a Cy Young but finished twice in the voting on three separate occasions. 
While Curt Schilling never won a Cy Young, he did win something more significant — three World Series titles in 2001, 2004, and 2007. During the 2001 season, Schilling also won the World Series MVP, sharing the honors with teammate and fellow Arizona pitcher Randy Johnson.   
Jose Canseco ironically calls Schilling 'a disgrace'
Despite what many consider Hall of Fame-worthy numbers, Curt Schilling has been on the ballot for nine years and failed to reach the 75 percent threshold required for election. 2022 will be Schilling's final year of eligibility for nomination.
By most accounts, Schilling's lack of support for election results from his oft-controversial positions and statements he has made in the past. He was an outspoken supporter of former president Donald Trump. ESPN suspended him in 2016 for his anti-Muslim remarks. The network then later fired him for anti-transgender comments.
Before Curt Schilling learned the Hall had rejected him yet again, Jose Canseco took the opportunity to share on Twitter what he thought about the former pitcher's potential selection.
"Curt Schilling would be a disgrace to the Hall of Fame," Canseco succinctly wrote on Twitter.
"Not nearly the disgrace you and your career was to the game," the never-short-for-words Schilling replied. He then followed up a few minutes later. "Cheated your ass off and I still owned you."
In the three plate appearances between Jose Canseco and Curt Schilling, Canseco went 0-for-3 with a strikeout. 
Curt Schilling and Jose Canseco have a long history
While Curt Schilling's nomination was the reason for the latest beef with Jose Canseco, it's certainly not the first time the two traded barbs. The pair have a long history dating back to 2005 when Canseco released his book Juiced, which the former slugger outed himself and others like Mark McGwire for using steroids. 
Testifying before Congress a month after Canseco's book came out, Schilling didn't hold back his criticism of the six-time All-Star home run hitter. 
"He admitted to being a cheater. His whole career was a sham," Schilling said. 
A few years later, the saga continued when Canseco challenged Schilling to a fight while appearing on Angelo Cataldi's morning show on WIP in Philadelphia. He also claimed the pitcher's bloody sock during the 2004 ALCS was ketchup instead of blood.
While Curt Schilling has asked for his name to be removed from next year's Hall of Fame balloting, the Baseball Writers' Association of America, which nominates and elects the players, has pushed back saying that is a violation of the rules. In other words, Schilling's name will likely be back on the ballot and Jose Canseco will more than likely have something to say about it.
All stats courtesy of Baseball Reference.