MLB's Rumored Partnership With Barstool Sports Is a Total and Colossal Error in Judgment
Major League Baseball is reportedly in talks to partner with Barstool Sports. Doing so would be a disaster for the sport.
Commissioner Rob Manfred and the rest of the league office explored any number of avenues in trying to grow the game and unlock new segments of baseball fandom. This includes instituting certain rule changes and, more recently, leaning into sports betting partnerships. However, a deal with Barstool would be immensely polarizing.
MLB is discussing a broadcast deal with Barstool Sports
Barstool Sports founder Dave Portnoy's desire to build a gambling empire has seemingly struck a chord with Major League Baseball.
Andrew Marchand of the New York Post reported MLB and Barstool Sports had "significant negotiations" about midweek games on Barstool Platforms. According to Marchand, the gambling factor looms especially large here, with the potential for in-game gambling. It is unknown just how far the discussions got, but one source told Marchand the likelihood of a deal is "50-50."
Major League Baseball's desire to find new broadcast partners likely stems from its upcoming contract with ESPN, as the worldwide leader dropped "non-exclusive" Monday and Wednesday games. Portnoy and Barstool appear to see an opportunity to get in with a major sports league and expand the company's influence.
Neither MLB nor Barstool commented on negotiations, though Portnoy alluded to the discussions on Twitter. Marchand opined Barstool's relationship with younger demographics is something MLB craves.
Yet, a deal with Barstool would likely alienate whole other segments of fans that the sport has only just begun to grow.
Barstool has a history of misogyny and racism
Despite its tremendous growth, Barstool Sports has a pretty gross history of misogyny and racism. Portnoy himself has been a perpetrator on numerous occasions.
The founder has openly stated he has a female CEO as a cover for the "misogyny" token and refused to back down from past racist remarks he made on the company's platforms. He is obstinate when confronted with any perceived wrongdoing or false step.
Does MLB really want to partner with someone like Portnoy, especially when viewership among women has exploded in recent years?
From a business perspective, one could certainly argue that the gains MLB could make among young people will far surpass any other potential losses. The betting element also figures to heighten engagement with the explosion of that industry and the growing popularity of Barstool Sportsbook.
Additionally, others might argue MLB's current broadcast partners, like ESPN, have a history of treating female workers poorly. Truth definitely resides in that assertion. Then there's the fact that Stephen A. Smith made Xenophobic remarks about Shohei Ohtani.
The difference, however, is that Barstool Sports built its brand on misogynistic and racist overtones for years and years on end since its very inception. It is every bit as much of a "cut against the grain" and edgy sort of entertainment company as it is a sports platform.
Considering some former players have criticized MLB's lack of diversity, and given the growth of female viewership, is a handshake with Barstool Sports really the message baseball wants to send?
This could all be avoided if…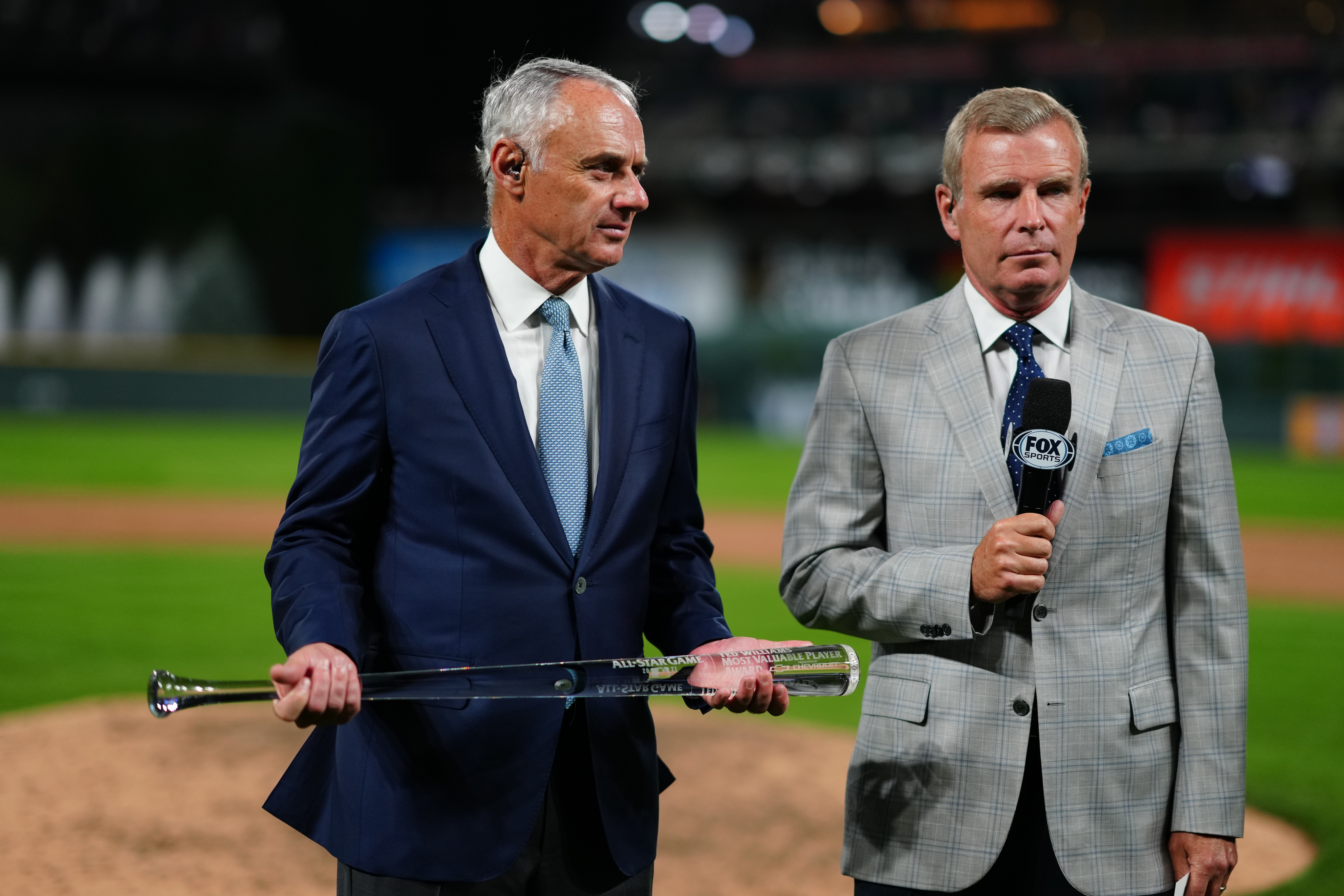 Well, if Major League Baseball knew how to market its stars. It shouldn't be hard.
Ohtani is doing things no baseball fan has ever seen before. Fernando Tatis and Vladimir Guerrero Jr. electrify with their charisma and exceptional talent. Mike Trout could retire today, and he would be a Hall of Famer.
In other words, baseball does not have any sort of shortage in star power or marketability. Yet, MLB has been awful at marketing stars and trying to expand influence in recent seasons, and so it is reliant on outside forces to do that work on its behalf.
A partnership with Barstool would undoubtedly be a polarizing decision and one that neglects value-based decisions. Then again, Manfred and MLB have made done a pretty good job at alienating fans, anyway.