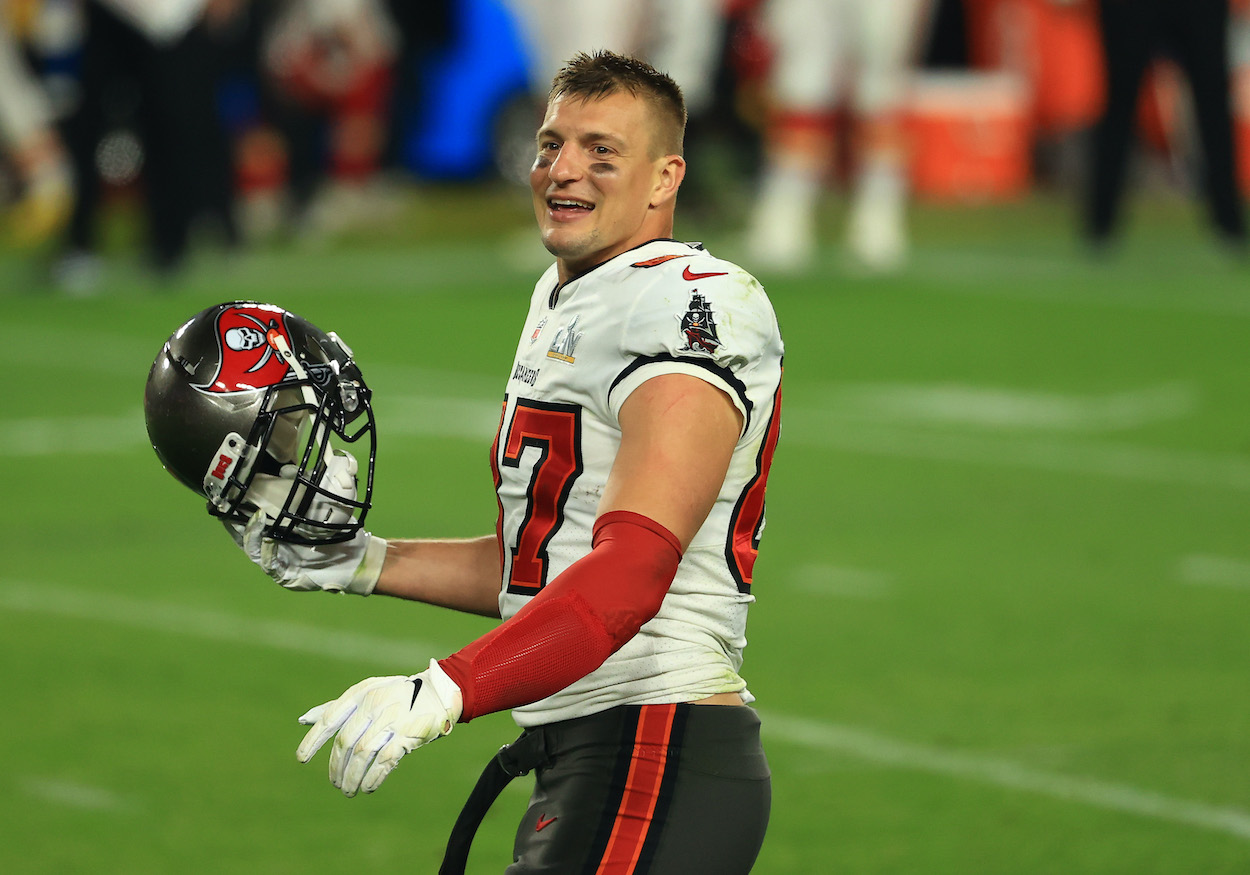 Rob Gronkowski Brags That He Doesn't Watch Film or Practice on Friday Because Friday is Red Zone Day: 'I'm Red Zone Robby G Already, Baby'
Rob Gronkowski joined Eli and Peyton Manning on their 'Monday Night Football' broadcast and shared how different he is from the QBs when it comes to the way he approaches the game of football.
Tampa Bay Buccaneers tight end Rob Gronkowski joined Eli and Peyton Manning on ESPN's alternate Monday Night Football broadcast this week. It is just the second episode of the inaugural ManningCast season, but the larger-than-life tight end already assured himself a spot in the Monday Night Manning Hall of Fame.
The Super Bowl-winning pass-catcher was in full "Gronk" mode throughout his appearance. He was forthright about how he approaches the game of football, and let's just say it's a little different than how the Manning brothers did. This made for a spectacularly awkward interview in which Gronkowski revealed some illuminating truths about himself.
Rob Gronkowski revealed he doesn't practice on Friday
Eli Manning kicked off the Rob Gronkowski interview by marveling at the tight end's four touchdowns in two games this season. With that type of success and connection with his quarterback and long-time New England and Tampa Bay teammate Tom Brady, Eli wondered if the two only practice red-zone targets.
"Do you even practice on Wednesday? Like first- and second-down stuff?" Eli asked the tight end. "Do you just skip Wednesday's practice [and] say, 'Hey, I'll be there for Thursday. I'll be there for a few third downs, and I'll be there red zone/goal line [to] make sure I get my touchdowns?'"
Gronk told Eli he was on the right track about his hunch that he sits practices out, but the former Arizona Wildcat told Manning the QB has the days the TE abstains reversed:
Ya know, Eli, you're kind of on the right page. I actually do practice Wednesday, and I also practice Thursday. I don't practice Friday, though, and Friday is red zone day because I don't need practice on red zone day because I'm 'Red Zone Robby G' already, baby.

Rob Gronkowski on skipping practice
The Manning brothers got a kick out of Gronkowski's admission. However, it had to burn them up deep down. The thought of Peyton Manning or Eli Manning voluntarily sitting out a single snap in practice, let alone a whole day is completely foreign.
As much as this revelation must have hurt the Manning bros, the next nugget Gronkowski shared was undoubtedly even more painful.
Gronkowski also shared that he doesn't really watch game film
The Manning's made their name by being two of the most knowledgeable, well-prepared players ever to play the game. They accomplished this by watching hours upon hours of game tape.
As a renowned tape-watcher, Eli wanted to know more about Gronkowski's process when it comes to football study. The former New York Giant QB asked Gronk what aspect of the game — scheme, safety play, matchup — he concentrates on when he watches film.
The answer had to sting for Peyton and Eli:
First off, my teammate Cam Brate just asked me the other day, he goes, 'Rob, I have a serious question.' He goes, 'Do you ever watch film?' And I said, 'No, I don't. I just run by guys, and if I'm feeling good, I'm feeling good.'

Rob Gronkowski on watching game film
He did admit that he does watch game film when the coaching staff shows it to the whole team and that he occasionally takes in NFL games on TV.
Gronk shared that he also has one more tool at his disposal to help him prepare for games: TB12.
I do go up to Tom [Brady] — because I do know Tom watches like, I don't know, 40 hours of film a week — and I go, 'Tom, who's covering me this week? What type of coverages are they doing?' I go, 'That's why I love playing with you, dawg. You just know everything.'

Rob Gronkowski on Tom Brady
And that answer there is how Rob Gronkowski solidified his spot in the Monday Night Manning Hall of Fame.
Who needs practice or game film?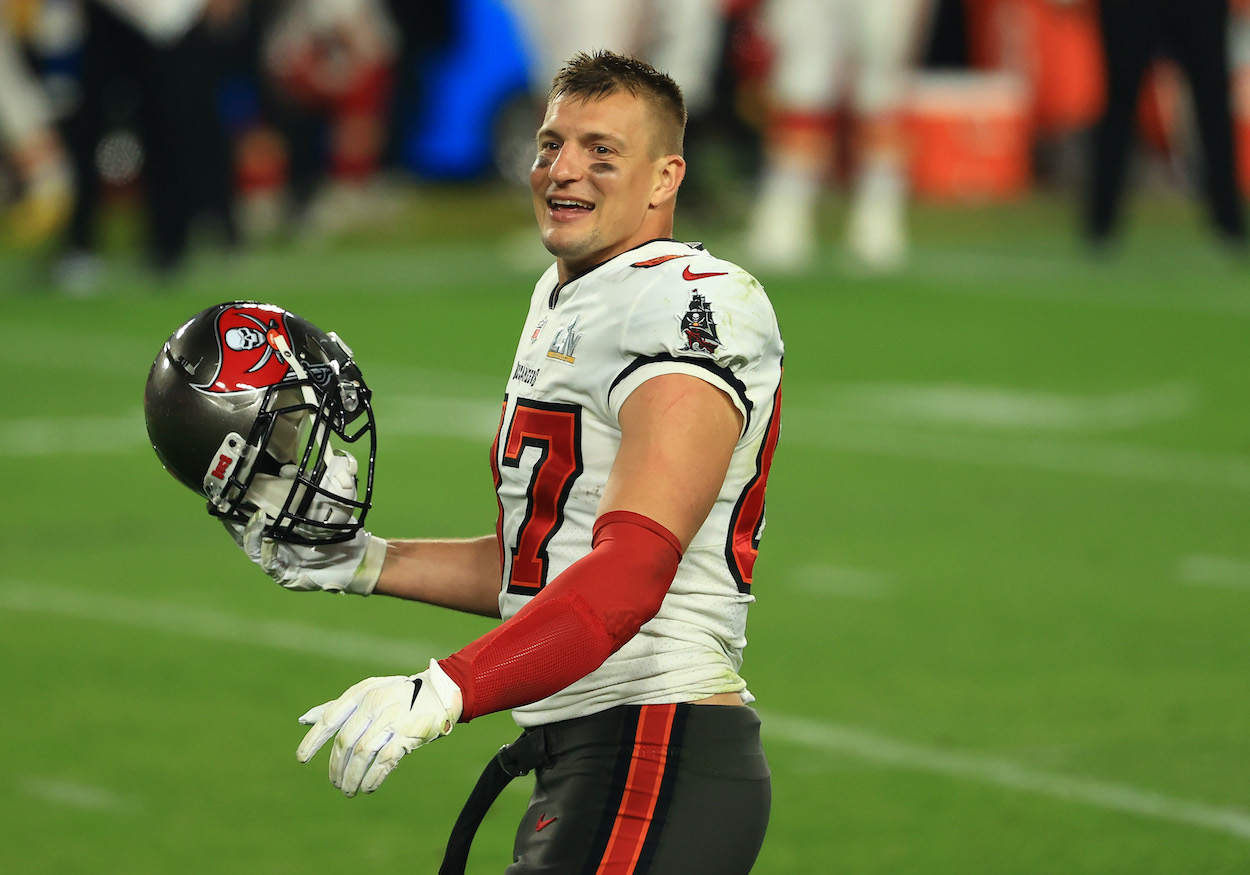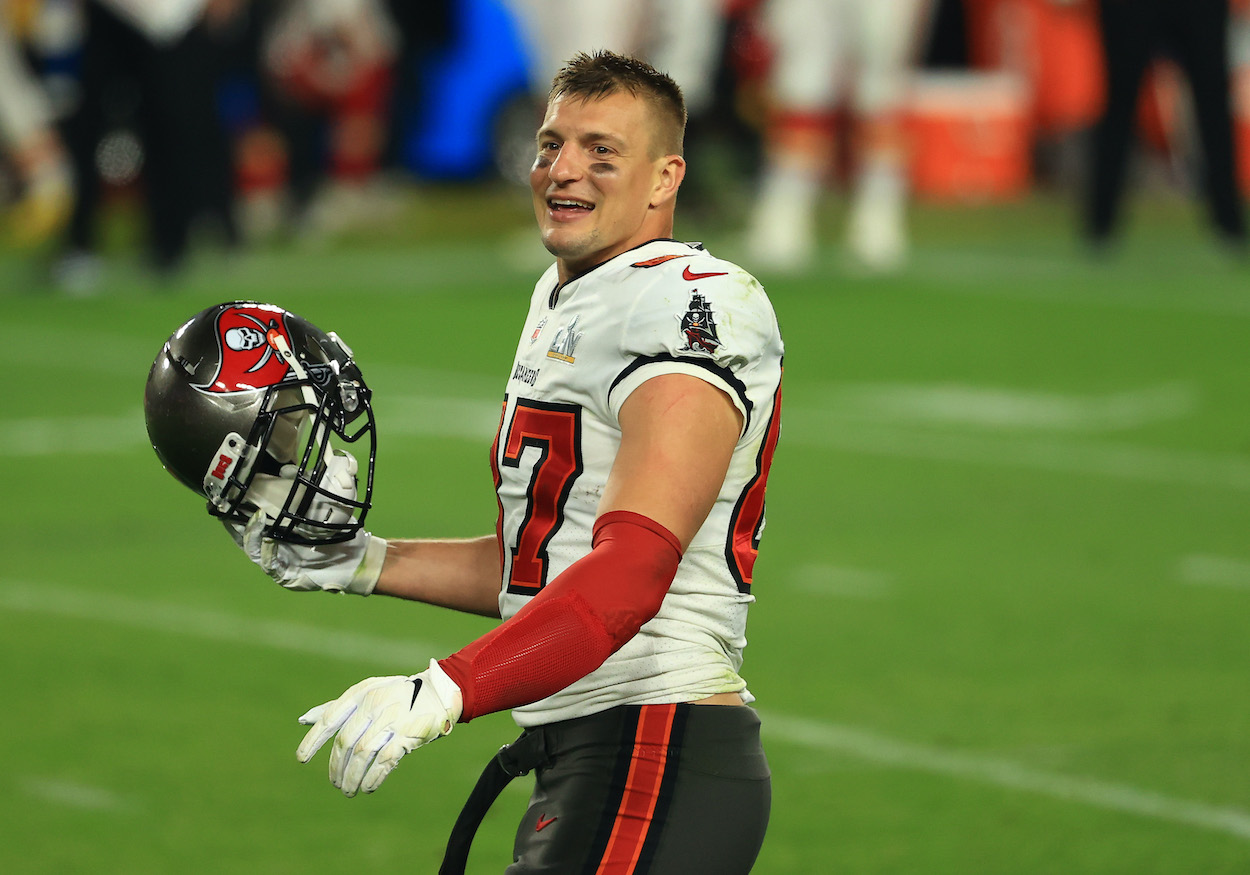 He may not practice every day or crush tape in his free time, but somehow, Rob Gronkowski became one of the greatest tight ends in NFL history without all that "extra" stuff.
The No. 42 overall pick in the 2010 draft is in his 11th NFL season (he retired for the 2019 season) and is a five-time Pro Bowler and a four-time All-Pro. He also helped the New England Patriots win three Super Bowls and the Tampa Bay Buccaneers win one last season.
Gronkowski and his Odd Couple partner-in-crime, Brady, are the second-most accomplished touchdown-producing duo in NFL history. They are also tantalizingly close to becoming No. 1.
Only Gronkowski's Monday Night Football host, Peyton Manning, and the QB's former Indianapolis Colts teammate Marvin Harrison have more touchdowns (114) than Gronkowski and Brady's 102.
The 6-foot-6 32-year-old currently ranks sixth among tight ends for career receiving yards (8,613) but is only 70 yards behind Greg Olsen for fifth.
The most remarkable thing is that as much as it pains Peyton and Eli, Rob Gronkowski did all this and will end up in the Pro Football Hall of Fame someday based almost entirely on his physical gifts.
All stats courtesy of Pro Football Reference