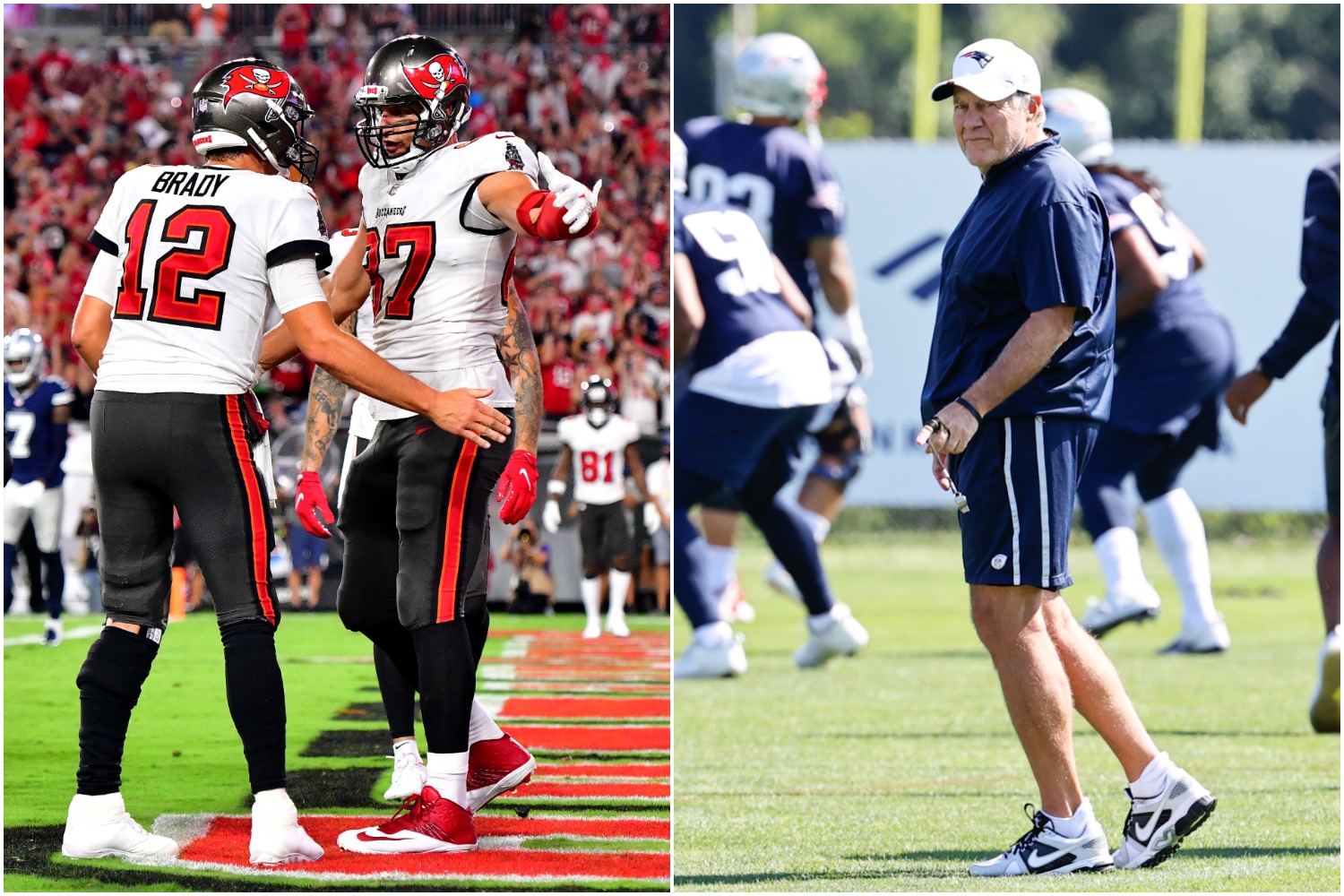 Tom Brady and Rob Gronkowski Just Sent Bill Belichick a Cold-Blooded Message Without Saying a Single Word
Tom Brady and Rob Gronkowski sent their old boss a cold-blooded message during the Buccaneers' season-opening win. Should Bill Belichick regret letting the two NFL legends leave the Patriots?
If actions speak louder than words, Tom Brady and Rob Gronkowski certainly sent a message Thursday night.
The recipient?
None other than Bill Belichick.
Ironically, the legendary quarterback and his trusted sidekick didn't need to utter a single word to make their point abundantly clear. And if the Tampa Bay Buccaneers' season-opening victory represented a sign of things to come, Belichick and the New England Patriots may be in for a rude awakening when Brady and Gronk return to Gillette Stadium next month.
Bill Belichick can only hope that he finally has replacements for Tom Brady and Rob Gronkowski
Think Belichick has a few second thoughts about doubting two of the biggest stars in NFL history?
Despite everything Brady did for the franchise, the greatest coach of all time actually tried to move on from his longtime quarterback the year before the Patriots won their sixth Super Bowl title. Of course, TB12 outlasted Jimmy Garoppolo, and Belichick had to start the process of finding a future franchise quarterback all over again.
The relationship between Brady and his boss got rather icy, and it became clear that the three-time MVP would not finish his career with the Patriots. Belichick didn't say it directly, but the fact he let his team's longtime leader walk in free agency certainly suggested he felt he could continue competing for championships with someone else under center.
Obviously, though, his lack of faith in Brady's ability to keep playing at an elite level backfired.
Coming off a frustrating final season in Foxborough, the iconic signal-caller proved his critics wrong by putting together a fantastic age-43 campaign that ended with another Lombardi Trophy presentation.
While Belichick had more of a reason to question Gronkowski's NFL future, it's clear the charismatic tight end still had something left in the tank when he retired after the 2018 season. The five-time Pro Bowler doesn't have the same speed or overall explosion that made him an unstoppable force in his prime, but Gronk played an instrumental role in helping the Buccaneers win a title.
How did Belichick address two huge holes in the lineup?
He foolishly bet on Cam Newton, and the former league MVP didn't come close to living up to expectations. The tight end spot became a black hole in the offense as a result of a dearth of NFL-level talent.
Moving forward, Belichick can only hope that 2021 first-round pick Mac Jones and the highly-paid tandem of Jonnu Smith and Hunter Henry can replace the production void left behind by Brady and Gronkowski.
Brady and Gronk sent their old boss a cold-blooded message without saying a single word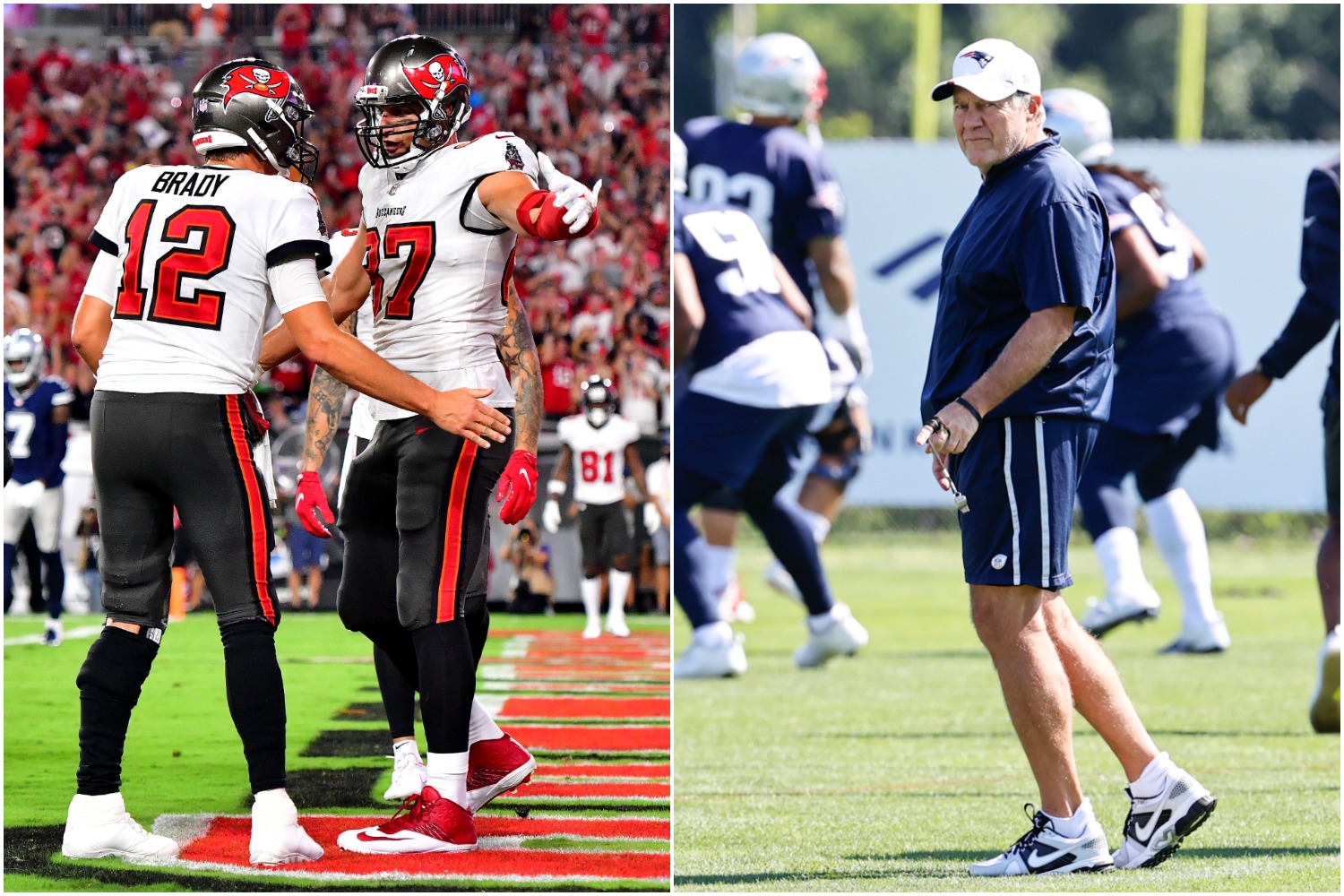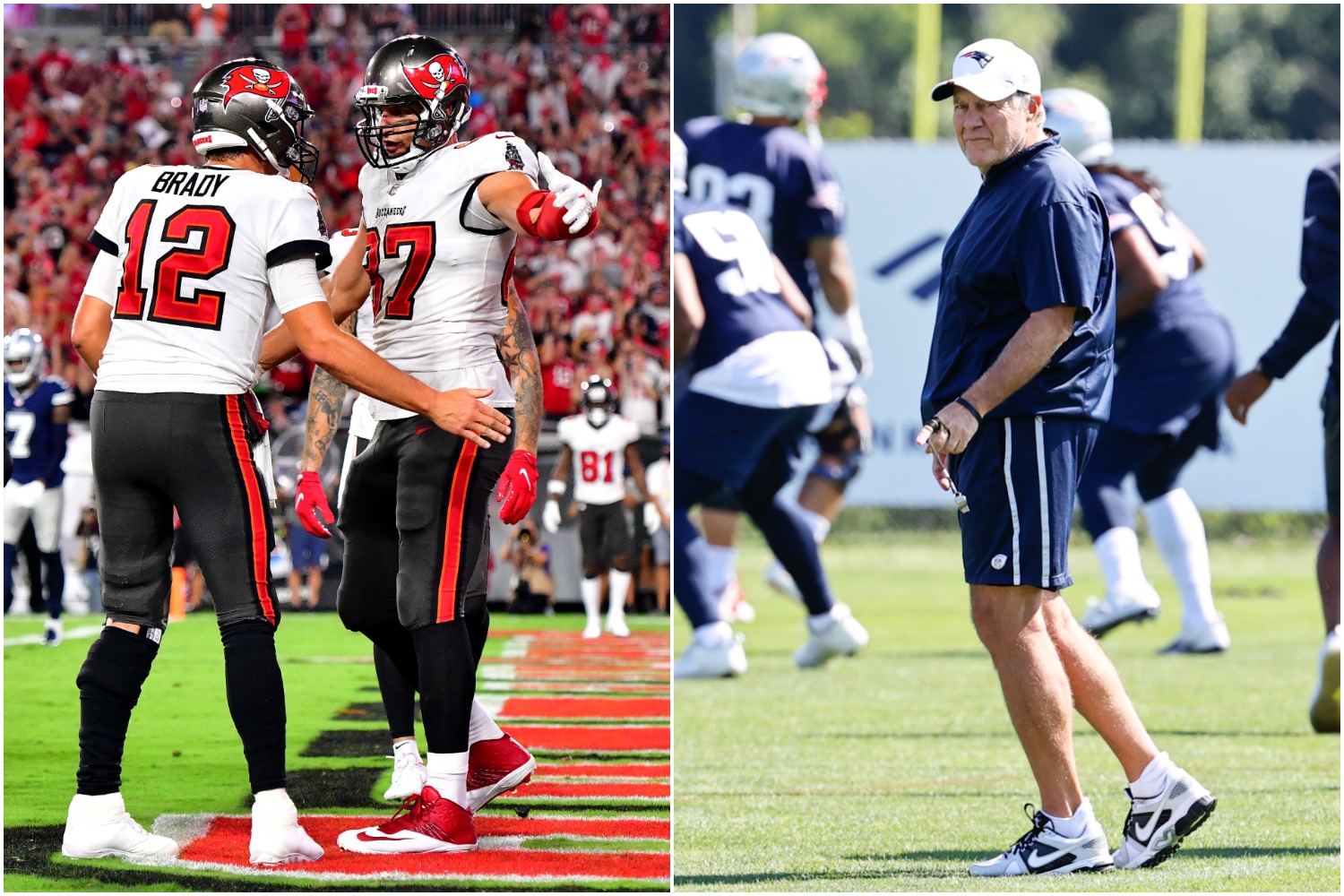 Unlike Belichick, Bruce Arians obviously didn't have a problem with building his offense around an aging quarterback. And he certainly didn't have an issue giving his new leader what he wanted. After all, the Buccaneers traded for Gronkowski and signed controversial wideout Antonio Brown.
Ultimately, all three ex-Patriots got a chance to celebrate winning a title together back in February.
Considering Belichick began planning for life after Brady and Gronk four years ago, he couldn't have imagined that the two would still be tearing up defenses in 2021. But in Thursday's win against the Dallas Cowboys, the legendary duo sent a cold-blooded message to their old boss without saying a single word.
In the first game of his 22nd NFL season, Brady looked closer to 24 than 44. He finished the night with 379 passing yards and four touchdowns. His two interceptions came on a Hail Mary heave and a bobbled catch attempt by Leonard Fournette.
Meanwhile, his 32-year-old tight end caught eight passes for 90 yards and two touchdowns in the 31-29 victory. Gronkowski also appeared to be in vintage form, which speaks highly of his work ethic and desire to get his body in the best possible shape.
By torching the Dallas defense, Brady and Gronk let Belichick know they're far from finished. In fact, they seem set on making him regret not giving them the respect they deserved toward the end of their Patriots careers. Every time they hook up for a touchdown, it only makes Belichick look worse for doubting them.
It's undeniable that he let an elite quarterback and a rock-solid tight end leave, and it remains to be seen if New England can even make the playoffs in 2021, let alone the Super Bowl.
Will Belichick find a way to spoil the dynamic duo's return to Gillette Stadium?
The Patriots will need some schematic magic to beat the Buccaneers when they come to town in October. Top cornerback Stephon Gilmore started the season on the physically unable to perform list, so he will not participate in the game. That doesn't bode well for a New England defense that has depth issues at the position.
If Belichick wants to get the best of Brady, he better hope his revamped front seven steps up. Dont'a Hightower, Kyle Van Noy, Matt Judon, and promising second-year linebacker Josh Uche need to apply consistent pressure, and the defensive line must occupy blockers and provide an interior push. If that occurs, the Patriots may just have a shot to force a few turnovers.
On the other side of the ball, New England's front five must control the line of scrimmage and find a way to keep Mac Jones out of harm's way. That's easier said than done given Tampa's abundance of pass-rushing riches, but the Patriots have an excellent offensive line that looks capable of imposing its will against just about anyone.
Ultimately, though, Bill Belichick's chances of sending Tom Brady and Rob Gronkowski home with a loss don't appear particularly strong. The Buccaneers have the best roster in the NFL, and the Patriots somehow have the fourth-oldest (and certainly not the most talented) despite letting two legends leave.
All statistics courtesy of Pro Football Reference.