The Patriots Are Reportedly Open to Making a Franchise-Altering Move That Would Put Promising Rookie Mac Jones in a Precarious Position
Coming off a rare losing season, Bill Belichick did just about everything possible to set the New England Patriots up for a quick turnaround. From signing a startling number of free agents to market-level deals to using a first-round pick on Mac Jones, he invested significant financial and draft resources to overhaul a talent-depleted roster.
Of course, despite bringing Cam Newton back on a one-year deal, Belichick made the bold decision to release the 2015 NFL MVP and roll with Jones as his starter.
Unfortunately for the promising rookie quarterback, the Patriots are reportedly open to making a franchise-altering move that would put even more pressure on his shoulders.
Bill Belichick took a big risk by placing the Patriots' season in the hands of a rookie quarterback
Whether Newton's mysterious COVID-19 "misunderstanding" played a role or not, he ultimately lost his job to a 22-year-old with zero NFL snaps under his belt.
On Tuesday, Belichick raised eyebrows by releasing the former MVP in a move that signified the beginning of a new era in New England. Although Jones didn't seem likely to start when he got drafted, he made tremendous progress over the summer and cemented his status as the best quarterback on the roster.
By elevating the 6-foot-3, 217-pound signal-caller to the No. 1 spot on the depth chart, Belichick handed the keys to Josh McDaniels' offense to an accurate, intelligent, and poised passer who projects as a rock-solid system fit. At the same time, he placed the Patriots' Super Bowl hopes in the hands of a first-year player who will surely experience some struggles as he adjusts to playing pro football.
Will swapping out Newton for Jones pay off for Belichick?
If the rookie builds off his promising preseason, New England shouldn't finish 27th in scoring again. And based on their upgraded front seven, the Patriots shouldn't struggle to stop the run or rush the passer.
However, if Belichick follows through with another franchise-altering move, Jones will face even more pressure to do his best Brady impression right away.
New England is reportedly open to making a franchise-altering move that would put even more pressure on Mac Jones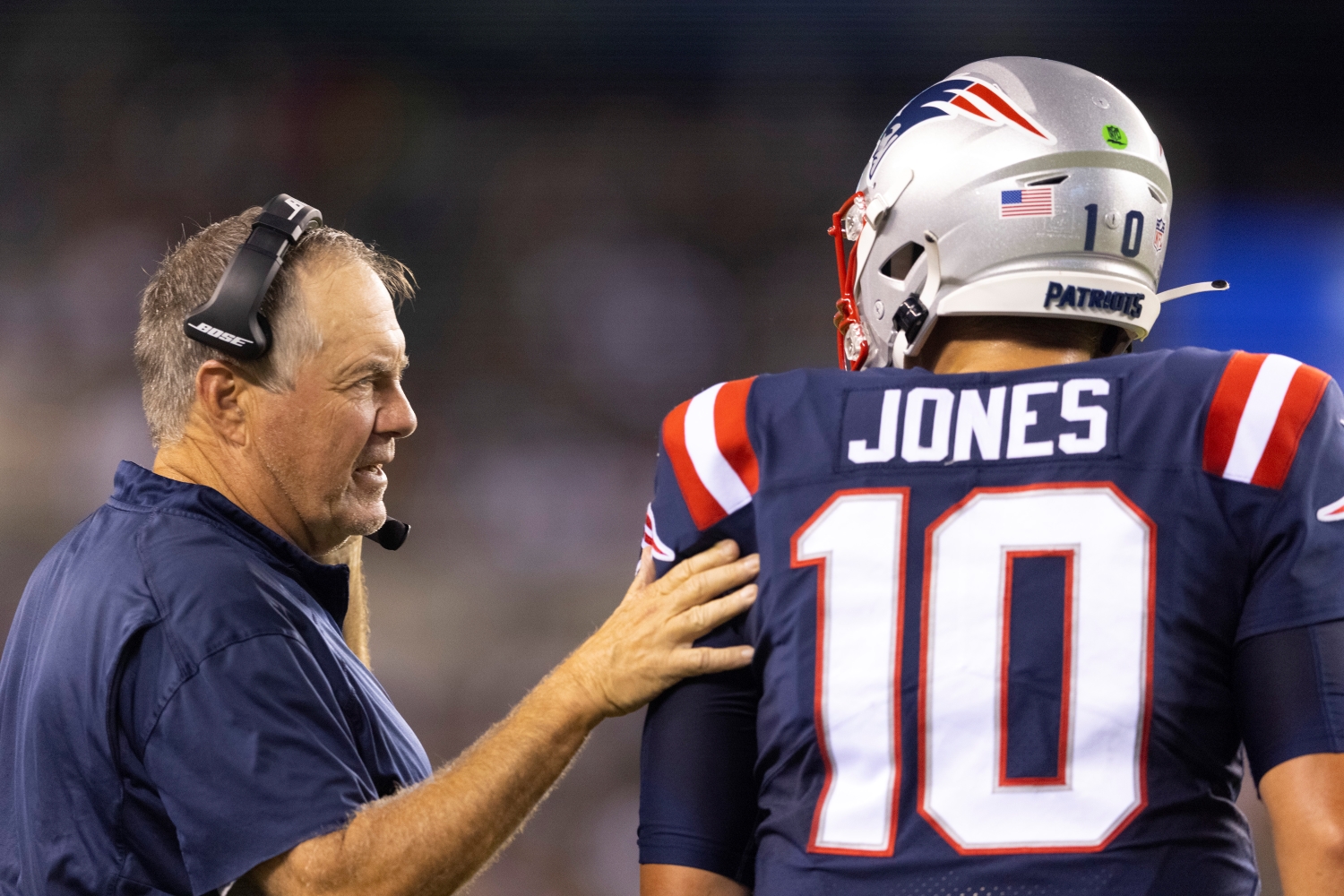 Between the mysterious status of his surgically repaired quad and his unhappiness about his contract, Stephon Gilmore landing on the physically unable to perform list did not qualify as a major surprise.
But that doesn't mean he will wear a Patriots uniform again.
Despite passing on the opportunity to trade Gilmore a year ago, Belichick may end up dealing the disgruntled defensive back anyway.
"As of this past week, the Patriots were still open to the idea of trading Gilmore, who now has to miss the first six weeks on the physically unable to perform list," wrote Dan Graziano of ESPN. "Gilmore is known to be unhappy with his contract, which is up after the season. While there was optimism a month or so ago that he and the Patriots would get something worked out, they still have not."
With the Patriots reportedly willing to send their top corner elsewhere, Belichick's re-tooled defense could experience some issues. J.C. Jackson has excelled as the bookend to Gilmore, but he has to prove he can shut down No. 1 receivers on a consistent basis. Meanwhile, New England doesn't have another starting-caliber boundary corner on the roster. For a defense that primarily plays man-to-man coverage, that could prove problematic.
If Gilmore gets dealt, it certainly wouldn't be a surprise if the Patriots suffer the consequences of not having the most accomplished member of their secondary on the field. Jones would have far less margin for error and more pressure to put up big point totals on a weekly basis.
Ironically, that's often what Gisele Bundchen's husband dealt with during his time in Foxborough.
Can the Patriots win a Super Bowl title without Stephon Gilmore?
Could Jones rise to the challenge and carry a Gilmore-less Patriots squad to a Super Bowl title?
Perhaps.
But expecting a rookie quarterback to play at a high level across the league's first 17-game season seems incredibly optimistic. Plus, Jones has to prove he can withstand the physical toll of playing in the NFL.
If the Patriots move on from Gilmore, the offense would certainly face more pressure to take a massive leap forward. And Belichick would have to pull off some schematic magic to stop Patrick Mahomes, Josh Allen, and the rest of the AFC's top quarterbacks.
Most importantly, Jones would have to avoid making mistakes, stay healthy, and transform New England's offense from a bottom-10 unit into something close to a top-10 one.
Maybe that will happen regardless of the Gilmore situation simply because of the additions of Jonnu Smith, Hunter Henry, Nelson Agholor, and Kendrick Bourne. After all, Jones won a national championship by distributing the ball to a number of talented receivers at Alabama.
Ultimately, the odds of the Patriots winning a Super Bowl title with a first-year quarterback are obviously low.
But if Mac Jones has to face Stephon Gilmore instead of sharing a locker room with him, the Lombardi Trophy definitely won't be returning to Foxborough in February.
All statistics courtesy of Pro Football Reference.