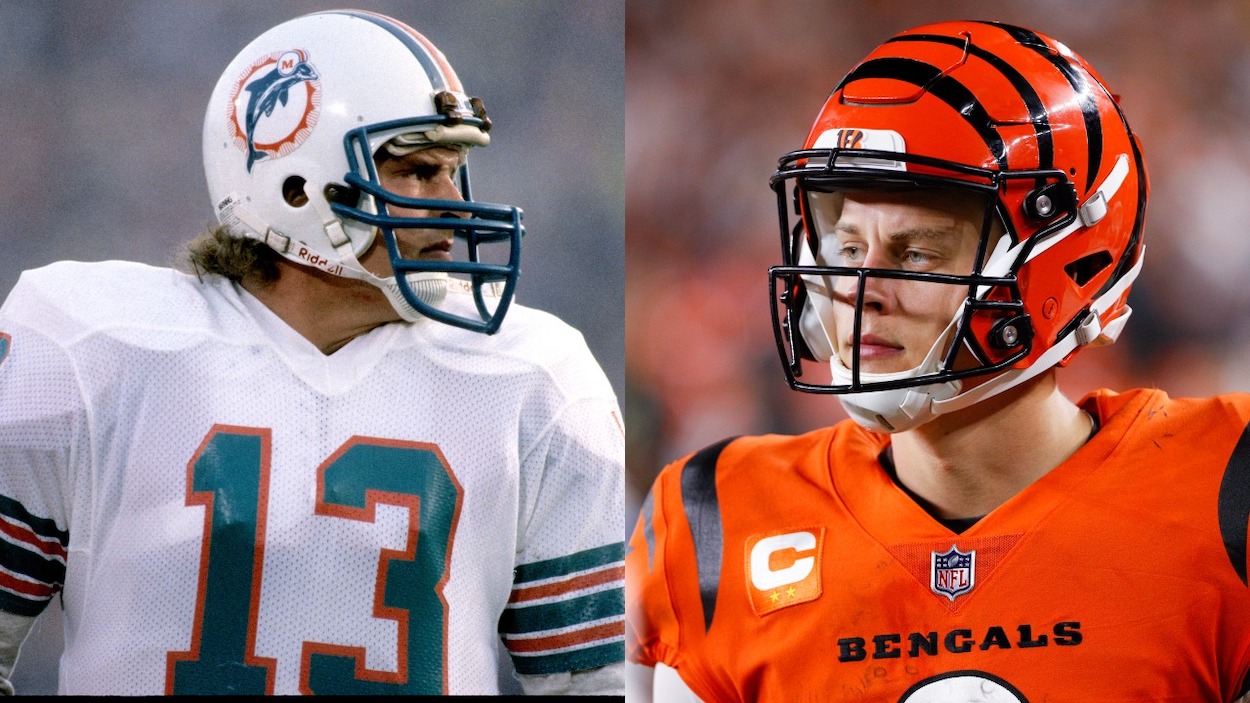 Joe Burrow Surpasses Two Hall of Famers to Join Dan Marino in an Exclusive Second-Year QB Club During Devastating OT Loss
Despite a heartbreaking Week 5 loss, Cincinnati Bengals QB Joe Burrow threw two TDs, putting him in an exclusive club during his second season that only includes Hall of Famer Dan Marino.
The Cincinnati Bengals drafted quarterback Joe Burrow No. 1 overall in the 2020 NL Draft, so they expected him to be good. The former LSU Tiger was excellent out of the gate as a rookie before suffering a devastating knee injury in Week 10 last year. Now, Burrow is back for year two and looking just as good. That's not just anecdotal either. The opening performances of Burrow's sophomore campaign are better than Peyton Manning, better than Kurt Warner, and only equaled by the iconic Dan Marino.
Dan Marino is an all-time great NFL quarterback
Unlike Joe Burrow, Dan Marino didn't go No. 1 overall in the 1983 draft. He didn't go in the top 10 and he wasn't the top quarterback drafted. Or even the fifth.
In the legendary 1983 NFL draft, Marino was one of six QBs drafted in the first round and one of seven Pro Football Hall of Famers. The passers picked before the Miami Dolphins took the Pittsburgh signal-caller No. 27 overall were John Elway (Baltimore Colts, No.1), Todd Blackledge (Kansas City Chiefs No. 7), Jim Kelly (Buffalo Bills, No. 14), Tony Eason (New England Patriots (No. 15), and Ken O'Brien (New York Jets, No. 24).
In addition to Elway, Kelly, and Marino ending up in Canton, that first round also featured HOF players Eric Dickerson (Los Angeles Rams, No.2), Jim Covert (Chicago Bears, No. 6), Bruce Matthews (Houston Oilers, No. 9), and Darrell Green (Washington, No. 28).
After a solid rookie season starting nine games and throwing 20 touchdowns to just six interceptions, Marino was the no-doubt Dolphins starter headed into year two.
He didn't disappoint.
In his second of 17 NFL seasons, Marino threw for 5,084 yards and 48 touchdowns, both numbers which led the league. He also led the NFL in 1984 in attempts (564), completions (362), yards per attempt (9.0), yards per game (317.8), Quarterback Rating (108.9), and several other statistical categories.  
The team finished 14-2 and Marino made the Pro Bowl, was a first-team All-Pro, and won the NFL MVP Award. He also reached his only Super Bowl that season, losing to the San Francisco 49ers 38-16.
Joe Burrow just joined Dan Marino in an exclusive club, surpassing Peyton Manning and Kurt Warner
In Dan Marino's all-time great second season, the QB got off to a hot start and never slowed down. In 2021, the Cincinnati Bengals' Joe Burrow is putting up similar numbers.
This season, Burrow became just the fourth second-year QB in NFL history (Super Bowl era) to have two-plus TD passes in each of his first four games. In addition to Marino, the only other two passers to accomplish the feat were the Indianapolis Colts' Peyton Manning and the St. Louis Rams' Kurt Warner, both in 1999.
Manning went 2-2 during this period on his way to a 13-3 record. Warner went 4-0 during his season-starting streak on his way to 13-3, the NFL MVP Award, and a Super Bowl win. However, in Game 5, Manning and Warner both produced only one TD toss.
Before Sunday, only Marino had made it to five games with two-plus touchdown passes in each. In Week 5, the former Pitt Panther tossed three touchdowns on his way to a 5-0 record.
Now Burrow, who threw two touchdown passes against the Green Bay Packers in Week 5 — to bring his season total to 11 — joins Marino as the only second-year QB to get at least two in his first five games.
The Bengals' signal-caller still has a ways to go to beat Marino's total sophomore season streak, though. The Hall of Famer didn't throw for less than two scores in a game until a Week 11 win against the Philadelphia Eagles.
Burrow and the Cincinnati Bengals lost a heartbreaker to the Green Bay Packers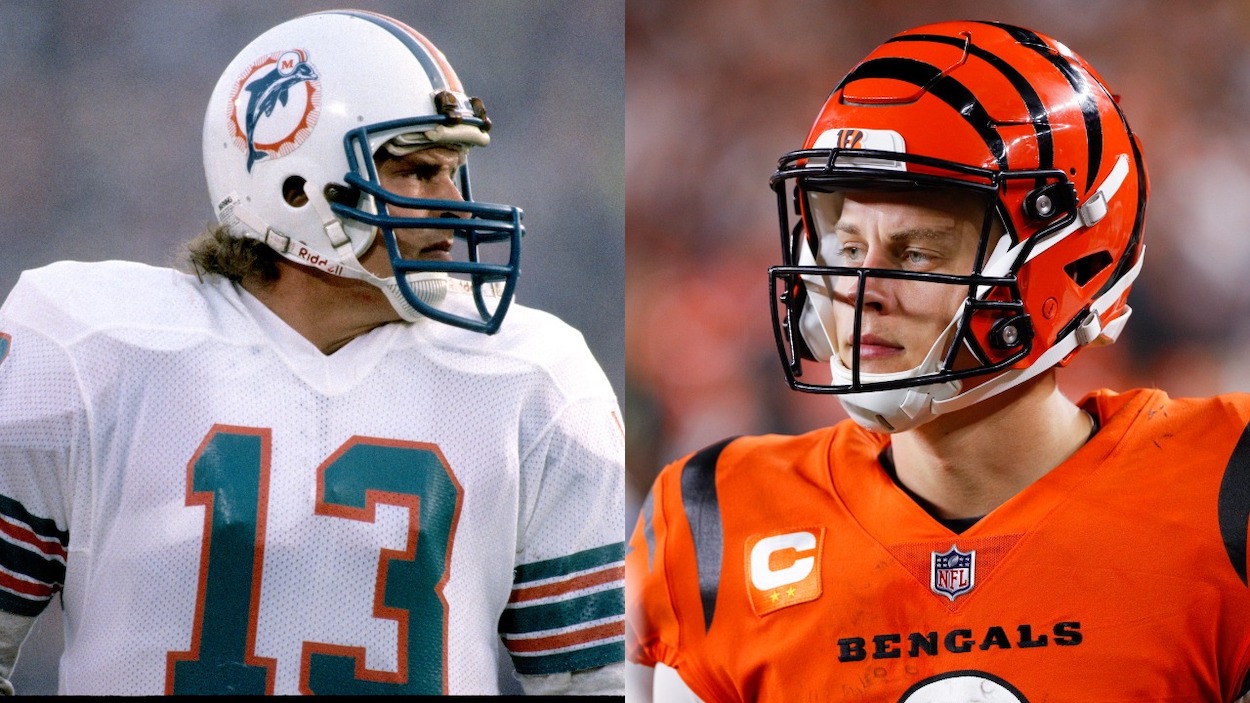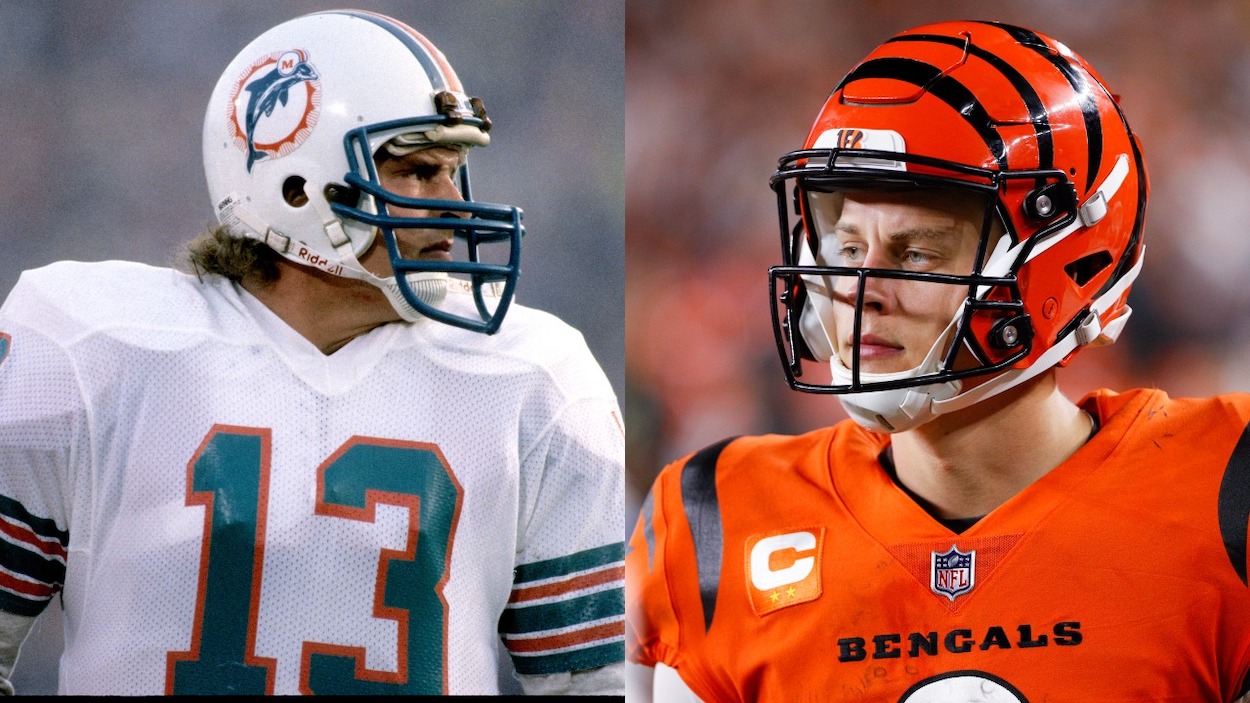 When Burrow joined Marino, Manning, and Warner with at least two touchdowns a game through four games, he did it while also helping lead his Cincinnati Bengals to an impressive 3-1 record.
In equalling Marino's two TDs in five games, though, Burrow's squad slipped to 3-2 after a gut-wrenching overtime loss to the Packers.
The game was close throughout, and Burrow finished the game 26-of-38 for 281 yards with two touchdowns and two interceptions. It looked like the Packers' defense knocked him out of the game midway through the second quarter, but Burrow returned on the next series without missing a snap. He also went to the hospital after the game with a possible throat contusion, per ESPN.
The main talking point from the game, though, wasn't Burrow, despite his impressive gritty performance. It wasn't even the Bengals rookie sensation wideout Ja'Marr Chase or the Packers grizzled leader, Aaron Rodgers.
The big takeaway was the kickers.
Bengals rookie Evan McPherson missed two late potential game-winners for Cincy. And, before he eventually did hit the game-winner, Green Bay's Mason Crosby missed an early extra point, two late regulation field goals, and one overtime kick.
The veteran-laden Packers did ultimately send the Bengals home losers in heartbreaking fashion. However, the performance by Joe Burrow so far this season has to make the team's fans incredibly optimistic, especially when his numbers put him in the company of Dan Marino.
Next up for the Bengals is the only team in the NFL with worse luck than them. In Week 6, they face the Detroit Lions, a team coming off two last-second losses on 50-plus-yard field goals, including an NFL record 66-yarder in Week 4.
All stats courtesy of Pro Football Reference