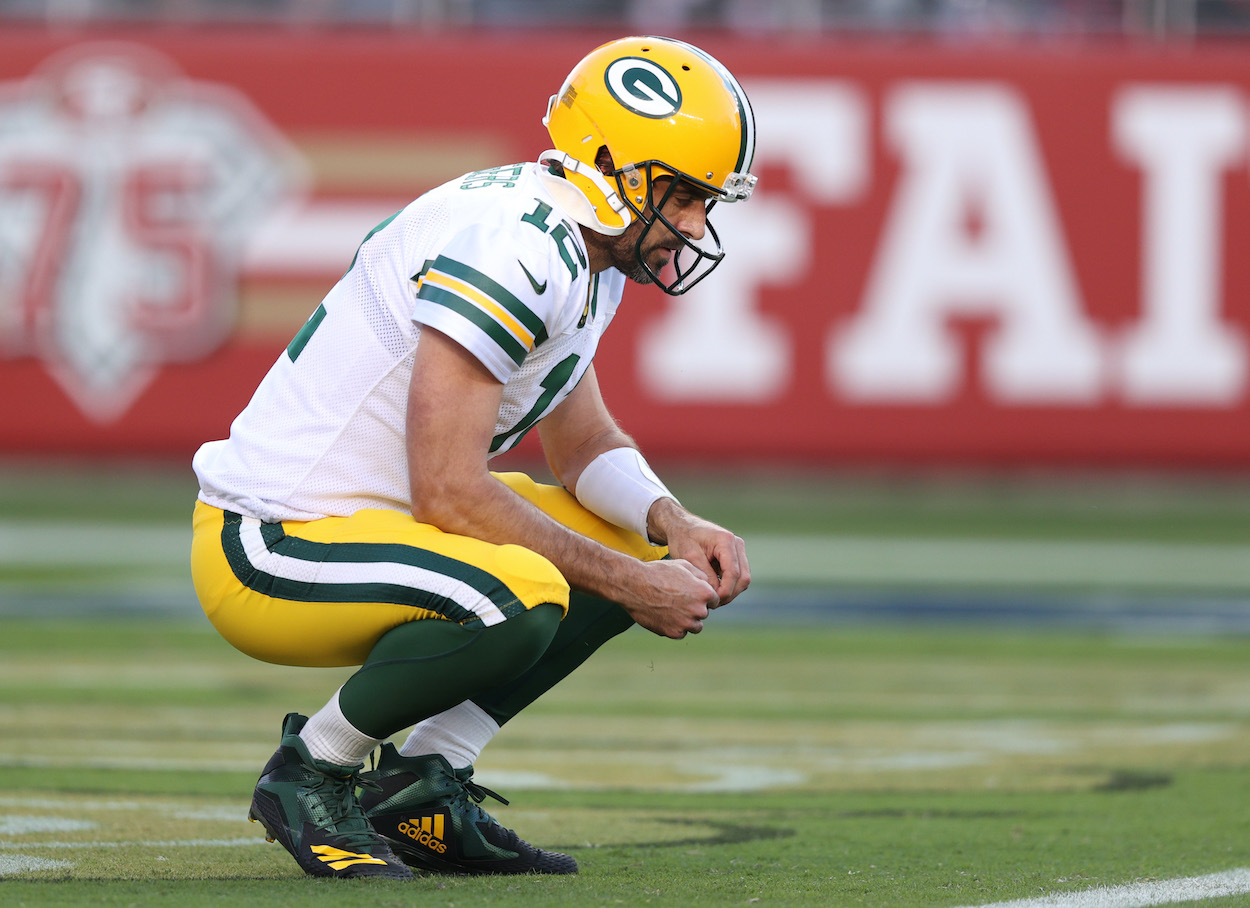 Aaron Rodgers Leaned on an NFL Legend to Help Him Through Concussions Early in His Career
Green Bay Packers QB Aaron Rodgers reached out to an NFL legend about concussions early in his career and found a friend and mentor in a fellow QB that played for a team Rodgers has a strong connection to.
As a 17-year NFL veteran, Green Bay Packers legend Aaron Rodgers has become a sounding board for young quarterbacks in the NFL. The passer recently revealed that, as a young QB, he reached out to an NFL great regarding concussion issues and long-term health concerns. The two have since become close, which is especially interesting because Rodgers has a long-standing connection to his mentor's former team.
Aaron Rodgers' concussion history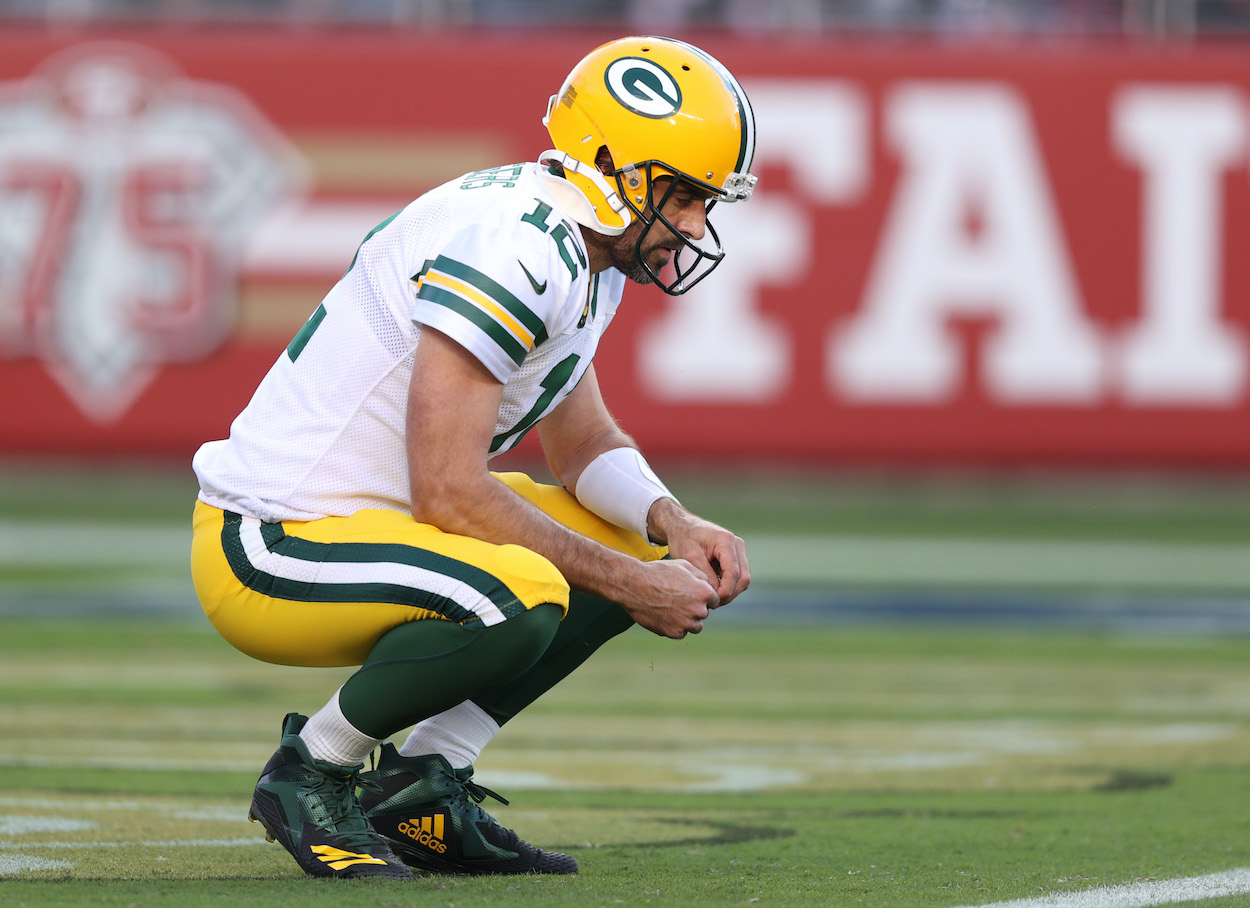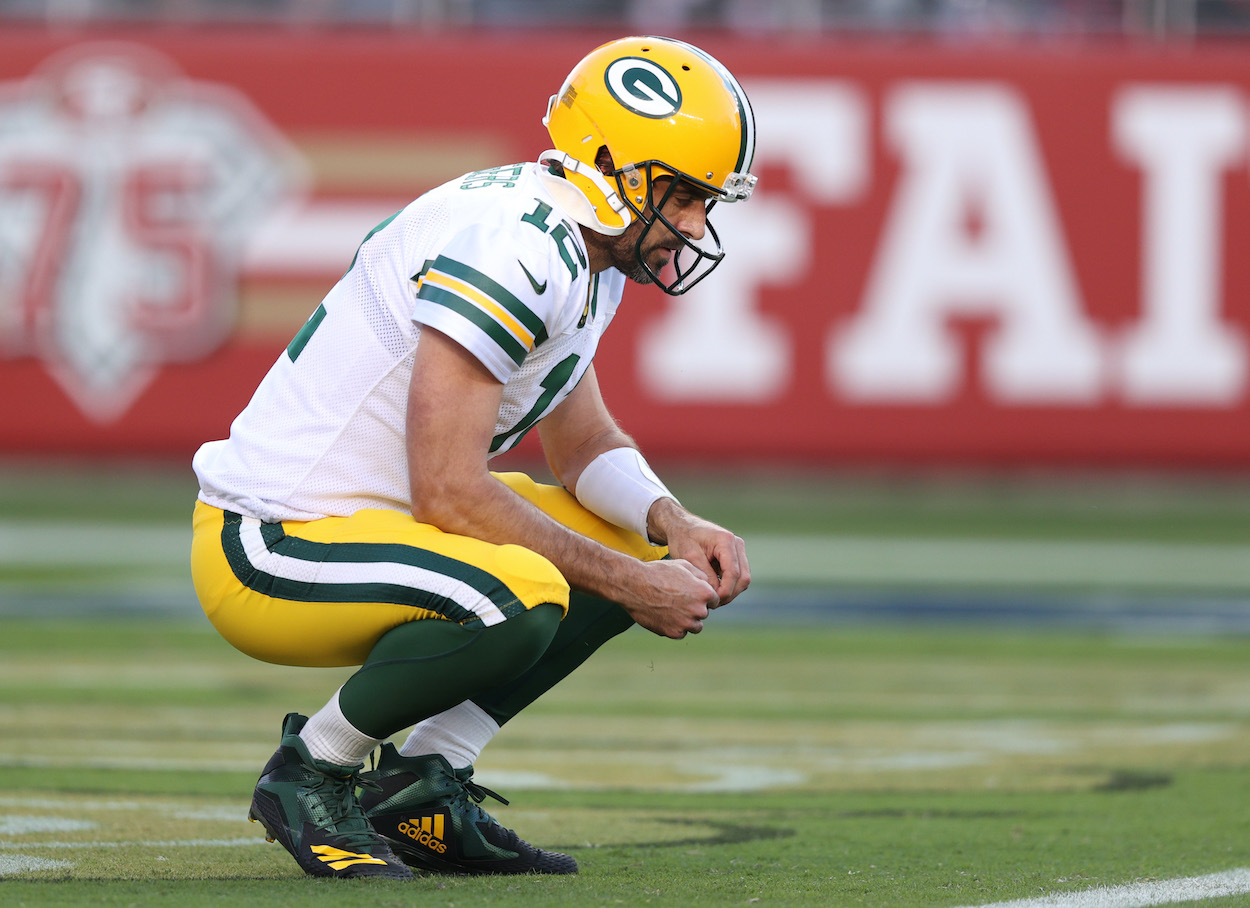 The NFL is a collision sport that often leads to head trauma. Although the rules have changed in recent years — especially around hitting the quarterback — concussions are still a major concern for NFL players.
Some of the biggest stars in league history have retired due to concussions. Players like Steve Young, Troy Aikman, Al Toon, and Luke Kuechly all hung it up before their time because of repeated head injuries.
As a player who played on both sides of the NFL's focus on concussions, Green Bay Packers quarterback Aaron Rodgers has experience in this area.
The former Cal Bear signal-caller has three known concussions during his time in the NFL, per ESPN. The first two concussions happened in 2010 during the Packers' Super Bowl-winning season.
Rodgers first documented head injury happened in a Week 5 matchup in Washington. He returned the next week to face the Miami Dolphins. Concussion two came against the Detroit Lions in Week 14 and kept him out of a 31-27 loss to the New England Patriots the following week.
The third reported head injury came in 2018, again against the Lions. It was in a season finale loss that dropped the Packers to 6-9-1 for the season.
To help deal with these concussions, Rodgers reached out to a legendary player who went through the same issues.
Rodgers has a special relationship with a former San Francisco 49ers legend who went through concussion issues
On his weekly appearance on The Pat McAfee 2.0 Show, the QB and the former NFL-punter-turned-talk-show-host discussed being a mentor in the NFL. McAfee asked Rodgers if any former or current players that most people wouldn't be aware of helped him in his career.
Rodgers shared that he did have a star signal-caller who he turned to for advice earlier in his career, and the two have become close today:
Steve Young has been a friend and a mentor for a long time, especially when I was younger. I reached out to him, I think, after my second concussion in 2010. I just wanted him to alleviate some of the fears I had around concussions and long-term health because I know he was a guy who sustained a number of concussions over his career and had a bad one at the end of his career. So, I reached out, and he was fantastic. And we've kept in touch over the years, and he's been a great resource when I need him and just kind of a supportive friend from afar.

Aaron Rodgers on Steve Young
Rodgers also mentioned "Favre-y" (former teammate Brett Favre) as someone he keeps in touch with. He revealed that the two QBs, who were often pitted against each other early in Rodgers' career, have "become good friends over the last few years especially."
The special relationship between San Francisco 49ers legend Steve Young and Rodgers is even more interesting when you consider the 37-year-old signal-caller's connection with Young's former team.
The Steve Young relationship deepens the Green Bay QB's connection to the 49ers
Aaron Rodgers grew up in Chico, California, just a few hours north of the Bay area. Before the Green Bay Packers drafted him in 2005, Rodgers played football in his home state— at Pleasant Valley High School, Butte Community college, and the University of California, Berkeley — for his entire life, per Sports Illustrated. The 6-foot-2 passer even grew up as a 49ers fan.
In 2005, the Niners owned the No. 1 overall pick. Instead of the local product, though, the organization picked Utah's Alex Smith.
The franchise and Rodgers crossed paths again in the 2021 offseason. During Rodgers' disgruntled summer, his hometown club emerged as one of the QB's preferred destinations. Speculation was that, in addition to just being unhappy in Wisconsin, Rodgers also wanted to be further west for personal reasons related to his post-career ambitions and his Hollywood fiancé.
On the football side, Rodgers was familiar with Kyle Shanahan's offense after two years with Shanahan's protégé Matt LaFleur. However, the 49ers traded up in the 2021 draft to pick North Dakota State QB Trey Lance instead, which helped steer Rodgers back to the Pack.
Even if Rodgers leaves Green Bay this offseason, his favorite childhood team seems like an unlikely destination now that Lance is there. The two parties seem destined never to pair up now, so he'll have to settle for his relationship with San Francisco 49ers legend Steve Young as his primary connection to the club.  
All stats courtesy of Pro Football Reference