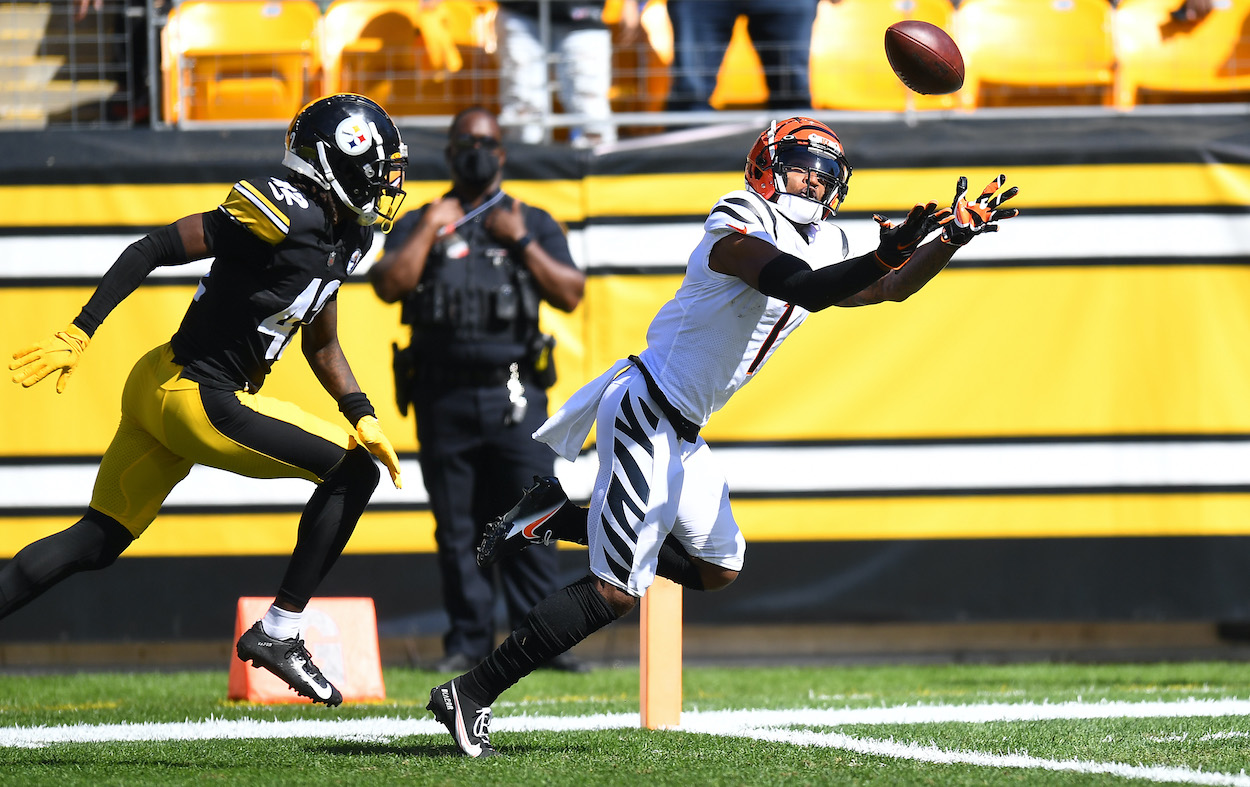 Cincinnati Bengals Rookie Receiver Ja'Marr Chase Broke a Record Set by Randy Moss and Joined an Exclusive Club During His Extraordinary First 3 NFL Games
With two touchdown catches in Week 3, Cincinnati Bengals rookie wideout Ja'Marr Chase put his name in the NFL record book in several ways, including outdoing all-time great and Pro Football Hall of Fame receiver Randy Moss.
It's impressive when an NFL player gets mentioned in the same breath as Hall of Fame wide receiver Randy Moss. When Cincinnati Bengals rookie wideout Ja'Marr Chase caught his second touchdown of the game in the team's 24-10 Week 3 victory over the Pittsburgh Steelers, it put him ahead of Moss in the NFL record books.
It is an impressive feat from any receiver. It's especially notable, though, for a pass-catcher who couldn't catch a cold in training camp. Now, Chase and his college-quarterback-turned-pro-teammate, Joe Burrow, are among the most exciting young QB/WR duos in the league. And, Chase's success has justified his lofty draft position
Ja'Marr Chase's two-touchdown game against the Pittsburgh Steelers broke a record set by Hall of Fame receiver Randy Moss
Randy Moss is one of the greatest receivers in NFL history. The No. 21 pick out of Marshall in the 1998 draft made six Pro Bowls and four All-Pro teams. He also led the league in touchdowns five times. This includes his rookie season, where he took 17 receptions to the house.
Three of those touchdowns came in the first three games.
Moss opened his career in a 31-7 blowout of the Tampa Bay Buccaneers. He caught two touchdowns (48- and 31-yards) from Brad Johnson in the win. In Game 2, Moss had six catches for 89 yards, but the St. Louis Rams kept him out of the end zone. Week 3 saw the rookie catch his third TD of the season when Randall Cunningham hit him on a five-yard strike.
While Moss took the NFL by storm from day one, it wasn't until his four-catch, four-score (3 touchdowns and a 2-point conversion) performance on Thanksgiving Day against the Dallas Cowboys that he truly became a superstar at 21-years-old.
Chase caught a touchdown in each of his first three games. With his two scores in Week 3, he became the youngest receiver to have four TDs in three games to start his career.  
Moss was 21-years, 219-days-old when he accomplished his feat. Chase got his at 21-years, 209-days-old.
Chase joined another exclusive club, but the other members aren't as impressive
Unlike Moss, none of his first three opponents have held Ja'Marr Chase scoreless. That puts him on another exclusive list, albeit one that isn't nearly as impressive as a list with Randy Moss' name on it.
Chase became just the 9th (or 10th if you count a replacement player in 1987) to catch a touchdown pass in each of his first three games. According to a tweet from Jay Morrison, the Bengals beat writer for The Athletic, five other wideouts have caught touchdown passes in three games, then failed to get one in their fourth.
These players are Terry McLaurin (Washington Football Team, 2019), Chansi Stuckey (New York Jets, 2008), Andre' Davis (Cleveland Browns, 2002), Louis Lipps (Pittsburgh Steelers, 1984), and Daryl Turner (Seattle Seahawks, 1984).
This coming week, against the Jacksonville Jaguars, Chase will look to tie two more WRs with TDs in his first four contests. This includes Martavis Bryant (Steelers, 2014) and Donté Stallworth (New Orleans Saints, 2002).
In Week 5, the Bengals take on the Green Bay Packers. Then, in Week 6, the team faces the Detroit Lions. It will take touchdowns in all these coming games for Chase to tie and pass the all-time leader for consecutive games with touchdown catches to start a career. The record-holder is Charlie Brown from the now-Washington Football Team in 1982.
While this is an impressive accomplishment from all these rookies, it doesn't guarantee success. Only Brown and Lipps made Pro Bowls, while McLaurin looks like he might be on his way as well.
The Cincinnati Bengals look like they made the right pick with their first-round selection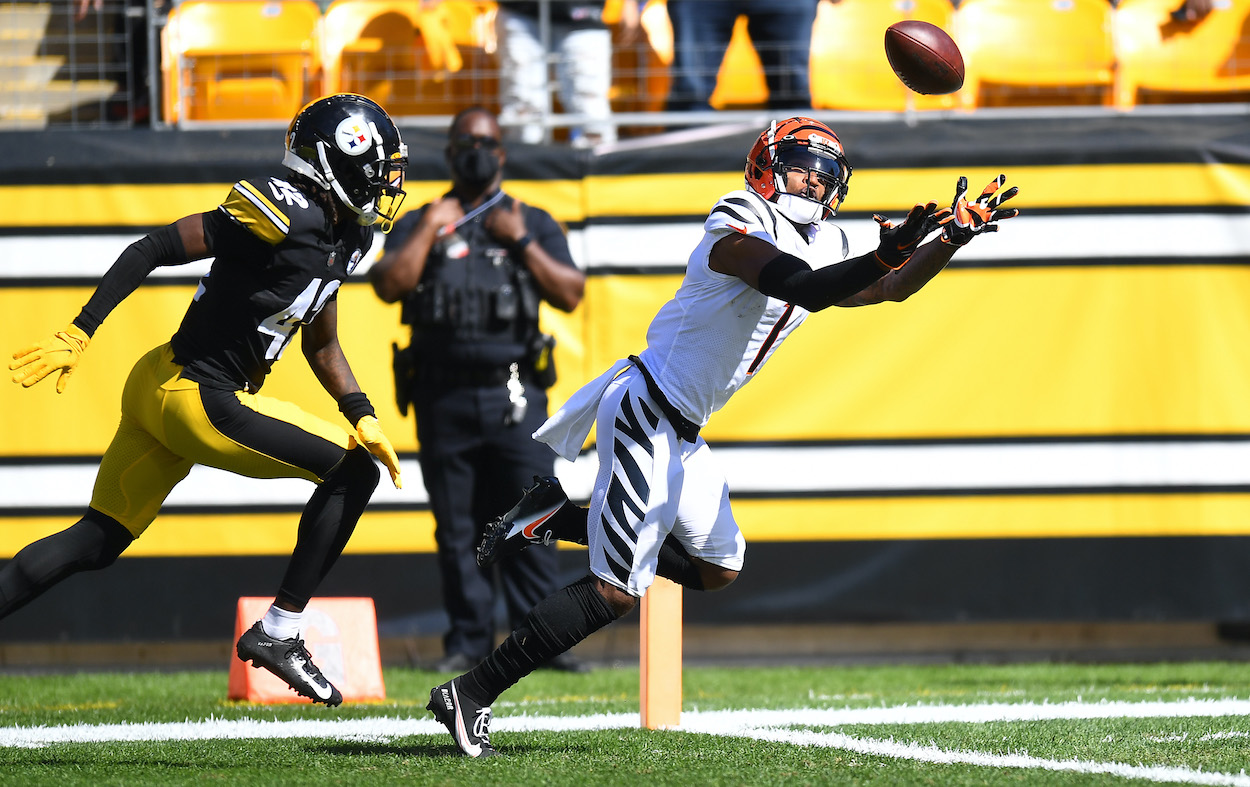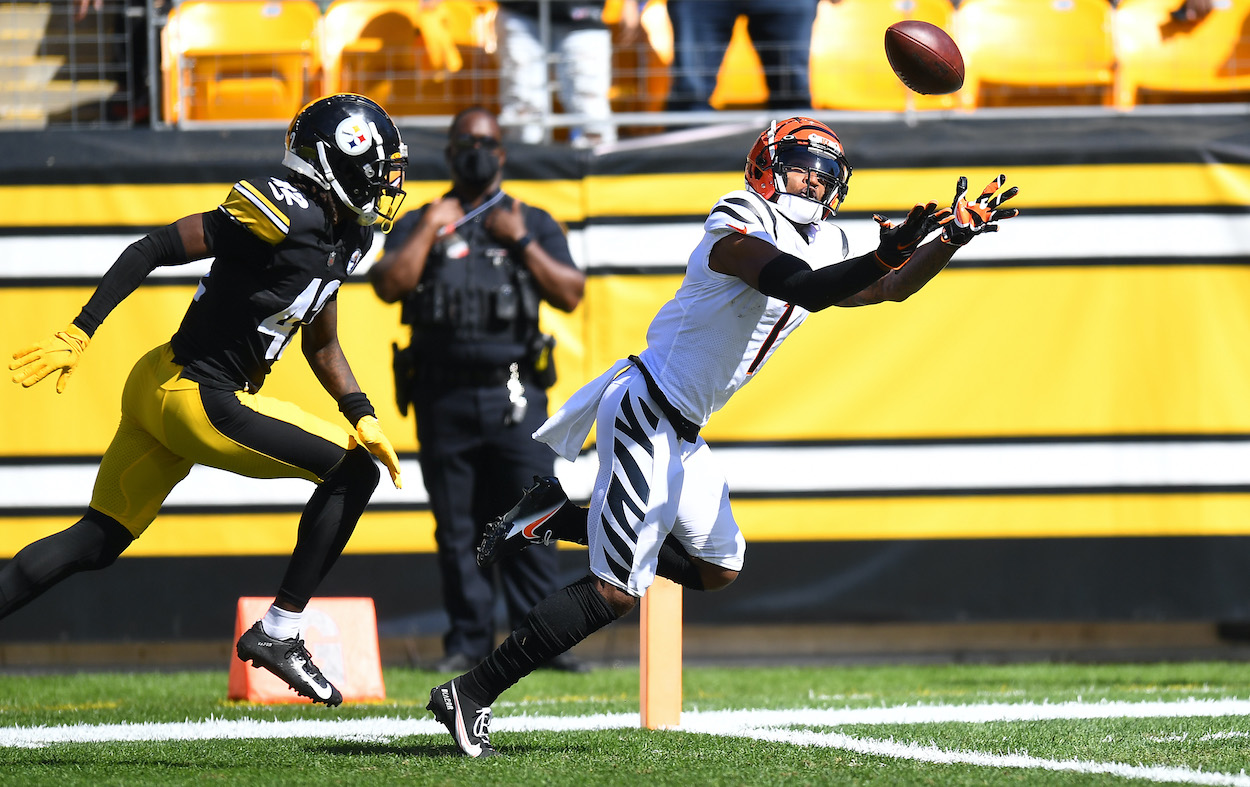 When the Cincinnati Bengals took Ja'Marr Chase as the first receiver off the board in the 2021 draft, it caught many by surprise.
One reason is that some experts had an offensive lineman tabbed for Cincy. Last year, a sack caused a season-ending injury for franchise QB Joe Burrow. Beefing up his protection would make sense. Tackles like Penei Sewell and Rashawn Slater would have fit the bill.
The other reason is that plenty of draftniks had Alabama's Jaylen Waddle and DeVonta Smith ranked ahead of the LSU Tigers pass-catcher. After a 2019 season in Baton Rouge where Chase led a WR corps that included last year's rookie Pro Bowler Justin Jefferson and 2021 draft pick Terrace Marshall Jr., he opted out of the 2020 college season.
So far, Chase is the most successful of the first-round receivers. Waddle is a close second with a staggering 22 catches in three games. However, he's only racked 167 yards and one score on those receptions. Smith had a nice first outing, catching 6-of-8 balls for 71-yards and a touchdown. However, he didn't do much in Game 2.
The other two contenders for top first-round rookie WRs are the New York Giants' Kadarius Toney, who's only played 70 snaps in three games, and Rashod Bateman, who just returned to Baltimore Ravens practice following a training camp groin injury, per BaltimoreRavens.com.  
So far, Chase has made the Cincinnati Bengals brain trust look smart. Reuniting him with his college QB has paid off with touchdowns and wins, putting the team at 2-1 and tied for first in the AFC North. The more Burrow can find Chase in the end zone, the more successful the Bengals' season will be.
All stats courtesy of Pro Football Reference