Cincinnati Bengals Rookie Receiver Ja'Marr Chase Had 1 Good Game Then Promptly Turned off Fans With His Selfishness
Going into Week 1 of the NFL season, the Cincinnati Bengals weren't sure what to expect from rookie wide receiver Ja'Marr Chase. After a dropped-filled preseason, the organization and its fans had to be worried about what the young player would do in real game action.
Chase responded in his first official NFL game just like Bengals Nation hoped he would. The talented wideout had a tremendous first game that no doubt delighted fans. However, after his breakout performance, the former LSU Tiger discussed his ambitions in the league, and his Ja'Marr-centric goals rubbed some people the wrong way.
Ja'Marr Chase broke out in Week 1 after a dicey preseason
The Cincinnati Bengals picked LSU's Ja'Marr Chase No. 5 overall in the 2021 NFL Draft, reuniting him with his college quarterback, Joe Burrow.
The 6-foot, 201-pound Chase was the leading receiver on LSU's 2019 National Championship team, over last year's Rookie of the Year Justin Jefferson and fellow 2021 draft pick Terrace Marshall Jr.
He opted out of the 2020 season, but his skill and production during that magical 2019 run were enough to make the pass-catcher the first WR off the board in the 2021 draft.
Despite this pedigree and his familiarity with his QB, Chase struggled in training camp in the preseason. Drops became a major problem for him, showing up both in practice and in preseason games.
While his coaches and teammates publicly supported the player, no one truly knew what to expect when the Bengals welcomed the Minnesota Vikings to Paul Brown Stadium to open the new season.
When the lights came on, Chase showed up in a big way.
The rookie caught five of the seven balls thrown his way (with no drops) and gained 101 yards, which included a 50-yard touchdown strike from Burrow. The effort helped the Bengals win an overtime thriller, 27-24, and Chase take home Rookie of the Week honors.
Some on social media deemed Chase's NFL goals selfish
As one of the breakout stars of Week 1, Ja'Marr Chase appeared on the NFL Network's Good Morning Football show a few days after his big game.
Host Kyle Brandt started the GMFB segment by giving Chase a chance to address the "naysayers."
"I'd like to tell them, 'enjoy the show,'" Chase said. "I've been hearing this since I was young, but I'm not worrying about it."
Former NFL linebacker Thomas Davis then asked Chase about a post-draft comment where he said he wanted to break every record the Cincinnati Bengals organization has. Chase doubled down in these comments on GMFB:
Well, I'm trying to break every record that I can. I'm pretty sure I can't break every record, but every record is meant to be broken, so I'm gonna make my way and somehow break a record here. As many as I can, as many as possible.

Ja'Marr Chase on breaking Bengals records
While some fans on social media applauded Chase's bold objectives, others took issue with how focused he is on individual records without mentioning anything about team success. Even ESPN's Diana Russini tweeted, "maybe start with…helping your team win a few games first."
Commenters on both Russini's tweet and the tweet she quoted from NFL Network's Will Selva had very mixed reactions. The more negative comments focused on Chase being selfish, his lack of humility, and the audaciousness of talking about breaking records after a single five-catch game.
The rookie receiver will have a chance at another stellar game against the Chicago Bears in Week 2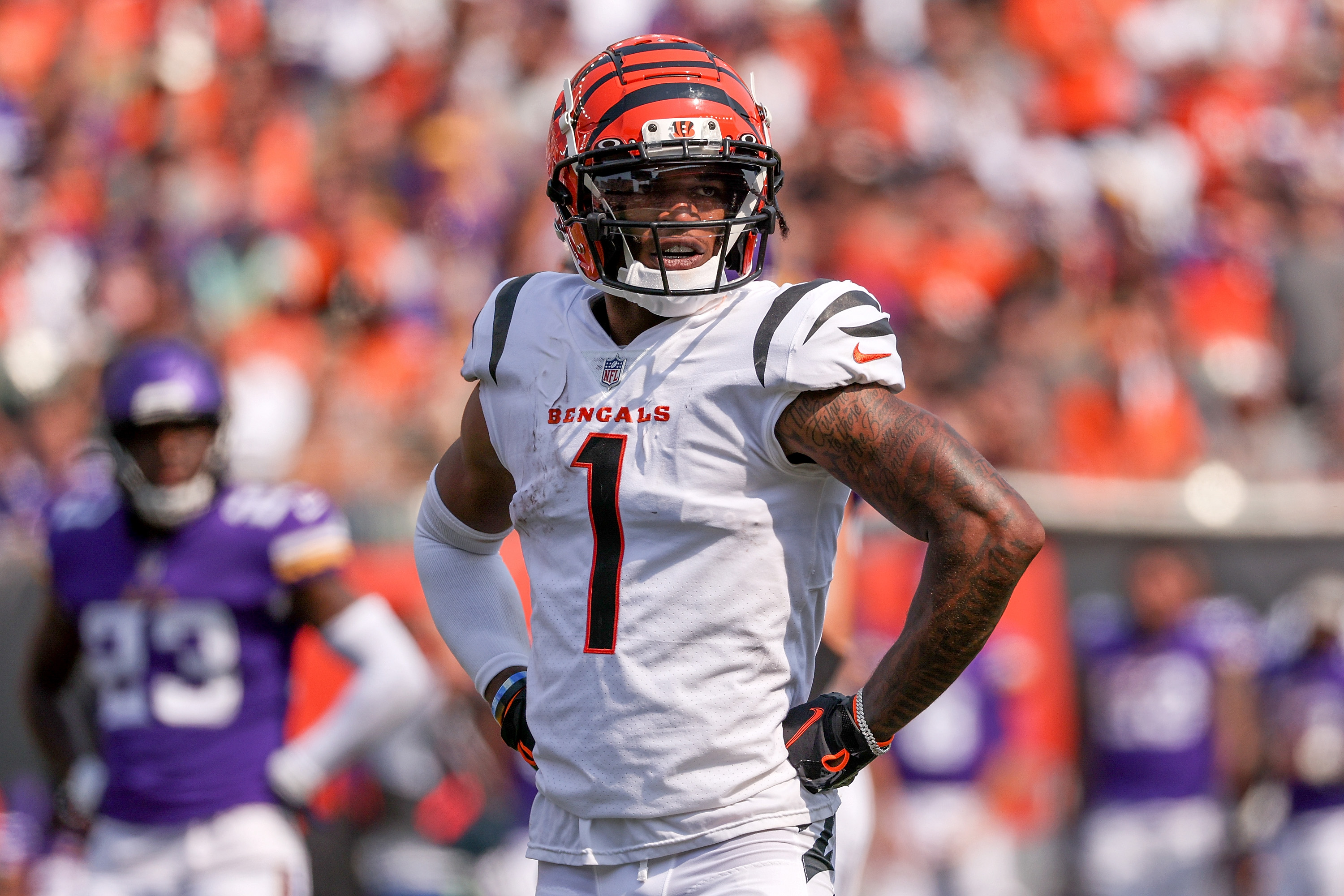 Whether or not a five-catch game will be the foundational building block of a record-breaking career, it is an excellent start. Now, Ja'Marr Chase needs to take the next step and put up another big game, and he'll get that chance in Week 2 when the Bengals visit Soldier Field to take on the Chicago Bears.
The Bears' secondary struggled to keep tabs on the Los Angeles Rams receivers they tried to cover last Sunday night. All told, the unit gave up 20 completions for 321 passing yards and three touchdowns. They also failed to make an interception.
Rams WR Cooper Kupp led the team with 108 receiving yards, and second-year wideout Van Jefferson wasn't far behind with 80 yards thanks to a 67-yard touchdown-scoring play.
The Bears secondary features two experienced safeties in Eddie Jackson and Tashaun Gipson Sr., but corners Jaylon Johnson, Kindle Vildor, Duke Shelley, and Xavier Crawford are all relatively inexperienced. Only CB Artie Burns has been in the league longer than two full seasons.
This defensive backfield, which LA exposed last week, could provide Chase the perfect opportunity to continue on his record-breaking pursuit and help the Cincinnati Bengals come away with a win.
All stats courtesy of Pro Football Reference and Sports Reference
RELATED: 2 Quarterbacks, 2 Coaches, and 2 Divisions That Are Flying High or Feeling Low After Their First Games: NFL Week 1 Winners and Losers