Sixth Round Pick Jaylen Twyman Was Shot Four Times in June, Reported to Training Camp In July, Then Was Waived By the Minnesota Vikings
The time between an NFL player's draft day and the first day of camp is exciting and memorable for all rookies. The memories and excitement Minnesota Vikings sixth-round pick Jaylen Twyman experienced isn't what he expected. A gunman shot the defensive tackle four times a month after the Vikings picked him.
He escaped with relatively minor injuries and reported to training camp a month after that. However, his health, combined with a free agent signing, led to the Vikings waiving the former Pittsburgh Panther.
This isn't the end of Twyman's journey, though. It's just the beginning.
Jaylen Twyman was the No. 199 overall pick in the 2021 NFL draft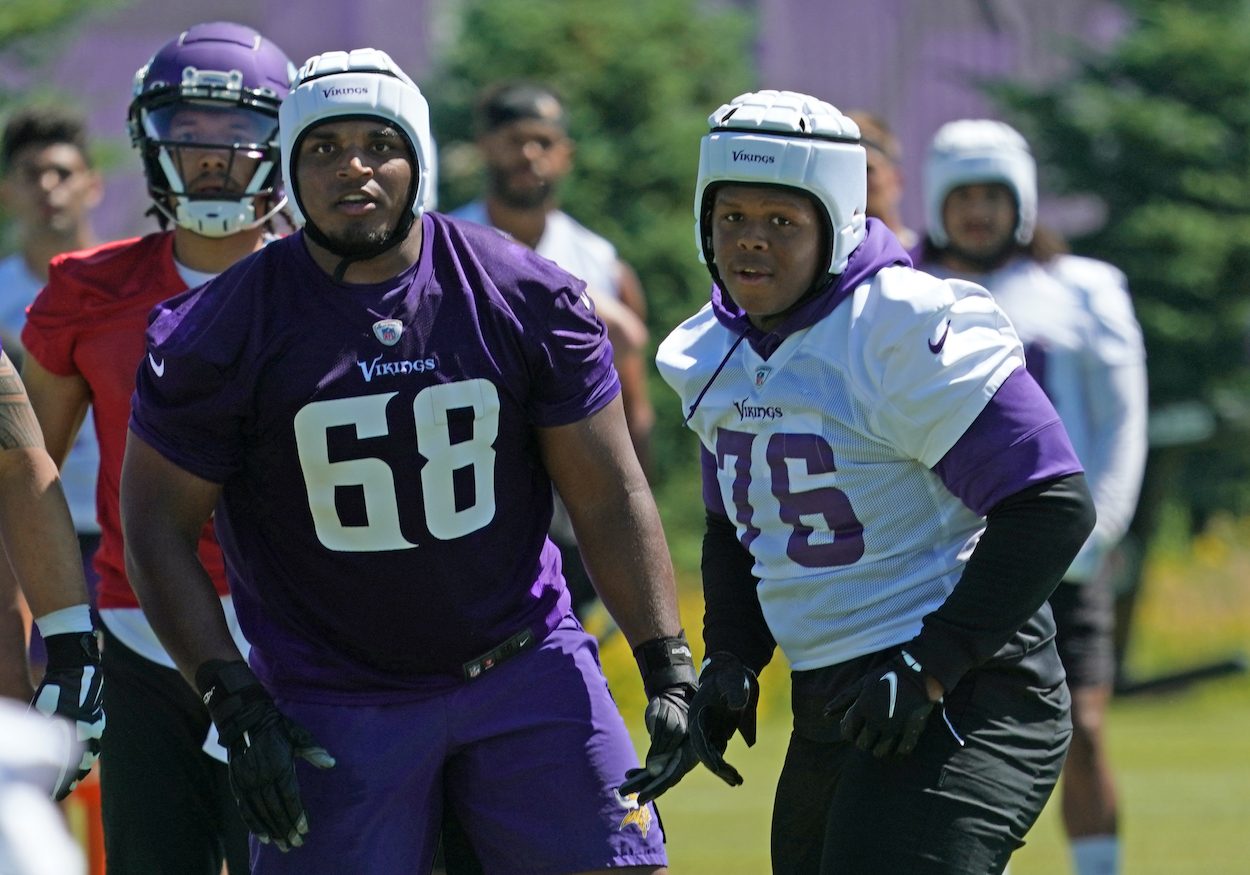 Twyman is a 6-foot-2, 293-pound defender from Pittsburgh who draws comparisons to his fellow ex-Panther, Aaron Donald.
The Washington, D.C. native was a top D-line prospect coming out of high school. He played two productive years at Pitt before opting out of the 2020 season. As a sophomore, he became a Second-Team All-America and First-Team All-ACC, per Vikings.com.
He started 13 games that year and racked up 41 tackles, 12 tackles for losses, and 10.5 sacks. That last number led the team, and he became the first Panther defensive tackle to lead the team in dropping the QB since Donald.
The Vikings selected the big, agile lineman No. 199 overall in 2021, which may seem late but keep in mind, it's the exact same pick the New England Patriots used to pick Tom Brady.
Twyman was shot four times in Washington. D.C. in June 
The weeks following the draft, where Twyman should have been living a dream, turned into a nightmare when he was shot four times in his hometown.
His agent, Drew Rosenhaus, told ESPN the player suffered gunshot wounds in his arm, leg, buttocks, and shoulder. The agent said that Twyman was in the "Wrong place, wrong time" while visiting his aunt and that "there doesn't appear to be any long-term injuries that would prohibit him from playing this season."
The Vikings released an official statement as well, saying that the franchise has "been in direct contact with Jaylen and his family" and that the organization is "extremely thankful Jaylen is expected to make a full recovery."
The Minnesota Vikings waived Twyman, but that doesn't mean he's off the team
A month after his harrowing experience, Twyman was out of the hospital and had recovered enough to report to training camp. His reception was likely not what he expected.
Although the D-tackle was fit enough to make it to camp, his injuries will prevent him from playing in the first half of the NFL season, per Yahoo! Sports. This timeline, combined with Minnesota adding former Jacksonville Jaguars wide receiver Dede Westbrook, meant that the team wanted to put Twyman on the reserve/non-football injury list.
To make this roster move, the Vikings had to waive the 22-year-old. On waivers, any NFL team can claim the player. If no team claims Twyman, Minnesota will put the player on the reserve list. This designation means he will stay with the team but not count against the 90-man roster in camp.
Another part of the reserve/non-football injury list is that players on the list can't start practicing with their teams until Week 6 and can't play in a game until Week 9.
This definitely isn't how Jaylen Twyman expected to start his NFL career, but he should make a full recovery and maybe even be able to contribute to a playoff team come the stretch run. Who knows, maybe he'll someday even become as good as his fellow Pitt D-lineman or that other No. 199 pick.
All stats courtesy of Pro Football Reference