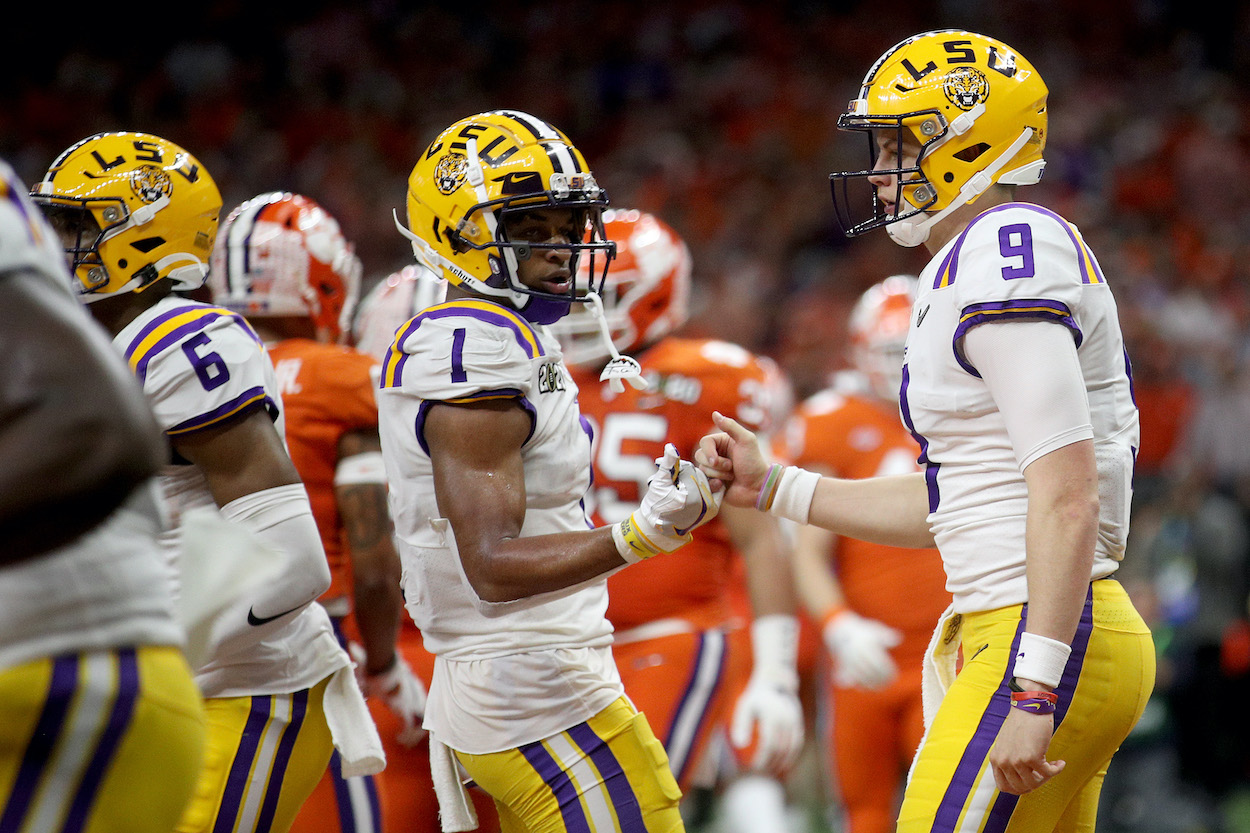 Joe Burrow's Excitement Rating About Playing With Ja'Marr Chase Led to the Cincinnati Bengals Drafting Him: 'It Would be a 10'
Joe Burrow went to bat for former LSU teammate Ja'Marr Chase when Bengals head coach Zac Taylor asked the quarterback about his former wide receiver, saying his excitement level to play with him again would be "a 10." They are now one of three college QB/WR duos reunited in the NFL in 2021.
Many franchise quarterbacks get a say in their team's offensive personnel and NFL draft decisions (Sorry, Aaron Rodgers). In the case of the Cincinnati Bengals considering drafting LSU wide receiver Ja'Marr Chase, it made even more sense to ask Joe Burrow.
The Bengals' QB and Chase played together in college, so the passer is very familiar with this particular pass-catcher. When Bengals' head coach Zac Taylor asked the former No. 1 overall pick how excited he would be to reunite with his old teammate, the answer sealed the deal for the pick.
Joe Burrow and Ja'Marr Chase played and won a National Championship together at LSU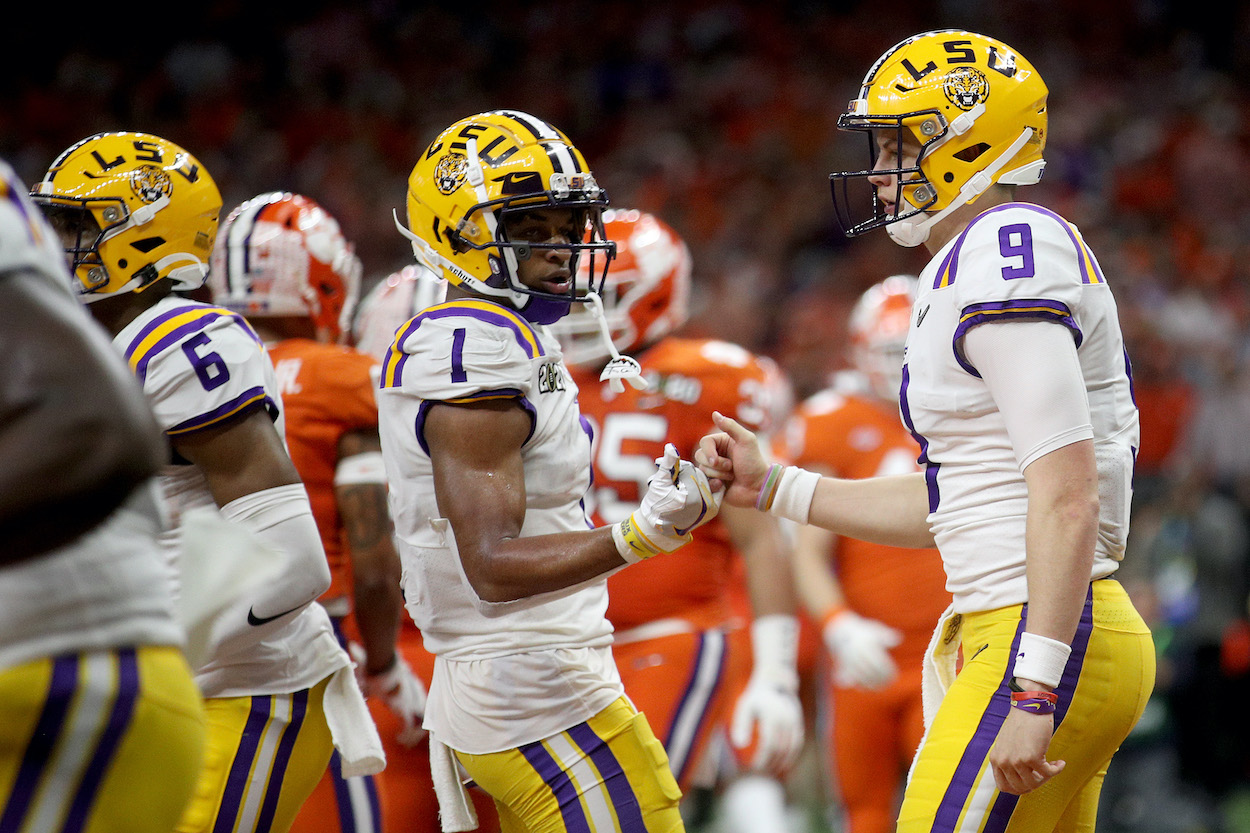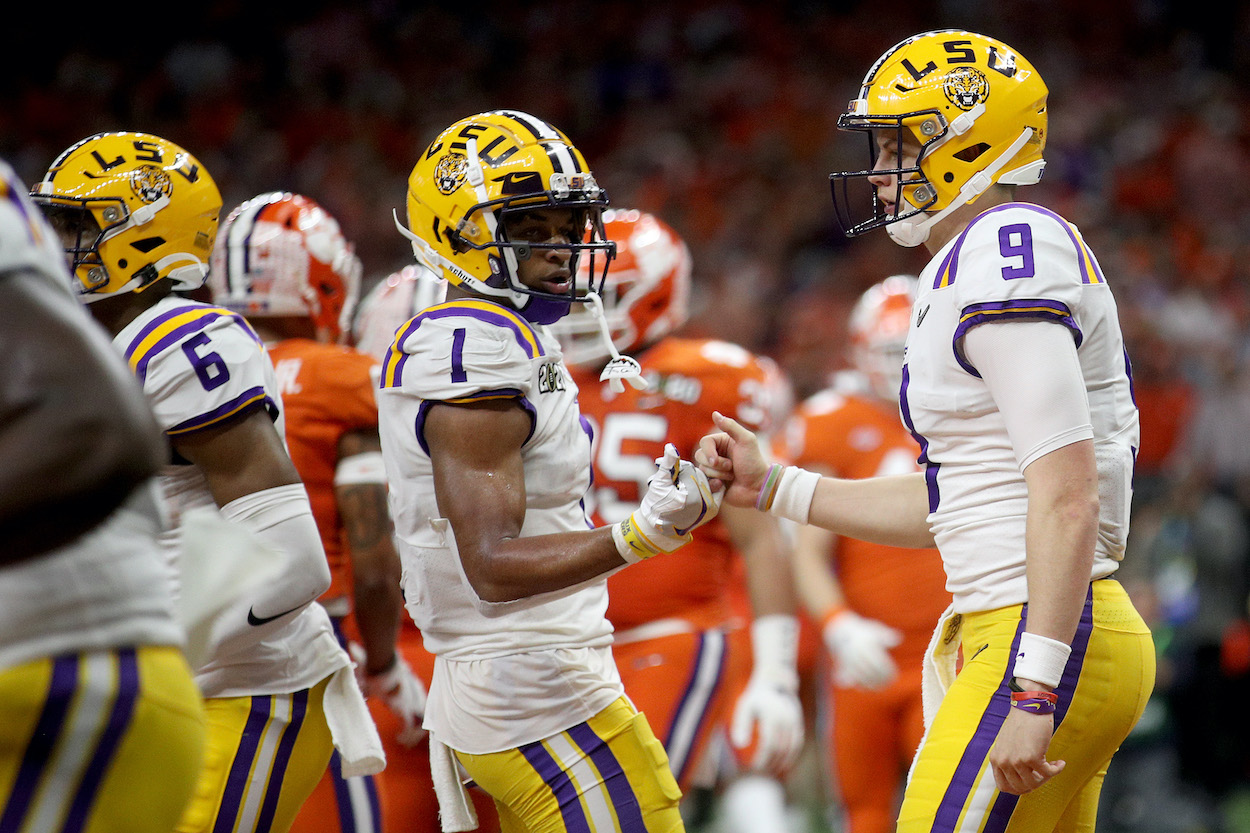 Burrow first played QB for LSU in 2018 after transferring from Ohio State. He arrived the same year as a true freshman receiver named Ja'Marr Chase.
Chase and Burrow established a solid connection that first year. The Louisiana-born and raised speedster caught 23 balls for 313 yards and three touchdowns that season, making him the team's third-leading wide receiver.
In 2019, Burrow, Chase, and LSU as a whole took a step up. Chase caught 84 balls for 1,780 yards and 20 touchdowns as a sophomore, making him the team's No. 1 receiver. He even bested 2020 first-round pick Justin Jefferson.
With Chase on the outside, Burrow won the Heisman Trophy, and the LSU Tigers took home the 2019 College Football National Championship.
Joe Burrow told Cincinnati Bengals head coach Zac Taylor he'd be incredibly excited to reunite with Ja'Marr Chase
Chase opted out of the 2020 season due to COVID-19 concerns. Based on his past production and 4.34 40-yard dash time, he was still one of the top pass-catching prospects of the 2021 draft.
Even with the success that Burrow and Chase had together at LSU, Taylor still wanted to make sure the quarterback was on board with drafting the 6-foot-1 receiver.
On an episode of the Flying Coach podcast, host Peter Schrager asked Coach Taylor about drafting Chase. Taylor told Schrager and Rams head coach Sean McVay that the connection was "not the deciding factor," but that the chemistry was something the organization "took into account."
He then relayed his conversation with Burrow to the hosts:
It was me asking the questions. 'Hey, do you want to play with him?' 'Yeah, I do.' 'What would your excitement level be, out of 10?' 'It would be a 10.' 'Ok, well, I don't really need to add too many other questions here.' It was good.
Making your franchise QB happy by drafting receivers is usually a good thing (apologies again to Rodgers), so the Bengals didn't have to think much more about it and made the pick.  
Burrow and Chase are one of three top college QB/WR combos reunited in the NFL by the 2021 draft 
When the 2021 NFL season kicks off, Joe Burrow and Ja'Marr Chase will be just one of three QB/WR duos reunited during the first 10 picks of the draft.
Following Chase's selection, the Miami Dolphins and Philadelphia Eagles took Alabama wide receivers Jaylen Waddle and DeVonta Smith at No. 6 and No. 10, respectively. These moves put Waddle back together with Tua Tagovailoa and reunites Smith with Jalen Hurts.
Waddle and Tagovailoa had a solid connection in Tuscaloosa. As a freshman with the Hawaiian QB at the helm, Waddle had his best statistical season with 45 catches for 848 yards and seven touchdowns, all career highs.  
In 2017, Hurts' and Smith's only year together with Hurts as the full-time starter, the true freshman receiver caught eight balls for 160 yards and three touchdowns. They also played together in 2018 when Smith had 42 receptions for 693 yards and six touchdowns, but that was primarily with Tagovailoa under center.
This number of college reunions is in one draft is unique. How each QB/WR tandem fares when the regular season kicks off will be an inserting subplot to watch.
All stats courtesy of Sports Reference
 RELATED: Mac Jones and Tua Tagovailoa Will Face Off in Week 1 in the Battle of the 'Bama Quarterbacks