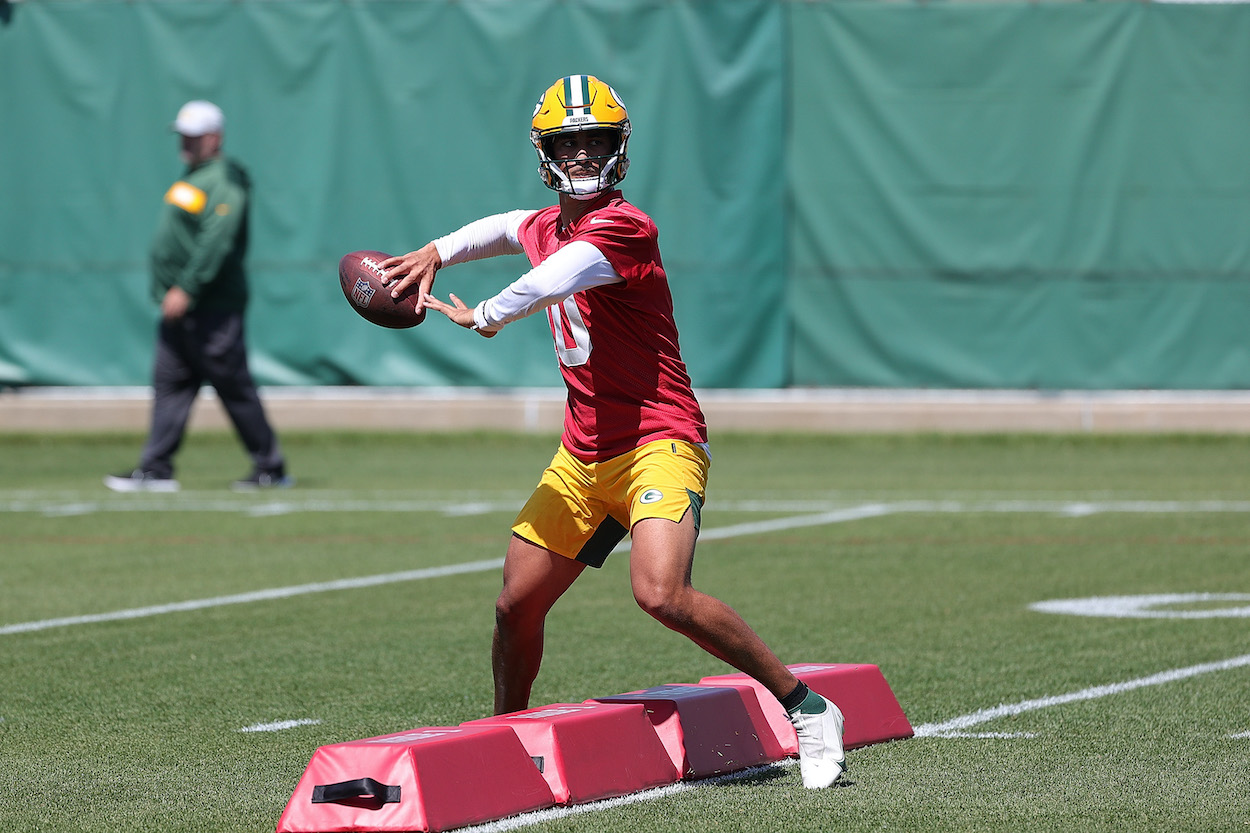 Jordan Love Highlights in Practice Lead to Coach Fanning Down the Hot QB
Jordan Love highlights from Green Bay Packers OTAs may have the entire organization feeling better about the Aaron Rodgers mess. His practices have been up and down but after one session, an assistant coach fanned the QB down because he was so hot. This may be good news for the long-term outlook if the franchise.
Green Bay Packers' second-year quarterback Jordan Love's highlights from offseason OTAs might not make Packers fans, and front office forget their unhappy quarterback, Aaron Rodgers. Still, it may make them feel better about the tense standoff with their MVP signal-caller.
By picking Love in the first round of the 2020 NFL draft, Green Bay executives put events in motion that may end up with the former Utah State passer starting Week 1. While this might scare Packers fans, Love says he's ready.
The Aaron Rodgers saga started with Jordan Love Highlights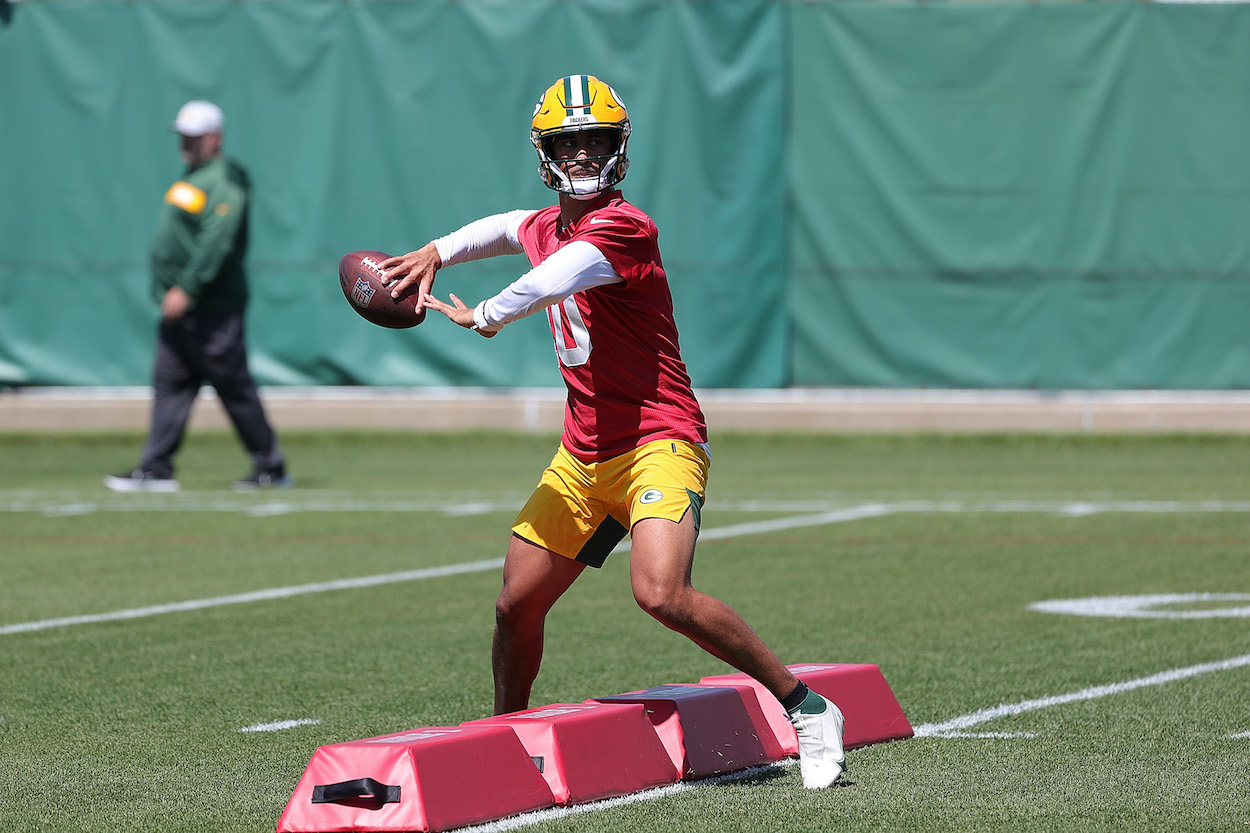 When Packers GM Brian Gutekunst sat down to watch the tape labeled "Jordan Love Highlights" prior to the 2020 NFL draft, he certainly didn't know that he was about to create a situation that would lead to his soon-to-be-MVP quarterback warring with the franchise.
That is precisely what he did by drafting Love, though.
The Packers traded up four spots in the draft to pick Love at No. 26. With Rodgers in place and championship aspirations, a wide receiver should have been the pick. Plenty of wide receiver talent was still available at that point. Tee Higgins, Michael Pittman, Jr., Laviska Shenault, KJ Hamler, and Chase Claypool all went in the next 25 picks.
Rodgers recently told ESPN his problem isn't with Love. It is strictly with the front office. "I love Jordan," Rodgers said. "He's a great kid. [We've had] a lot of fun to work together." He didn't speak to his specific problems with the front office but did say:
It's just kind of about a philosophy and maybe forgetting that it is about the people that make the thing go. It's about character, it's about culture, it's about doing things the right way.
While there are seemingly other factors at play that soured Rodger's relationship with the Green Bay brass, it is ironic that the problem seems to originate from the Packers selecting a QB when they already had one in place. It sounds a lot like what happened to Brett Favre 15 years earlier.
Jordan Love's highlights in practice excited the Green Bay Packers coaching staff
Love is busy putting in work at Packers OTAs in case he needs to start in Week 1, while Rodgers is gallivanting around the country with his famous fiancé and celebrity friends,
According to ESPN, Love's practices have been up and down. At one practice on Wednesday, the 22-year-old Californian got on such a roll hitting receivers an assistant coach fanned him down:
Love was so hot with his throws that at one point tight ends coach Justin Outten pretended to use his play card as a fan to cool off the quarterback.
It has to make the Packers feel good that, even if he doesn't always look like an NFL starter, Love does seem to have the talent necessary to succeed at the highest level. He has the requisite confidence as well, telling reporters that he's ready to go if needed.
Love says he's "a hundred percent" ready to start Week 1 if necessary 
If Rodgers sits out, retires, or gets his wish with a trade, at least one person in the Packers' organization believes that Love will be ready to start Week 1: Jordan Love.
Asked if he is ready to start opening day, Love told reporters after an OTA session, he's "a hundred percent" ready to go. "I was drafted here to play quarterback," Love said, "so I'll definitely be ready Week 1."
If Love does start Week 1 for Green Bay, it will likely be a difficult season for the Packers. They made the playoffs last season mainly on the strength of Rodgers' MVP performance. However, just like when the Pack traded Favre to clear the way for Rodgers, it may be what's best for the organization.
Maybe this actually was what Gutekunst envisioned sitting down with the Jordan Love Highlights tape a year ago.
Like Sportscasting on Facebook. Follow us on Twitter @sportscasting19