Davante Adams Is Backing Aaron Rodgers, but He Won't Follow in His Footsteps
Davante Adams and the rest of his Green Bay Packers teammates know the NFL is a business. They also know they are a better team when quarterback Aaron Rodgers is on the field. Rodgers is away from the team in an apparent contract dispute, and Adams understands. Although he has his quarterback's back, he won't be following in his footsteps.
Davante Adams back with the team after being a no-show at OTAs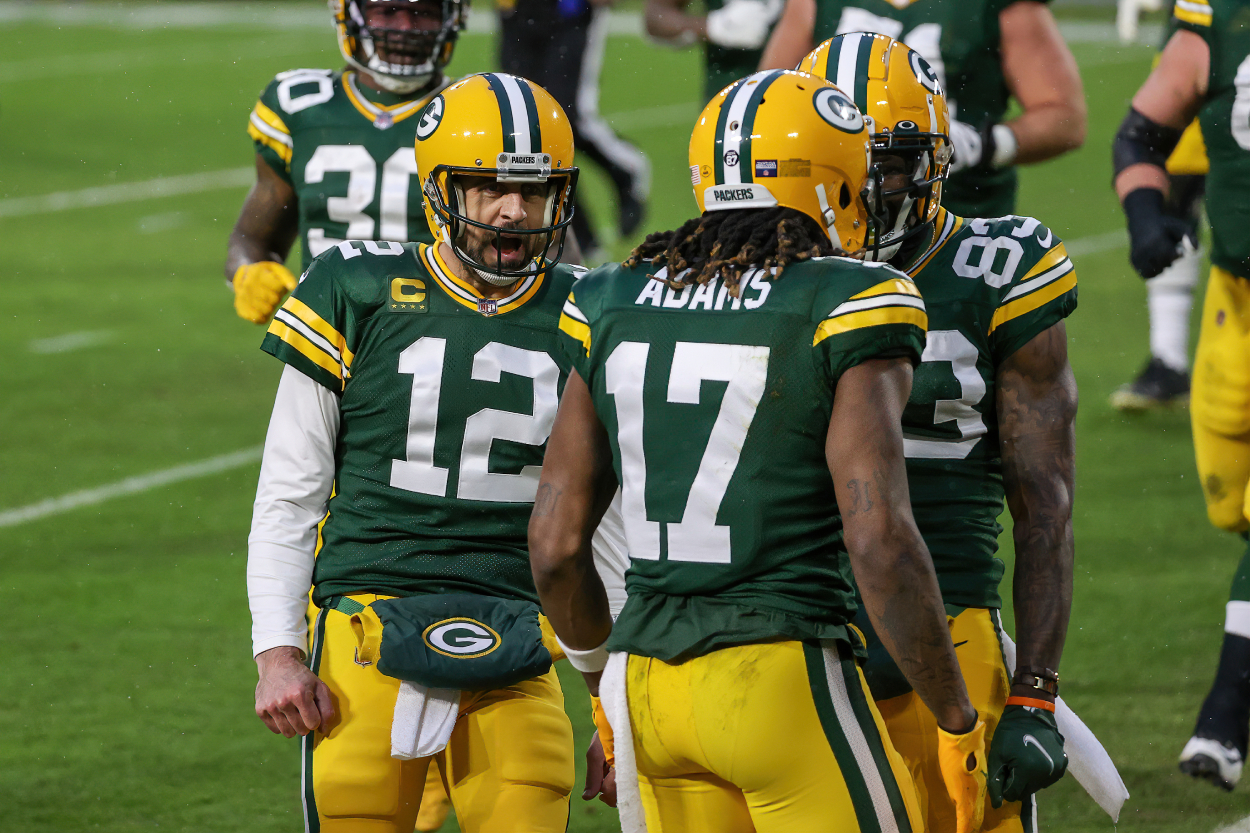 The Packers' players are in a tough spot. While Rodgers appears to have some issues with the front office, his teammates have his back, knowing the business side of the NFL. That doesn't mean those players are anti-front office. Adams tried to make that clear when he arrived at the team's mandatory minicamp this week.
"I think that any GM, any president, any owner, they should want the type of guys that are backing their players, especially a player like that," Adams said, according to ESPN. "That's just a good trait to have. It's not like I'm saying, 'forget the front office,' like I don't respect what they have going on."
Adams and Rodgers' top wide receivers didn't show up for OTAs. Reporters asked the reason for the no-show, and he said, "it wasn't what you guys are thinking for sure," according to Packers beat writer Rob Demovsky. Adams also said he had nothing to do with the other wideouts not showing. "In no way did I tell anybody to do anything. They all made their own decisions."
Davante Adams continues to back Aaron Rodgers
Rodgers still has three years left on his deal. There is, however, no guaranteed money remaining. With no guarantees and having a first-round draft pick in camp, Rodgers isn't happy. Maybe he's just unhappy with the front office for trading up in the 2020 NFL draft and taking his eventual replacement without any heads up. Whatever the case is, Rodgers isn't around and doesn't plan to be.
Rodgers makes everyone on the Packers better, especially Adams. The two have a connection that helped Adams rack up a league-leading 18 touchdown receptions despite missing two games. Adams said he backs Rodgers no matter what decision he makes.
"I've got his back through everything, so he knows that, at the end of the day, if there's ever a wonder if he's lost a teammate or something because of all that's come out, he knows where I stand," Adams said Tuesday. "I'll stand on the f*cking mountain and scream on the mountaintop that I've got his back."
Adams has one year left on his deal but plans to show up for training camp without an extension
Adams has one year remaining on his deal, and he's developed into one of the game's best. He's due for a significant pay raise, but he's committed to playing out his deal. He said he will attend training camp even if an extension to remain in Green Bay isn't in place.
"Yeah, I'll be here," Adams said. "I signed up to go to work and play. I'm from East Palo Alto, California. I grew up with zero dollars. I'm not forfeiting any of the money that I earned and signed for already, so I'll be there for sure."
Adams understands both sides. He gets it's a business, but he also understands the honoring of the contract part. Rodgers, however, doesn't appear to recognize the latter.