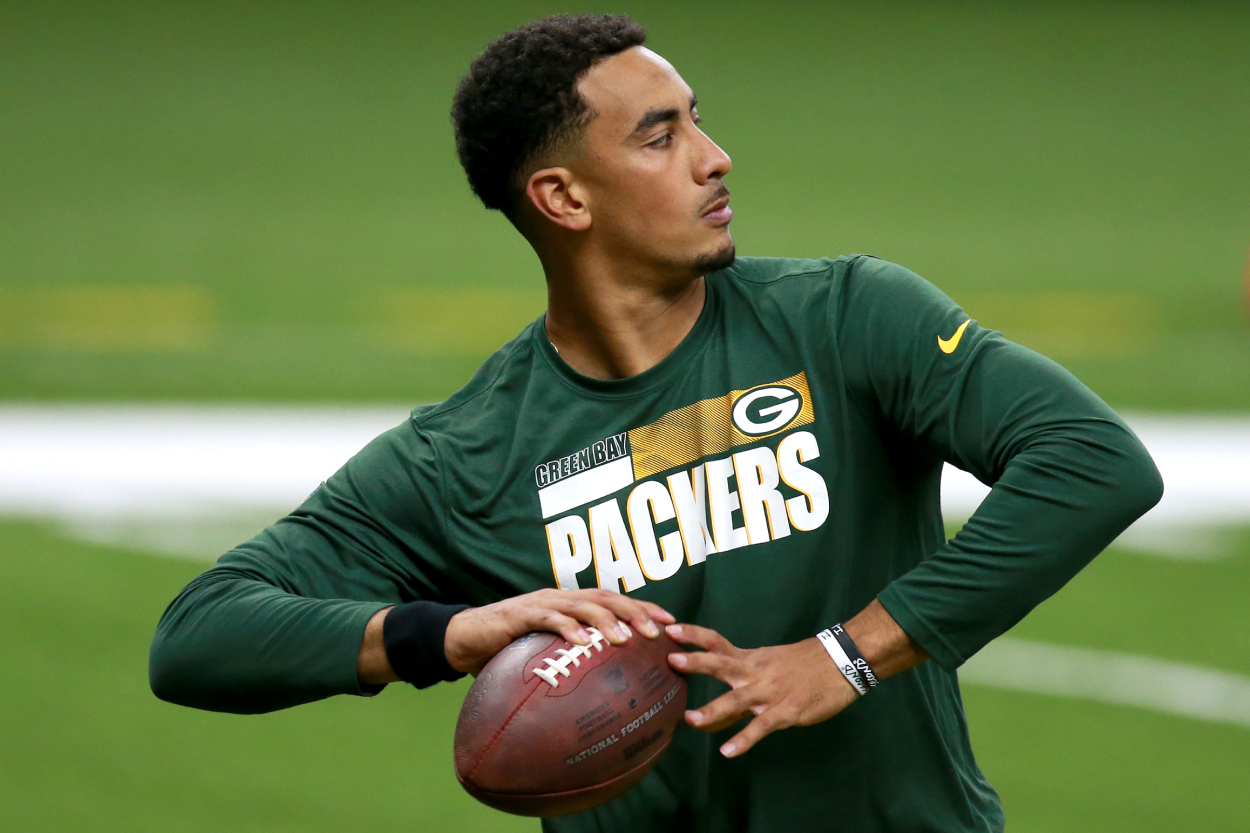 Jordan Love Needs His Green Bay Packers Teammates Now More Than Aaron Rodgers Does
Jordan Love needs his Green Bay Packers teammates more now than Aaron Rodgers does.
It appears to be more than a coincidence that the top five wide receivers on the Green Bay Packers are all away from OTAs. While quarterback Aaron Rodgers is embroiled in a dispute with the team and is also staying away, his pass-catching targets are doing the same. Maybe it's some type of unity thing, but it certainly not doing anything to help Jordan Love, the man who may be forced into the starting role.
Who's to blame for the drama going on with the Green Bay Packers?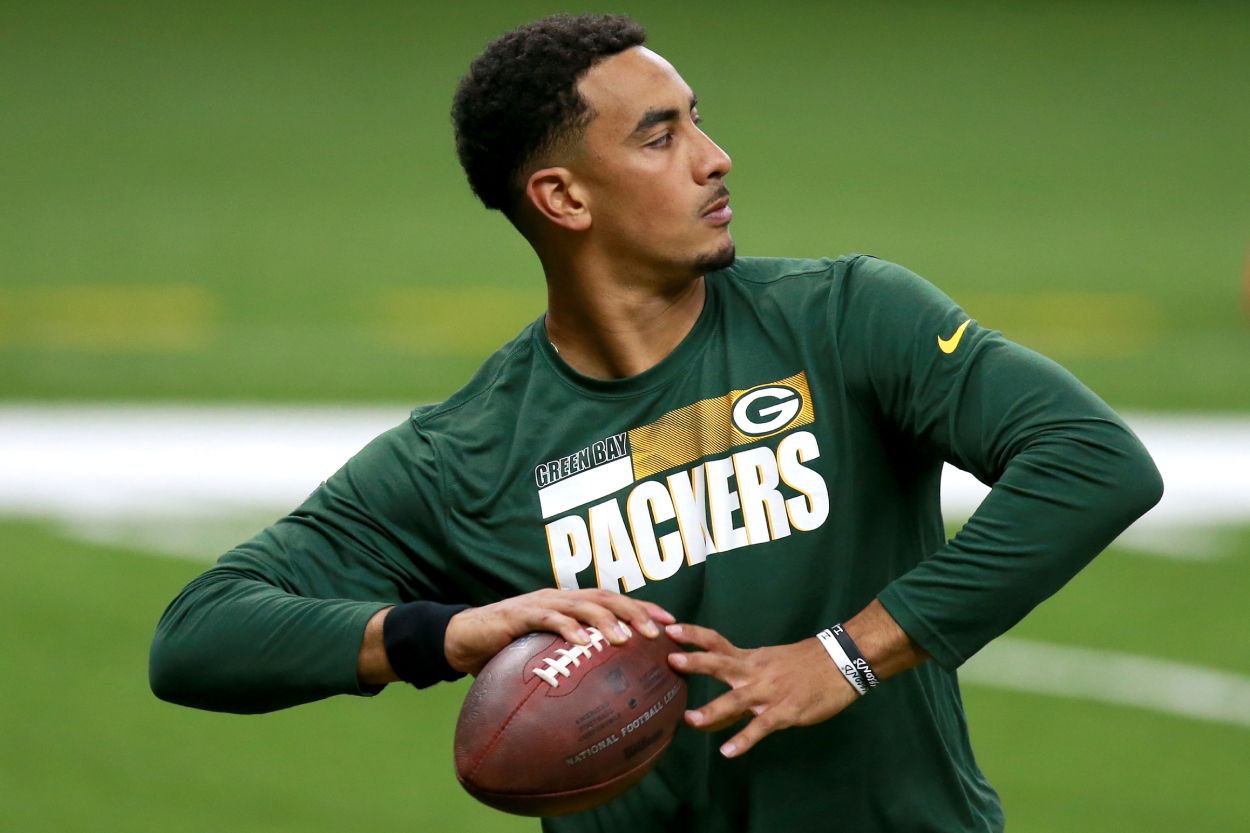 Ever since Adam Schefter broke the news on draft day that Rodgers reportedly told some within the Packers organization that he no longer wanted to play for the team, it's been all drama. Neither Rodgers nor the team is saying a whole lot, leaving many to speculate. Who's to blame for this mess?
The Packers appeared to have drawn first blood with one of the most bizarre drafts in recent memory in 2020. GM Brian Gutekunst raised many eyebrows when he traded up in the first round to select Love. No knock on Love, but the Packers had Rodgers, who at the time had four years left on his deal. The team was also coming off a trip to the NFC title game.
In Round 2, Gutekunst selected running back A.J. Dillon, another solid player but one who likely won't see much of the field the next few years. The team just re-signed Pro Bowler Aaron Jones, who is coming off his second straight 1,000-yard season. One win away from reaching the Super Bowl and the Packers neglected to draft any immediate help. They drafted for the 2024 season.
Rodgers responded by winning his third MVP. He guided the team back to the NFC Championship. Then came the news he no longer wanted to play for the Packers. He still has three years left on his deal, although all the guaranteed money is gone. What's his beef? Is it the Love pick? Is it a contract issue? Although he's 37, he's playing at a high level, and retirement wouldn't appear to be likely.
Jordan Love is put in a tough position
RELATED: Mike Holmgren Bashes Packers for Handling of Aaron Rodgers Situation
The mess going on in Green Bay is in no way Jordan Love's fault. The Packers seemingly got a promising player, but it just didn't fill the need for a team in win-now mode. It's the pick that appears to have divided the team, not Love himself.
It's no surprise Rodgers isn't present at the voluntary OTAs, even though he's been there in each of the last 16 years. What is surprising is that the team's top five wide receivers didn't show. Davante Adams, Marquez Valdes-Scantling, Allen Lazard, Devin Funchess, and Equanimeous St. Brown were absent.
Maybe it's some type of solidarity to show support of their quarterback, but all it's doing is hindering Love's progress. This is where Love needs to get a feel for his targets. It's where chemistry is built. Love wasn't even the backup quarterback last year and might get thrown into the starting role this season if Rodgers whines his way out of Green Bay.
Love needs all the reps he can get. Not having his receiving corps out there is setting him up for failure. At this moment, he needs his wide receivers more than Rodgers does.
Aaron Jones, Matt LaFleur say Love is coming along nicely
Even though his top wideouts aren't present, Love continues to grow as a young quarterback, according to Jones, who has proven to be one of the best running backs in the game. "You can tell he's just a lot more comfortable out there, even from communicating in the huddle to the command of the huddle to just everything," Jones said, according to ESPN.
"He's had a year under his belt, he's had time to watch and learn, so you can tell it's a little bit different from what it was before. He's going to continue to grow, and I'm happy to be here working with him."
Head coach Matt LaFleur said Love still has a lot to learn but he's maturing. "He's definitely matured over the course of the year," LaFleur said. "You can tell that he's put in the time this offseason, not only just lifting and running and coming in in good football shape, but also you can tell he's put in the time in his craft in trying to continue to work on his mechanics, his fundamentals that are so critical to playing the position at the highest level possible.
"So he's still got a lot to learn. I think he can tell you that, but he's going to take it one day at a time. He goes out there with purpose. I like his mindset right now."