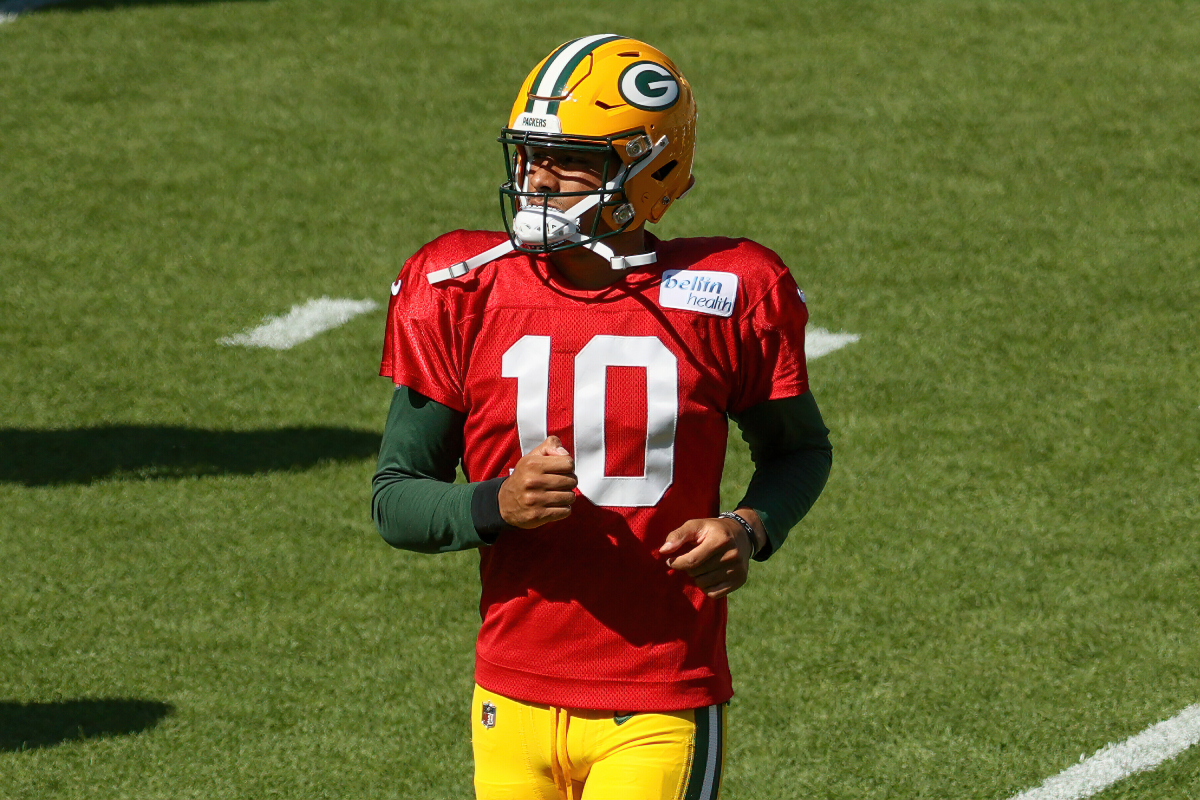 Green Bay Packers Rookie QB Jordan Love In Awe of Lambeau Field
Green Bay Packers rookie quarterback Jordan Love gets his first taste of playing at Lambeau Field and is in awe.
He was like a little kid seeing Santa Claus. Green Bay Packers rookie quarterback Jordan Love was in awe when he came out of the team's tunnel Thursday. It was his first practice at Lambeau Field and he soaked it all in.
Jordan Love was a surprise pick of the Green Bay Packers
When NFL Commissioner Roger Goodell announced Jordan Love's name after the Green Bay Packers had traded up in the first round of the 2020 NFL draft, many eyebrows were raised. The Packers were fresh off an appearance in the NFC title game and it was expected the team would plug a few holes in the draft and make another run. Instead, the Packers chose Love, a quarterback out of Utah State.
Love, according to most people, was first-round talent. It wasn't the talent of the player that was questioned by many, it was the destination to where Love was heading. The Packers have a healthy future Hall-of-Fame quarterback in Aaron Rodgers. Rodgers, too, was surprised with the first-round pick.
According to The New York Post, Rodgers said he got excited when he heard the Packers traded up in the first round. Then he got a text saying they were about to pick his future replacement. "When they traded up, I definitely perked up a little bit," Rodgers said. "And then I got a text – because everything is so delayed. I got a text from my agent, my marketing agent who I love and he just texted 'quarterback.' I was like, 'Oh, wow. OK.'"
Aaron Rodgers understands the business
Fifteen years ago, the shoe was on the other foot for Aaron Rodgers. Rodgers was the young rookie quarterback who was drafted in the first round. It was a very similar situation Rodgers finds himself in now. Brett Favre was still performing at a high level and Rodgers was now a threat to take his job.
Rodgers said he understands the business side of the pick. Jordan Love is a talented quarterback and if the Packers didn't take him when they did, there was no guarantee they would've ever landed him. Rodgers says he isn't bitter, but he's definitely not giving up his job.
"Was I bummed out? Of course, who wouldn't be?" Rodgers told the Milwaukee Journal Sentinel last month. "I want to play my entire career in Green Bay. I love the city, I grew up there. Really, I got there when I was 21, and I'm 36 now; a lot changes during that time. But I get it. I see it completely clearly. I'm not bitter about it. It kind of is what it is."
Jordan Love gets first taste of Lambeau Field
Jordan Love has been getting used to the Green Bay Packers system and he's thankful he's been able to learn behind Aaron Rodgers and backup quarterback Tim Boyle. "It's definitely been a lot for me just in terms of learning the playbook and trying to get a grasp on that right now, but that quarterback room, it's a great room, great environment to be around," Love said to packers.com. "I've got two dudes that I can learn from; I've learned a lot so far from them and will continue to do that."
Now that's he's getting a handle on how the playbook looks, he's working on getting used to his new environment. On Thursday, Love got his first taste of what it will be like playing at Lambeau Field, one of the NFL's legendary stadiums. Love had been doing a lot of his work virtually and needed a moment to catch his breath as he emerged from the tunnel.
"That was awesome, just coming out of the tunnel and seeing it," Love said. "It's a lot bigger than I thought it was, but finally getting the first practice in there was a crazy feeling."