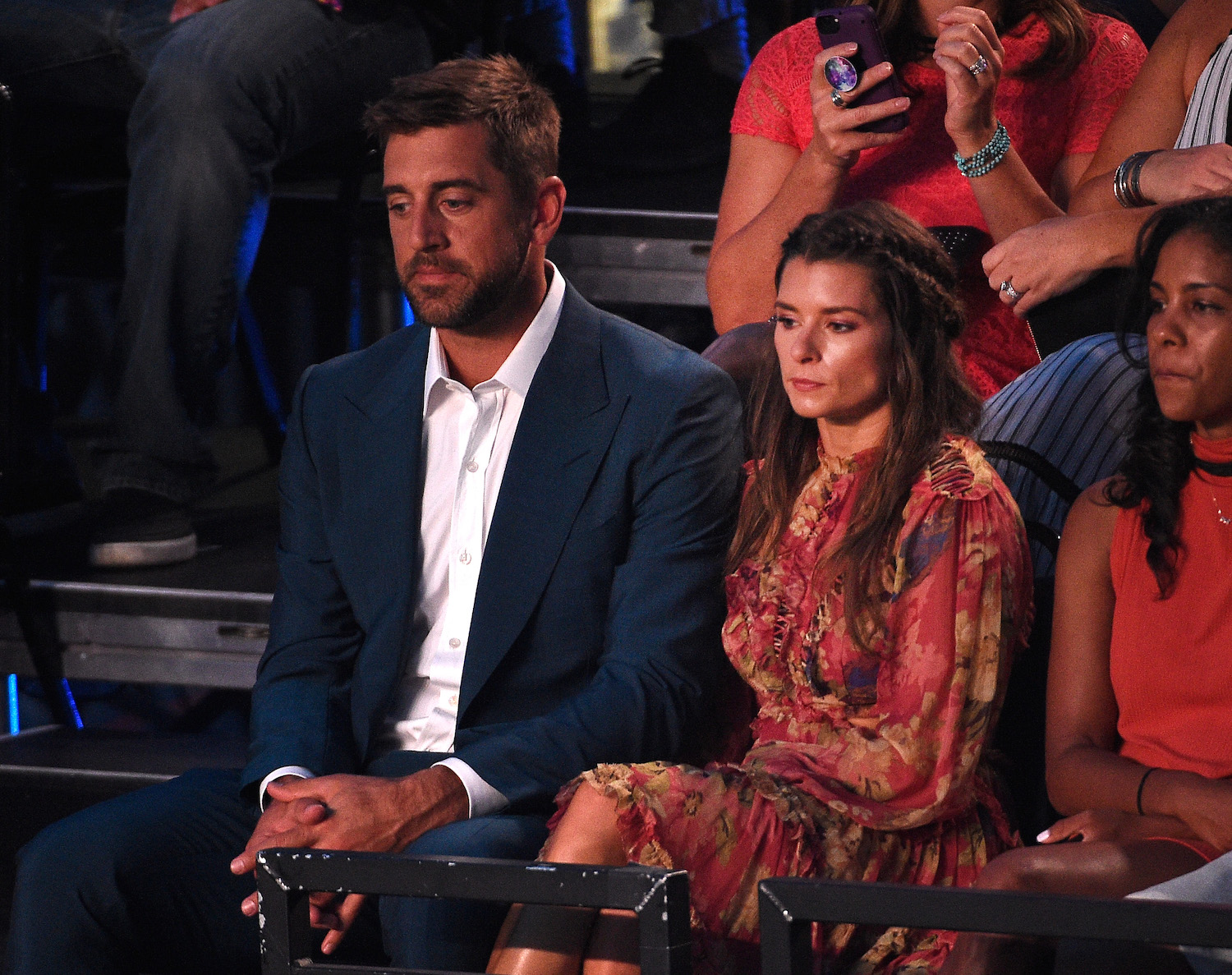 Aaron Rodgers Called an Audible With Danica Patrick For This 1 Reason
Aaron Rodgers and Danica Patrick ended their relationship shortly before he started dating Shailene Woodley. And we all know how that ended up.
Aaron Rodgers and Danica Patrick made headlines when they broke up in July 2020. Around that time, Patrick appeared to offer some thoughts on the split through several social media posts. Rodgers has remained quiet on the situation, according to reports. But there seems to be a specific reason why the four-time NFL MVP called an audible on his relationship with Patrick.
Aaron Rodgers and Danica Patrick were a match made in sports heaven
Like many athletes, Rodgers and Patrick met for the first time at The ESPYs in 2012. It was a casual, friendly encounter. However, things heated up years later after Rodgers and then-girlfriend and actor Olivia Munn broke up in April 2017. Patrick and Rodgers started dating in 2017, although it wasn't confirmed until January 2018.
The two made it official a month later. Rodgers and Patrick were seen kissing just before the start of the Daytona 500, Patrick's last race on the NASCAR circuit. After appearing together in July of 2018 at the ESPYs where they first met, Rodgers, who has always been guarded on his love life, publicly confessed his love for Patrick in an interview with Artful Magazine. 
"We're just two people who enjoy being around each other and love each other," Rodgers explained. "We're really into each other. So there are going to be [social media] posts with each other because we enjoy each other's company a lot. We're really attracted to each other."
Rodgers and Patrick break up in July 2020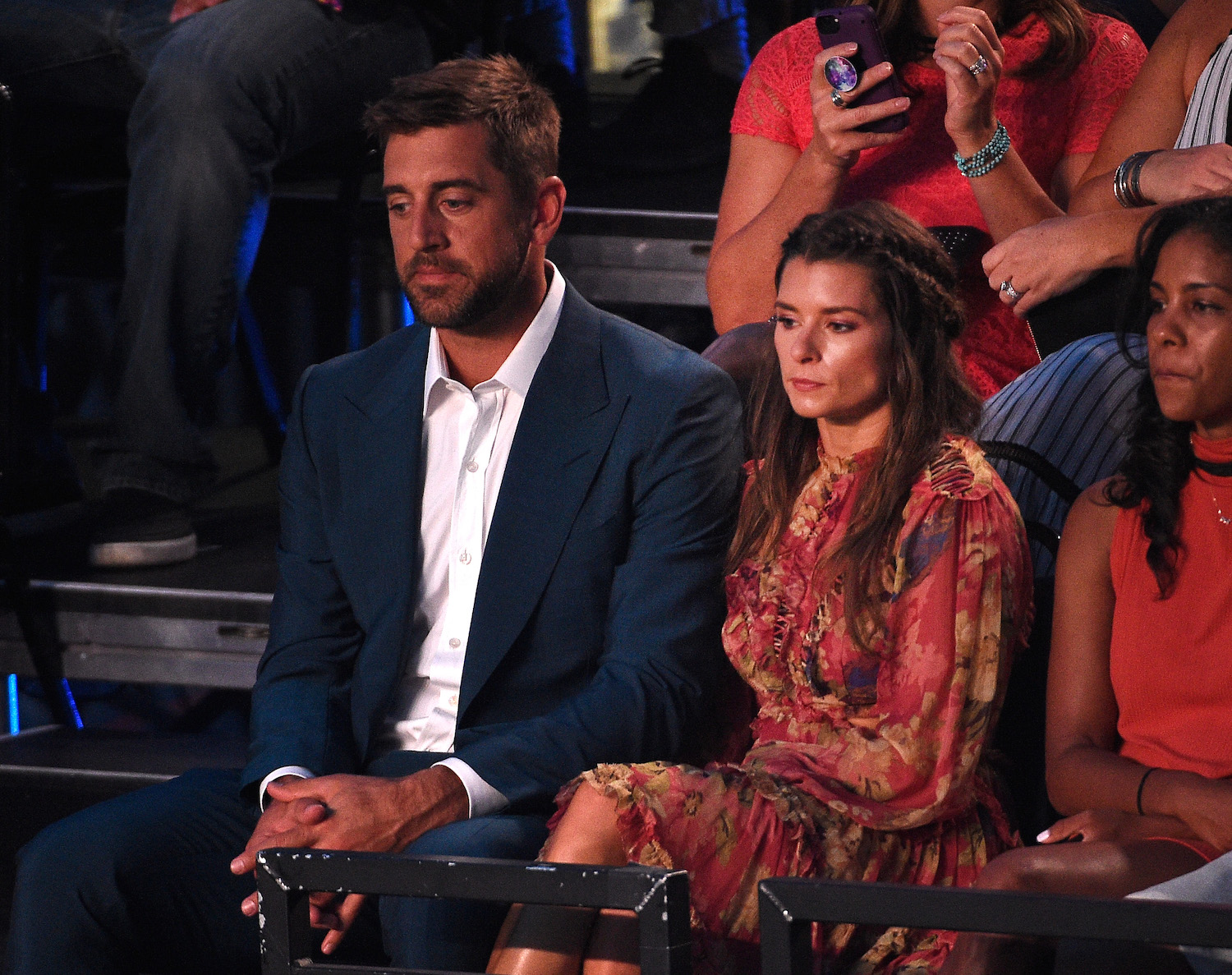 In early July, speculation swirled that there was trouble in paradise between the former NASCAR driver and eight-time Pro Bowler. One of the first signs: Patrick was a no-show at the American Century Championship celebrity golf tournament in Lake Tahoe. The year prior, she had attended and supported her beau.
The next clue came when Patrick stopped following Rodgers on Instagram. On July 16, 2020, a rep for Patrick confirmed to the New York Post that the two were no longer together. Over the weekend, the racing driver shared a cryptic Instagram post with a quote from Vienna Pharaon, a licensed marriage and family therapist:
"Look at the chosen relationship in your life and notice any themes. What role do you play? Who are you with them? Who do you believe you need to be? What stories do you tell yourself about what they can offer you? What can they or can't they handle?

The way you choose people may offer you insight into what you're craving or what shifts you may need to make in order to shift an overworked role you've held for a long time."
Many fans couldn't help but surmise that Patrick was applying this quote to her recent relationship.
Aaron Rodgers' most recent girlfriend
It wasn't long after Patrick's rep confirmed that her relationship with Rodgers was over before rumors linked the Green Bay signal-caller to another woman. Allegedly, Patrick didn't make the trip to Lake Tahoe two weeks ago because another woman had gone in her place
"Danica had no idea when she introduced actress Shailene Woodley to Aaron that Shailene would make a play for him," Terez Owens reported based on information received in its anonymous tips box. "Shailene and Aaron were quite cozy this past weekend in Tahoe (American Century Championship). Looks like Aaron traded to a much younger girlfriend."
Then, in February 2021, sources reported that Rodgers and Woodley were not only dating but engaged. The Packers quarterback confirmed the news during his speech at the NFL Honors awards show. The Fault in Our Stars actor reiterated the news on The Tonight Show Starring Jimmy Fallon while showing off her engagement ring.
Fans were surprised for several reasons. The relationship moved quickly. The age difference was a bit large (eight years) though not huge. And the two seemed to have different values.
One year later, in February 2022, sources confirmed the couple had split. Rodgers sang Woodley's praises in an Instagram post. They met for brunch, stoking rumors of a reunion. But the couple remains broken up as of publication.